If you don't like digging and pulling weeds then raised beds are a good solution for your problem. There are many benefits of waist beds for example they are portable, easy to maintain the fertility of the soil, and prevent you from bending and kneeling. In this article, you will get many ideas relating to simple wooden raised beds. By using your own creativity you can change the simple raised beds and enhance the view of your growing area.
1- LASAGNA BEDS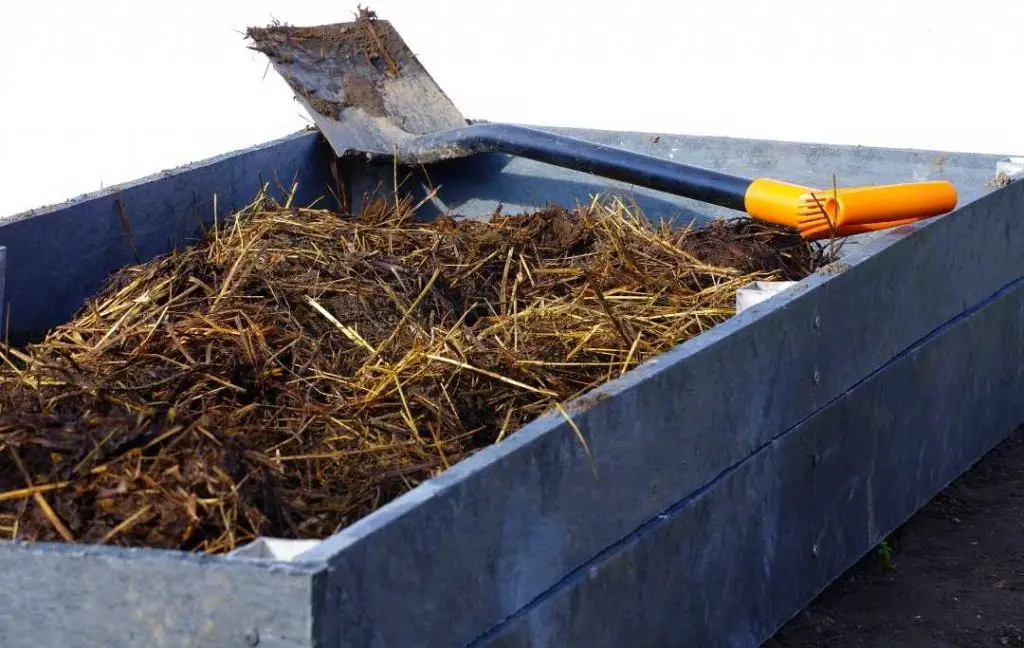 It is a soil-friendly and eco-conscious way of growing plants. It is an easy method of growing plants without using compost in your raised bed. You have to simply add the layers of different organic materials and let them create good soil which is full of nutrients. The materials which can be used for making layers are grass clippings, leaves, fruits and vegetable scraps, tea leaves, tea bags, manure, coffee grounds, and even weeds. The first step is building your wooden raised bed, you can also buy it. 
Now start gathering the materials for making the layer. The first layer is cardboard or newspaper because in this way your ground will cover and prevent your raised bed from the weeds and pests. the second there should be of straws dried grass clippings or bark. In the third layer, you can use organic materials like compost and mulch. After finishing the layers, sprinkle down water. In this way, your materials will be broken down easily. Now cover up your bed for the whole winter season. Your bed will be ready in spring for planting.
2- TIERED RAISED BEDS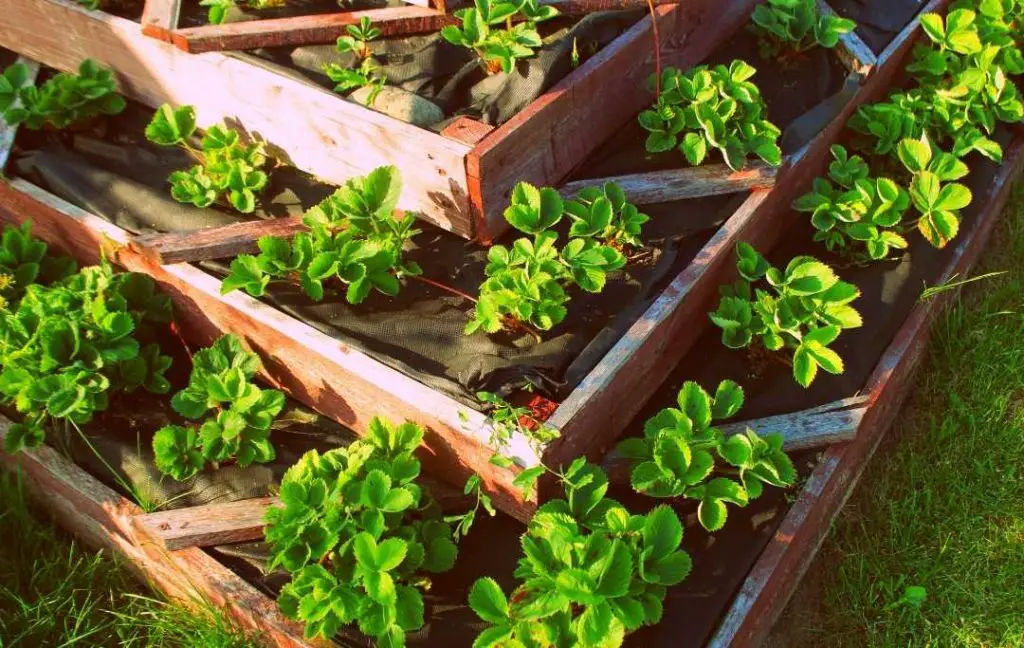 There are different types of design available in tiered raised beds. The pyramid-like structure is also included in this type which is very unique and gives a different theme to your garden. This structure will provide you more planting areas at different levels. This is a best-growing idea for those who have limited space in their garden. In this way, you can grow more plants in one raised bed.
3- DIY GALVANIZED METAL RAISED BED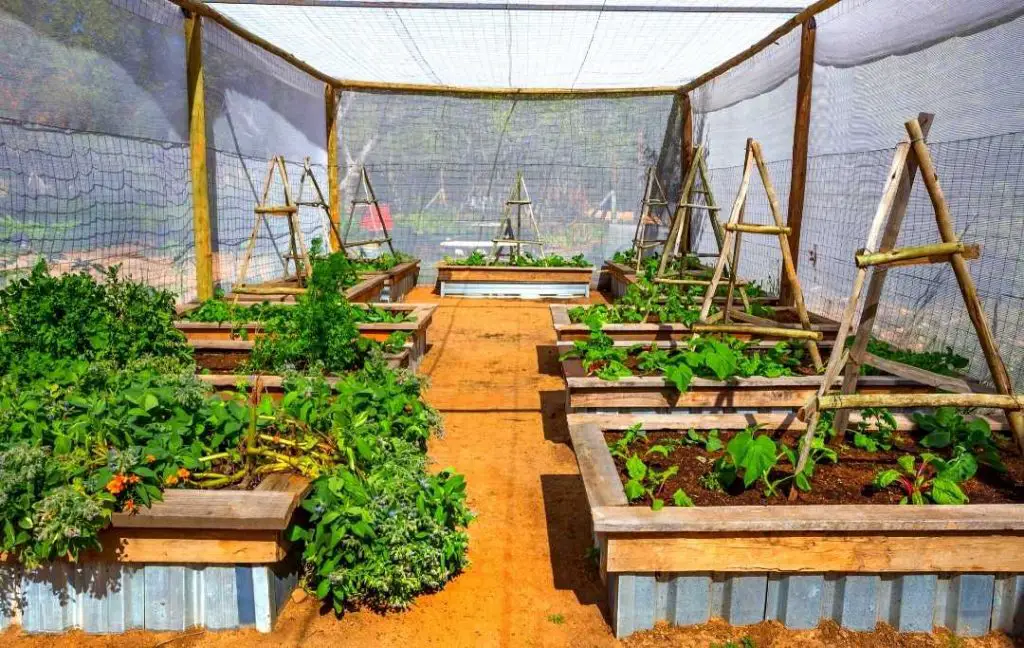 Galvanized metal raised beds are becoming very trendy nowadays. Most people think that metal will get hotter in sunlight as compared to a wooden raised bed. This is the misconception, if you paint the metal raised bed with black color then you should be worried because it has the ability to absorb more sunlight which the simple metal raised bed can't. Due to the moisture in the soil, it will not become hotter. It is noted that a galvanized metal raised bed has a coating of zinc and if your soil is acidic then you should be careful about it.
4- RECLAIMED CINDER RAISED BED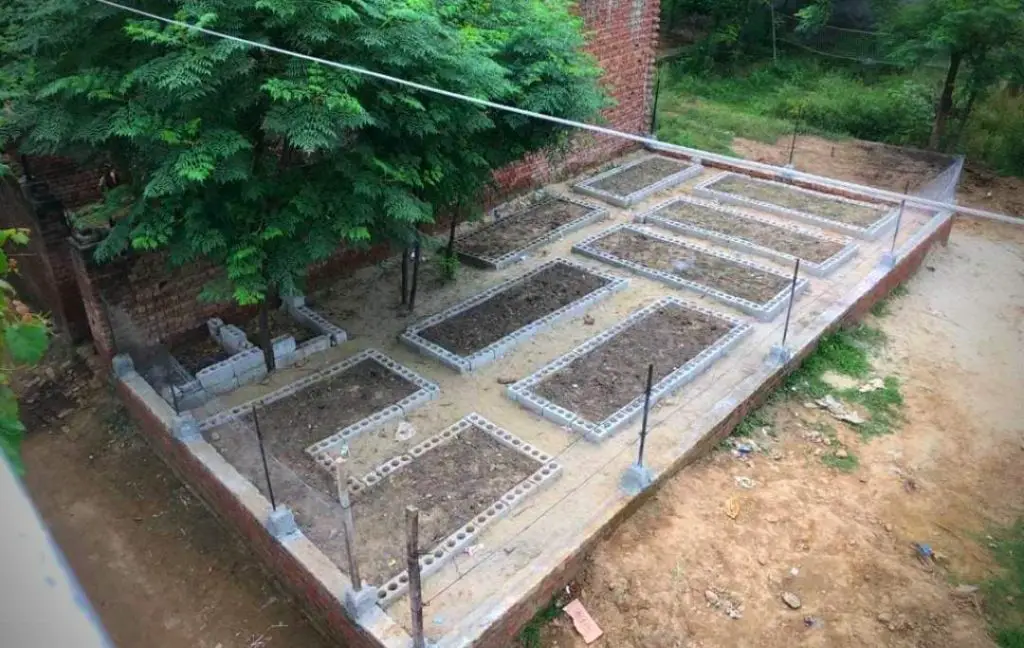 Another interesting idea of making less white with cinder blocks. In this way, you can get a very inexpensive garden bed for your growing area. The main benefit of this bed is that besides the main growing area, you can also find many holes to grow herbs and flowers. You can easily build this type of raised beds over the top of the grass. You can use concrete rocks and make this simple raised bed within an afternoon. It is very easy to make but you have to remember some important steps so your raised bed looks very best and fit where you want them to.
5-  OLD TERRACOTTA PIPE BED EDGING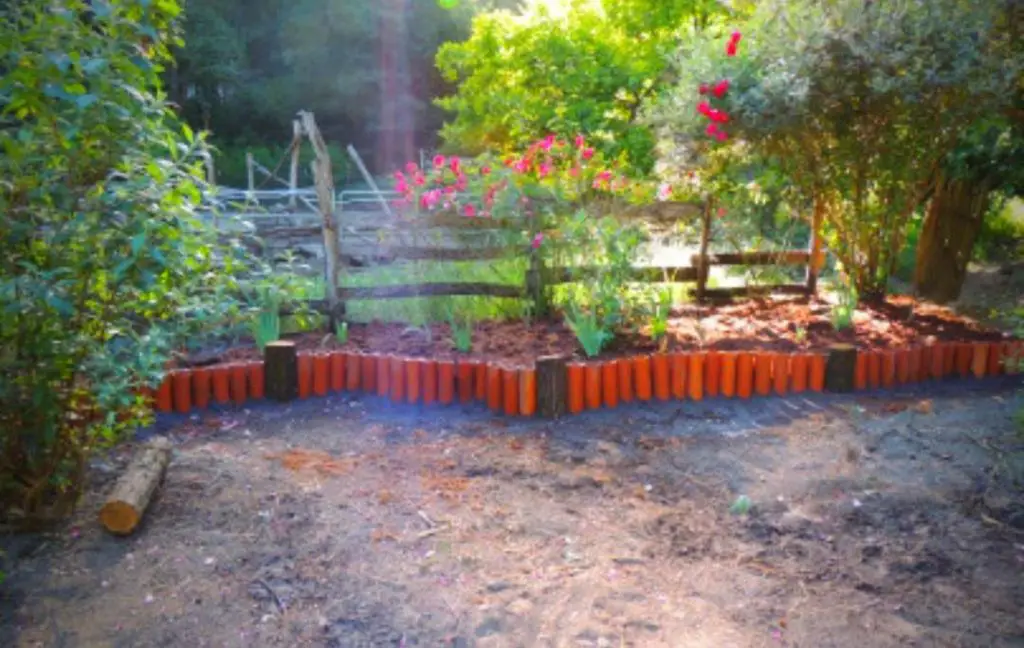 You are not interested in making raised beds with concrete cinder blocks but want to grow herbs and flowers in the small holes then old clay pipes can solve your problem. You can use them to make the edge of your growing areas. The look of this raised bed is very stunning and can be made at a very low cost.
6- GLASS BOTTLE RAISED BED EDGING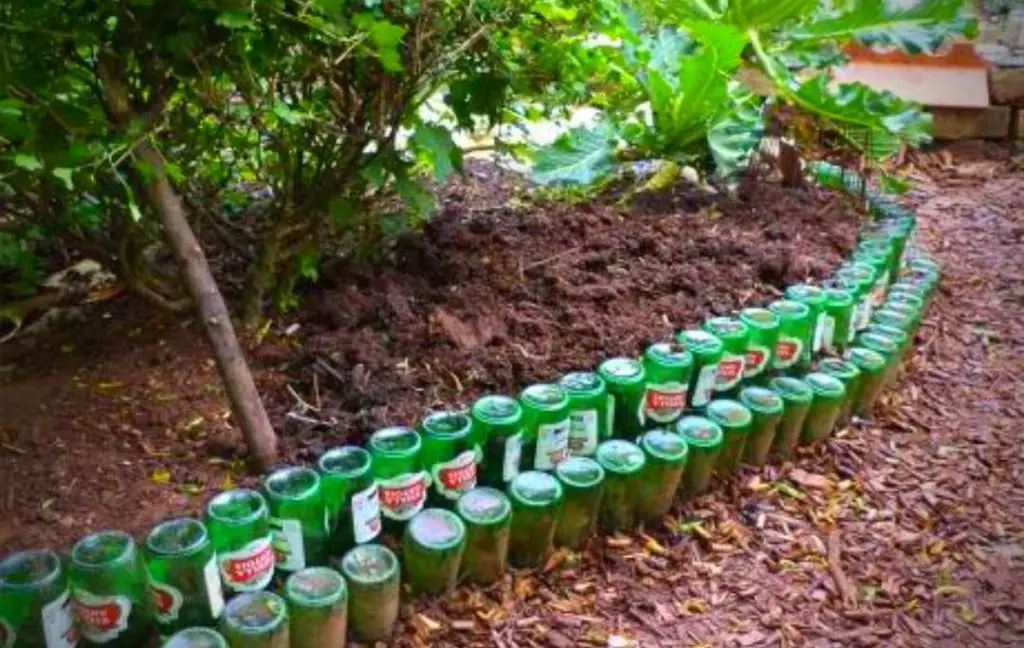 Another inexpensive way of making the raised bed is by using your waste glass bottles. You can recycle these bottles which have no use. You can make edging by using these bottles for making your raised beds. Try to stick these bottles in the ground around your raised bed, in this way, you will make an edge.
---
---
7- SUPER EASY FABRIC RAISED PLANTERS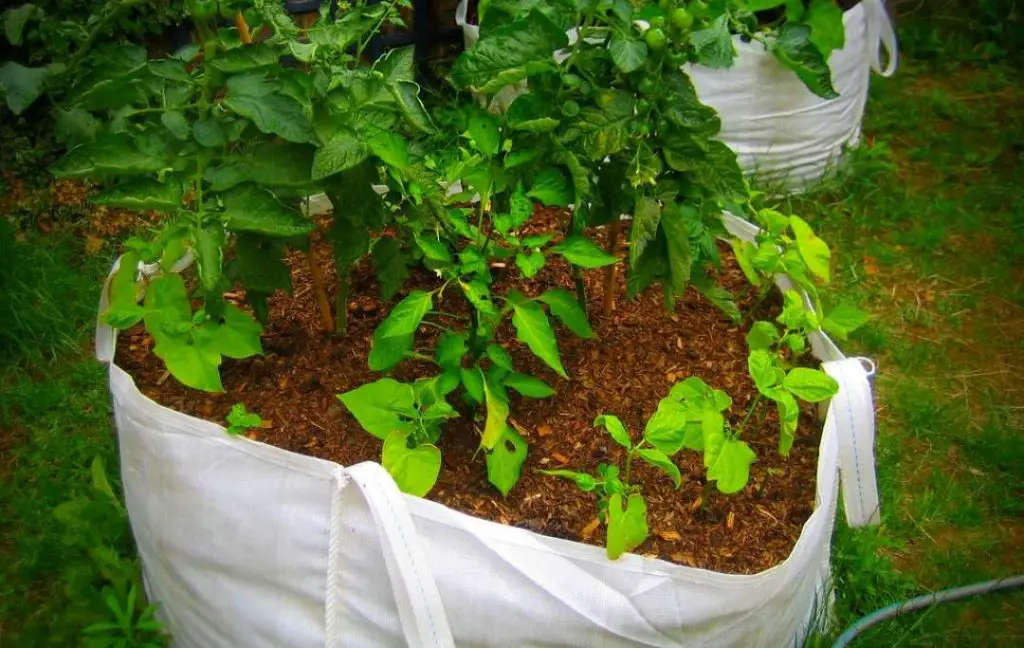 If you always try to discover new ideas then this type of raised bed will shock you. Because you can make it with fabric. This type of fabric planter can easily install and you can make it without any building skill. You can also buy many sizes of fabric pots that have sturdy fabric material. These pots are made from nonwoven fabric which is 300 gram thick. These pots have great drainage quality and do not retain excess water. In this way, the root of your plants will breathe easily. Drainage quality makes them best for your plants. Due to easily portable, you can change their place and direction with full of soul. They are sturdy and long-lasting, you can use them for many years.
8- SIMPLE SQUARE OR RECTANGLE RAISED BED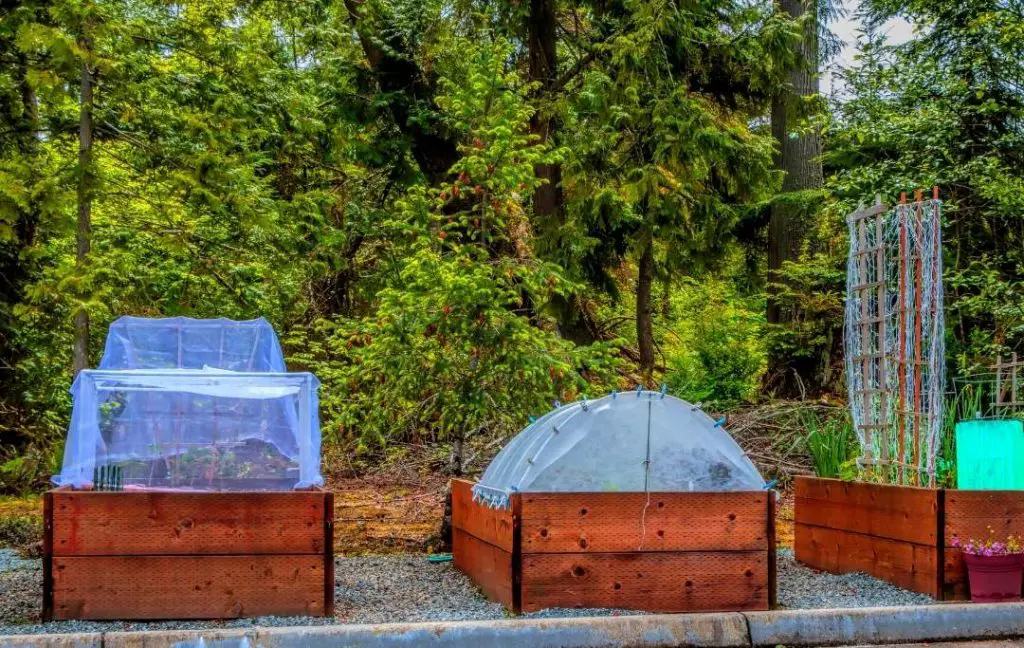 The most common and popular shapes of wooden raised beds are square and rectangular. You can easily make them without any proper skills. By using your own artistic mind you can arrange these pairs according to your choice and your garden needs. You can select one shape whether it is square or rectangle and arrange them in rows in your growing area or backyard.
9- RAILWAY SLEEPERS RAISED BED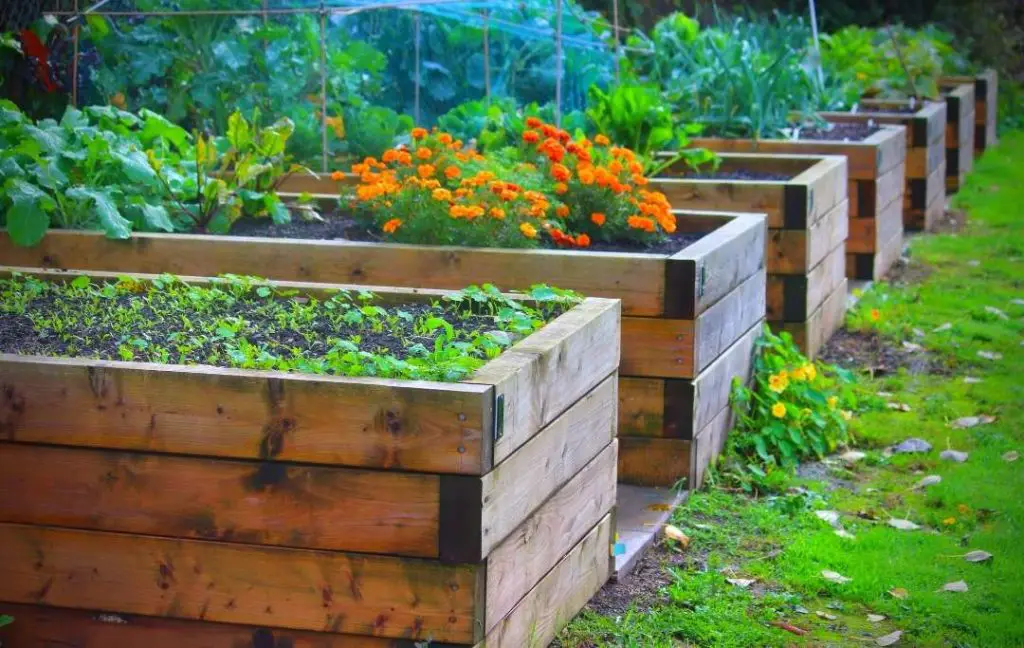 The untreated railway sleepers can easily be used for making your raised bed. They will give a distinct and unusual look to your garden. Always try to use untreated wood because it is eco-friendly and good for your plants.
10- VERTICAL LOGS RAISED BEDS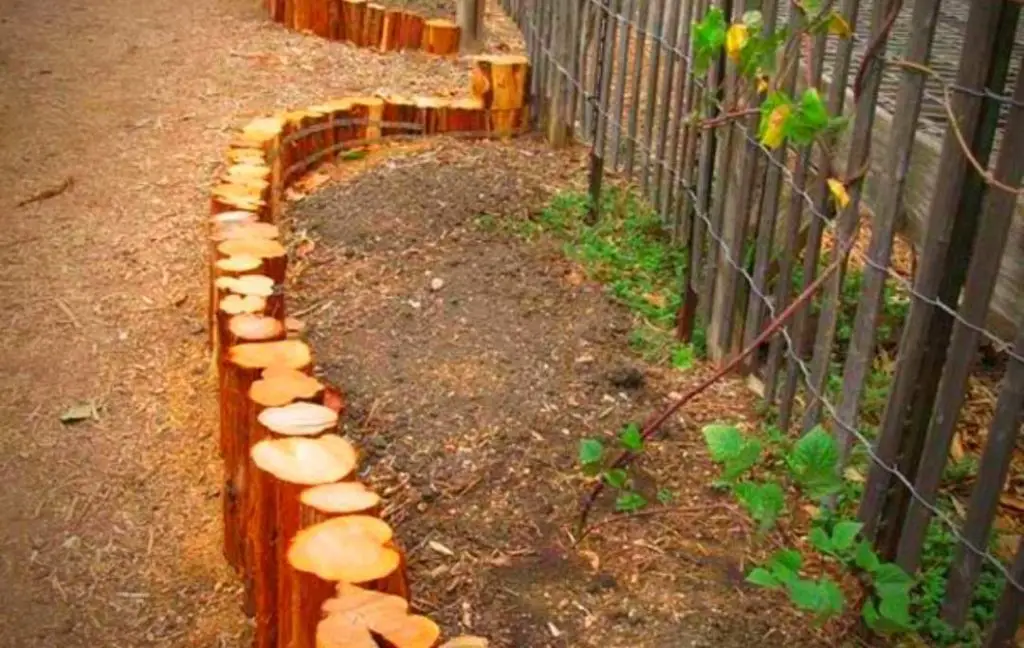 If you have logs then you can use them for making vertical logs raised beds. In this way, you will not have to go out to buy any timber or wood planks for making raised beds. This is an easy and inexpensive way of making raised beds at home. The source of these logs can be your own garden or you can ask your friends. Now just put the logs vertically into the ground and fix them the rectangular way or in square shape. The shape of this type of bed can be adjustable. If you made a square shape of bed but after a few months you change your mind or you want to make a rectangular shape. Then you can arrange your logs in a rectangular shape and your rectangular bed is ready.