Raised beds are a good option for any garden. There are many advantages of raised beds such as portable, easy to handle, make your gardening easier, and satisfies your aesthetic gardening sense. Another incredible advantage is that old age people can easily handle it as bending, leaning, and kneeling is essential for gardening. 
You can use your creativity to make your garden like a paradise for yourself and your garden will become the best place for yourself. By following all the tips and advice, you can avail of the best growth of your plants. Choosing the right side of the bed, using high-quality soil, and providing a proper source of water ( as raised beds need more water due to drainage property), you can take full advantage of it.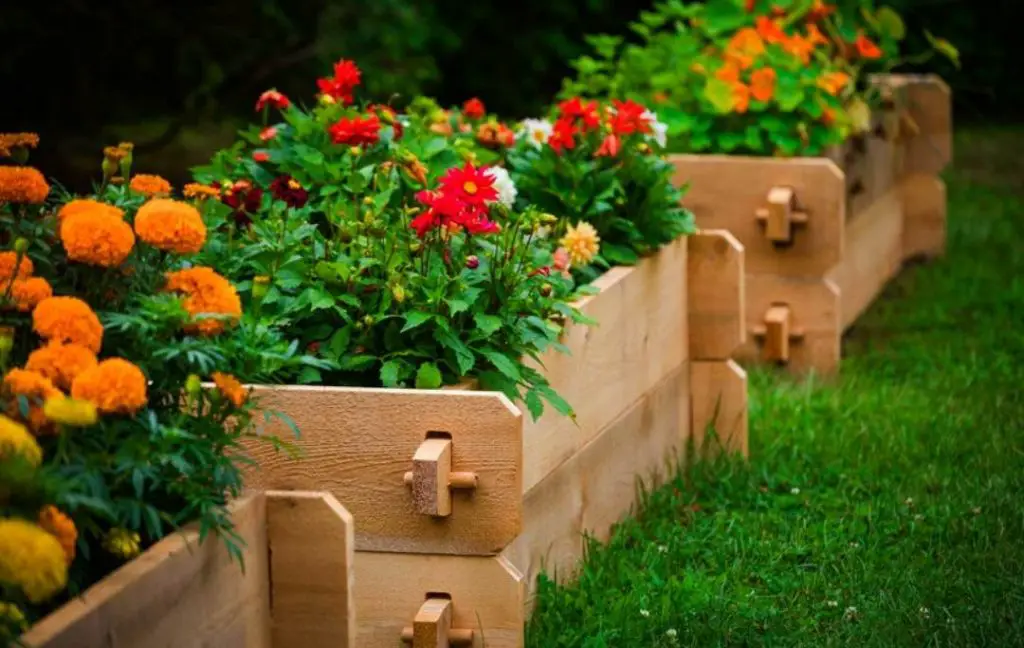 You can also buy raised beds but from the gardener's supply company you can get unlimited variety and different sizes. You have many options, each design and size are different from each other. Your selection should be according to your garden or growing area needs. So choose the best option and get fresh vegetables or fragrant flowers or beneficial herbs.
This post may contain affiliate links and I may earn a small commission when you click on the links at no additional cost to you. As an Affiliate I earn from qualifying purchases.
Different Sizes of Wooden Beds Which are Available on Gardener's Supply Company
The size of the bed is very important as if your bed is too wide you can't reach the center of your bed and neglect your plants which are growing in the center. The standard size of the bed is 4 foot wide so your plants are easily accessible to you. There are different sizes and shapes of raised beds available on the gardener's supply company. 
Here we will discuss 15 best-raised beds options, which you can decide according to your plant and garden needs.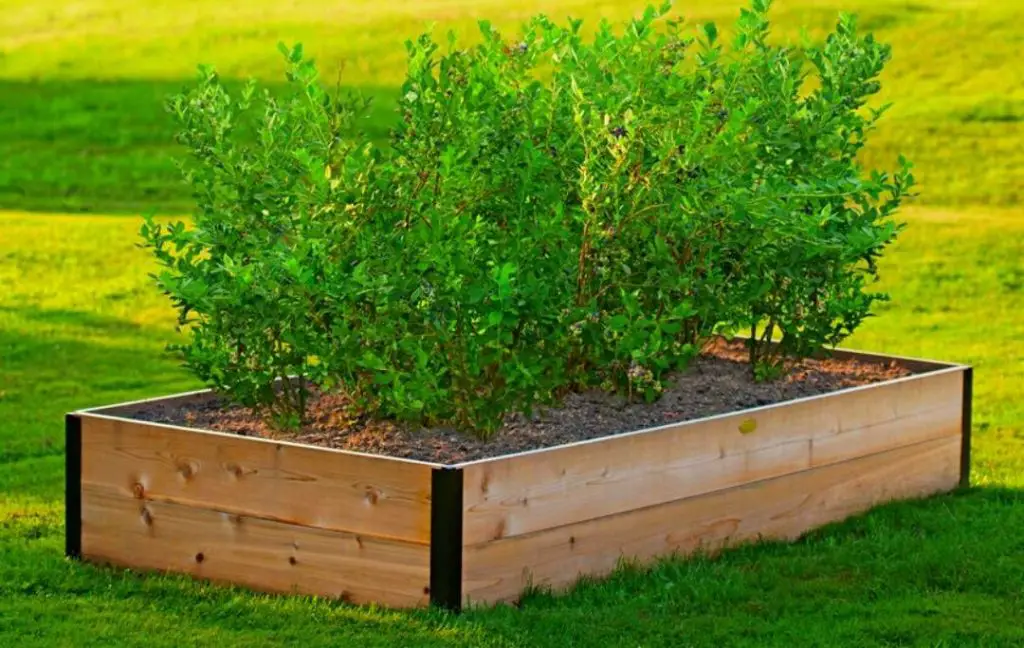 15″ deep raised bed, best for deep-rooted plants like tomatoes and blueberry bushes. It is the best choice for any garden or landscape. After buying this raised bed you can see high yields of your plants as compared to in-ground beds. This bed is a very easy way to maintain your plants. You can easily compact your space with less weeding and digging.
You can find four industrial-strength aluminum corners, which gives an elegant look to the garden.
The boards are made up from cedar rot-resistant lumber. 
Very easy to assemble, you will have to just slip the boards into the corners and screw them in place.
It is available in different sizes like 4′ by 4′, 4′ by 6′, 4′ by 8′ and 4′ by 12′.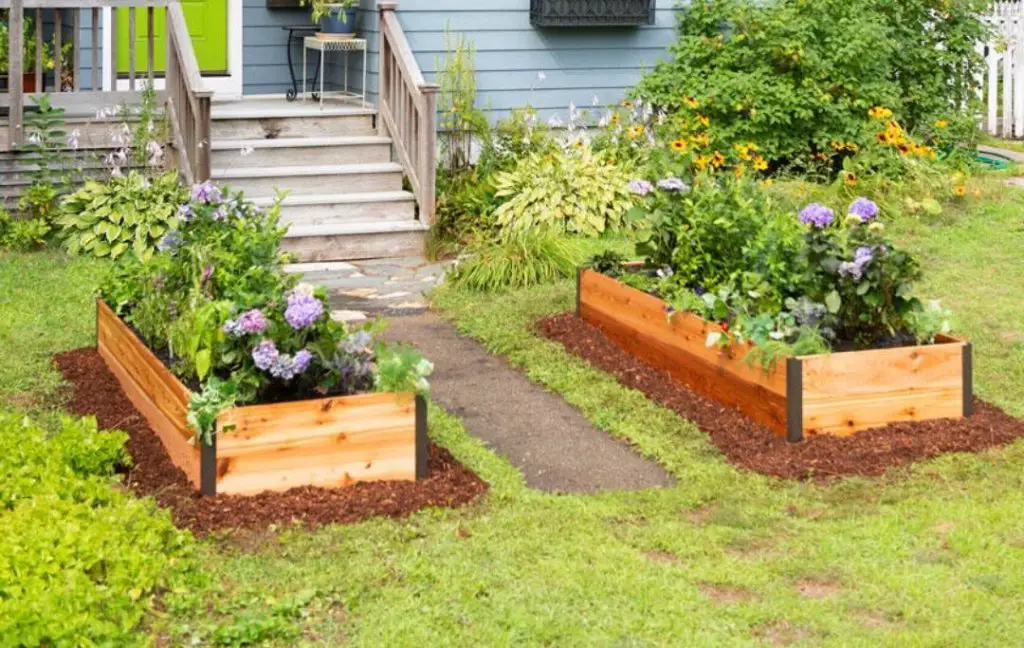 15 inches deep raised beds are the best way to grow your plants. you can use them for the deep-rooted vegetables. 
You can install the beds along with the perimeter so you can create a stunning border in your garden.
 Four industrial strength and aluminum corners are included in each bed.
 Rot-resistant cedar lumber is used for making this type of bed. Cedar lasts long at least 10-15 years.
 You can easily assemble it, just slip the boards into the corners and use screws for this purpose.
It is available in different sizes like 3'× 3′ beds, 3'× 4′ beds, 3'× 6′ beds, 3′ × 8′ beds, and 3′ × 12′ beds.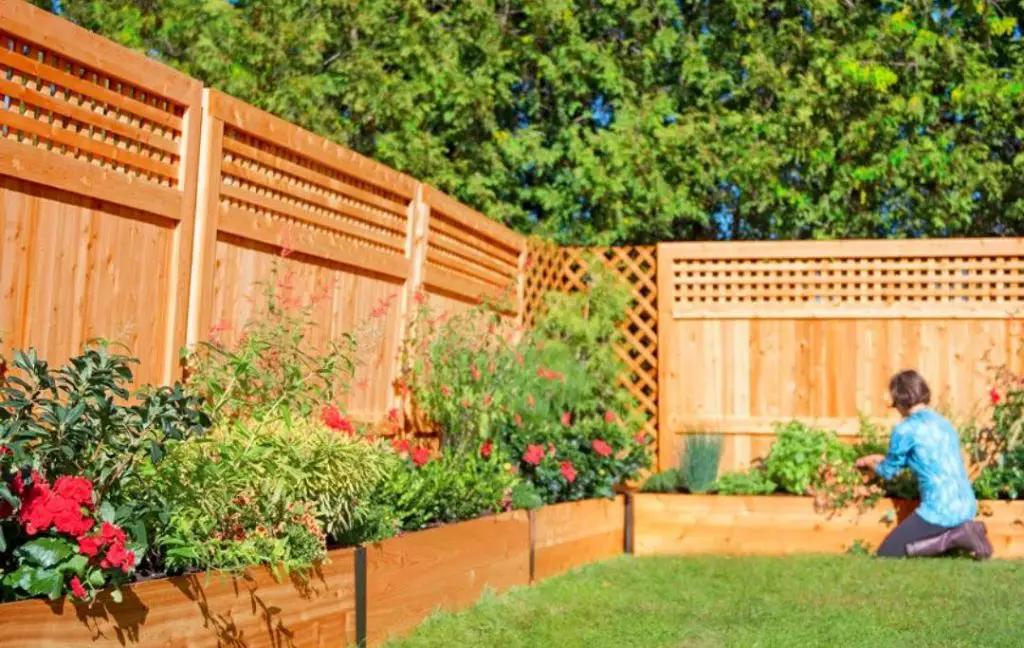 You can change the look of your garden by buying an extra deep cedar bed which lasts a long time.
15 inches deep raised bed available in different sizes and varieties you can select according to your choice. It's different sizes are 2′ x 2′,  2′ x 3′, 2'× 4′, 2′ ×6′,2'× 8′ and 2'×18′.
It is good for deep-rooted plants and it has 4 industrial-strength aluminum corners with cedar lumber.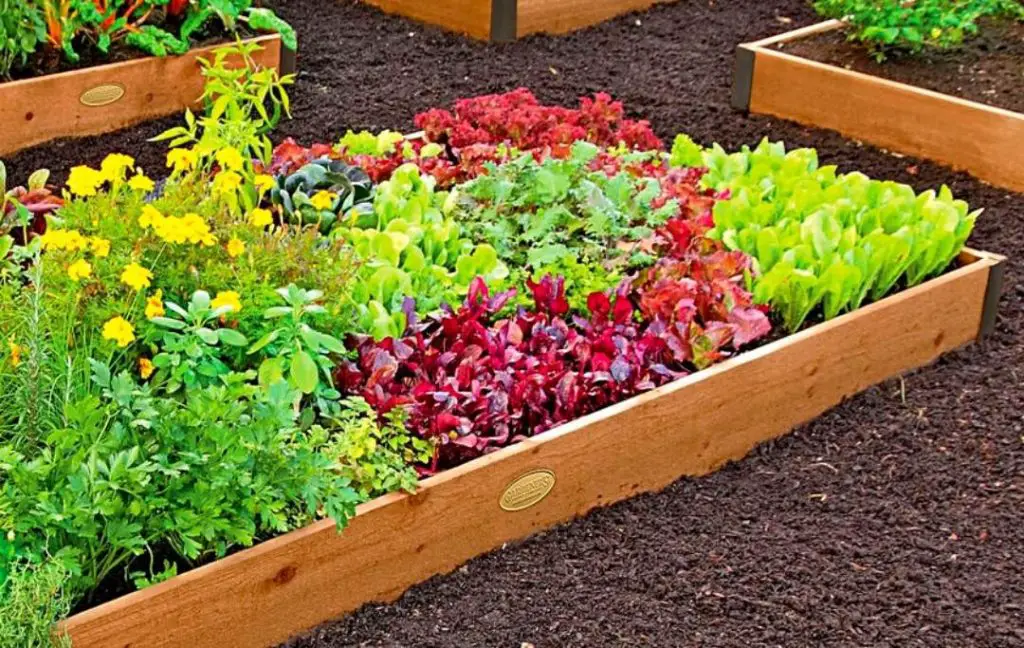 The handsome and long-lasting raised beds can give you higher production of your plants.
There are different varieties and sizes of this type are available like 4′ × 4′, 4′ × 6′, 4′ ×8 and 4 '× 12'.
 You can easily assemble this bed with a drill and screwdriver.
 You can use raised beds for growing vegetables or you can install beds along a perimeter to create a border in your garden. You can do many things which show your creativity.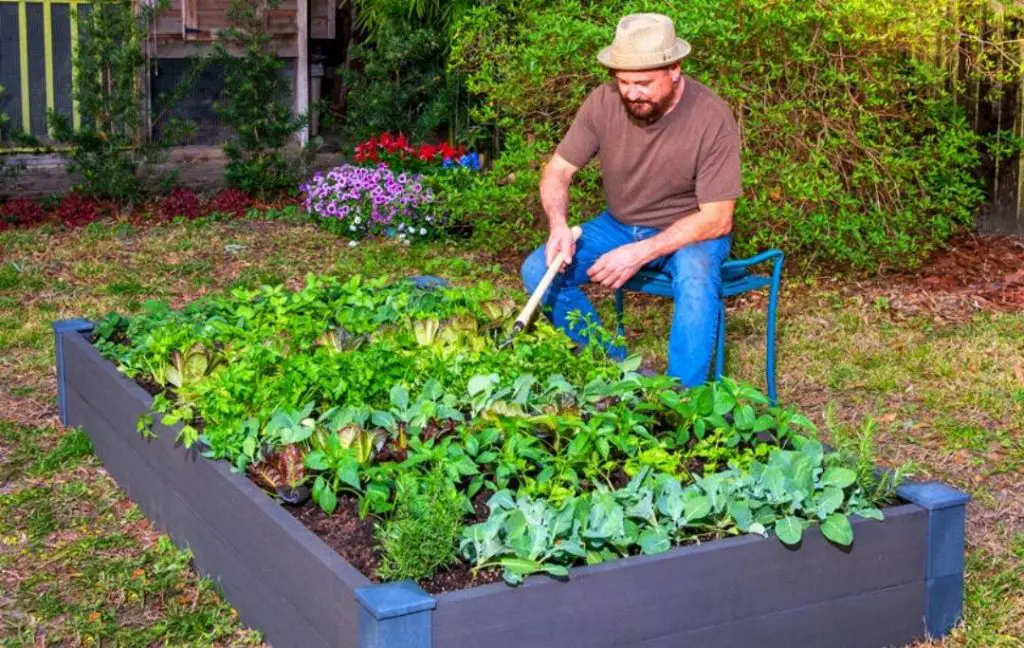 About 60% to 40%  blend recycled high-density polythene and wood fiber is used for making this durable raised bed.
11″ deep raised bed has extra thick side planks for ultra sturdiness.
 It's different sizes are 2'× 4′, 2′ × 8′, 4′ × 4′ and 4′ × 8′.
You will prevent your plants from weeds and control the pH of your soil from using such types of raised beds.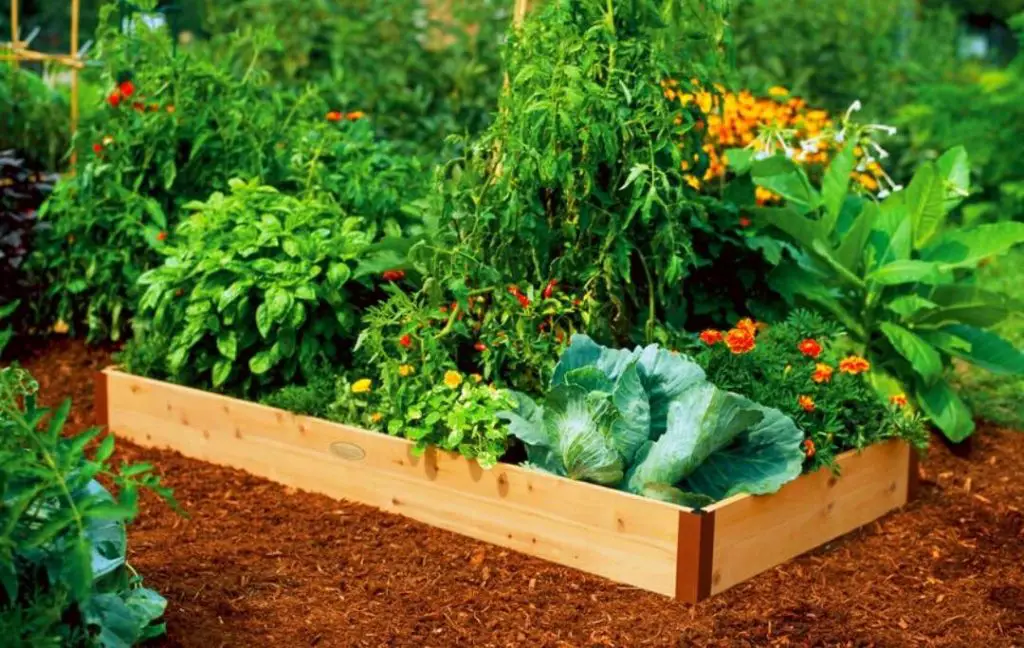 It is a wonderful raised bed which helps to increase your plants' yield. 
The rot-resistant cedar with strong aluminum corners available in a variety of sizes. The sizes are 2′ × 2′, 2′ × 3′, 2′ × 4′, 2′ × 6′, 2'×  8′ and 2′ ×12′. Each size has the ability to hold a different amount of soil.
You can grow vegetables in your raised bed for you have an option to install the bed along the perimeter to create a distinguished border.
With the help of a grill and screwdriver, you can easily assemble it.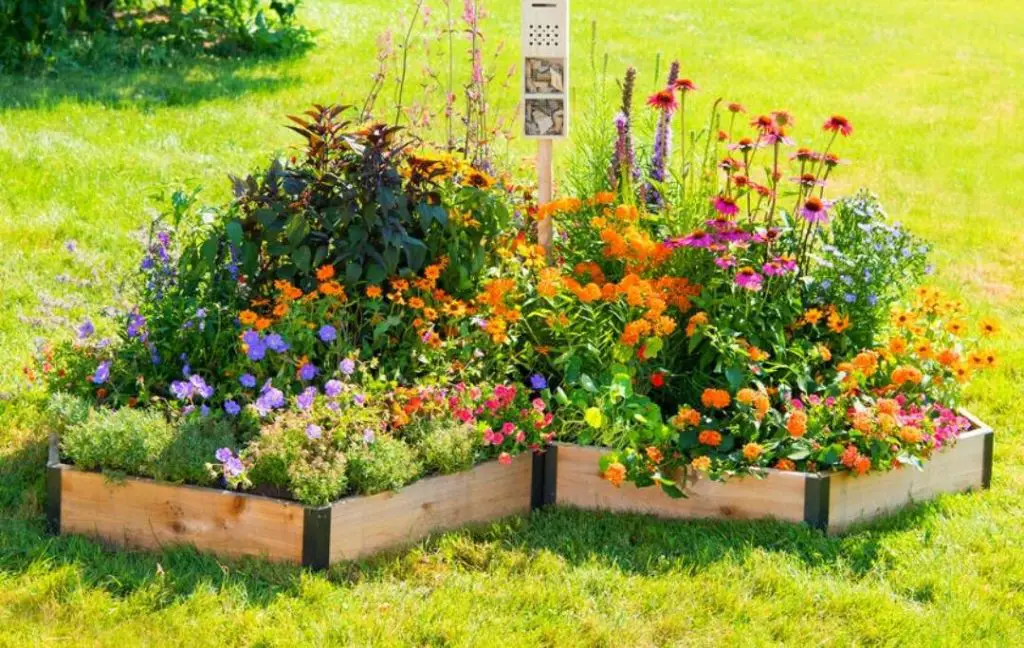 The attractive and beautiful hexagonal design which is made from cedar and lifetime aluminum corners. it is best to attract pollinators. your garden will become a hive of activity, in this way you can make a plan to make a bee garden, butterfly garden or even a hummingbird garden. Your combination of plants can expand your pollinator habitat. you can create a honeycomb pattern by adding more beds of the same kind.
The length of the bed is about 24 inches, the width is 48 inches and the height is 7-¼ inches.
Its weight is about 20 lbs and the ability to hold 134 quarts of soil.
You can easily assemble it by simply inserting each cedar board into a slot on the aluminum corner. Now fasten it with screws. Now your bed is ready for planting. First, add soil with compost for better results.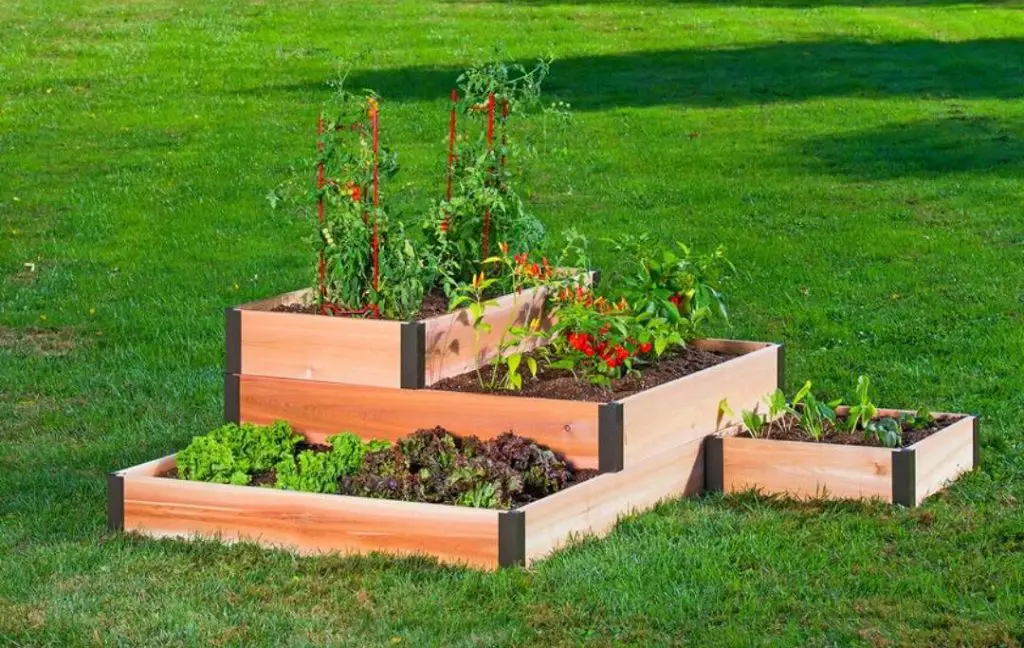 A glimpse of such terraced cedar garden beds will force you to buy it. Its unique design is its specialty. Another benefit of it is that it is good for those who have limited space.
A beautiful and attractive bed made from rot-resistant cedar with rustproof aluminum corners is 6 inches long and 4 inches wide.
Its weight is about 70 lbs and it can hold 32 cubic feet of soil.
You can assemble it with the help of a drill and screwdriver.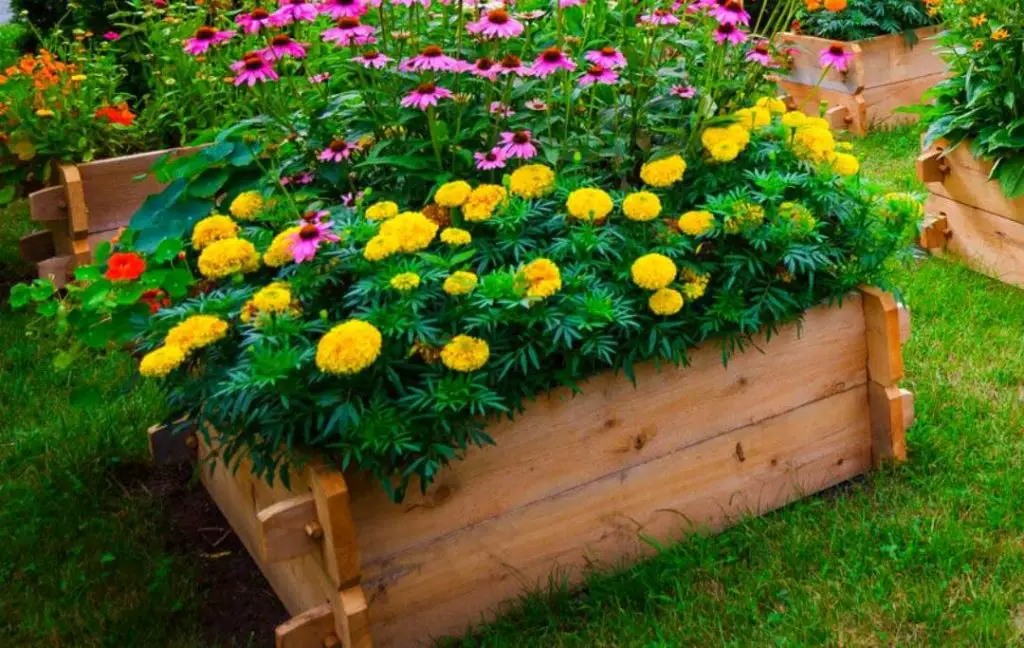 The strong raised bed is made from cedarwood. The traditional look makes it different which is based on 17th-century farmstead design.
It is a good choice for a beginner as well as for experienced gardeners because of its simple design. By adding this to your garden the yield of your plants will be increased. 
You can easily assemble it, which takes hardly 5 minutes.
It is available in different sizes. The natural, untreated, and durable cedar boards with black locusts pegs last up to 30 years.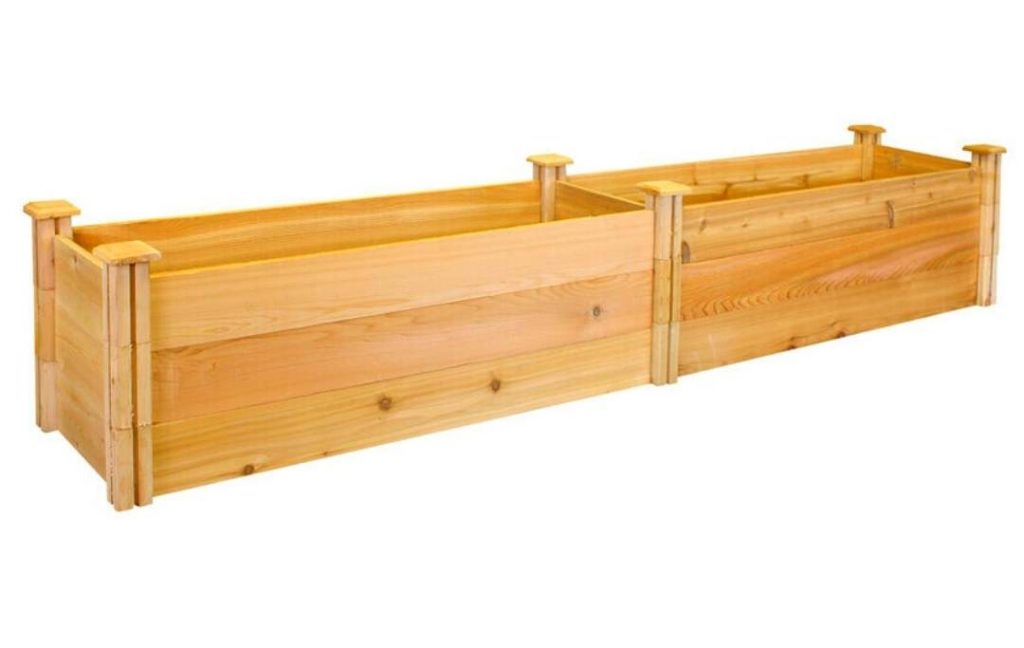 Two separated planting spaces are great for planting. This stunning design is great for creating a garden walkway. You can grow all your favorite vegetables in this raised bed.
Its length is incredible to provide you with generous space as compared to other simple beds. 96 inches of length with a width of 16 inches provides you with a great opportunity for your plants to grow. It is available in three different heights like 5-½", 11″ and 16-½".
The assembly of the bed can be done by simply sliding the boards into the joints in this way you can form a frame. You can "use a screwdriver to install a beautiful top.
100 % chemical-free cedar with naturally rot-resistant quality is used in the preparation of this bed.
It is important to know that this bed is compatible with other premium beds if you want to stack two or more.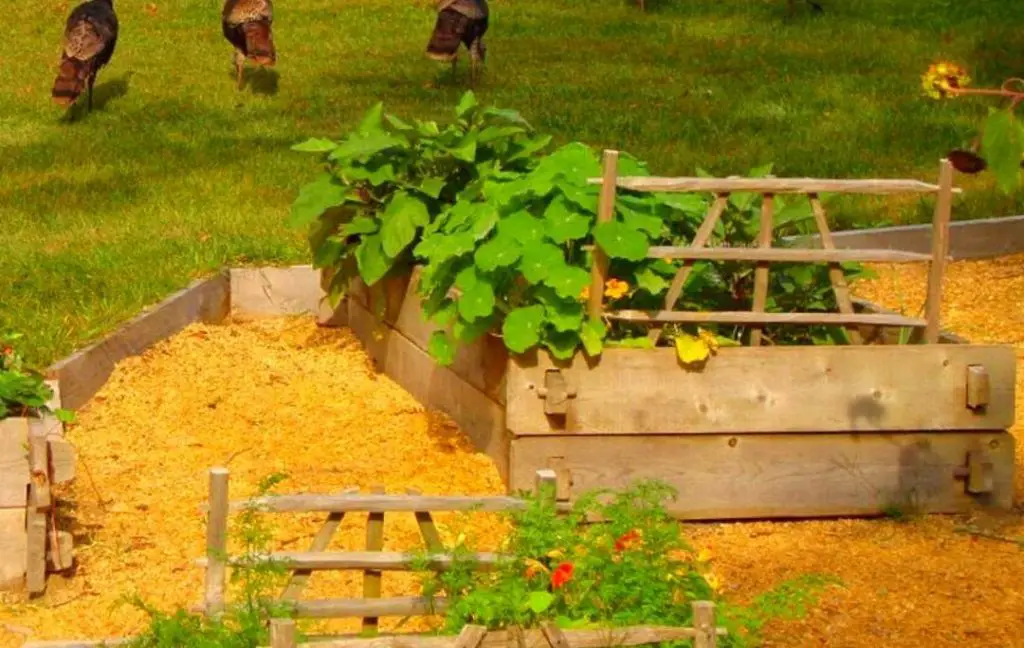 This traditional and classical style raised bed to enhances the beauty of your garden. The high-quality cedar wood which is the naturally rot-resistant and the best material for your raised beds makes this bed durable. It will last at least 30 years.
It is available in different sizes and very easy to assemble. Strong and functional cedar is used in it's making. Without using tools you can assemble it within five minutes.
This four feet wide bed is based on 17th-century farmstead design. If you are not an experienced gardener it doesn't matter, these beds are simple and effective. These helpful beds will make your work easy and you can expand your garden with little effort.
Slog and peg corner design will not pull apart easily which makes it different from typical raised beds.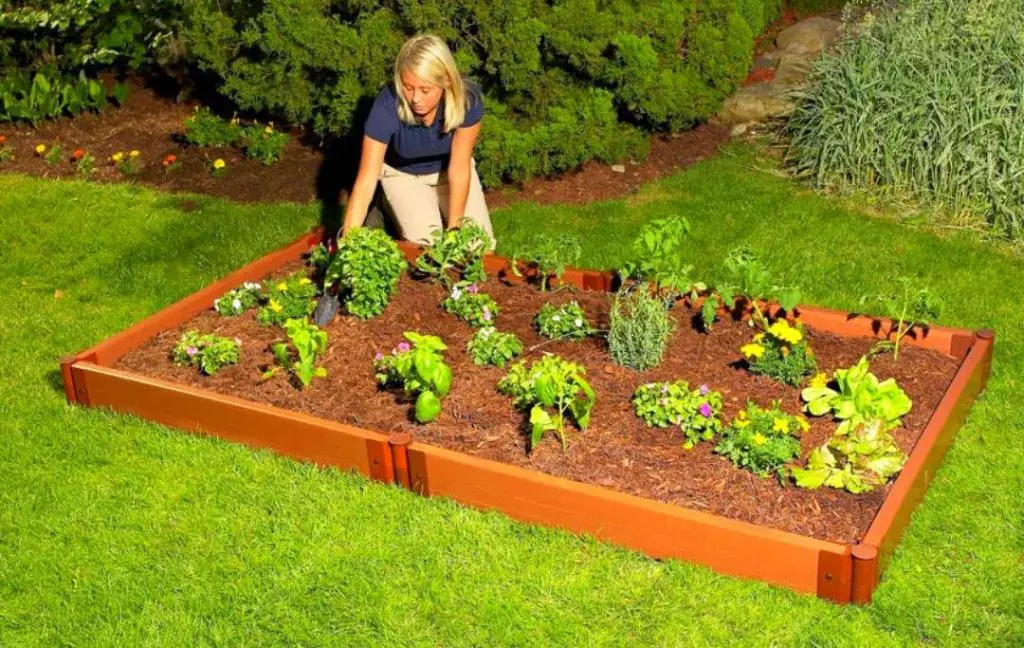 The best way to express your skills is to select this type of unusual bed for your garden. This bed provides plenty of room for your plants.
The boards are insulating open-channel which traps air and provides insulation to the soil.
The other benefit of this bed is that it keeps your soil warm in fall and spring, and cooler in hot summer days. This bed will extend your growing period and there is no effect of weather on your favorite plants.
It is available in different sizes which can hold different amounts of soil. It depends upon your space that which size suits you. It is made from a composite board of 38% of post-consumer recycled plastic and 62% of sustainable hardwood fibers.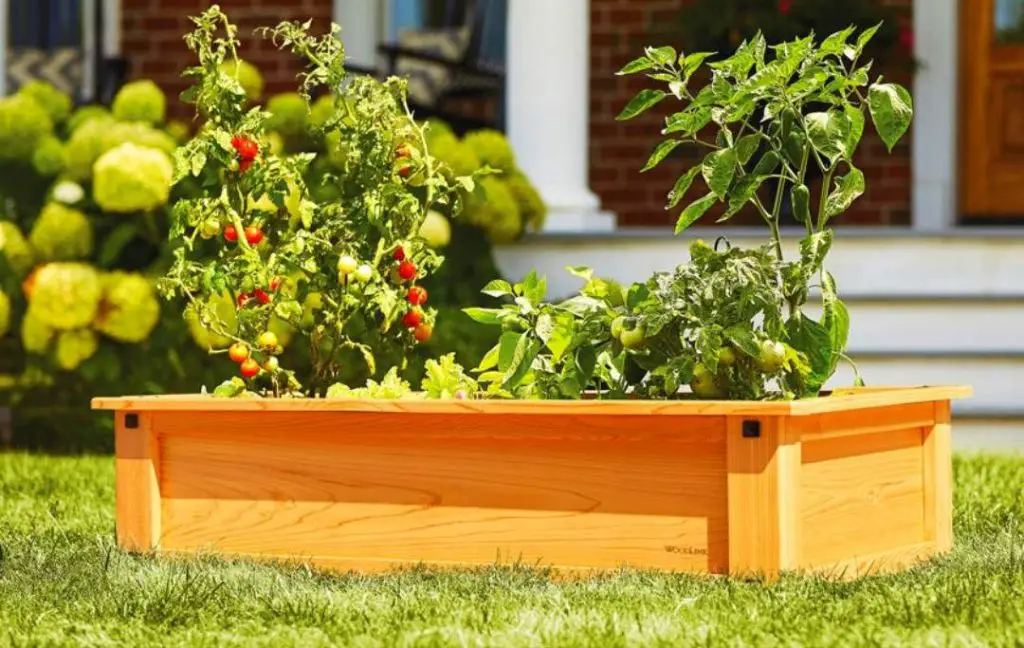 This bed will proper centaur plants from weeds and can control the pH of soil for your plants. Its high construction makes it different.
Its length is about 46-½ inches, width is 24 inches and the height is 12 inches.
 It can hold about 130 quarts of potting mix soil.
 This fabric-lined solid cedar bed has smooth and flat edges. It is constructed in a very elegant way.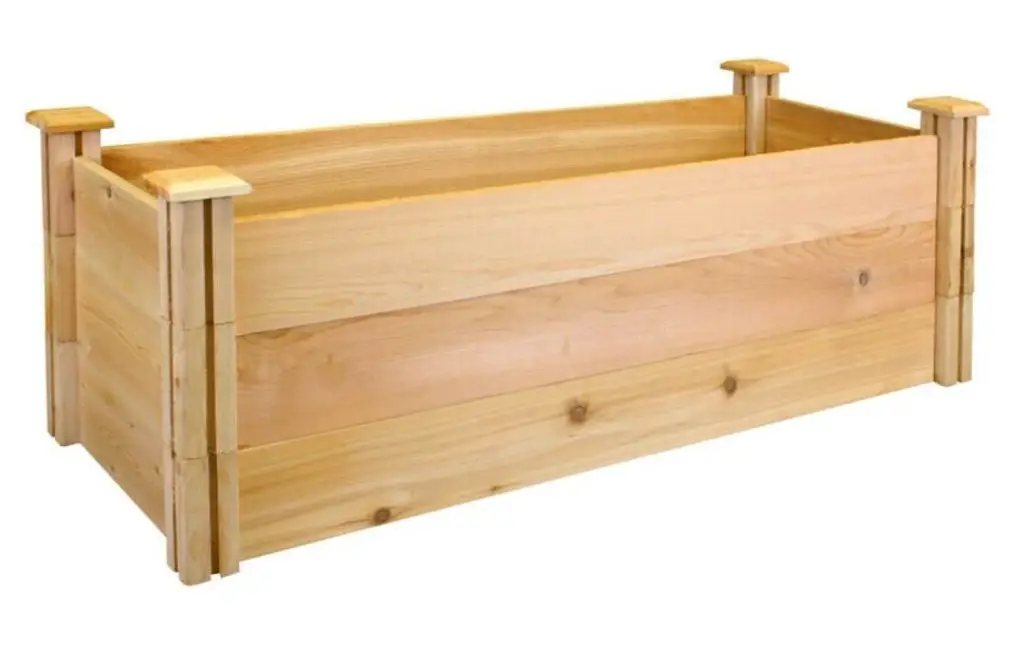 100 percent chemical-free cedar is used in this raised bed which is also rot and insect resistant. This high quality, beautiful, and durable raised bed has a secure garden frame. You can install these decorative tops with a screwdriver. its presence will create the garden of your dream. 
It is available in two sizes, length and width are the same for both sizes but height is different. The length is about 48  inches and the width is 16  inches but the height for one size is 11 inches and for the other is 16 ½ inches.
You can grow any type of plant in it like flowers, vegetables, and any type of herbs. Even you can grow deep-rooted plants. This sturdy bed will help you to grow your plants more easily because of its height.
You can assemble it very easily, simply slide the boards into the joints and in this way you will form a frame of the raised bed. Now attach the caps and fill your bed with soil.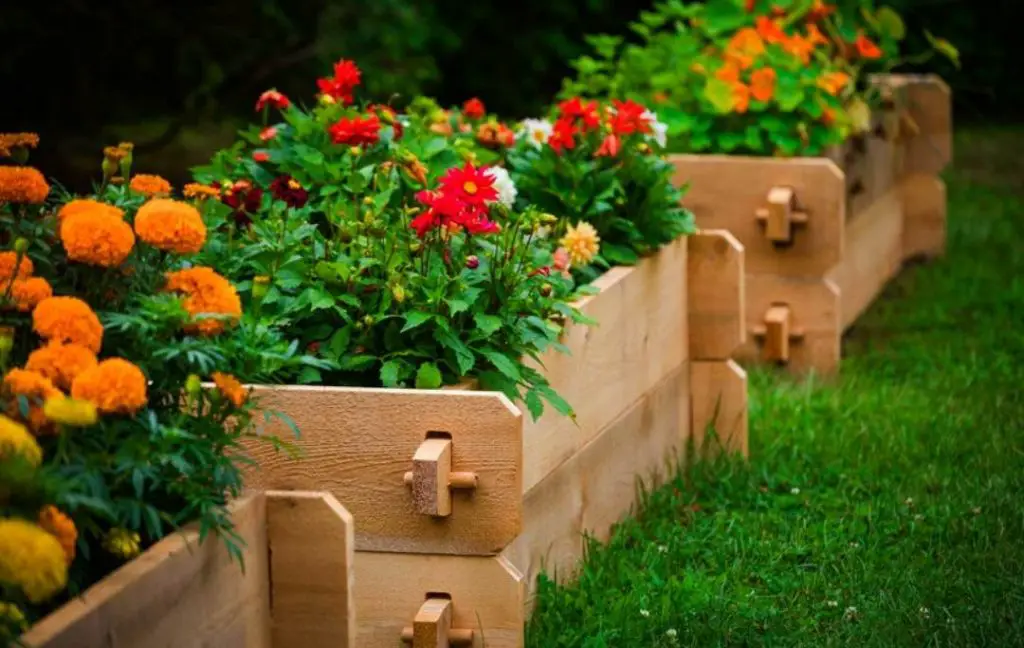 This raised bed is based on 17th-century farmstead design. It is a 2-foot wide bed which is very strong. This type of bed is available in different sizes.
 This bed is made from excellent materials like untreated cedar wood which lasts up to 30 years.
 You can grow vegetables, herbs or colorful flowers in it. Its traditional and elegant look shows your aesthetic sense.
 The weight of the soil keeps the bed in place. For additional stability, you can also add metal rebar or wooden post inside the corner of the bed.