It is true you can grow many vegetables if you have a proper growing area. A vegetable garden can provide a fresh supply of vegetables for your kitchen. 
But if you are living in an apartment and you don't have growing space still you can enjoy gardening. The balcony of your apartment is the place where you can grow your favorite vegetables without any difficulty. 
On your balcony, you can create a small garden where you can sit and enjoy the natural beauty in the evening. You can show your aesthetic creativity when you decorate your balcony vegetable garden.  Select beautiful and stunning pots and containers for growing vegetables.  
You can decorate your pots and containers with paint to make them more attractive. If there is space then you can place a sofa.  The addition of candle lanterns will make your balcony more romantic in the evening. Now your balcony will become your favorite place to sit. 
 In this article, we are going to give you 20 smart ideas for creating a balcony vegetable garden.  Hope these tricks and tips will help you to achieve your purpose. 
1- A LAWN BALCONY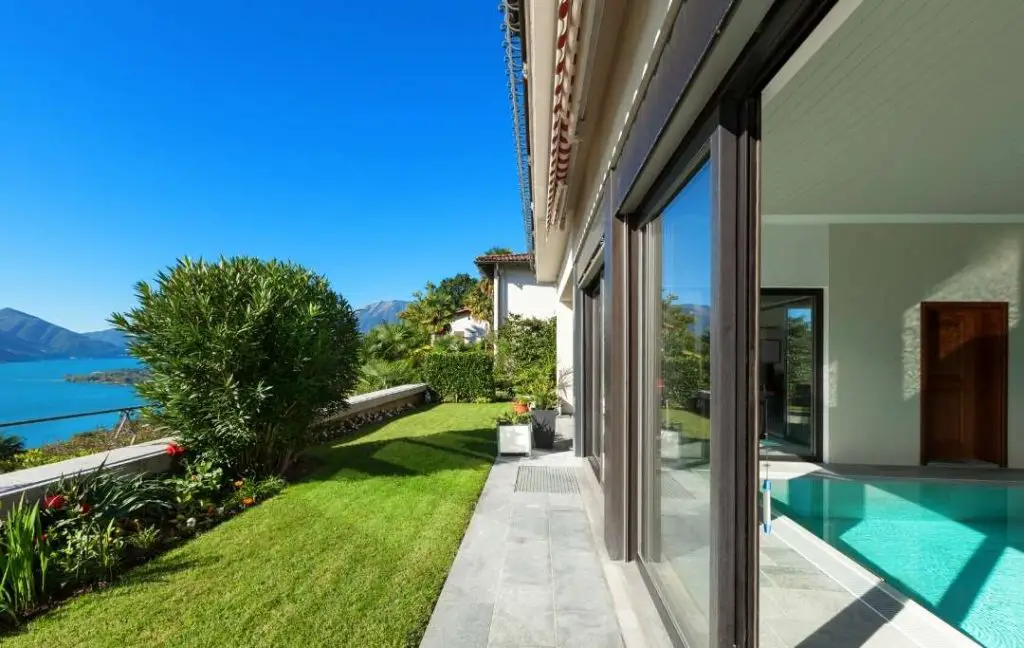 Creating a lawn on your balcony is an interesting idea. If you are a lawn lover then you can use synthetic lawn tiles and enjoy a balcony lawn.  This is a very cost-effective way of creating alone on your balcony. 
2- USE HANGING BASKETS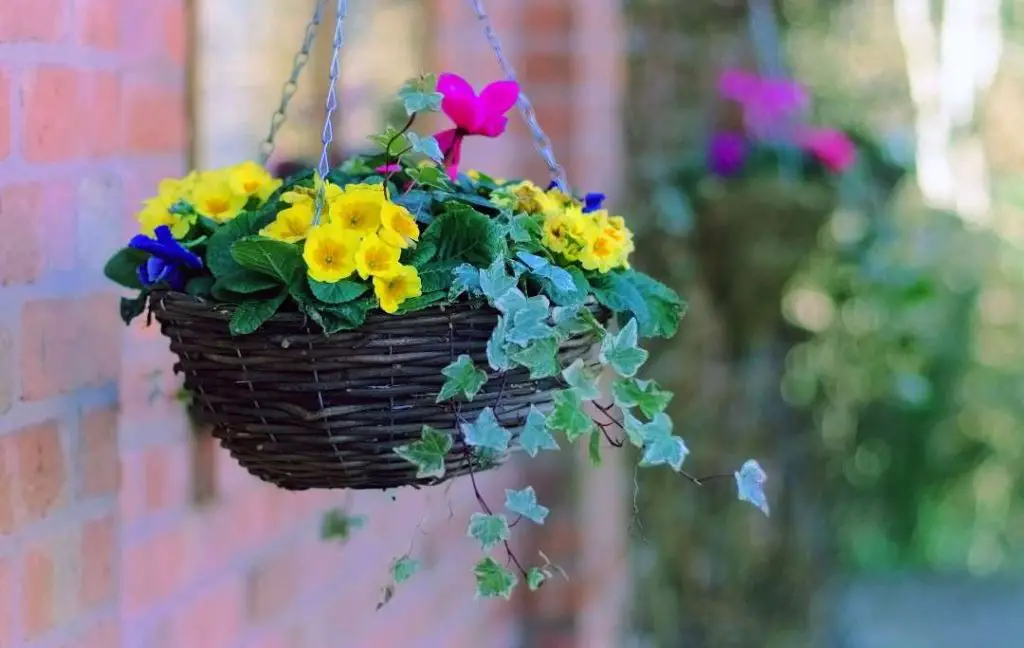 Hanging baskets are suspended containers, you can hang them. If the area of your balcony is small then you can use hanging baskets for growing herbs, tomatoes, strawberries, and other vegetables. Because of limited space, you can't place large pots and containers. If you choose to grow your favorite vegetable in hanging baskets then you can grow more plants. 
This is a very amazing and space-saving idea for growing vegetables.  You can use different shapes and sizes of the hanging baskets according to your choice. 
There are different hanging planters available in many gardening stores and local nurseries. You can also order online. Solid plastic hanging baskets with a water reservoir is available in different designs. 
You can also choose a coco-lined basket because the roots of your favorite vegetable plants are cool and moist. These hanging baskets are available with hangers so you can easily hang them anywhere on your balcony. You can also hang these baskets on wall brackets.
3- VEGETABLE POTS ON A METAL PLANT STAND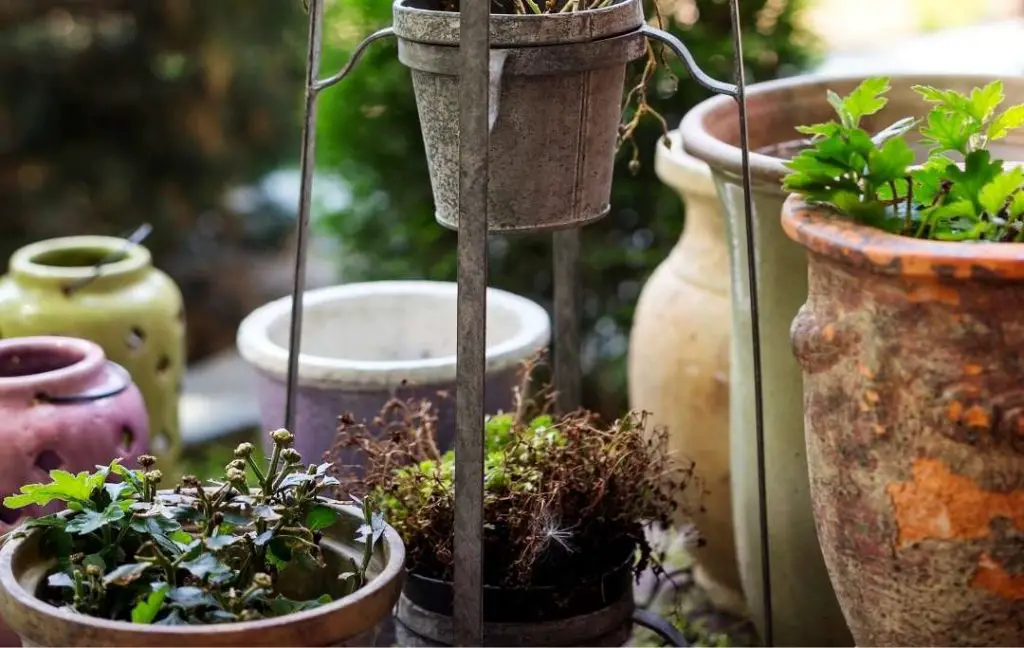 You can use a metal plant stand for keeping many pots of your vegetable plants. There are different stylish and modern metal plant stands available. You can buy according to the space of your balcony.
4- ADD COMFORTABLE SEATING
Comfortable and stylish furniture is perfect for your balcony area but you can choose according to your budget. Without comfortable seating, you can't view your balcony garden inexpensive plastic chairs or an outdoor sofa can be used for sitting in the balcony vegetable garden.
5- VERTICAL TERRACOTTA POTS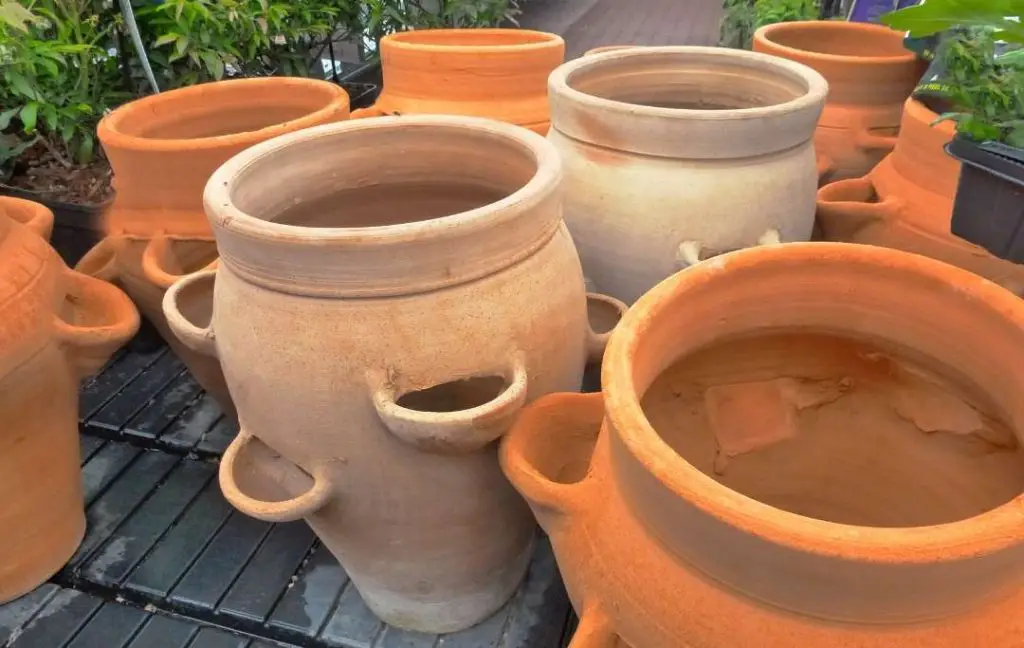 It is a wonderful idea for growing vegetables on your wall. For this purpose, you need a metal rod to connect all the terracotta pots. In this way, you will create a rain chain that will allow water to flow from the top pots to the bottom pots. 
If you are facing the problem of a shortage of water, this idea will save your water and plants get water from top to bottom. If you arrange terracotta pots in this way that will add visual appeal to the balcony garden.
6- MINI VEGETABLE GARDEN IN CONTAINERS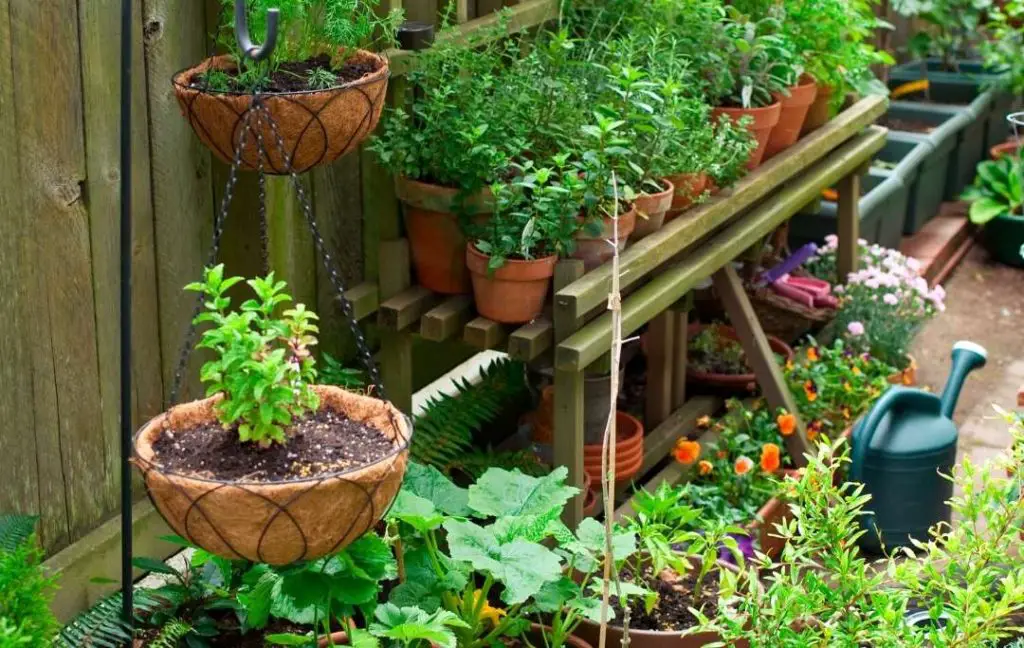 You can use small containers for growing cherry tomatoes, parsley, radishes, salad greens, and basil. The container you are using for growing your favorite vegetable must have drainage holes at the bottom. Fill your containers with the high-quality potting mix so you will get healthier vegetables for your kitchen.
7- STRING LIGHTS ON A BALCONY
When you add string lights to your balcony then it will add a romantic effect. Besides vegetable plants, you can also grow flowering plants to add colors to your balcony. 
The comfortable sitting system, vegetable, and flowering plants, and string lights will create a stunning balcony garden where you can sit and enjoy.
8- WOODEN STAIRCASE VERTICAL GARDEN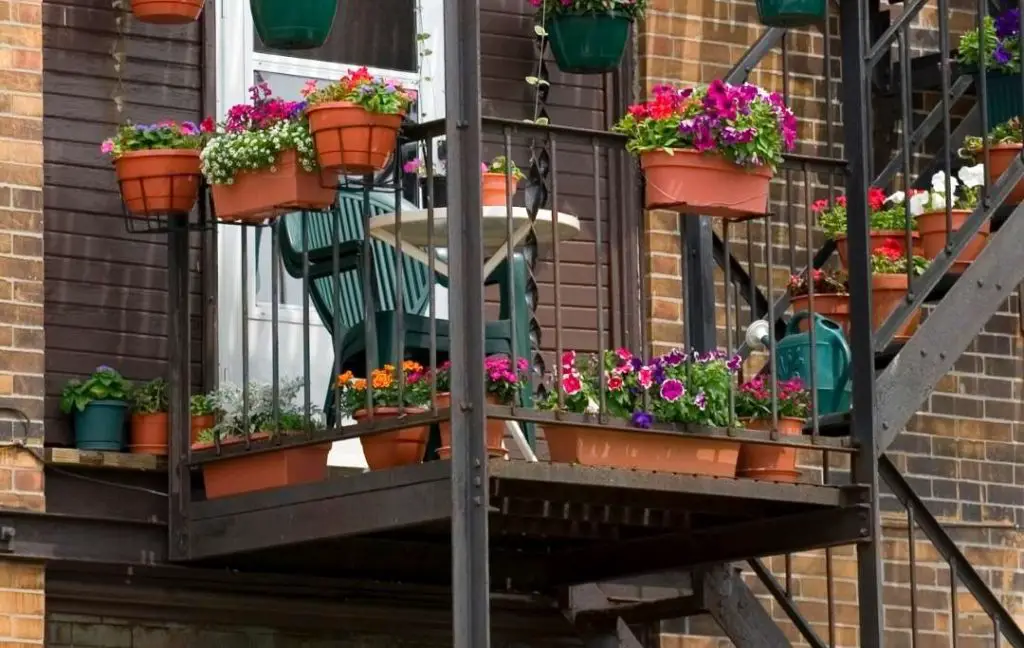 This is a wonderful combination of wood and vegetable plants. Your balcony garden will get a natural vibe with the combination of a wooden staircase. 
This vertical garden is perfect for those who have physical issues because when you put the pots on a wooden staircase then you can easily maintain vegetable plants. Maintenance and care are needed when you grow plants and this type of vertical garden will help you a lot. 
9- BALCONY GUTTER PIPE RAILING PLANTER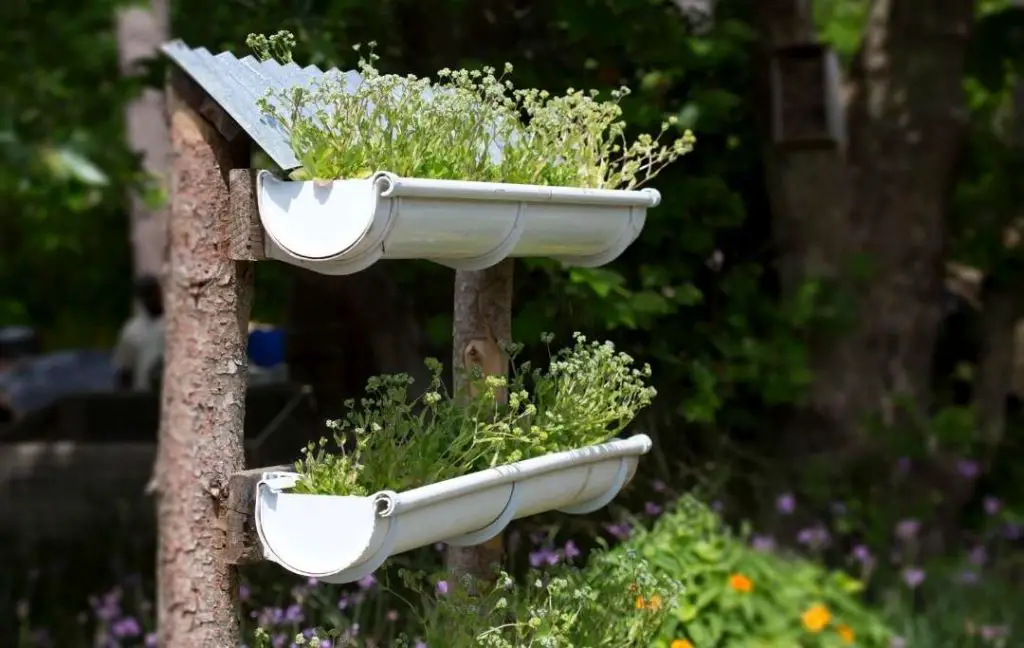 If you are a creative gardener then you will use this idea for growing your favorite vegetable plants. You can use rain gutters in different ways in gardening by using your creativity. 
You can buy nice-looking and attractive plastic gutters. With the help of a drill, you can make holes in the bottom of the gutter. These drainage holes are very helpful to remove excess water from the soil. 
Use high-quality potting mix for filling your gutters after that sow the seeds of your favorite vegetables. Make it possible that your plants to get water on time. This is a very effective and cheap way of growing vegetable plants. 
The vegetables you can grow easily in rain gutters are cherry tomatoes, swiss chards, lettuce, herbs, and strawberries. Fresh and tasty salads can easily be grown in rain gutters. Homegrown vegetables are very healthy and fresh. 
10- BIRDCAGE PLANTER IN VEGETABLE BALCONY GARDEN
You can decorate your balcony garden with recycled things such as birdcages. This planter will add a unique touch to your vegetable garden. You can grow vegetable plants in birdcages and hang them on your balcony. 
You can line up the cage with coco liner or moss. This will stop soil from spilling out from the cage. You can also place a container in your cage but make sure the size of the container must be equal to the cage so it can easily fit in it.
11- RECYCLED PLASTIC WALL PLANTER POCKETS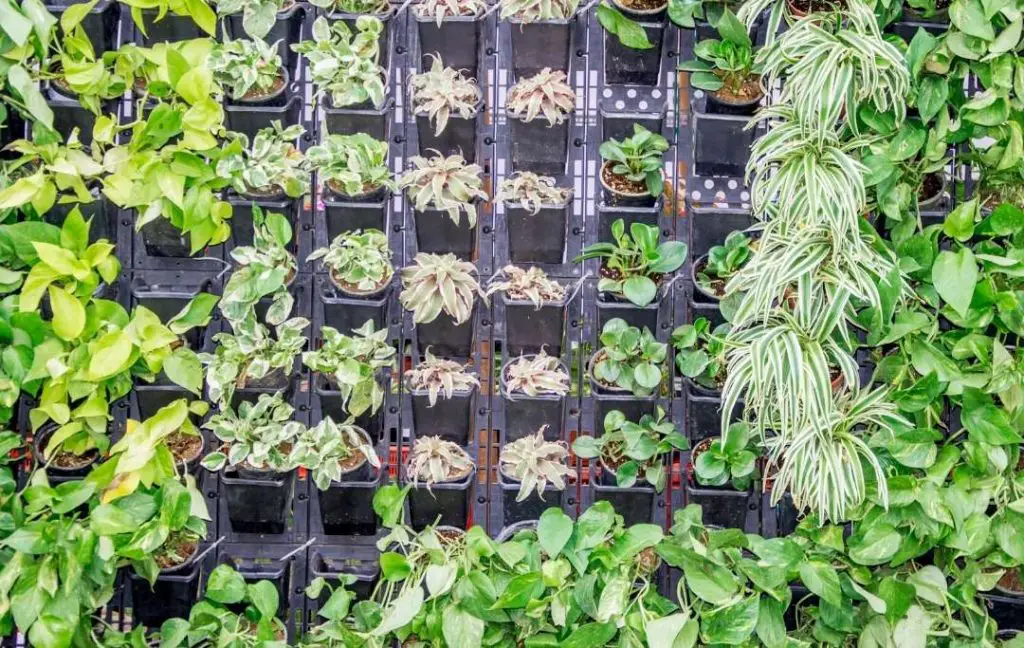 Plastic wall planter pockets can be used for growing herbs such as mint, oregano, and basil in your balcony vegetable garden.  These plantar pockets can easily hang. Make sure they will get full sun exposure. The railing of your balcony is also a good place for hanging them.
12– RECYCLE YOUR OLD LARGE AND SMALL CONTAINERS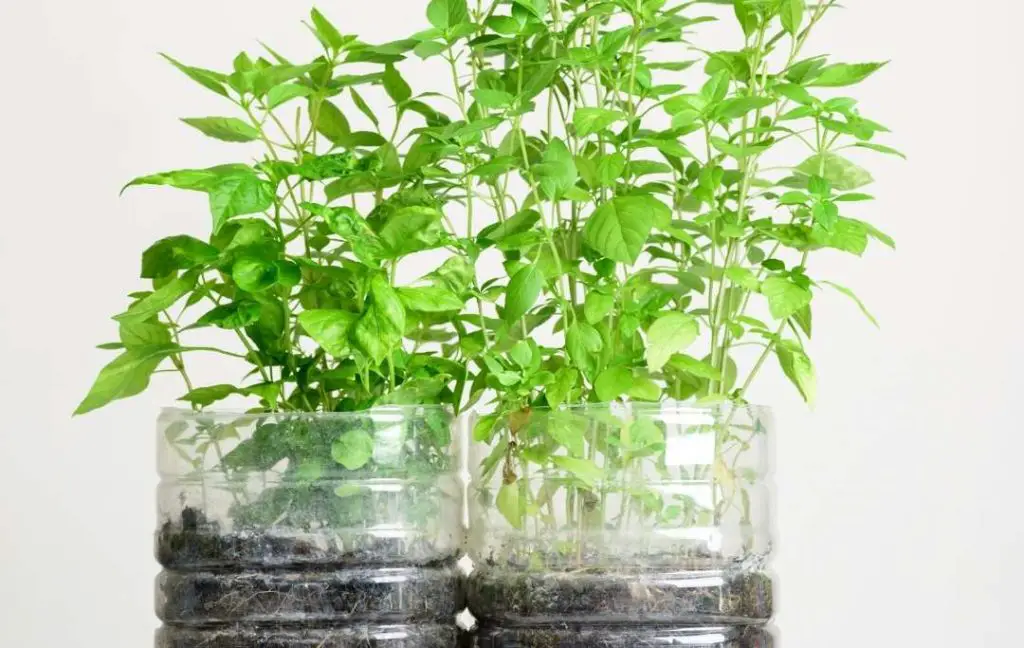 If you have old containers then you can use them for growing different vegetables. This is an inexpensive idea that will not disturb your budget; the useless containers can be used in different ways for growing your favorite vegetables. 
Now it depends on your creativity and how you can use them to make your balcony more attractive for visitors. You can paint them to make them more attractive. Jars, buckets, drink containers, tin cans, and crates can be used for this purpose. 
The small containers can be used for growing herbs and large containers for growing vegetables. The selection of the vegetable depends upon the size of the container. 
Before using these containers make sure they have drainage holes at the bottom. Otherwise, your plants will become affected by root rot and fungal diseases.
13- VERTICAL LETTUCE PLANTERS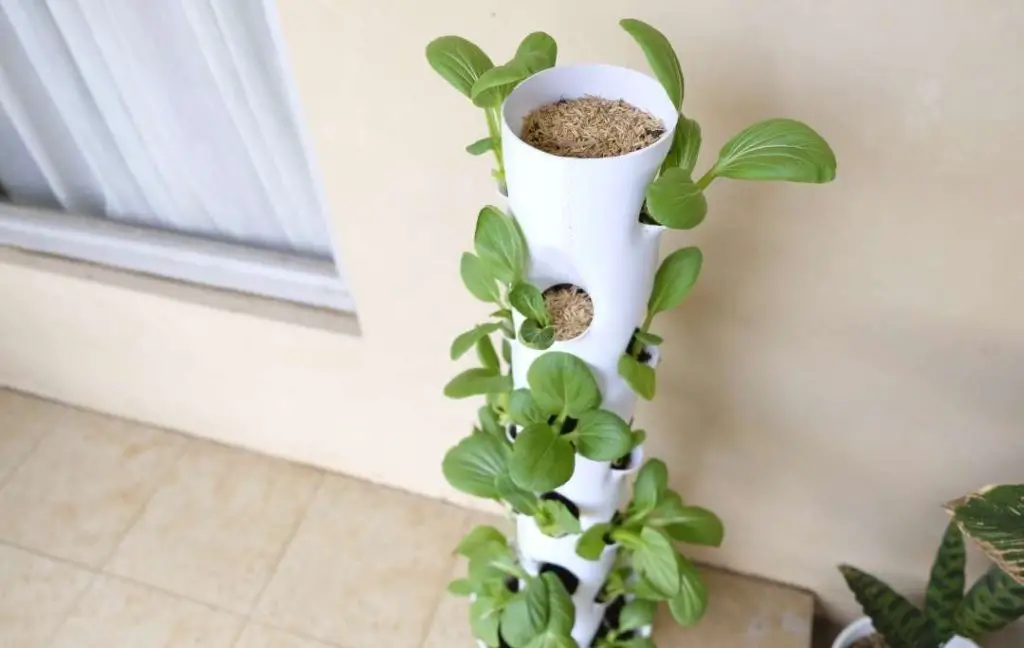 This idea is perfect for a small balcony. You can grow lettuce and many pots through this space-saving idea. This vegetable grows very fast so you can harvest it many times. 
This is a cold season crop so plant it at the right time so you can harvest it according to your climate. This vertical planter can easily adjust and hold many pots. 
Not only lettuce, but you can also grow other vegetables in it. As these planters are very small, you should choose those vegetables that can easily grow in them. Fill your pots with high-quality potting mix and keep the soil moist with frequent watering.
14- GROW CLIMBERS AND VINES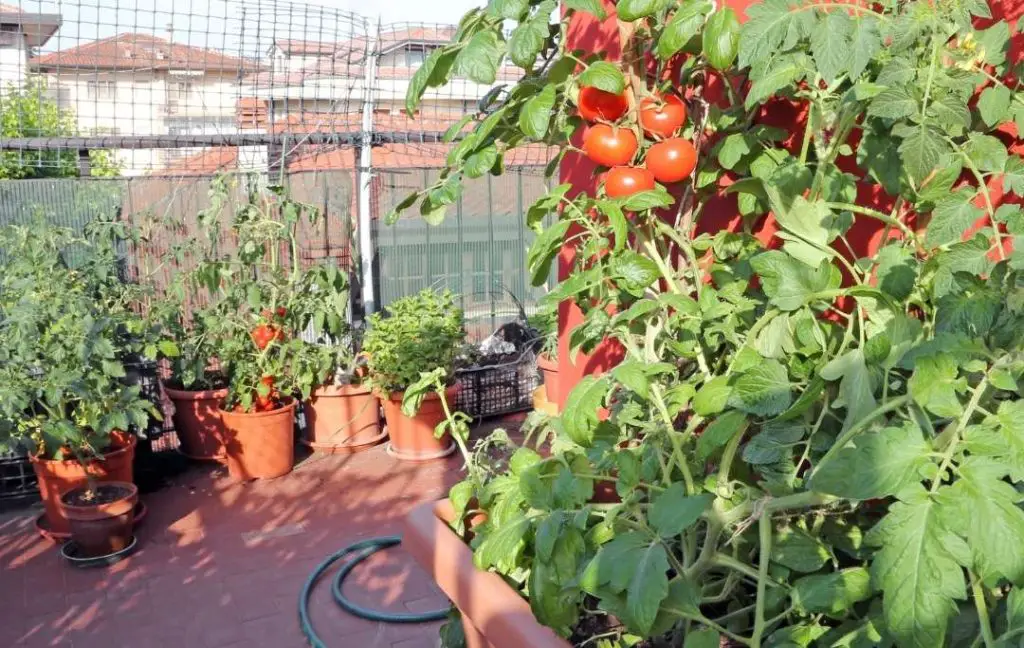 You should install a proper support structure for climbers and vines. These plants grow upward so they need strong support. You can use a trellis for this purpose.  
When your plants get vertical support they occupy less space which is good for your balcony. The rails, walls, and ceilings of your balcony will easily be covered by these plants. 
When climbing plants get proper support then they will get fresh air easily and harvesting becomes easier.  The climbing plants you can easily grow on your balcony are tomatoes, peas, gourd, beans, and cucumbers. These vegetables will provide a fresh supply for your kitchen.
15- CHOOSE COLOURFUL CONTAINERS
When you use colorful containers or pots for growing vegetables on your balcony then the beauty of your balcony will be enhanced. The containers having bright colors will look more extraordinary and stunning. 
16- ADD COLOURFUL VARIETIES OF VEGETABLES
If you choose those varieties of vegetables that have attractive foliage, different textures, and colors then your balcony will look more beautiful. 
The colorful vegetable plant such as red hot peppers, red-stemmed chard, rosemary, lemongrass, and tomatoes will make your balcony more colorful. Besides these colors, you will also get fresh and healthy vegetables for different dishes.
17- USE UNIQUE PLANTERS
There are modern and stylish containers for planters available in the market. You can use them to make your balcony more attractive and stunning; these unique planters will add visual interest. 
18- PRIVATE CABANA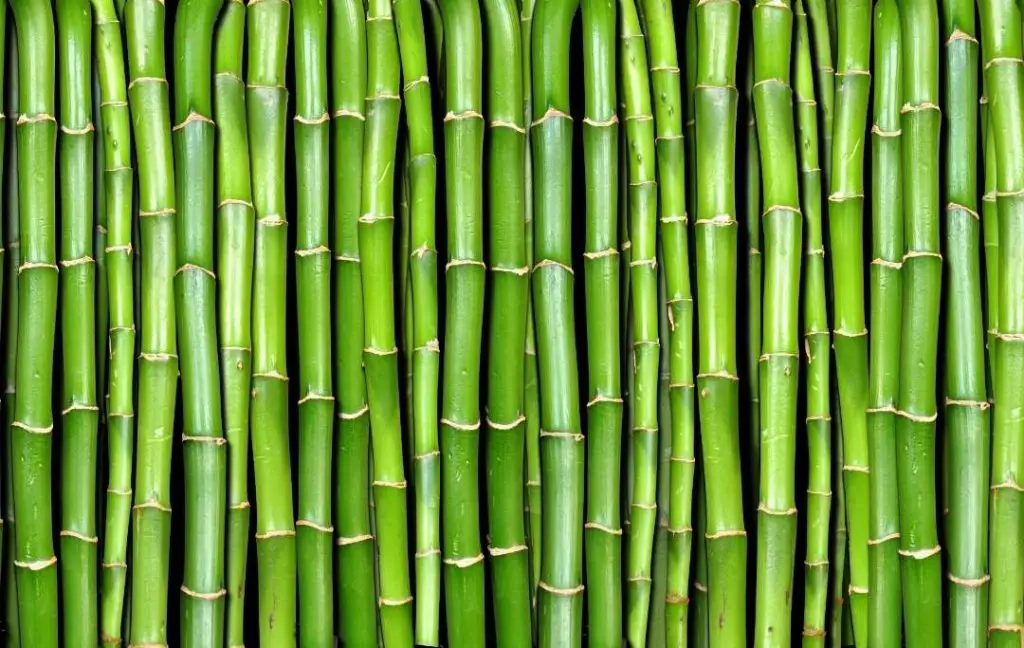 You can easily cover the back wall of your balcony with bamboo. When you do this the vegetable balcony garden will become more attractive with colorful varieties of vegetable plants. This will give a cabana feel.  
This is a very cheap way of decorating your balcony garden because bamboo is very inexpensive. You can easily buy bamboo from home improvement stores. 
This is a very unique idea for giving a different view to your balcony. With this cabana feel you can use woven reed furniture on your balcony. 
19- GROWING BAGS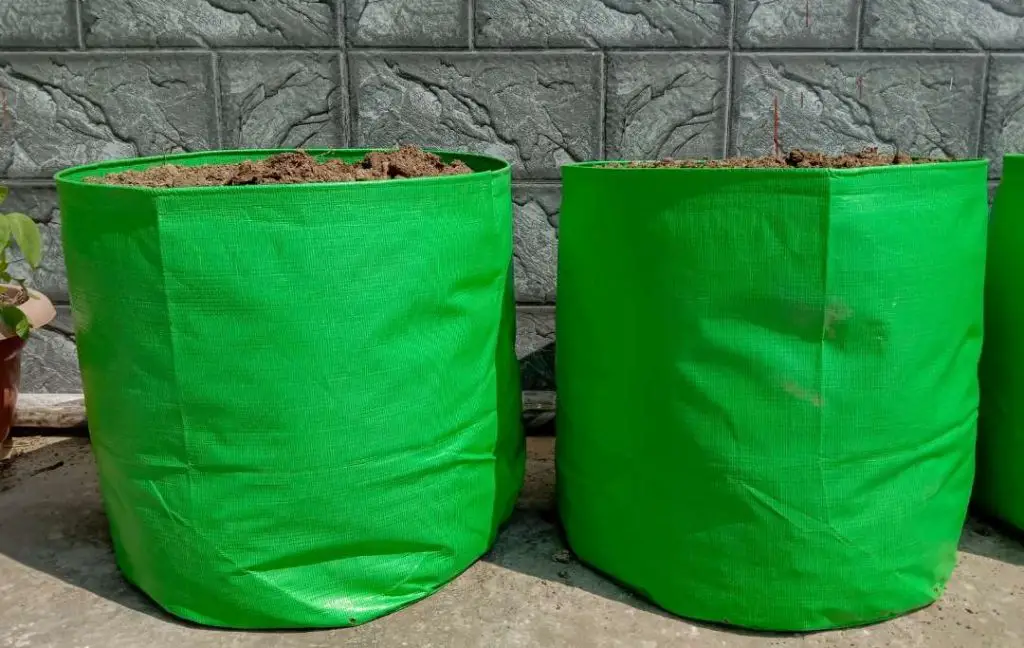 If you don't want to buy heavy pots and containers then growing bags can be used for planting root vegetables in your balcony garden. The light and flexible material is used for making these bags so they can easily hold soil and plants.
20- MULTI-TIERED POTS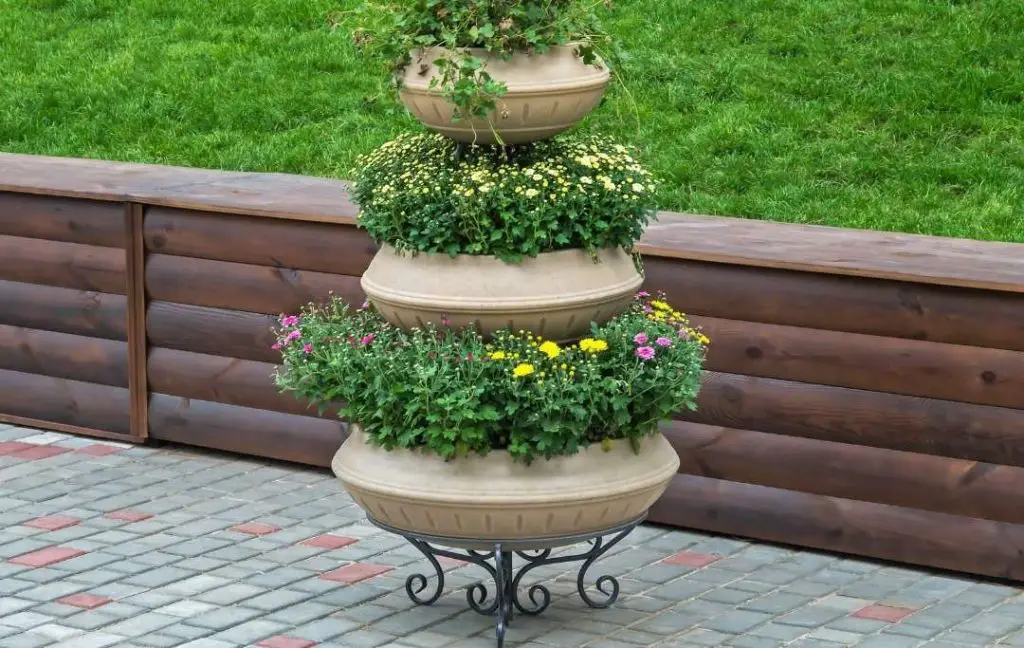 For very small balconies, you can buy multi-tiered planters. These planters are very wonderful because you can grow many plants at a time. Cherry tomatoes, herbs, and strawberries can easily grow in such planters. 
These planters look very modern and stylish when you place them in your balcony vegetable garden. This is a space-saving idea and you can also hang this planter from a chain on your balcony.