Raised beds can change the look of your garden. It's not a bad decision to buy attractive raised beds. But the question arises in your mind what type of bed will suit your garden. It's all about your growing space. If you have limited space, make your decision carefully.
There are a lot of materials available for raised beds like wood, plastic, concrete, and galvanized steel. The material used for the construction of metal raised beds is mostly steel. Steel is not a common choice because wood is the most common and least expensive option. When you are reading this article, the question arises in your mind: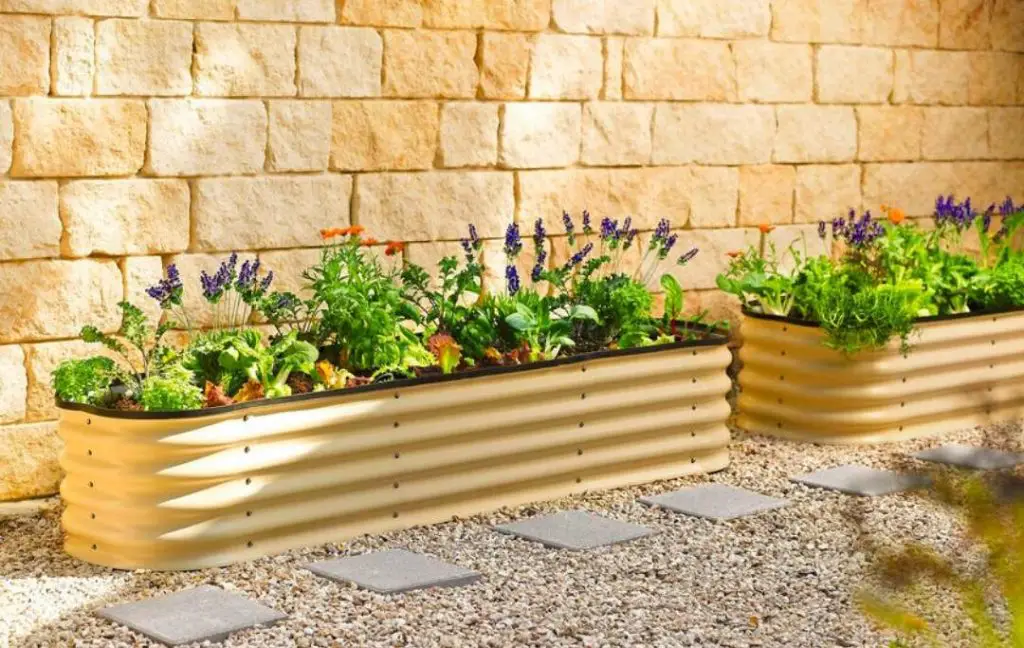 What is galvanized steel? and Is it healthy for your plants?
Mostly galvanized steel is the preferred material that is used for water storage containers, shed construction, roofing, and a number of other products. If we talk about food usage galvanized steel are metals used for storage containers. Nowadays galvanized metal is becoming very popular for garden beds due to their durability. 
As a galvanized planter will never swell or contract. Most people think that due to the heat of the sun, metal becomes so hot which is not good for plants. But it is important to know that damp soil is an incredible cooling agent for the hot metal. If your water consistently then it will not become too hot.
Benefits of Metal Raised Bed
When we talk about steel it is an expensive choice but still is becoming increasingly popular for raised bed construction. 
Metallic raised beds give a very sophisticated and modern look to your garden or deck or patio.
If you are living in a mild climate then a metal raised bed will help you to maintain consistency in your soil temperature.
It will also provide good drainage of excess water.
It is strong and durable and some metal raised beds have a good base as a cold frame. This is very helpful for your plants, especially in winter.
Galvanized metal is durable and resistant to damage and can not easily rot like wood. They will last for decades which is a plus point.
This post may contain affiliate links and I may earn a small commission when you click on the links at no additional cost to you. As an Affiliate I earn from qualifying purchases.
5 Best Metal Raised Beds Available in Markets
There are a number of options available in the market. Here we will discuss the 5 best metal raised beds. Hopefully, this will help you to select the best metal beds. Each container or raised bed is designed to keep the utility in mind.
The beautiful, elegant, and simple design of this metal bed is very exceptional. By growing your plants in this attractive bed, the limited space of your growing area will become productive.
It is made from powder-coated galvanized steel and its weight is about 9-½ lbs.
The length of each side is 34 inches long and its height or depth is about 12 inches. Which is best for deep-rooted plants like carrots and tomatoes.
 It can hold approximately 230 quarts or 9 cubic feet of soil.
You can avoid pests and weeds with the help of this strong bed.
You can assemble it according to the instructions.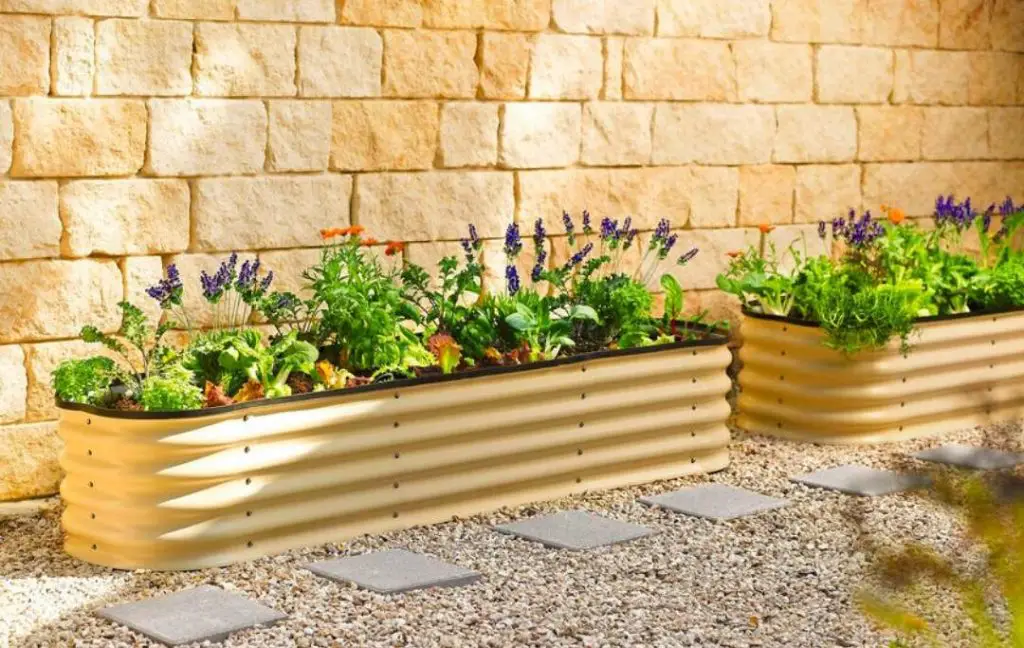 Very stylish and unique design which has superior corrosion resistance in all climates. You can fit them at any place. By adding it to your garden, you will like the versatility of it.
It is made from aluzinc powder-coated steel sheeting. It will last at least 6 times longer than regular galvanized steel.
You can grow any type of vegetables, flowers, herbs, and any kind of their plants due to its incredible height of 15 inches. It is available in different sizes and shapes but the depth remains the same for each size.
You can easily adjust it anywhere in your house. This bed looks good if you are using it alone but aesthetic satisfaction you can arrange them in multiples. 
On the top of the bed, you can find a clip-on safety strip, in this way the edges are protected because it is made from steel.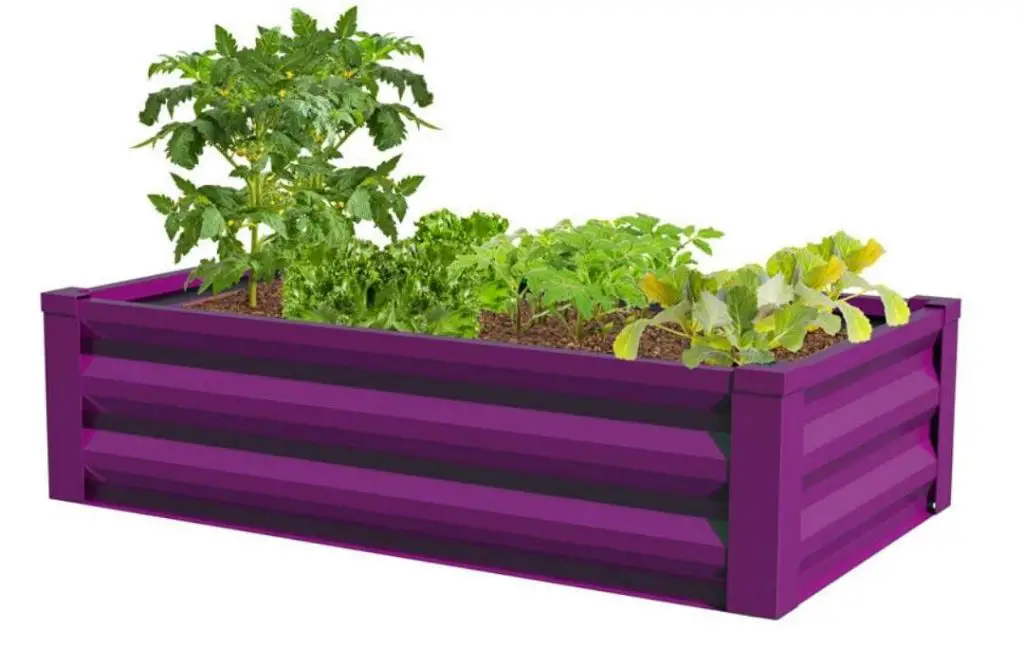 It is a durable and lightweight metal raised bed. When we think about the depth of it you can't believe that it has enough space to accommodate large plants.
It is made from powder-coated galvanized steel so it will last many years and you should not worry about its durability. The rust-resistant quality makes it unique and durable for your plants. If you are living in a rented house, at the time of shifting you should not worry about your beds because they are easily portable which is not possible in-ground beds. Its height is about 10 inches, the length is 48 inches and its width is about 24 inches. Its weight is about 12 lbs.
This rectangular bed has the ability to hold 180 dry quarts of high-quality potting mix soil. The high quality of the soil is essential for soil. You should never compromise on the soil's health because it is the soil which can provide basic nutrients to your plants. 
You can easily assemble it without any difficulty because you don't need any tools for its assembly. Its sidewalls can easily slide into the corner pieces and using a keyhole mechanism you can lock into place.
Your dream will come true by setting the open bottom frame on any level in your outdoor space by simply adding a potting mix and start planting your favorite plants.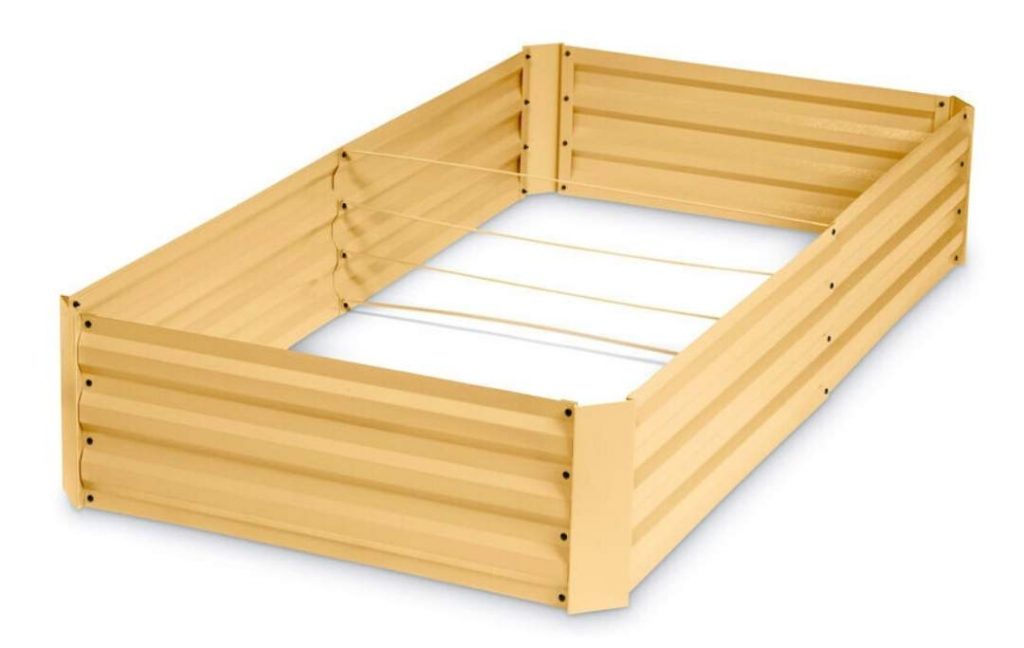 You can afford this large durable, sturdy, stylish, and unusual bed which is suitable for limited space. Best for deep-rooted plants due to depth.
It is made from powder-coated galvanized steel which is suitable for plants to grow and tend than in-ground beds. You can avoid pests and weeds by growing your plants in it.
Its height is about 12 inches, the length is 68 inches, and width is 35- ¼  inches. Its weight is about 18.25 lbs. 
It can hold 17 cubic feet or 508 quarts of soil.
It is best for limited space and it has a lightly textured surface.
 The soil of in-ground beds is colder in the early spring. But when you grow your plants in this type of metal raised bed it will warm up earlier in the spring so you can easily start the growing season than in-ground beds.
You can grow your beautiful and productive plants in this corrugated metal raised bed which is very easy to assemble.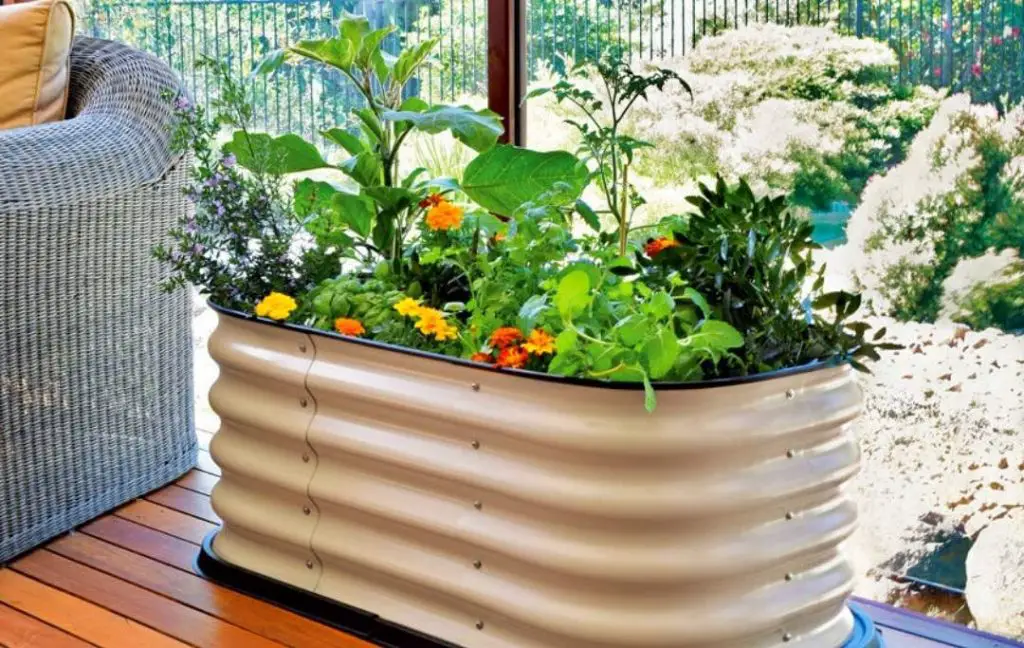 If you have limited space and you can grow your plants only in patios, balconies, or in your house. The suitable option for this purpose is a raised bed with base. With the help of this bed, you can avoid the mess of soil because it has a base as compared to a bottom free metal raised bed.
It is made from steel, acrylonitrile butadiene ABS. The durable coated Steel construction makes it unique for your deck and patio.
 Its height is about 15 inches, the length is 43 inches and the width is 20 inches. It can easily hold 200 quarts of potting mix.
 No tools are required to assemble this beautiful and attractive metal raised bed. It has a protective top edging.
This colorbond steel is 4 times more durable as compared to galvanized steel.
It has a protective thermoplastic base that keeps your soil and water contained. So your plants like vegetables or flowers can easily grow on your deck or patio. One other benefit of its base is that it can protect deck and patio surfaces.