Everyone likes flowers, when spring comes the sight of these beautiful flowers make your mind fresh. Speaking of fresh air, smelling floral scent improves mood and makes people feel less anxious. 
If you want to free yourself from anxiety then the flowers are the best source of this purpose, for example, Jasmine helps in your depression and creates an aromatic effect. In the same way, Lavender has a scent of relaxation and can help you fall asleep.
Colour is the first thing people notice when they see a flower garden. When you select flowers for your garden then choose less saturated and brighter colors so you can feel more relaxed by seeing them.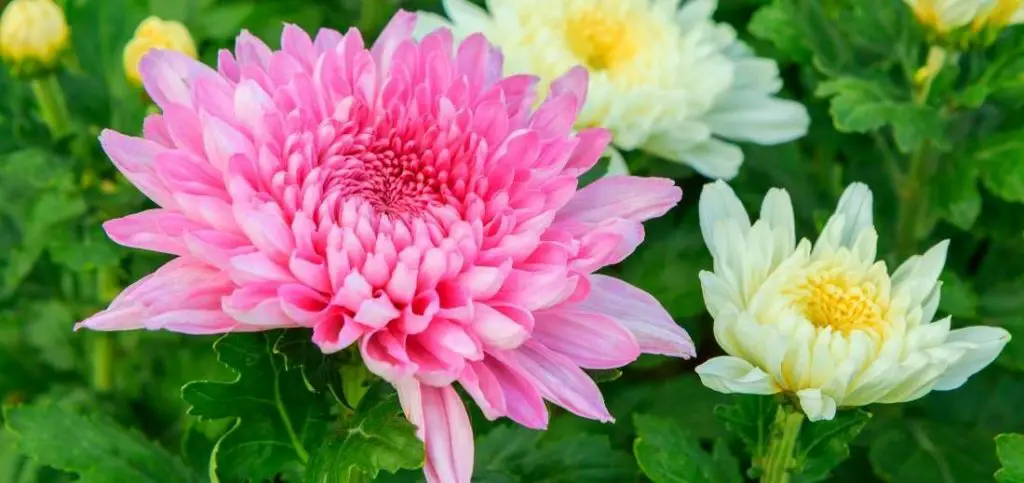 Fully saturated colors are the most intense. The color of every flower sends a different message to you. If you want to create a balance then yellow, magenta, orange, and red flowers will show coordinating and balancing effect in your garden. 
These warm colors bring energy and excitement to your planting area. Purple, violet, and blue tend to be soothing and quieting. If you have a large garden or a group of raised beds then these easy to grow annuals can add a burst of colors wherever you need it.
---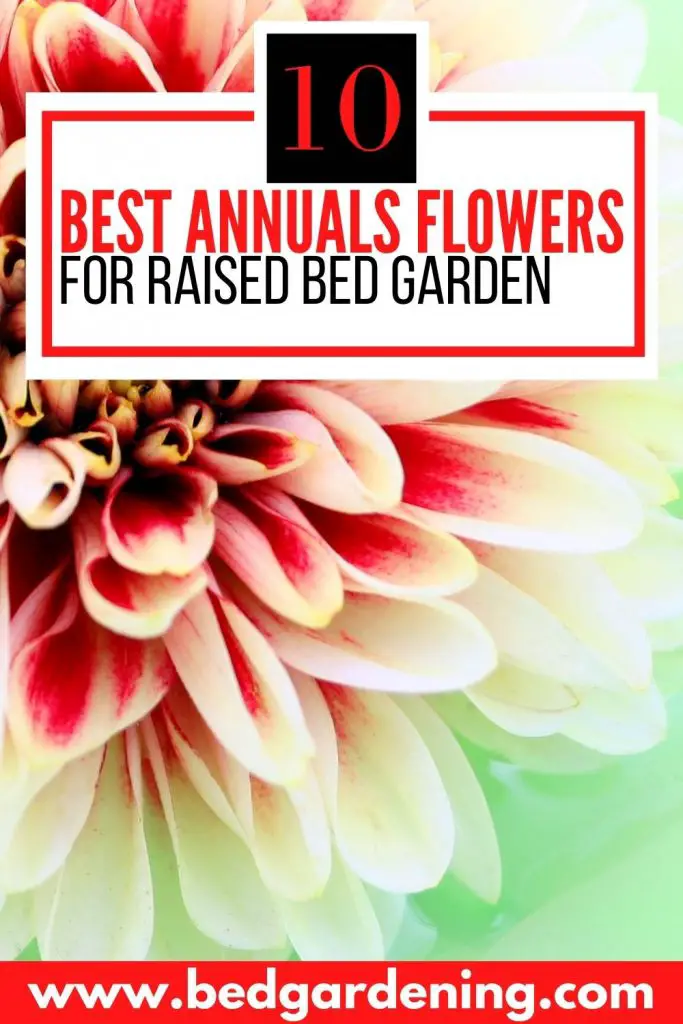 ---
Zinnias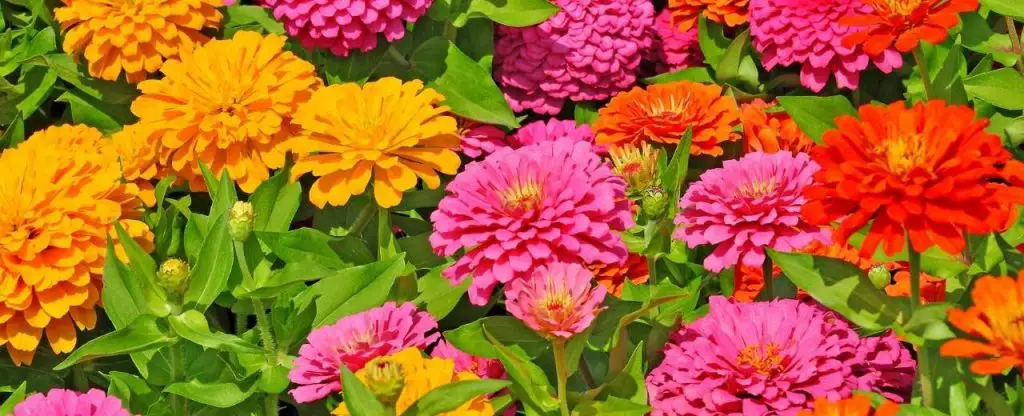 Zinnias create a massive burst of colors in your garden. If you are thinking about growing flowers in your garden, they are best for this purpose. They are easy to grow and bloom heavily. You can grow these annuals for one season and produce seeds. You can save seeds for next season because the original plant will not come back in subsequent years.
Most Popular Zinnias
The most prominent zinnias species are Zinnia Elegans. There are three kinds of zinnia flowers which are single, semi-double and double. You can see a large number of varieties after growing it.
Apart from this, zinnia flowers have different shapes like a beehive, button, and cactus.
Tips for Growing Zinnias
It is sensitive so do not plant it till the last frost has passed.
Zinnias need a minimum temperature of about 16°C but the best temperature is preferred 23 – 28°C.
It is not easy to transplant it so it is suggested that you should plant directly in the raised beds.
Choose the place where the full sun and good air is available.
It needs rich organic soil with a pH between 5.5 and 7.5.
---
Nasturtium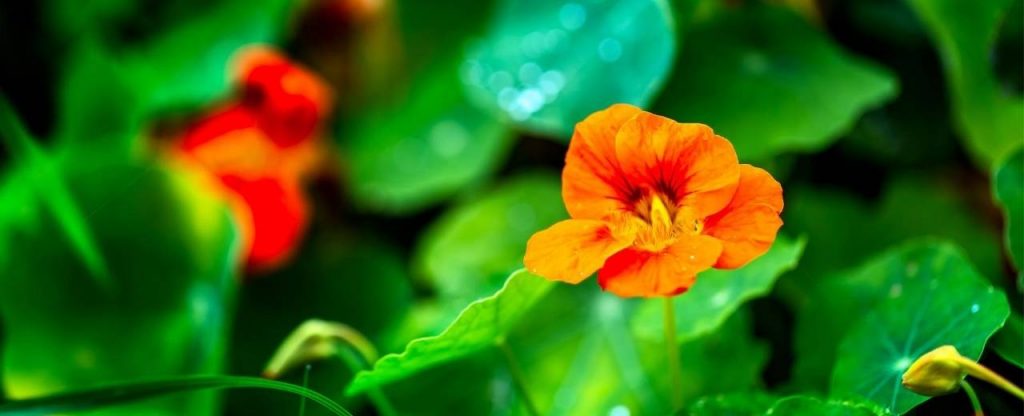 It is a cheerful, manageable, and quick-growing annual flower. It has an extraordinary fragrance that enchants you. The best thing about it, you can eat it and use it in a salad. They are but over Water will be good for kids to plant because they grow quickly. 
Because of its bright green color and beautiful flowers, it is good for your raised bed. Pests like the mustard oil produced by nasturtium.
Tips for Growing Nasturtiums
You can plant it before the last spring frost.
This plant needs full sun and moist soil.
You should plant its seeds about half an inch deep and 10 to 12 inches apart. 
Water it regularly but over water will be harmful.
 When the growing season is over, nasturtium plants need to be trimmed in your raised beds.
Calibrachoas
The other name of this flower is Million Bells. Its flowers have many colors like rainbow and leaves are compact, oval-shaped, and a bit sticky. It is the most popular plant for growing outdoor, in raised words. They are self-cleaning and the flowers bloom right through the fall.
Varieties of Calibrachoa
There are different varieties of calibrachoa, including, Cabaret Hot pink, Cabaret Purple glow, Million Bells Terra cotta, Mini famous double blue, and Superbells Pomegranate Punch.
Tips for Growing Calibrachoa
It needs 6 hours of sunlight.
 Fast-draining potting soil is necessary for the growth of this plant.
This plant needs well hydrated but not overwatering. Don't water it until the soil dries out again.
They prefer a temperature between 55 and 65°F.
If you want to prevent your plant from pest and disease then good air circulation, proper water management, and good soil porosity are required.
---
Sunflowers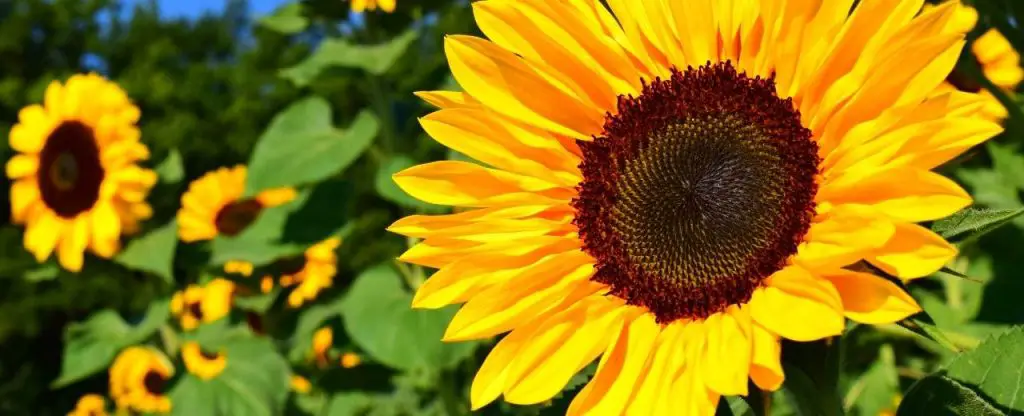 Sunflower is an annual plant.  It is just like a daisy flower. There are different varieties in shades of sunflower-like Red, White, Orange, and even Pink but the most common color of this flower is yellow with brown seeds in its center. 
The height of this plant is very high, you should give them support so they can grow well. The flowers of this plant are heliotropic means they can turn their face to follow the movement of the sun.
Varieties of Sunflower
The most common variety of sunflowers is Mammoth which has excellent edible seeds. Besides this Autumn Beauty, Sunrich Gold, and Teddy Bear are some common examples.
Tips for Growing Sunflowers
You can easily grow them directly into your raised beds after the danger of spring frost.
The hot climate is required for the growth of this plant so your location has a direct link with sunlight.
It is necessary to plant it about 1 to 1-½ inches deep and about 6 inches apart.
This plant required plenty of room so make rows about 30 inches apart.
Overfertilization can cause stems to break in the fall so be careful.
Give them water infrequently to encourage deep rooting, when the plant is established.
---
Snapdragons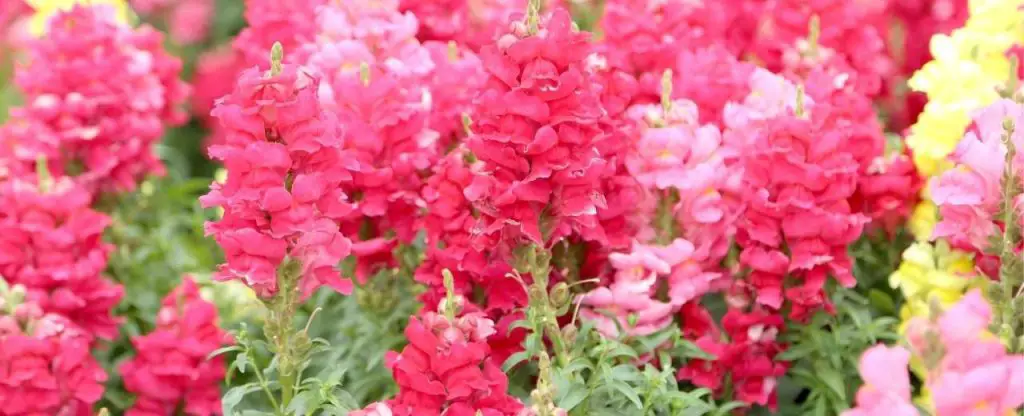 They are perennial but they are commonly grown as annuals. They can repeat bloom throughout the season but best in the cool of spring, fall, and throughout the winter. It likes cold season and stops blooming in the heat of mid-summer. 
When you see its flowers, they resemble opening mouth when they are pressed on their sides. The opening of the flowers is snapped tightly shut and requires more pressure to open than a honeybee can provide.
Varieties of Snapdragons
Tall and dwarf varieties are found in snapdragons. The height of dwarf plants is about 6 to 15 inches. It is a bushy plant with lots of flower stalks. Tall variety is less bushy and its height is about 32 to 48 inches. Some other varieties of snapdragons are Arrow, La Bella, and Rocket.
Tips for Growing Snapdragons
Planting snapdragons in partial shade and regular watering I will help them to bloom throughout the season.
Regular watering will minimize the risk of nitrogen and help the fertilizer reach the roots. 
The pH of soil between 6.2 and 7.0 is suitable for snapdragons
They like cool conditions, they have the ability to withstand the freezing temperatures.
---
Petunias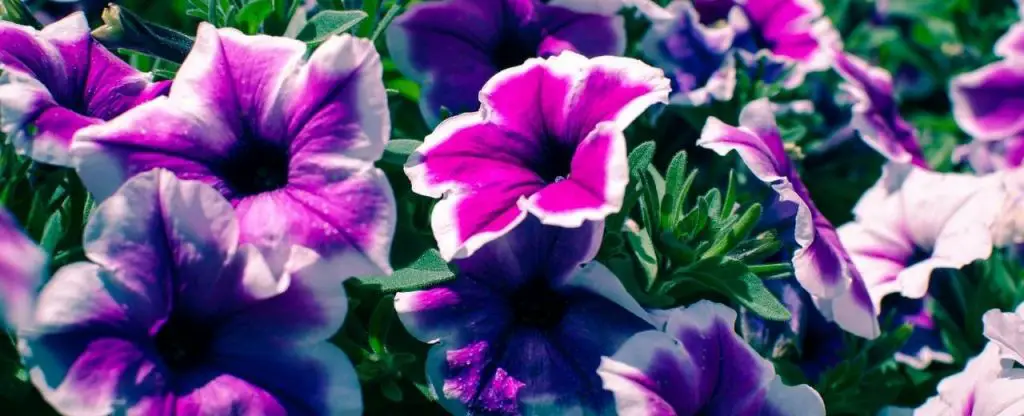 Petunia is that kind of plant which gives you flowers for a long time. It is found in different colors like reds, whites, pinks, yellows, and purples. Its height is about 6 inches to 18 inches and it can be spread from 18 inches to 4 feet. 
These annuals can add a charm to your lawn, often used as borders containers, hanging baskets, or even seasonal groundcover.
Varieties of Petunias
Petunias are divided into different groups according to their flower sizes, for example, Multiflora, Grandiflora, Floribundas, Millifloras and Spreading or Trailing Petunias a
Tips for Growing Petunias
You can grow them from the seeds but it is easy to grow them from transplants.
Space the plants about one foot apart.
It is not necessary to give them water regularly because they have the ability to tolerate the heat.
Avoid wetting the foliage when watering, in this way, you can prevent them from diseases.
---
Marigolds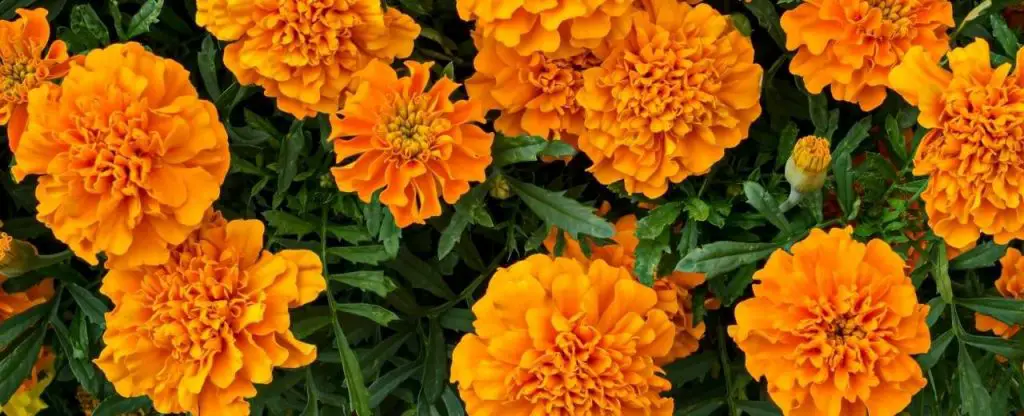 These are fast-growing plants that give you vibrant orange and yellow flowers brightly all summer long. Each plant of marigold can give you 15 + flowers.
Varieties of Marigolds
There are some 50 species which we can grow in the garden, some are Tagetes erecta, Tagetes patula, Tagetes tenuifolia, and Calendula officinalis.
Tips for Growing Marigolds
Marigolds need moderately fertile and well-drained soil.
For planting in raised beds use soil-based potting mix.
You have to take care when you are growing Marigold in raised beds because Marigold can become crowded.
You can add a layer of mulch between plants to get rid of from weeds and keep the soil moist.
---
Dahlias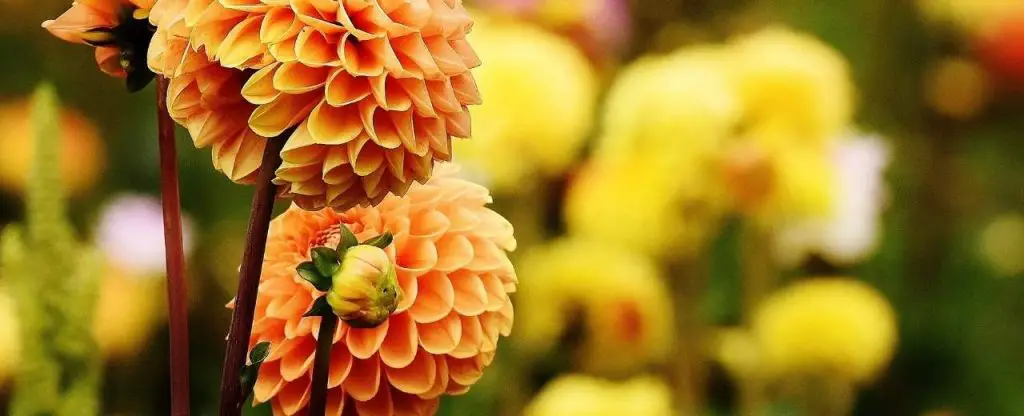 This flower can change the look of your garden and enhance the elegance because of its honeycomb-like shape. These flowers bloom from midsummer to autumn. They grow from small tubers planted in the spring, they are considered a tender perennial in cold regions. Dahlias love moist, moderate climates, they don't like extremely hot weather.
Varieties of Dahlias
There are about 60000 varieties and 18 official flowers are found in the world. You can choose any of them and change your garden's beauty. Here are some popular choices:
Bishop of Llandaff, Miss Rose Fletcher, Bonne Esperance, Kidd's Climax, and Jersey's Beauty.
Tips for Growing Dahlias
The planting hole should be slightly larger than the root ball of the plant as it helps to mix a handful of bonemeal into the planting hole.
Do not water the tubers right after planting this encourages rot.
Like any large flower plant, the big dahlias may also need extra attention before or after rain.
---
Impatiens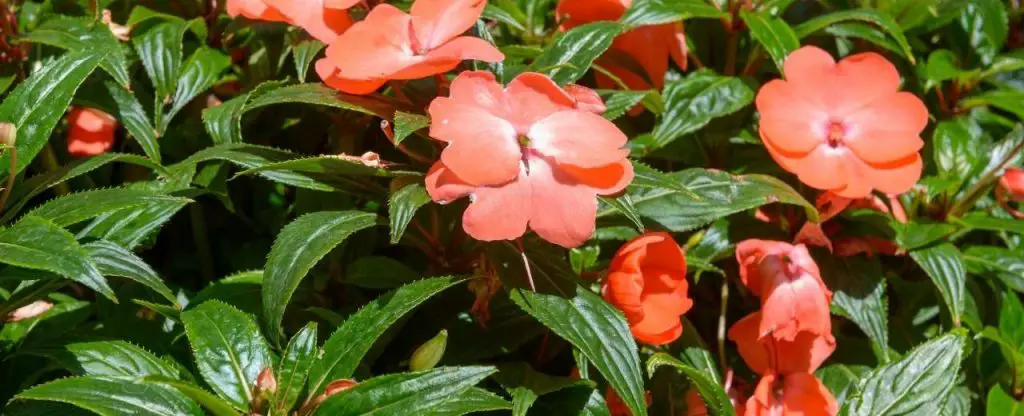 If your garden has some darker area,  then you can grow this plant in that area because they are included in those plants, who do not need a lot of sun. You can plant impatiens flowers quite close to one another. They are very sensitive about water.
Varieties of Impatiens
It's recommended varieties which you can grow in your raised beds are:
Tom Thumb Series, Super Elfin Series, and Swirl Series.
Tips for Growing Impatiens
If you grow impatient plants closer than the height of the plant will grow taller.
Water regularly but not too wet. If you leave the plants dry then they will lose their leaves and overwatering results in fungal diseases.
One thing should be in your mind, that plants grow, in raised beds or containers will need more water.
Generally these plants like shade and moisture and well-drained soil.
Make it possible for the plants, have some shelter from the wind
---
Cosmos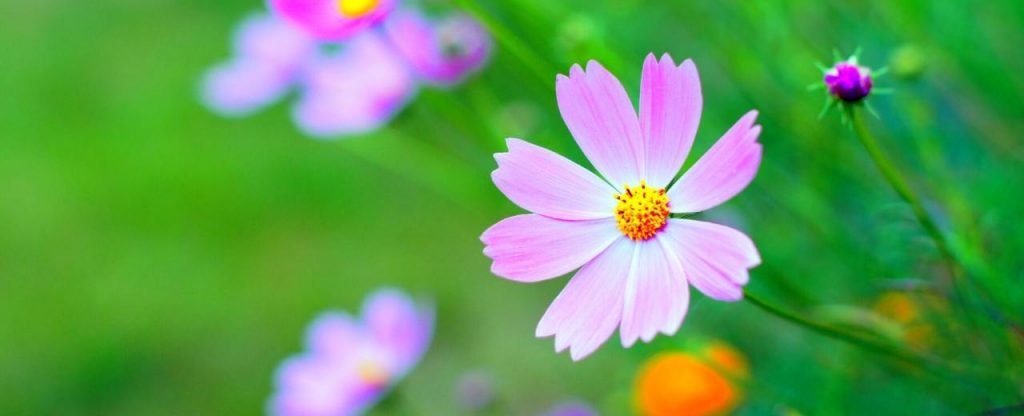 These annual flowers have beautiful colors and bloom throughout the summer months. It is a source of attraction for birds, bees, and butterflies. Its presence in your garden will soothe your eyes. These beautiful plants can reach 6 feet tall. They can easily grow in both beds and containers and they also make great cut flowers.
Varieties of Cosmos
The recommended varieties for these plants are Picotee, Seashells purity, Cosmos Sonata Series, and Chocolate. Besides this, we have tall cosmos and dwarf cosmos plants that are easy to grow.
Tips for growing Cosmos
Water regularly but make sure you don't overwater the plants because it results, over-fertilization, which leads to the plants with fewer flowers.
These flowers can tolerate warm and dry weather easily.
If you want to harvest more seeds, remember to leave a few flowers on the plant because they will self-seed.