Raised beds are a good option for growing plants. It is the best, convenient and attractive way of growing plants. You can increase the productivity of your edible plants by growing them in raised beds. 
There are several benefits of raised beds. You can maintain the fertility of soil plus the soil will warm faster so you can start growing earlier. If you have any physical issues then you should build or buy the raised beds to avoid bending and kneeling. Better drainage will prevent the plants from root rot.
Building a raised bed at home is not a difficult task; you can do it effortlessly. The interesting thing is that you can build raised beds by using recycled materials. This will show your creativity in building a unique raised bed by using recycled material.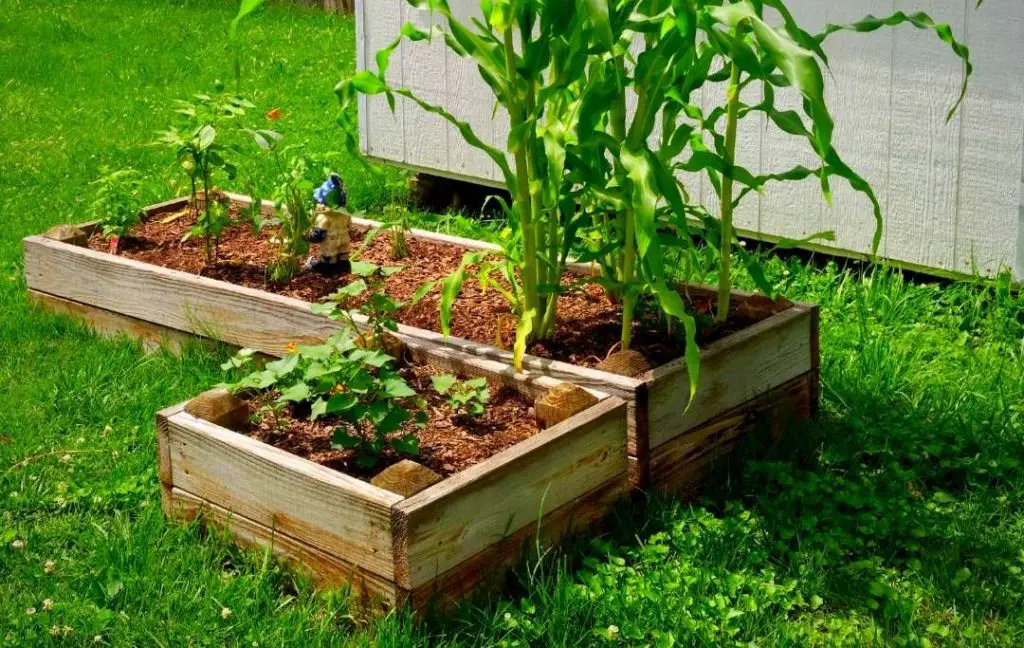 There are different recycled materials available that can be used in making raised beds such as recycled lumber or plastic lumber, modified furniture frames, corrugated metal, bricks, and broken concrete or cinder blocks. It's up to you, how you use waste materials for building raised beds. 
SITE PREPARATION
Before selecting the recycled materials for your raised bed you need to prepare the site of your growing area. Remember the site is a sunny spot which at least receives 6 to 8 hours of sunlight, it is necessary. Following are the steps for preparing the site.
After choosing the best site in your garden for your raised bed, measure the area on which you want to build your raised bed. The general size of the raised bed should be 4 feet wide. 
This site is accessible from all sides. If your raised bed is too wide then the plants at the center will be neglected. For the best maintenance of your plants, you should choose that size through which you can reach in the middle of the raised bed to care for your plants.  
You need a shovel for mounding the soil and making room for the frames of raised beds.  
You can create a ground cover by using grass, wood chips, and crushed stones. This will help to maintain the healthy soil in the raised bed.
RECYCLING MATERIALS IDEAS FOR BUILDING RAISED BEDS
A lot of recycling things and materials can be used for building raised beds. You have to use your creative sense and make them perfect for your plants. Here we are going to give you some ideas which will help you in recycling your old things. 
Besides these options, you can also use many things for showing your aesthetic sense and creativity. When you use these materials, everyone praises you for doing such amazing and extraordinary work.
1- RECYCLED PLASTIC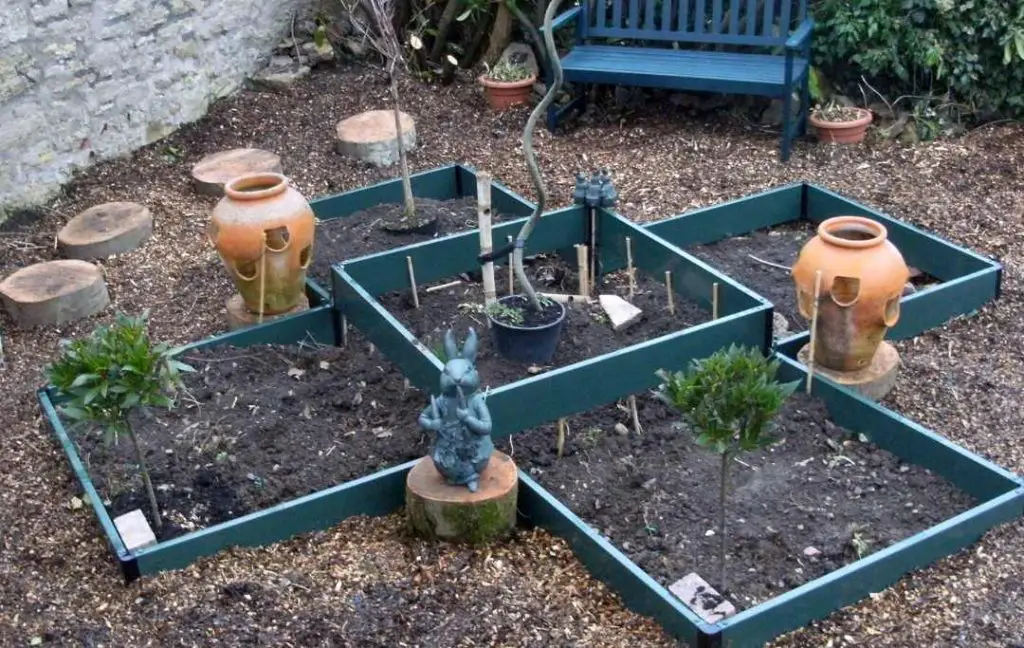 If you use wood for building flower beds then most of the time sides of the wooden raised beds will rot with time. It will happen even if you are using cedar or high-quality wood. 
For average quality wooden flower-raised beds need to be repaired or sometimes replaced every 18-24 months. This will depend upon the environment or climate in which you are living. 
Recycled plastic decking is a suitable remedy for such problems. This material will not rot in the ground. You can get plastic decking from any friend or neighbor who has used it for a deck. 
If you don't get it free from anywhere then you can also buy it because it's a one-time purchase. This is a durable and long-lasting plastic that is commonly made from milk jugs. This material can endure harsh weather like heavy rain, hot spells, and freezing winters. 
By using recycled plastic lumber you can create a 4 feet length of the raised bed. You need two of the 4-foot length and two 8 foot lengths. With the help of screws on nails, you can join the 4-foot lengths of lumber to the ends of 8-foot pieces. 
Screw angle brackets will give extra stability to the inside corners. After completing the raised bed then level the soil with a rake or shovel. You can also add compost to creating a volume of soil. If you want an elevated raised bed then you can stack two or more of these frames.
2- MODIFIED FURNITURE FRAMES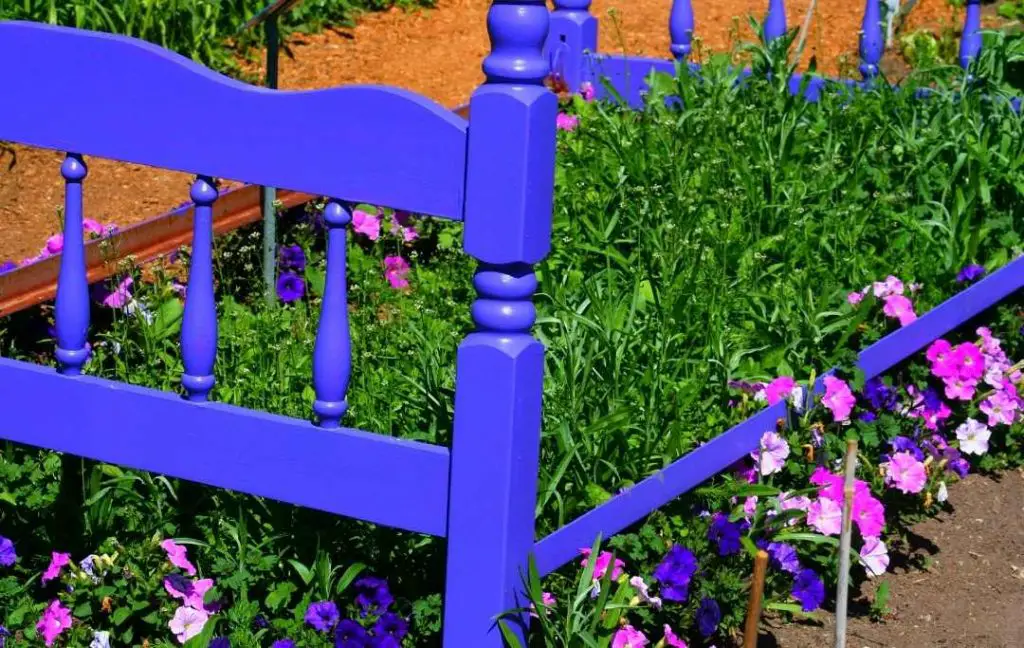 If you have old tales, bed frames, chairs, and desks. You can transform these materials into lawn accents and adorable flower beds. This will need some carpentry skills if you have then your work can be done easily. 
The legs of the table can be attached to the deck so you can build an elevated raised bed. These old things will help you create useful ideas like metalheads or footboards that can be stuck at either end of flower-raised beds and give a great view. 
3- TRUCK BEDS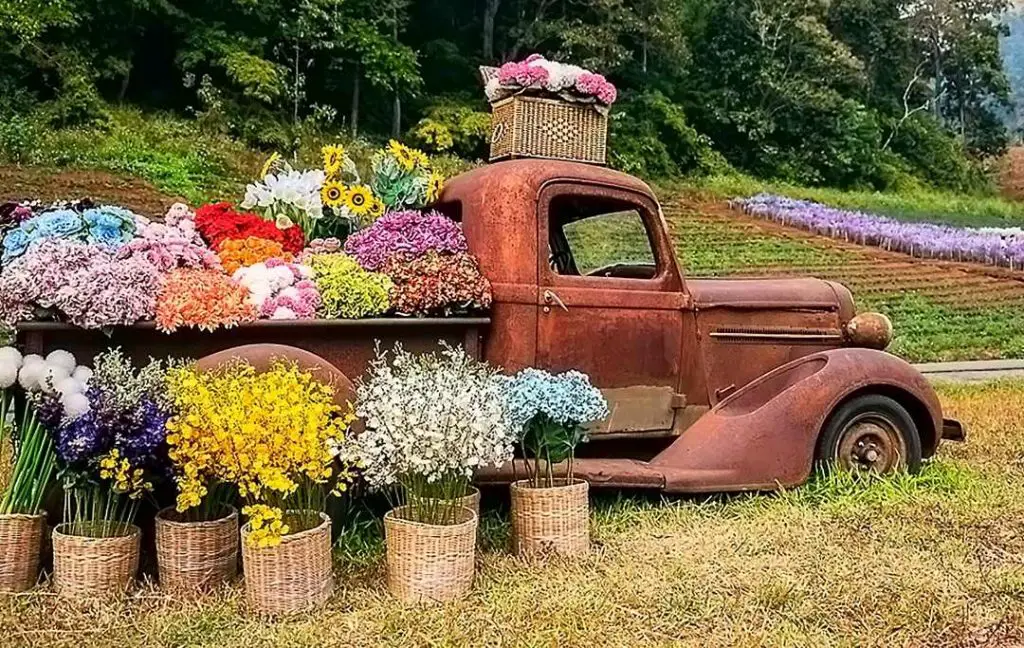 Old trucks and vehicles can be used for creating juxtaposition. These abandoned vehicles can be used as raised beds. The project is very simple and unique if you have access to unused vehicles. 
4- RUBBER TYRES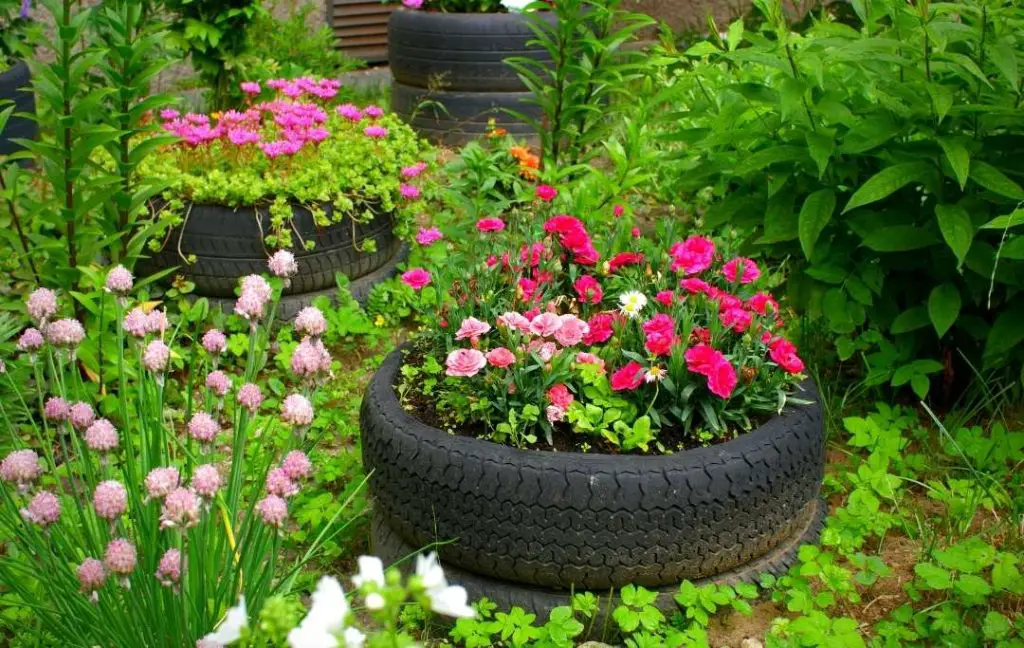 For building a low-budget raised bed, you can repurposed tires. There are different sizes and shapes of used tires are available. You can use them for creating raised beds. 
The interesting thing is that tires don't rust or rot and you can use them for many years. It is environmentally friendly if you repurpose tires for growing plants. Using tires for growing purposes is quite controversial so it is better to use flower plants in them rather than edible fruits and vegetables. 
There is no direct evidence that if you use tires for creating borders of raised beds then they will transfer harmful materials to the soil. You can also build attractive planters' frames with tires.  
5- CORRUGATED METAL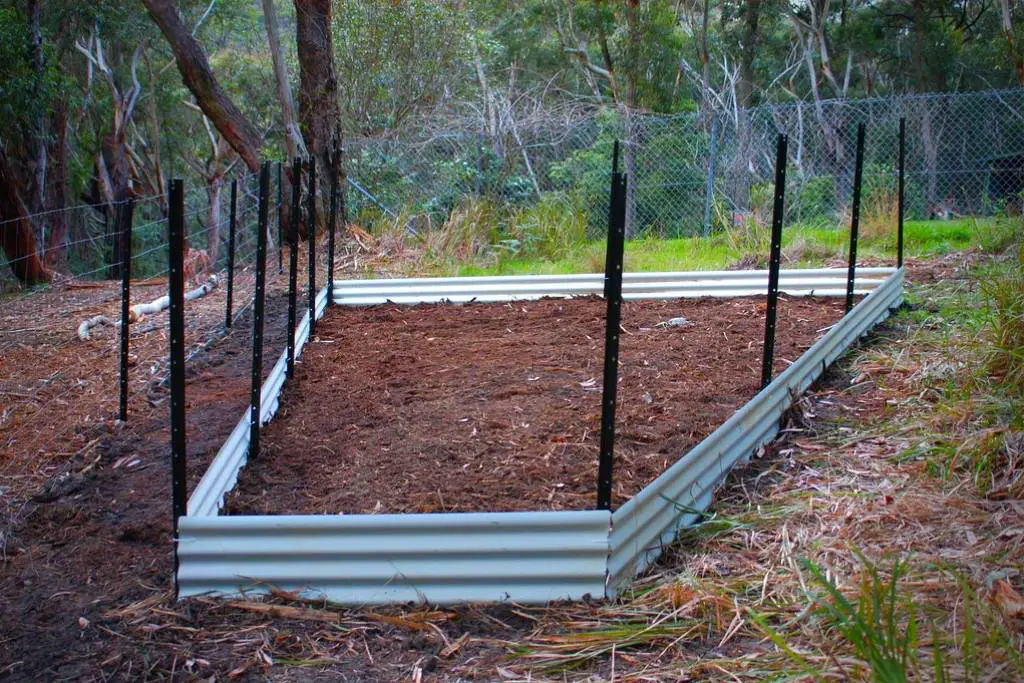 Corrugated metal can be used effortlessly for building raised beds. If you have any cast-off materials such as shutters or roofing sheets, you can repurpose them. 
The size of the raised bed depends on the material you have, you can also paint them. The edges of the metal are sharp so you should be careful especially in case you have young children. 
6- OLD POOL PARTS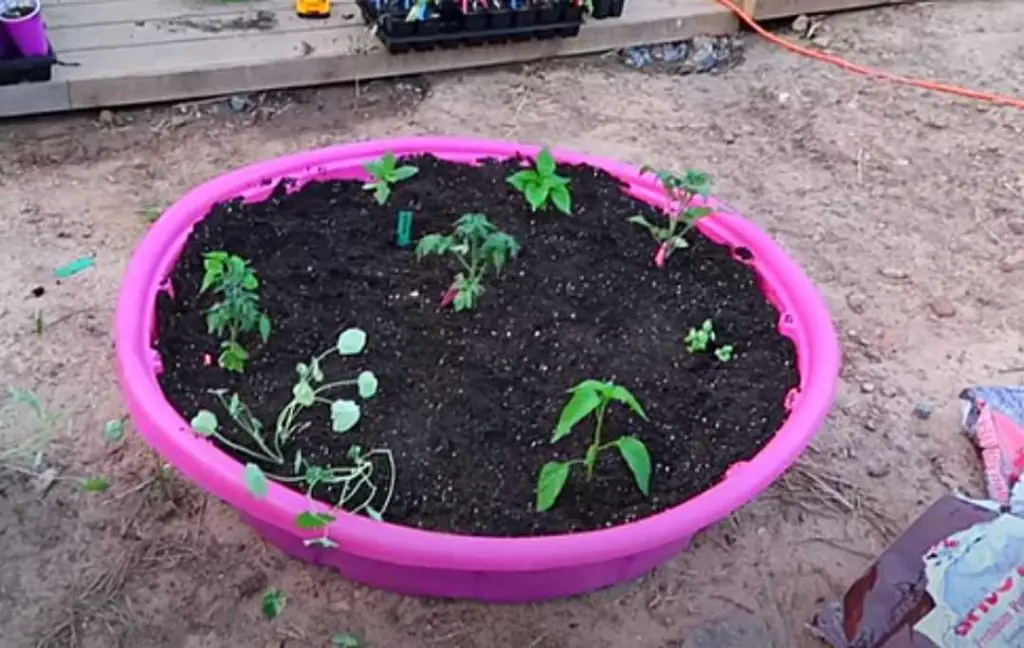 If you have old pool material then you can use them for creating a unique raised bed. Cut the slides and make a circular wall by joining them. This a unique idea of creating such an extraordinary raised bed by repurposing the materials which are not in use. 
The diameter of the circular raised bed is 41 inches, which means you need 27 pieces. before making burrs off edges to make them smooth. First, spread the weed barrier on the ground after adjusting the circular bed and fill it with the soil and grow your plants.
7- BROKEN CONCRETE AND CINDER BLOCKS AND BRICKS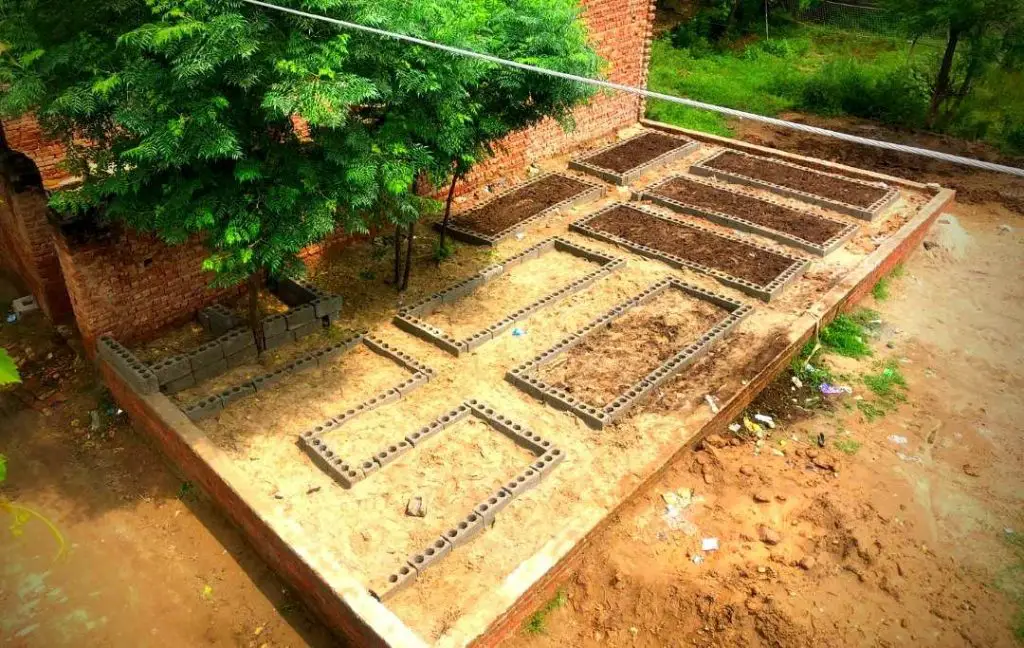 You can find different kinds of concrete blocks and bricks at any used building supply store. This raised bed will not affect your pocket as it is very cheap. You can create a classic rectangular pattern by using bricks and concrete blocks. 
For building raised beds with broken concrete or cinder blocks you have to level the soil with the help of a rake. After that select pieces of broken concrete blocks and arrange them for creating the first layer. 
Make an edge of the bed with the help of the string. Lay all the pieces of concrete blocks along with the string so they arrange neatly. For the neater appearance, place all the pieces in a square. 
Spread soil over the first layer of the concrete to overcome the unevenness in the surface. Now create more layers of concrete blocks until the bed receives the desired height. Now fill the bed with soil and plant your favorite plants.
8- USING LOGS FOR BUILDING RAISED BEDS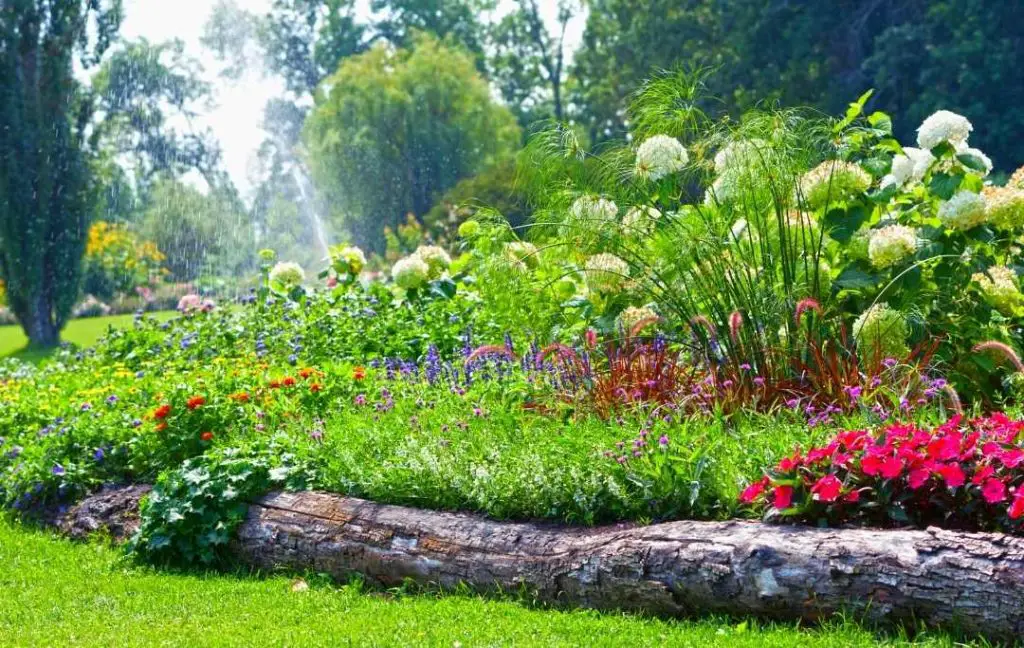 A simple raised bed can be created with logs. It is not difficult to get logs from trees. You can use logs in different projects such as utilizing them to construct raised beds. 
First, you should consider the height of the raised bed after that you can create different designs by using logs. Cut the logs of your desired length and build a simple bed for your favorite plants.   
9- WOODEN SHELVES AS RAISED GARDEN BED
If you have useless wooden shelves at home you can turn them into a raised bed.  You will not do anything for building, just lay it over the grass. Fill all the shelves with soil and grow different plants at a time as you have a partition in the form of shelves. You can grow different herbs at a time.   
10- FOAM BLOCKS AS RAISED GARDEN BED
The foam blocks can be turned into cool planters. These blocks are light enough so you can easily carry them. The interesting thing about these blocks is that they are durable and weather resistant. 
You can bury these blocks in the ground about 4 inches deep and the look of these blocks is just that they are made from stone. 
11- USE BOTTLES FOR CREATING A RAISED BED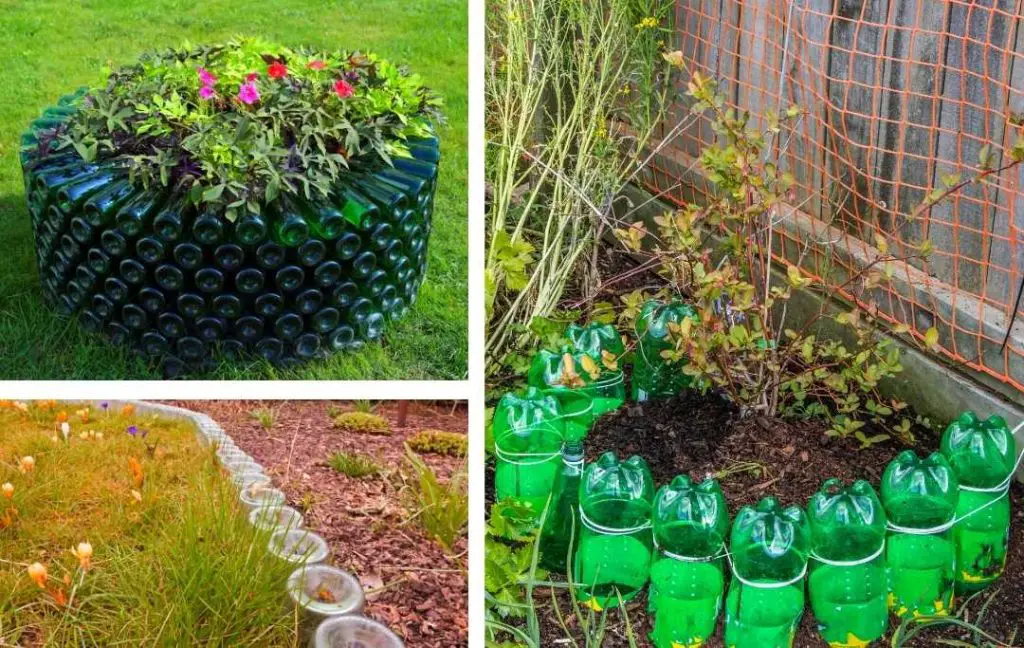 You have empty soda bottles, you can recycle them and make the environment clean. As you know plastic is a non-biodegradable product so repurposing will help to clean our area. You have to do a little work, dig the bottles in the ground from the upper side. 
In this way, you will create a raised bed.  The height of this raised bed is not too tall but you can increase the width and length according to your desire. You can paint the bottles to show your aesthetic sense. It is the best way of recycling plus creating a free-of-cost raised bed for your garden. 
12- USING OLD BATHTUB AS RAISED BED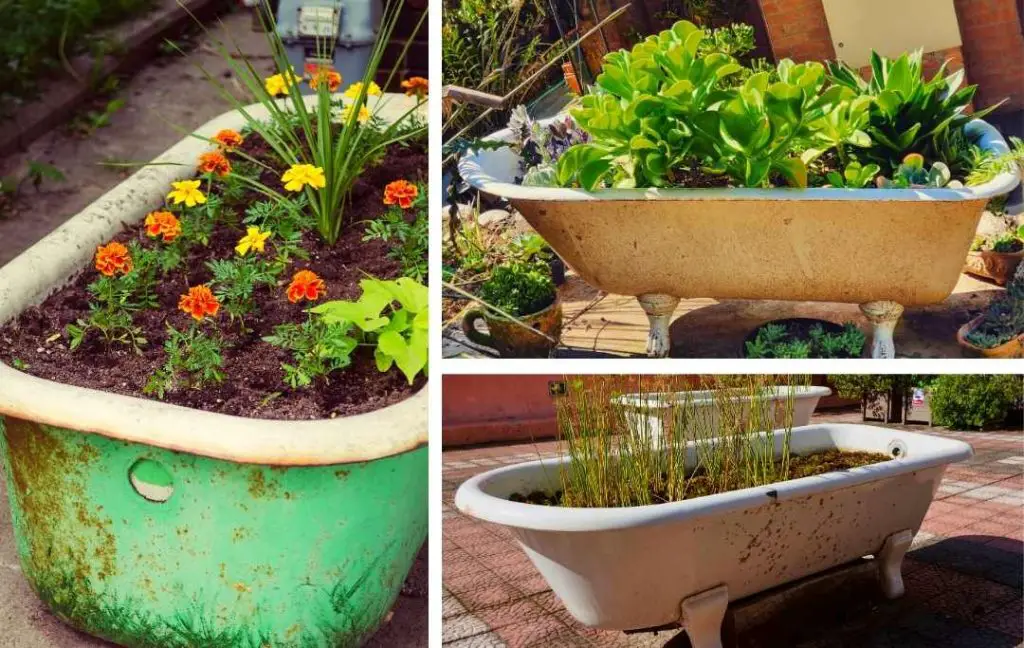 Your old bathtub can be used as a raised bed in your garden. Planting your favorite plants in the old bathtub is a unique recycling idea. The bathtub can be a happy companion of your green herbs. You can grow even deep-rooted vegetables in it. 
You can also paint the bathtub with bright colors so it will change the view of your growing area. You can add a layer of rocks at the bottom of the tub for drainage. Fill the tub with appropriate soil mix with compost and peat moss. Now your tub is ready for growing plants.
13- WATTLE FENCE RAISED BED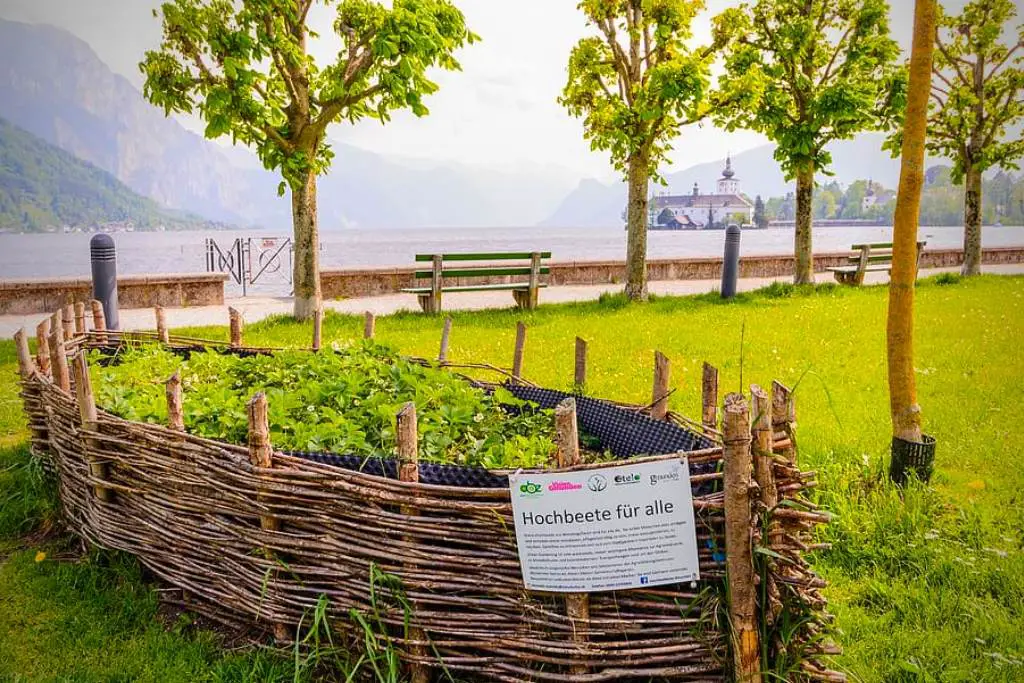 This is an easy and simple way of building raised beds by using willow branches. These branches have no use so you can utilize them in creating a simple raised bed. 
You can weave them with stakes. Place the stakes at a distance of about 45cm to create walls of the raised bed and fill the bed with the soil. The inside of the walls of the raised is bed cover with the burlap. The other option is using garden cloth. This will help to retain the soil.