Dwarf trees are small trees in size, and their fruit is also equal to that of large plants. They are about 3-5 feet tall. If you do not have enough space and you want to grow fruit trees then dwarf plants can help you.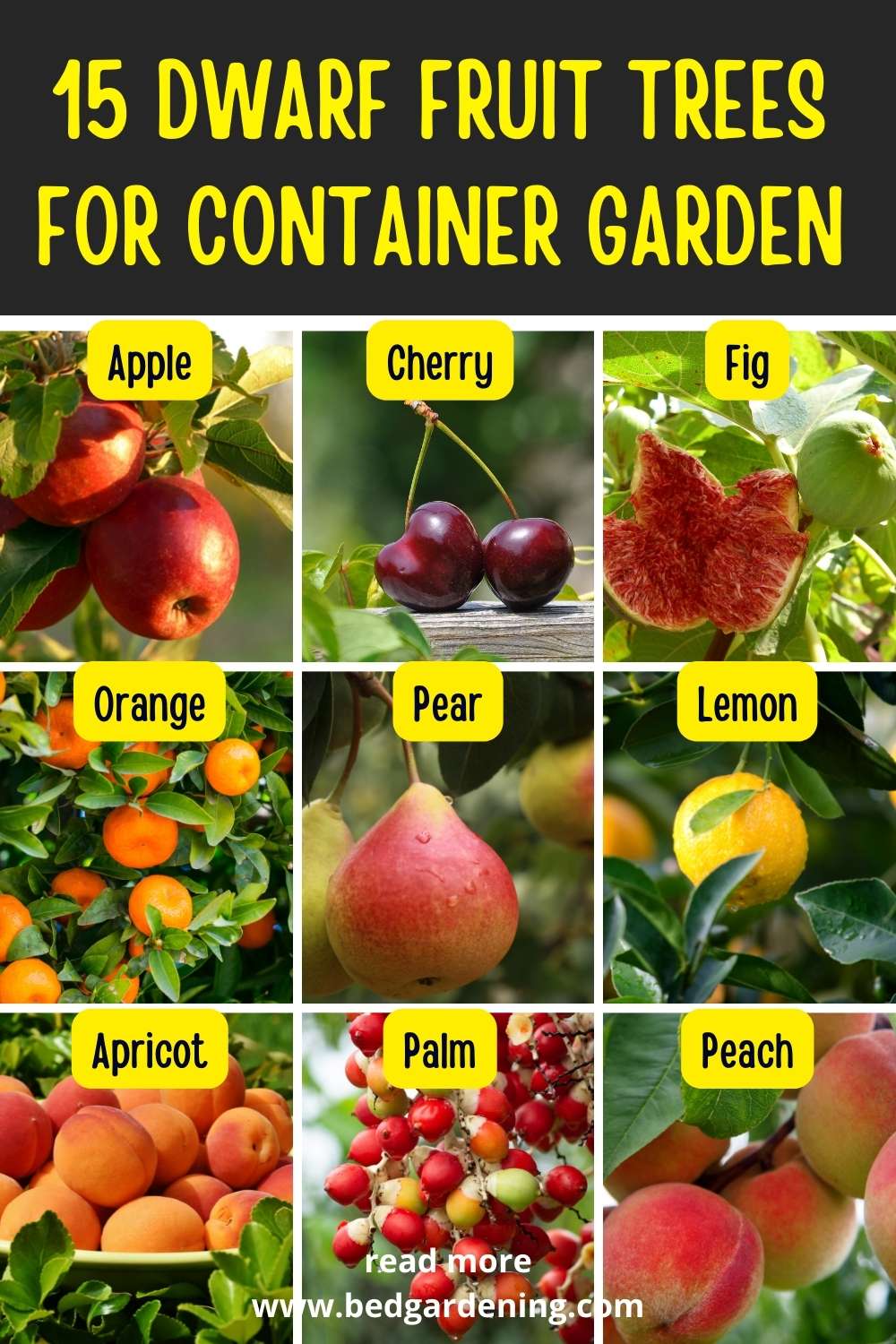 You can easily grow them in containers and large pots. Dwarf plants are easy to prune and also easy to cultivate. There are many dwarf trees in the world but these 15 plants are very easy to grow and they will also give you more yield.
1: Apple trees:
The apple tree is beautiful addition in dwarf plants and easy to grow in containers. Apple plants take up very little space to grow so you can easily grow them in medium to large pots.
You should choose plants that are themselves self pollinated. The apple tree is also one of the plants that pollinate itself. Prepare container soil. 
Add some compost and other nutrients to the soil and then plant a small apple plant in the soil. Water after sowing. The apple plant needs more water in its early growth days. So you should give water 3 times a week.
2: Cherry trees:
Cherry is another excellent plant that we can easily grow in containers. There are many varieties of cherries that you can grow in your small garden. Smaller cherry trees produce less fruit as compared to large trees. 
Cherry trees prefer to grow in fertile soil. That's why you should plant cherry in well-drained soil so that it can spread easily. Cherries take a long time to bear fruit but you can enjoy their beautiful flowers for 2 years. Birds like to eat cherries, so cover the fruit with a net, so that the fruits are not harmed. 
3: Fig trees:
Fig plant is the best choice for containers. Because it can easily spread its roots even in a small space. Figs grow either in summer or in winter. You should grow them in late autumn or early spring. So that they can give you healthy and more yield. 
Figs do not need other plants for pollination. Figs produce both female and male flowers. This is how it produces its own fruit. 
4: Orange trees:
Oranges are also the best tree that you can grow in containers. Orange trees thrive happily in warm climates. They need about 8 hours of sunshine in a day. Orange trees begin to bear fruit after 3 to 4 years. 
It also takes 7 to 8 months for the fruit to ripen. That is why we have to wait a long time for the fruit of the Orange tree. 
5: Pear trees:
The pear tree is also one of the important dwarf trees that grow easily in containers. It prefers moderate temperatures. It bears fruit even in winter. But too much frost can be detrimental to their flowers. 
When planting pears, choose good soil for small plants. Plant to a depth of 3 to 4 inches. And give water. The pear plant does not need many nutrients for its growth. But still use good kind of potting soil.
6: Lemon trees:
Lemon trees grow well in small pots and containers. Lemon trees grow well in tropical regions. They need light and temperature 6 to 8 hours a day. Lemon trees grow easily in any type of soil, such as loamy, sandy, or slightly acidic soils. 
But well-drained soil is best for them. The lemon tree bears fruit after 3 to 4 years. When the fruit is ripe, you should cut it immediately, so that the new fruit has a chance to grow. 
If they are not pruned, they can grow up to 20 feet tall, so pruning should be done from time to time so their size remains according to our desire.
7: Apricot trees:
The type of apricot tree (Apricot moorpark) is best planted in the containers. They give more healthy fruits. Apricot trees grow in loamy and well-drained soil. 
Apricots grow at their specific pH. It grows well between 6.5 and 8.0 pH. It bears fruit in spring. If apricots are allowed to ripen on the tree, the fruit will be even sweeter. 
8: Palm tree:
Palm trees need big containers to grow. The best soil for palm plants is sandy and well-drained soil. They need more nutrients for their growth, so you should add some compost and fertilizers to the soil. 
Palms can survive temperatures below 20 F, but too much cold can damage them. So you should keep the whole plant indoors in winter.  
9: Peach trees:
Peaches are a wonderful dwarf plant that you can grow in containers. Use big containers for them, so they can easily thrive and can give more yields. Peaches grow well in well-drained soil. Poor drainage leads to rot and scarcity of life. 
It is also a self pollinated plant so you don't need any other plant for fruit production. Peaches produce pink flowers in March, after a few days they turn into small peaches. And after a few weeks, they mature and ripen.  
10: Avocado trees: 
:
Avocados can also be grown in containers. But choose their container according to their size. Their pruning is also determined according to their size. They grow in fertile soil. And they don't need another plant to pollinate. 
Do not expose young plants to too much to sun as too much sun will burn their skin. So keep them in the sun as well as in the shade. The avocado ripens on the tree. So don't rush to cut them.
11: Guava trees:
The dwarf guava tree is about 7 to 8 feet high. Select the container for guava plants that have 18 to 24 inches width and depth. The guava plant grows in well-drained soil. Add some compost and fertilizer to the soil. Give water in moisture after planting. Because they don't like wet conditions. 
12: Plum trees:
Plum trees also grow in containers. They do not need much care. They are also self-fertile plants. They don't like to spread too much. Therefore, their cutting is also short. 
The best months for its development are late winter and early spring. Plums develop their best flavor if left to ripen on the tree. Trees will generally need picking over several times. Harvest fruits carefully so as not to bruise them.
13: Pomegranate trees:
Pomegranate is one of the easiest plants to grow in containers. The dwarf pomegranate trees are very small. They range in height from 2 feet to 4 feet. It bears fruit in 3 to 4 years. 
Pomegranate trees can take up to 6 to 7 months for their fruit to fully mature. When the pomegranate turns completely red, separate them from the plant.
14: Limes trees:
Lime trees are only about 6 to 10 feet high when they are planted in the ground but are small in size when they grow in pots. Limes plants thrive in high temperatures. They do not produce flowers and fruits in the cold. So you should keep them in sunlight for 7 to 8 hours a day. 
15: Nectarine trees:
Nectarines are natural dwarf plants. They can easily grow in containers. Nectarine trees grow in sandy and well-drained soil. They can tolerate soil pH 6 to 7. Nectarine dwarf trees bear fruit two to three years after planting. When the color is fully formed and the flesh feels soft near the stalk, pick the fruit. 
Because of these plants you can beautify your small garden and get higher yields. These plants do not require much space and they can also easily grow in the corner. This way you can also create an indoor garden with their help.