To grow vegetables in the ground is a challenge as compared to raised beds because the care of in-ground beds is a tough task. You can enjoy gardening if you are growing your plants in raised beds. You can give your outdoor shrubs an additional level of dimension by planting decorative flower pots and planters. 
If you want to avoid back pain then raised beds is best option for you. If you have a poor quality of soil then raised beds are the way to go. You can maintain the fertility by adding nutrients to your soil in the form of compost. 
If you are living in a cold climate then raised beds should be your decision. If you are a creative one then you can change the environment of your garden by using raised beds. There are different creative ideas which are available for raised beds so you can adopt anyone and bring a change to the theme of your garden, so your garden will become the eye of attraction for everyone.
Many materials are available to build raised beds for your vegetables, for example, bricks, cinder blocks, corrugated roofing sheets, tires and even wood-effect plastic. It depends on your pocket, location, requirement, needs and which type of material best for you.
---
Read Also: How to Build Tall Raised Garden Beds?
---
Wood is an Adequate Choice for Raised Beds 
Wood is the best option for your raised beds for vegetables. There are different types of wood available for building raised beds.
Hardwood 
Softwood 
Pressure-treated wood
Hardwood
Cedar is the best option, you should not worry about any chemical treatment for this type of wood. It is naturally rot-resistant. It is very durable and strong and will last long, a bit 10-20 years, when we talk about the looks, it looks great for your vegetables wood. It will cost you but the return is very good.
Softwood
The Other type of wood is softwood and its examples are pine and spruce. If your budget is very low then you can go for it. It will last 7 to 10 years. It is an easy victim of pests and termites. Its life span be very short but its use makes your plants healthy. It has no preservative that's why the production of your plant will grow.
Pressure Treated Wood
We use pressure-treated wood because it slows the wood's natural rotting process and protects from fungus and insects. Generally, it is a compound made of Copper and organic biocides. The wood which is used for this purpose is spruce. 
Wood was treated in the past with an unsafe preservative. This preservative includes arsenic and high amount of chromium that could reach into the soil. Now it is a thing of the past but they are used for commercial purposes, the example of which is telephone poles.
---
Read More: Self Watering System for your Raised Beds
---
5 Best Wooden Raised Beds
Many types of wooden raised beds are accessible in the market or you can also make it at home, just select any design and start making it. Here we will discuss five types of raised beds which are good for your vegetables one by one. 
If you are thinking about how to arrange your outdoor planters and raised beds you can get many ideas from this article whether you have a high rise balcony or a rolling green lawn, modify your outdoor style with these ideas.
This post may contain affiliate links and I may earn a small commission when you click on the links at no additional cost to you. As an Affiliate I earn from qualifying purchases.
1: Split Level Planter Bed\ SandBox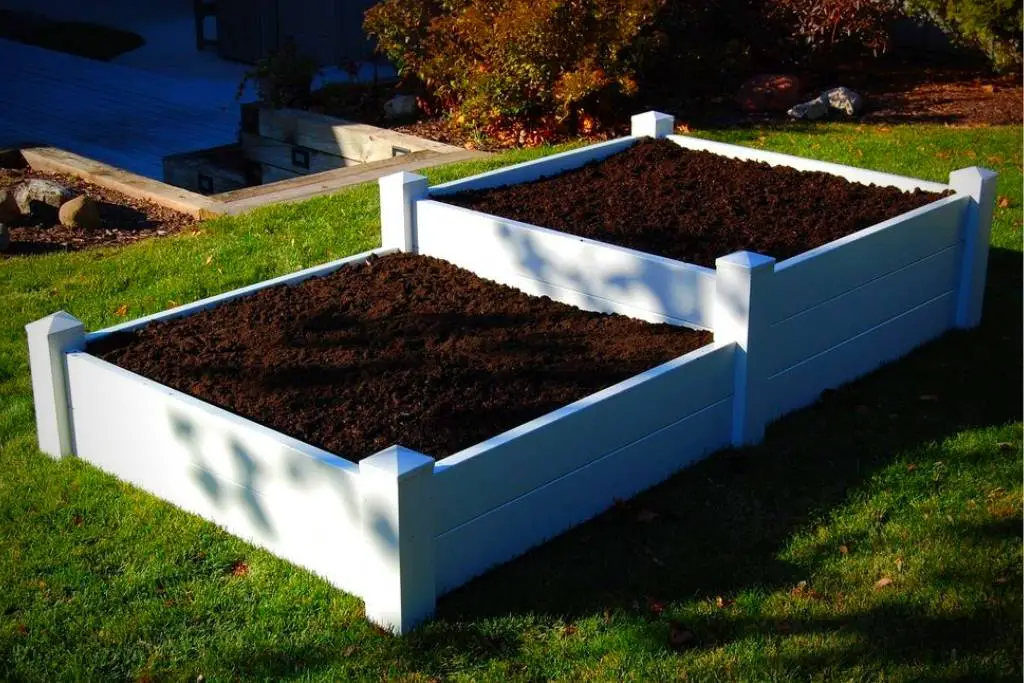 This is a beautiful raised planter, it is durable and easy to assemble. It will last about 20 years. It keeps the soil contained and there is less weeding than a conventional garden. It will not rot away like other wooden boards. The dual-level on this unit develops two unique heights on the bed, offering a stunning look and extra planting space to your garden. 
The perennial flowers or vegetables easily grow at the top level of this bed, the height of the top level is about 17 inches. The height of the second level is about 11 inches and it is best for annuals and herbs. Its length is about 96 inches and width is 48 inches. 
This unique frame of the bed makes your own private garden, separate from the rest. It will also become a sandbox for your children. The white color on the rails, keeps the unit looking fresh.
2: Wood 8ft × 2ft Raised Garden Beds

You will enrich the charm of your garden if you decide to decor your garden with these raised beds. It will conventionally organize your garden. This raised bed is made up of two parts for different plants. The raised beds minimize the need for tilling, weeding and aeration. 
There is plenty of room for different kinds of plants which you can grow in it, for example, herbs, vegetables, and flowers. This is good for the development of deep-root vegetables like carrot and radish. This is the easiest way to create the garden of your dreams. When we talk about the aesthetic touch, you can paint it or use your imagination to decorate it. It is also stackable and expandable for customization.
3: Tier Tan Cedar Wood Raised Garden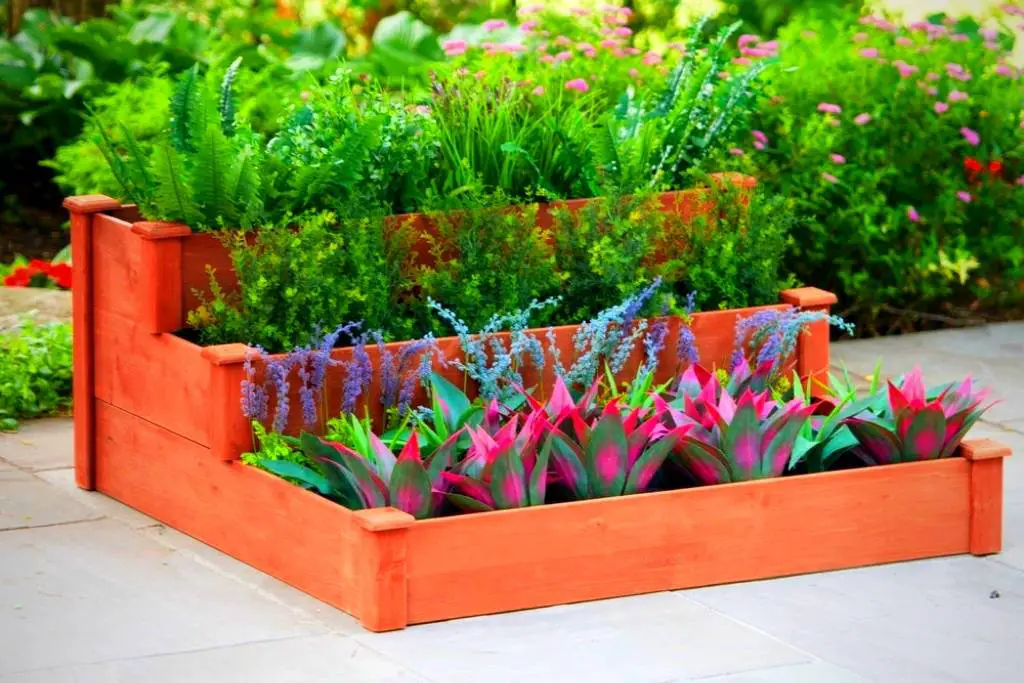 This unique raised bed takes little space in your garden. This is beautifully designed for smaller gardens. It prevents the roots from becoming moistened. You can't deny the beautiful style of it. There are three tiers which provide depth for growing various deep-rooted plants, especially,  vegetables. 
You can grow various sized plants inside each step of this raised bed. There is plenty of space between plants so they can grow efficiently. This is durable and strong and can serve you for a long time. If soil is poor in your garden, then this is good for you. There is another advantage of it which is that different plants need different amounts of water. 
You can grow separately each type of plant and take care of their water, fertilizer, and maintenance of them, in one raised bed, according to their needs. It is good for beginners because they don't know much about gardening. That way, it will be easier for them.
4: Costway Wooden Vegetable Raised Garden Bed Backyard Patio Grow Flowers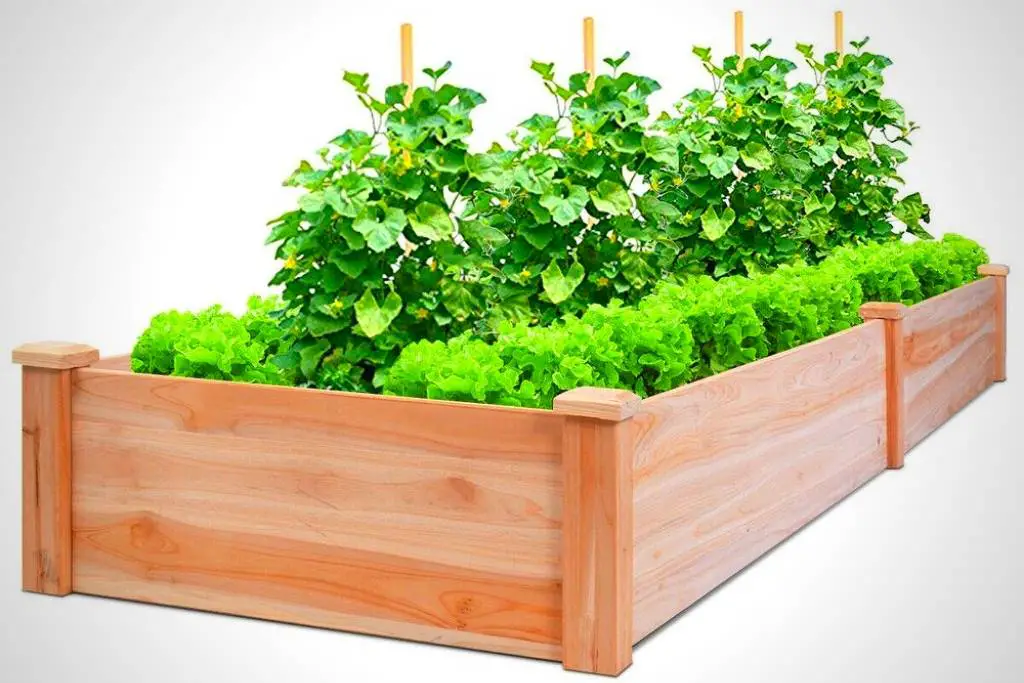 There is sufficient space between the plants so they can grow easily. There is a divider in the middle of the box so it gives you the opportunity to grow two different types of plants in it. This is a very brand new and high-quality box. 
This is made from cedar wood and very reliable and long-lasting and will spend your whole season. You can put it anywhere, in your porches, in your decks,in your patios or backyard. Its features are nice looking but fulfill an important function. It has very embellishing work besides this it is also very practical for use.
5: Gymax Wooden Raised Garden Bed Kit-Elevated Planter Box for Growing
The length of this bed is 47 inches and weight is 24 inches which will give you a large space to place your plants. This bat is also good for use in your patios and garden. There is no baseboard in it which means that it provides more ventilation to your plants.
It is environmentally friendly, which is chemical-free and made from pure wood. It has amazing thick and solid cedar wood which makes it durable and strong.
Tips For Filling Raised Garden Beds 
The above mentioned raised beds are large enough. When your raised bed is very large the big challenge you have to face is to fill it with soil. The general rule is to fill raised garden beds with 40% topsoil mixed with 40% compost or well-rotted manure, and 20% material that adds drainage and water maintaining properties.
You have to mix compost and rotted manure annually as the mulch. It is good for your soil health and productivity.
If you are using fresh manure then be aware, that weed seeds will not be killed off in it, and you cannot directly plant in it, because it has high ammonia which will burn roots of the plants.
---
Read More: 10 Waist High Raised Garden Beds Plans
---
Hope this article will help you to choose your desire raised beds for your garden. Raised beds are not only good for your health but also produce less mess. It will cost you and affect your budget. You have to spend money on buying wooden beds and high quality of the soil. 
But if we talk about in-ground beds then you will get soil from the ground and no worry about buying beds. So you have to keep these drawbacks in mind. But if you have health issues and you are living in a cold area then raised beds are favorable for you. So decide according to your needs and requirements.