Raised beds are a useful way to enhance the look of your garden. There are multiple advantages of raised beds, first of all, you can protect your plants from weeds and many pests. It is a very easy way to control the fertility of soil as compared to in-ground beds. If you have limited space in your garden then raised beds are a tremendous choice. 
If you have any issues regarding your physical health, bending and kneeling is part of gardening. Now you can satisfy your gardening interest by planting in raised beds. You can get a high yield from less effort which is the specialty of a raised bed.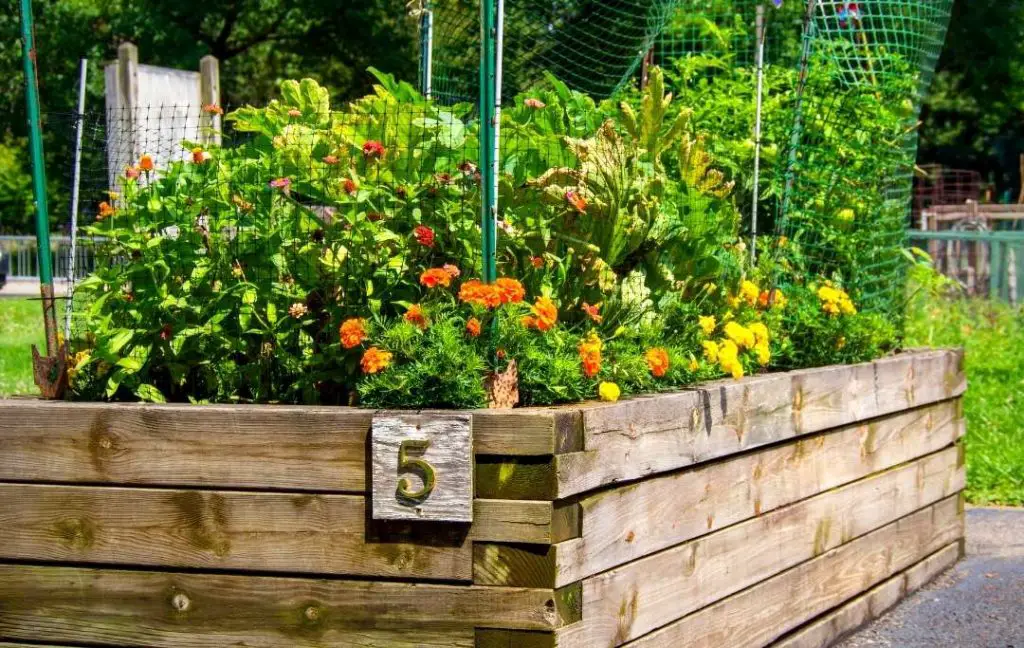 The raised beds are available in stores, in different sizes and shapes, you can select them according to your needs. If you don't want to spend money purchasing raised beds you can also make them at home and show your creativity to others. It will satisfy your aesthetic sense as you can use different ideas to change the look of your garden. 
We are going to explain the raised garden bed making project in an easy way, even if you are a beginner but you can build it in an afternoon. At the outset, I will give you a detailed discussion on the materials that you need for this project.
Choosing Material For Your Raised Garden Beds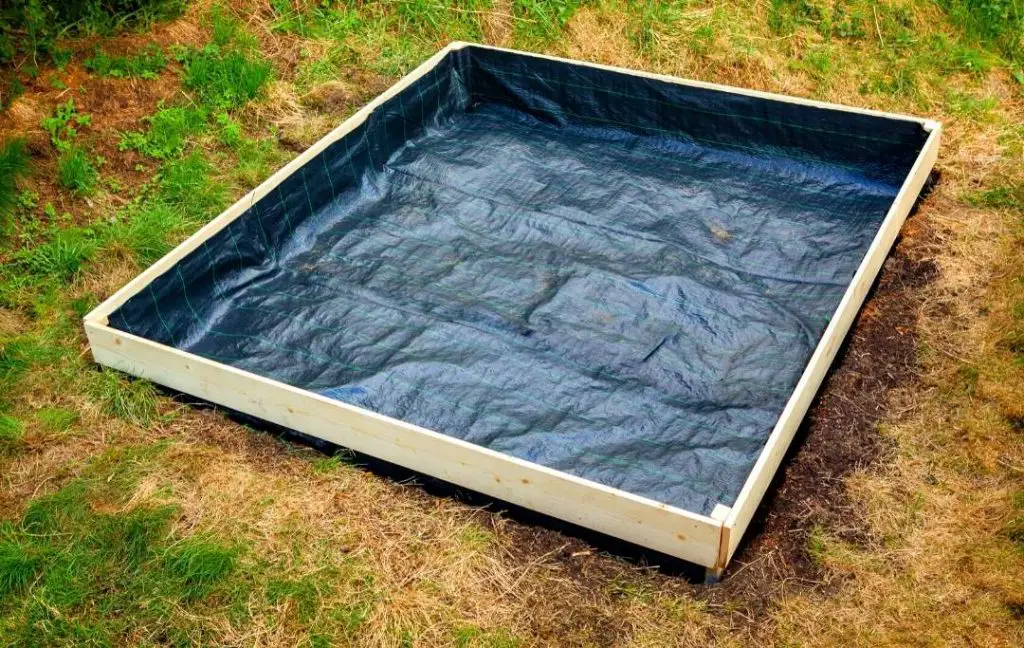 You should do some research before choosing the material for making your raised bed. There are a lot of options available. We will discuss here the best material for raised garden beds, I hope this will help you to decide easily.
Wood
It is a very low cost and effective material and you can easily install it. But life is about 10 years after that it will start rotting. There are a lot of wood options, the best one is Redwood or Black Locust Cedar and Douglas Fir.
Concrete 
Placing the blocks with open ends will give a beautiful look to your garden and provide an extra growing room. You can tuck herbs or decorative flowers into the cavities. It is very durable and lasts long but very expensive and you cannot make it without any help.
Cinderblock
Cinder Blocks are available at any hardware store. They are very cheap, durable, and will last many years. But they are heavy to lift. As they can hold heat so they are good for the winter garden. They are not suitable for the summer garden as they raise the temperature of your plants.
Rock
If you want to give a cottage look to your garden then the rock is a good material. But they are very heavy to lift and you are needed to fill a space between each rock with cement. 
Log
If you have recently cleared a tree. The logs from it can be a cost-effective material. The diameter of the log pieces must be 1 foot in diameter. The pieces of the log must be straight.
Which Option is Good For Your Raised Bed?
From the above-mentioned material, it is suggested that wood is the best if you are making a raised bed yourself. You can use different types of wood for this purpose but redwood, cedar, and douglas fir are the best options.
Redwood
It is the best option for making raised beds because they are long-lasting and rot-resistant. You can use them for up to 20 years. Yet they are expensive but this type of wood will run 3-4 times as compared to the cheaper wood.
Cedar
It is durable and rot-resistant and can last 10 to 15 years.  It looks very extraordinary in your garden. It is expensive but it is a good option as compared to cheaper wood.
Douglas Fir
The time period of this type of wood is very short as compared to cedar and redwood. It lasts about 5 to 7 years. It is easily affordable but not the best option as it is the cheapest of the types of wood used for making raised garden boxes.
Read More: 5 Best Wooden Raised Garden Beds For Vegetables
How to Build a Cheap Raised Bed
The quality of this raised bed is that it is cheap and easy to build a video site to make this raised bed with wood because it is the best option. By using untreated cedar planks is a good choice, it's durability is about 10 to 15 years.
Things You Needed for Building Raised Bed
Three planks, the size of each plank but be 8 foot 2″ ×12
4-inch long deck dress
Cardboard
High-quality soil according to the size of your bed.
Measuring Tape
Circular or Hand saw
Shovel
Rake
Drill machine
Procedure for Building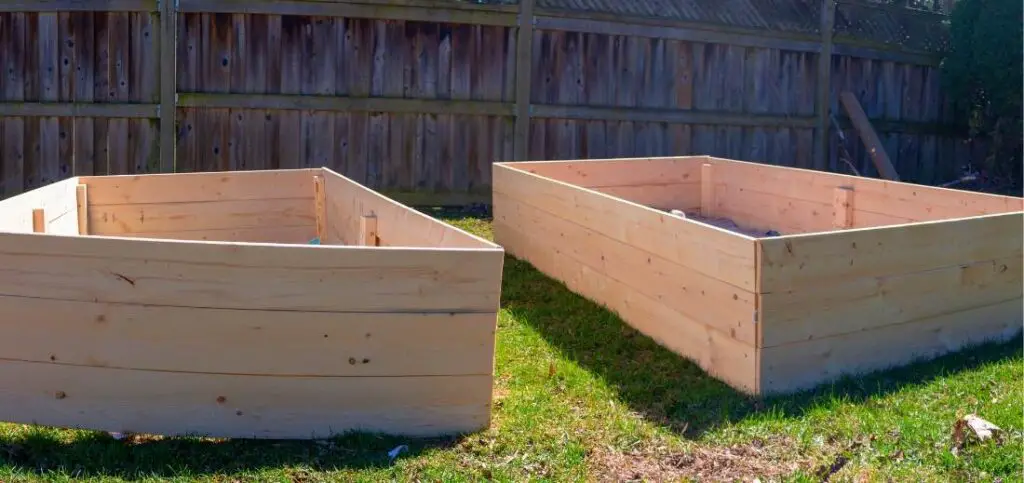 Now we will discuss step by step the building of bed in a very easy way
How to Measure and Mark?
Take an 8-foot long wood plank and locate it at the center point. mark with the straight line. You can change the size of the plank according to your wish, it depends on the space you have, location, and materials. 
Commonly, the size of the raised bed should be at least 12 inches deep, the width of the raised bed should not exceed more than 4 feet so the plants can easily grow without disturbing the soil.
Cut Plank in Half
For cutting purposes, you can use a circular or hand saw. By cutting in the center, you can get two 4 foot planks.
Set Screws
Before making the bed it is good to measure all the planks so start measuring ¾ inches from each end of a 4-foot plank. With the help of the drill, you can make three holes into the broad side of each end of the plank. In the same way, you can repeat this process with another 4-foot plank. In the case of using dry wood, it is necessary to drill pilot holes for the screws to avoid splitting.
Attach Sides
At this stage you need a helper, with the help of him you can easily achieve your task because he will support you to hold an 8-foot plank another side, now line up the end of a four-foot-long plank at a 90° angle with a screw facing the end of the long plank.
Square Corners
Now use screws to join all the planks. First, rest the eight-foot plank perpendicular so that you can attach a 4-foot plank at the free end easily. This step is very easy and doesn't take too much time.
Complete the Bed
Now repeat the assembly process at the other end, in the same way using a Carpenter Square. You can also use braces at the corners to maintain the shape of your raised bed. Now your bed is almost ready.
Read More: How to Build Tall Raised Garden Beds?
Select the Location and Add Cardboard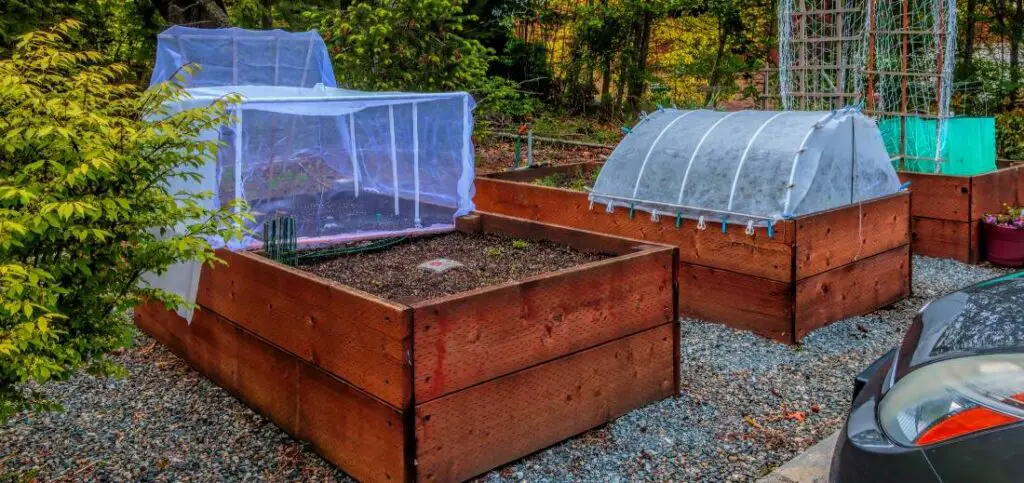 Now select the location of the raised bed where it can get good drainage and plenty of sun exposure. Clean the area where you want to place your raised bed with the help of a rake and you can take out any rocks, sticks, or yard debris. 
At this stage, you should press each side of the bed to make sure that it will rest evenly and there are no gaps left between the ground and the bed. If you found any gap you should use a shovel to level the site where you want to place your bed. 
Now start placing a layer of cardboard newspaper or old carpeting and wet it thoroughly, in this way, you can completely cover the ground inside the bed. This step is very helpful because it can reduce the possibility of weeds growing in your raised bed. So don't avoid this step after making your bed. 
This addition to your bed will prevent you from future varieties of weeds. Sometimes little things matter a lot, with this effort you can see a better result in the form of healthy plants that are free from weeds.
Soil You Needed to Fill your Bed: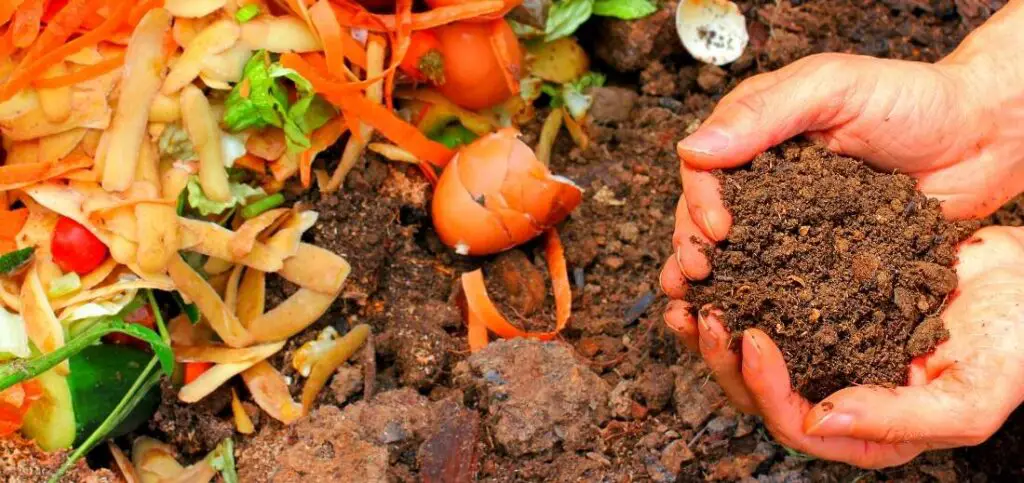 You did hard work and completed your raised bed but didn't use high-quality good soil. It means that your effort will be lost. The selection of the soil is very important for the growth of your plants. If you want to avail of all the advantages of the raised beds gardening you should use healthy soil which is ideal for growing. 
You can buy an appropriate mix of soil, compost, and organic amendments from any nursery or gardening store. It can be expensive and affect your pocket. It is important to know if you are a beginner in gardening that you can also make compost at home which is very easy. After arranging the soil now the step of filling your raised bed comes.
Filling of Raised Bed
With the help of shovels or a wheelbarrow, you can fill the raised bed. You need 50 to 60% high-quality soil and 40 to 50% compost for filling. It is good to check the pH and nutrients of your soil. The kit is available at home improvement stores. 
If the test shows that your soil needs more nutrients like potassium and nitrogen. You should add amendments like bone meal and kelp to your soil to increase the number of nutrients. During the growing season add ½ inch of compost to increase soil health.
Read More: How to Fill Your Tall Raised Beds?
Level Soil
After filling the raised bed, you need to level the soil. By using a rake you should level about ½ – inch from the top. You can also leave space for a drip hose or mulch.
Start Planting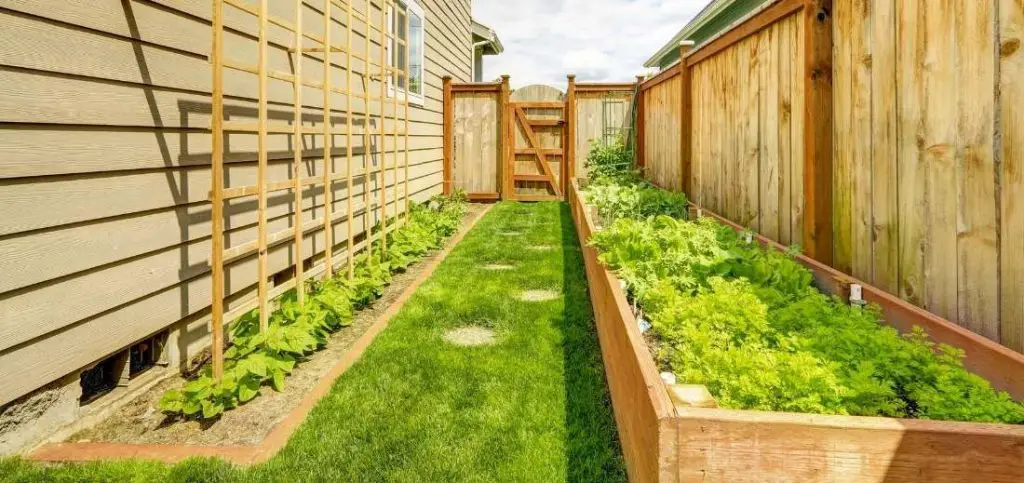 Now your bed is ready with high-quality soil. After following all the steps above you will not face any issue of drainage, poor soil, and crop-choking weeds. If you are planning to plant in summer, you can plant fall crops like carrots, lettuce, kale, and broccoli.  You can also grow different beautiful flowers instead of growing vegetables, it's up to you what you want to grow.
Water
Raised beds have a fantastic quality of drainage which is very good for your plant health. But it is important to know that raised beds dry out very quickly, so you should water your plants regularly especially in the early evening. In the summer afternoon it is necessary to check them because, due to the heat of the sun, the soil becomes dry.
This problem can be solved by the installation of a drip irrigation system which is very convenient to provide moisture straight to your plant roots. A timer will help you to save your water from wastage.
Read More: Best Self Watering System for your Raised Beds  
Common Mistakes in Raised Gardening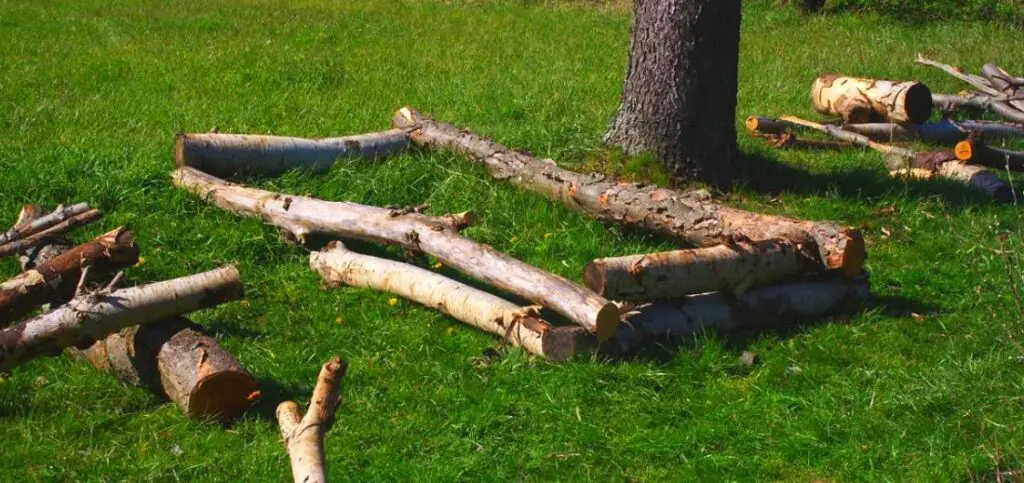 Growing plants in a raised bed is a great idea but sometimes due to some mistakes we face some problems. If you are planning a raised beds garden for the first time then this will help you to avoid all these mistakes and to grow your garden healthy.
The width of the raised bed should be about 4 feet so you can easily reach into the center without any problem. If the raised beds are too wide then you cannot reach your plants and you will have to step inside the bed.
Always try to place your raised bed near a water source because it will be easy for you to water your plants. You can also install an efficient system of soaker hose or drip lines.
If you are using material that is not safe for your plants like pressure-treated wood. Use rot-resistant and chemical-free wood like Cedar or Redwood.
The soil combination matters a lot for the growth of your plants, it will provide all nutrients to your plants.
Before placing your raised beds make sure that there is enough space to do work between the raised beds for example you can easily sit on a stool beside the beds.
Sometimes you can't keep mowing or weed eating the grass and weeds. For this purpose place a barrier down before the weeds and grass.
Mulch is very important because it regulates the soil temperature and retains moisture.