Squashes can sprawl and crawl. That's why you need some preparation to support them with sturdy trellis. Better planning will help you to get a steady supply of squashes throughout the growing season. 
In this article, we are going to discuss how to grow squashes in a raised bed. Hope this article will help you a lot and you will get all the basic information.
WHAT IS THE DIFFERENCE BETWEEN SUMMER AND WINTER SQUASHES?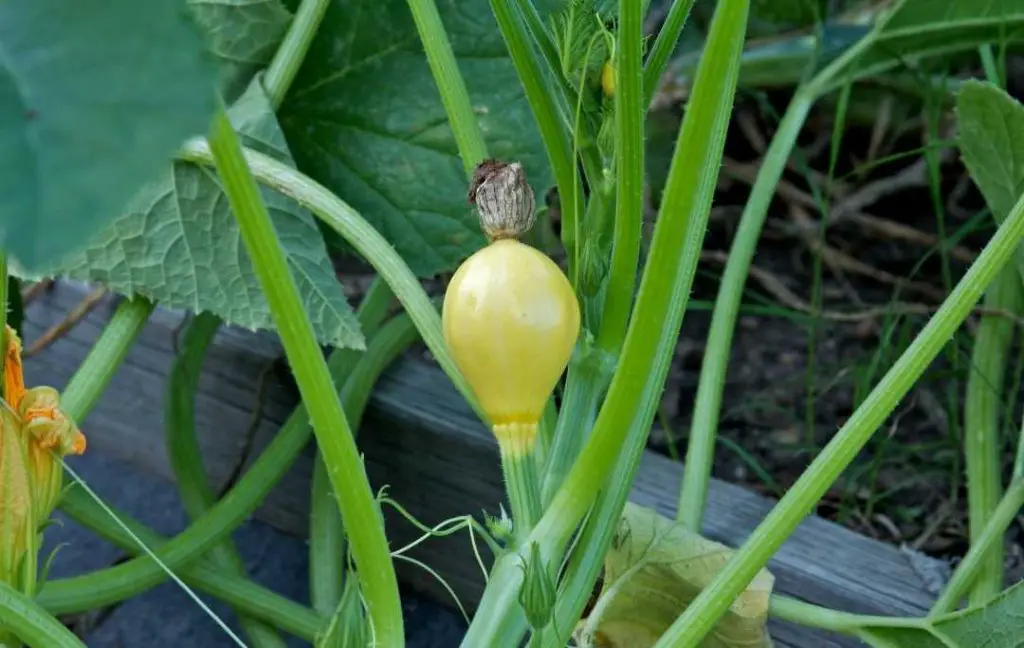 Squash is divided into two categories; one is summer squash and the other is winter squash. Now we will briefly explain both.
SUMMER SQUASH
Summer squash grows very quickly. The maturity time of this type is about 60 days. You can harvest them throughout the summer, the interesting thing is that you can harvest them even when they are young. 
They are prolific producers and their skin is very thin and tender. You are familiar with zucchini, it is the most common type of summer squash. The other summer squash is pattypan, it is a very tasty variety.
WINTER SQUASH
This type grows very slowly so you need patience while growing them. The maturity time of this type is about 80 to 110 days. Their skin is thick and protective as compared to summer varieties. 
You can store them for a long time. The winter squashes are pumpkin, Hubbard, and butternut.
BEST VARIETIES OF SQUASH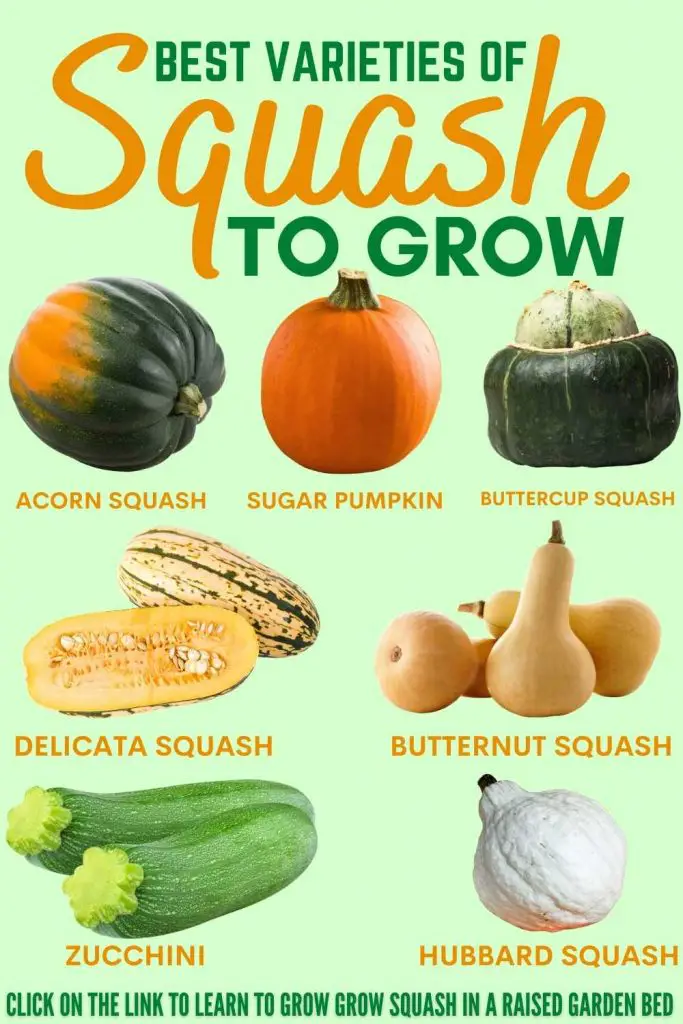 Choosing the best variety for your raised bed is a serious decision. We are going to point out some famous varieties. 
ACORN SQUASH
This variety has a delicious taste. The flesh of this variety can be yellow or orange and the color of the skin is dark green with orange spots. It is best to consume this variety within 2-3 months. 
BUTTERCUP
You can store this variety for up to 5 months. The texture of this variety is just like a potato. This is a vining variety so train it on the trellis. 
DELICATA
This variety has creamy-yellow skin with green stripes. You can use it in stuffing, steaming, and roasting. This will take less space but check the variety because it comes in bush and vining both.
BUTTERNUT
This is a versatile variety you can use in soups, curries, or stir-fries. It needs little maintenance and likes to sprawl so give them space. You can store it for 6 months.
ZUCCHINI
This variety has a bush habit so it needs 4-5 feet to grow. You can enjoy zucchini in stir-fries, curries, salads, pasta dishes or you can grate it into cakes and bread. 
HUBBARD
It is a long-lasting variety that can be stored for 6 months. It is a colorful addition because it comes in different colors such as pale, blue, green, and deep orange. In the same way, it comes in different sizes from baby variety to the large variety which weighs about 40 pounds that may pull down your fence without support.
SUGAR PUMPKIN
Sugar pumpkin is the best pumpkin because you can use it in baking, soups, and pies. It is large and you can store it for 3-4 months.
WHEN TO PLANT SQUASH?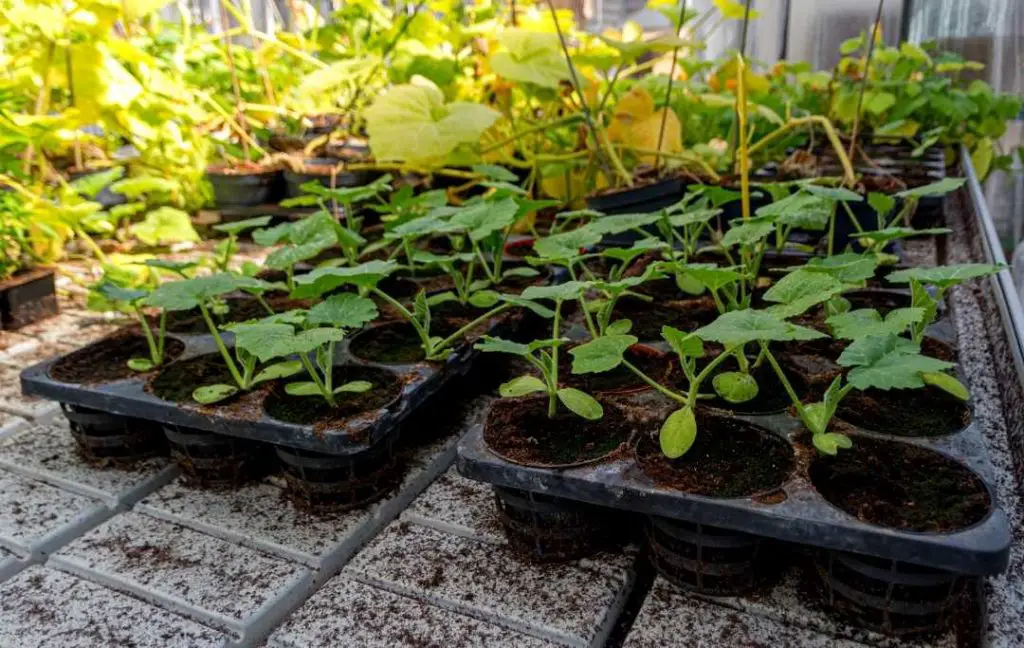 Keep in your mind both varieties of summer and winter like to grow in warm weather squash likes to grow in warm soil so you have to wait until the temperature of the soil becomes at least 60°F OR 16°C. 
If you want to grow earlier then you should sow the seeds inside or in the greenhouse  2-4 weeks before the last frost date. When the weather is favorable then transplant the seedlings in your raised bed in the garden. You can also get all the information from the local nursery about when to plant squash. 
HOW MUCH SPACE DO I NEED FOR SQUASH?
Squash needs a lot of space to grow, as you are growing it in your raised bed so you should prefer vining varieties. The reason is vining varieties need less space as compared to bush varieties. You can grow more plants if you prefer a vining variety. 
SHOULD I GROW SQUASH FROM SEEDS OR STARTS?
It is up to you which way you like. If you have time and you can wait for the germination of seeds. You can easily get all the information on the packages on packets. 
If you decide to grow from seeds then it is the most economical way to grow squashes. You should prefer growing from seeds because squashes don't like being transplanted. 
Soak the seeds overnight for faster growth.
Plant 3-6 seeds in a cluster.
After sprouting of seeds, choose the strong one and remove the remaining.
When you see the first set of true leaves then mulch the soil. It will help the soil to retain moisture.
If you don't have enough space to sow the seeds and for their sprouting then you can buy starter plants from any local nursery. This is a good solution to get a jump on the season. 
This option is best for those who are living in cold climates because the growing season of squash in these areas is very short. But remember it is not easy for squash plants to recover from the shock of being moved. Try to minimize disturbance to the plant's roots. 
IMPORTANT FACTORS IN THE GROWTH OF SQUASH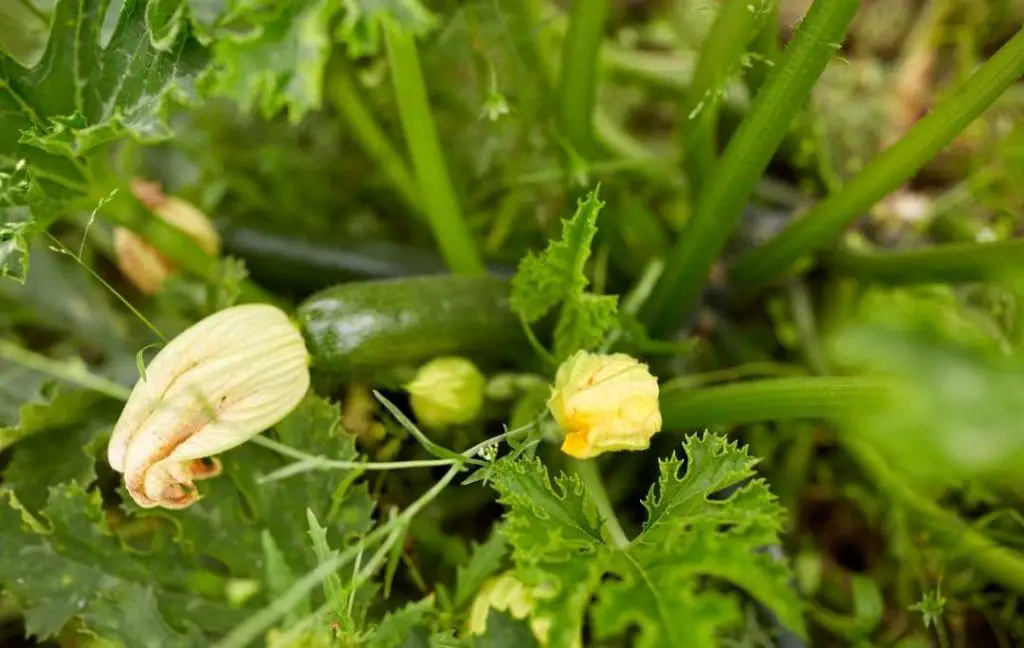 You have to care about many things when you are growing plants. The factors important are sunlight, soil, and water. 
HOW MUCH SUNLIGHT DO SQUASH PLANTS NEED?
Full sun is needed to produce healthy squash. Choose the best location for your raised bed where your squash plants get 6 hours of sunlight. 
But if you are living in a hot climate then squash plants may drop with stress. You can add shade cloth to protect the plants from the heat.
WHAT ABOUT SOIL REQUIREMENTS?
Slightly acidic soil is recommended for the healthy development of squash. The pH of the soil should be between 6.0 to 6.8. You can add lime if your soil is acidic. It is proved that squash can tolerate a pH not less than 5.5.
But always check your soil. For this purpose perform a soil test so you should know about your soil. A soil test can easily be performed with the help of a soil test kit. The results of the test will tell you what to add to the soil to make it perfect. 
Seasonal manure and compost will fulfill all the requirements of the squash. You can also prepare compost at home but buying from the store is another option. Squashes are heavy feeders. 
They need perfect and rich soil that has all the major nutrients. You can use 1 cup of organic fertilizer beneath the transplants. This will give you the best results. If you are growing squash from seeds then add a layer of 2 to 3 inches of the fertilizer on the soil.
HOW OFTEN SHOULD I WATER SQUASH PLANTS?
Make sure squash will get water of 1 inch every week. This will moist the soil 8 to 12 inches beneath the surface. For sandy soil, you have to add more water, especially in hot weather. 
A drip irrigation system with drip spikes is an excellent way to provide a reasonable amount of water to the plants.  There is another option which is burying a perforated tin can besides your seedlings. 
Fill this can with water daily, in this way, the roots of the plants will get sufficient water for their development.
COMMON PESTS AND DISEASES
Like other plants, squash is also a victim of pests and diseases. Summer and winter squashes both are susceptible to pests and diseases. 
Here we are going to discuss some pests and diseases which can be harmful to your squash plants so you have to keep an eye on the squashes so you can control these problems.  
SQUASH VINE BORERS
If you see wilting leaves along with holes at the base it means your plant is affected. If they colonize squash plants then you can't control them. 
You can cover the base of the young plants with aluminum foil so you can prevent your plant. Remove the affected plants to prevent other plants.
APHIDS
The common pest which is harmful to squash plants is lowly aphids. If you see the discoloration on the stems then you should do some precautions to protect your squash plants from this pest. 
Some insects like ladybug and wasps like to eat this pest. If you are not able to control the aphids then you can spray water at the stems of the plants. In this way, you can wipe them out. Neem oil is another option for controlling the population of this pest in your plant.
SQUASH BUGS
After the attack of this pest, the leaves of the plant will wither and eventually die. The brown marks on the leaves are a clear symptom that your plant is affected due to squash bugs. If you see oval-shaped brown eggs then remove them to protect your plants. 
You can also make a trap by placing cardboard around your plants. The squash bugs will hide them in the cardboard and you can easily gather them and destroy them.
BLOSSOM END ROT
When you see the ends of the squash plant is turning brown then it is a clear sign of blossom end rot. The reason for this disease is due to a lack of calcium and low pH. A soil test will help to avoid this problem. Prevent your plants from wet soil and harsh weather.
POWDERY MILDEW
Powdery spots on the leaves are a clear sign of powdery mildew. These spots will turn into large patches and weaken the plants. Warm and dry conditions are the reason for this fungus. The spray of neem oil with water is the best way to reduce or eliminate powdery mildew.
WHEN TO HARVEST SQUASH?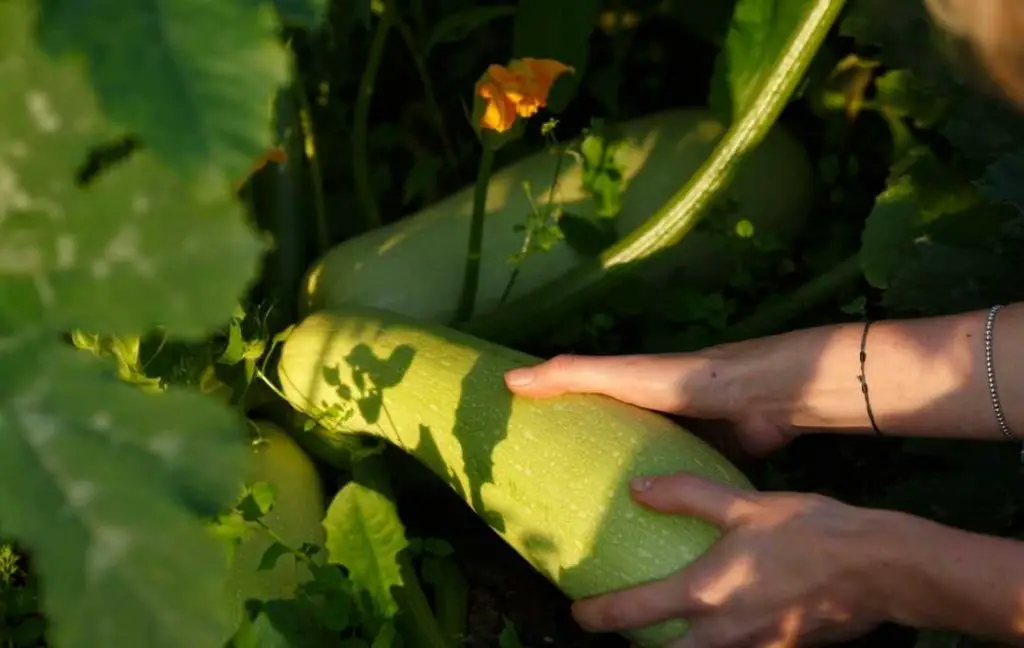 You can eat summer squash of any size but not winter squash. If you can't break winter squash with your fingernail then this is the best time to harvest it. You should harvest them before the first frost, the temperature should not be below 50°F or 10°C. If the vines of the squash are dead then pick all the squashes.
You should use sharp and clean pruners to cut the fruit from the vine. 2-4 inches of the stem should be left. This stem will protect squashes from rot and pests and you can store them for a long time. 
If the item is broken then it leaves a wound that starts to soil immediately. So be careful and not to break this off. You can avoid breakage by handling carefully from the bottom.
---
Read More
---
HOW TO STORE SQUASH?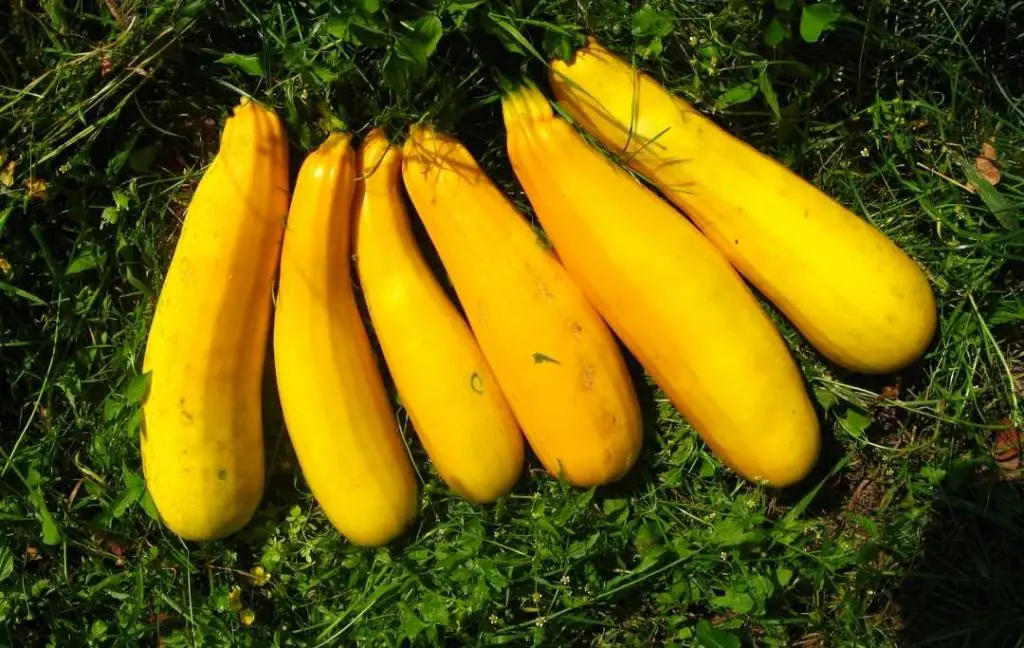 Some varieties of squash can be kept until spring. It means you can get your homegrown vitamin-rich squashes throughout the year. Curing must be done before storing. 
The curing can be done by leaving squashes outside in the sun for 7 to 10 days after harvest. The temperature for curing should be 25 to 30°C. 
After curing, place the squashes in a well-ventilated area and maintain the temperature which is about 10 to 12°C. The best way of storing is making a single layer and making sure they will not touch each other. The storing time depends on the variety you have grown in your raised bed.
If you want to harvest immature squash due to first frost or any other reason, you can eat them. But the flavor of immature squash is not rich as a mature squash. You can also eat the skins of squash if they are young enough. 
You can also ripen the squash which is harvested before maturity. First, you should remove dirt from immature squash and place it in a sunny window. 
Turns all the squashes periodically so all the sides will get full sun exposure. But keep an eye on the fruit because they are more susceptible to fungus.