Raised beds are a good option because you can easily maintain the fertility of the soil. It is not possible in in-ground planting. If you have physical issues and you love gardening then you should prefer raised bed gardening. 
It will make it possible for you to maintain the plants more easily. Weeds and pests are a great problem for you but after building a raised bed, you can avoid all these issues.
If you are living in a cold climate then growing carrots is not a difficult task for you. If you are a newbie in gardening and you are learning how to maintain your plants then you must grow plants that require little maintenance.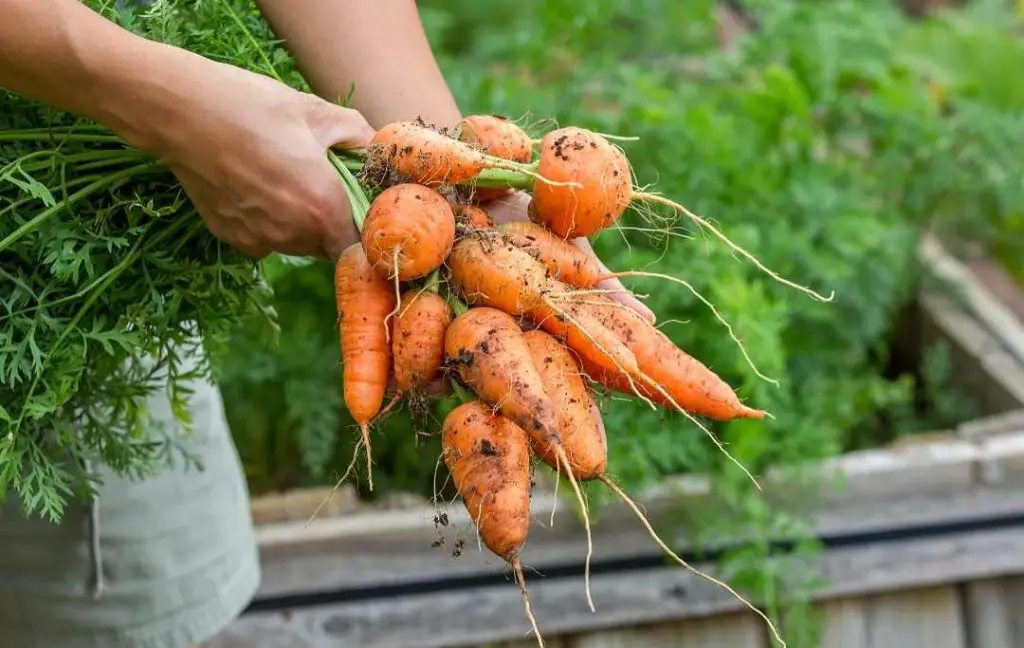 Carrots are one of those vegetables which you easily grow in your garden or raised beds. Here we are going to talk about growing carrots in a raised bed as you know vegetable gardening will become easier. 
The raised bed provides better soil conditions for growing carrots. As you know carrot is a deep-rooted vegetable that's why it needs deep moisture to develop long straight roots and wonderful colors with a satisfying crunch.
The interesting thing is that carrots can tolerate frost but it likes loose and sandy soil during the cooler periods such as spring and fall. The maturing period of the carrots is 2 to 4 months if you want continuous harvest throughout fall then you should plant them in the spring and summer. 
WHEN TO PLANT CARROTS?
If you want to get a summer harvest, you should sow seed 3 to 5 weeks before the last spring frost date. Remember, if you want to get the continuous harvest you should plant a new round of seeds every three weeks in the later spring period.
If you want a fall harvest you should sow seeds in the mid to late summer. The best time to start about 10 weeks before your first fall frost.
RECOMMENDED VARIETIES OF CARROTS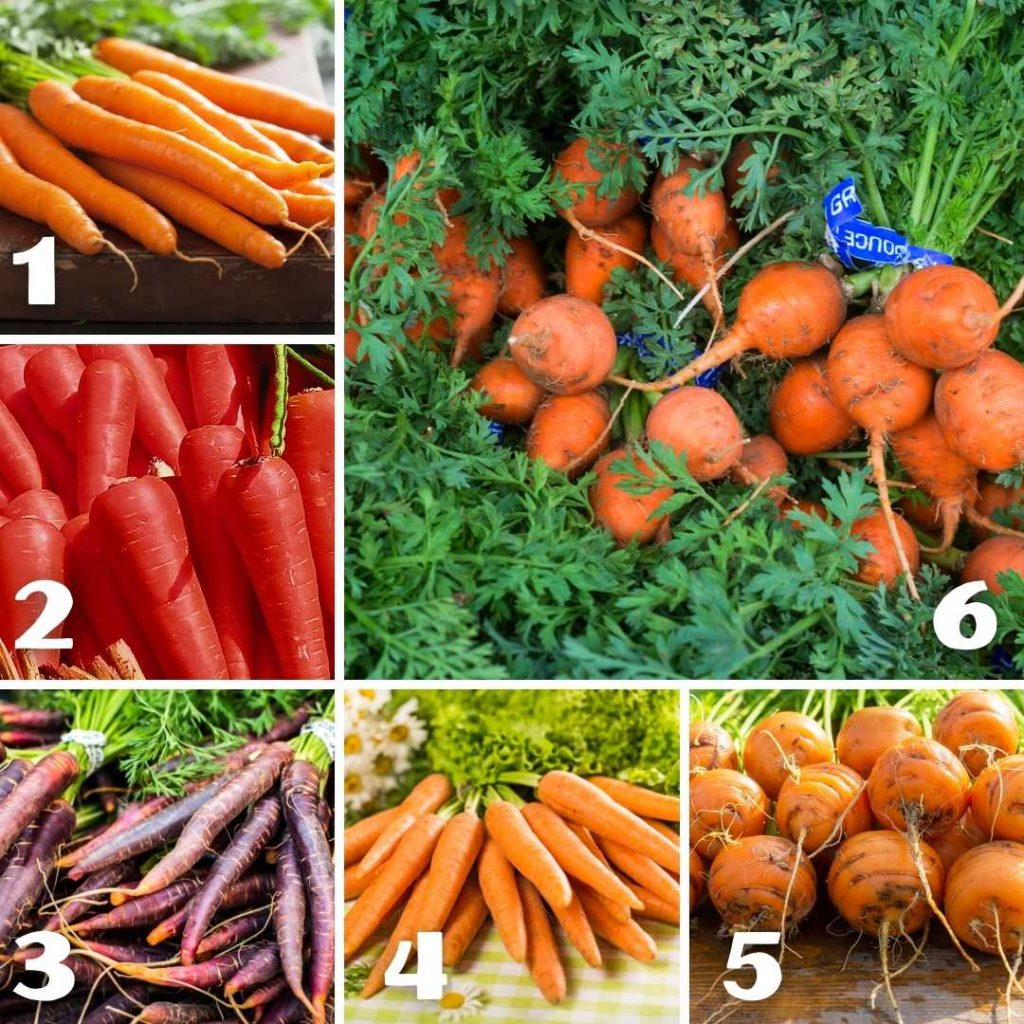 The color of all varieties of carrots are not orange, carrots can be found in different colors from purple to white. Some varieties of carrots are resistant to disease and pests. 
Long-lasting carrots are very sweet. They are very rich in sugar and a great source of vitamins and carotene. 
The famous varieties of carrots are as follows:
1- LITTLE FINGERS
This variety can mature within 55 days so you can harvest it earlier than other varieties. The size of this variety is very small but these roots are sweet. This variety can easily be grown in small spaces.
2- RED
This variety is very long and sweet, it has a bright red color. This type of carrot likes to grow sand and well-drained soil. The maximum height of this variety is 6 inches and it can mature in 65-80 days.
3- PURPLE DRAGON
This variety has a deep purple color with an orange center. Purple Dragon mature in 65 to 70 days. The maximum length of the roots at harvest time should be 6 inches.
4- NANTES
This type of variety is sweet and tender. You can use it in salads because this variety is known for being low in fiber. The maturity time of Nantes is about 65 days and the length of the roots should be 6 inches.
5- PARISIAN HEIRLOOM
The shape of this variety is very unique as compared to other varieties. This variety produces round and stumpy roots rather than long and thin. You can easily grow this variety in compacted, heavy, or rocky soil. 
It needs full sun exposure so it will give you a sweet taste. The maturity time of Persian Heirloom is shorter than the other varieties, you can harvest it within 60 days.
6- THUMBELINA
This is another variety which produces around roots. The diameter of the roots is about 1 to 2 inches in size. It can easily grow in heavy or shadows soil and is the best choice for the containers and raised beds.
PREPARE SOIL FOR YOUR RAISED BED FOR GROWING CARROTS
Soil preparation is very important if you want to grow healthy carrots in your raised bed. Make sure the roots of carrots can grow easily unobstructed otherwise this will lead to destroying the crop. The following are some tips to prepare your garden soil:
It is necessary to till down 12 inches and make sure there should be no rock, stones, and soil clumps because it can stop the growth of carrots.
Avoid using nitrogen-rich material because it can cause carrots to grow little side roots. You should use coffee grounds for improving the quality of the soil.
Your soil should be loamy and airy so the carrots grow well.
---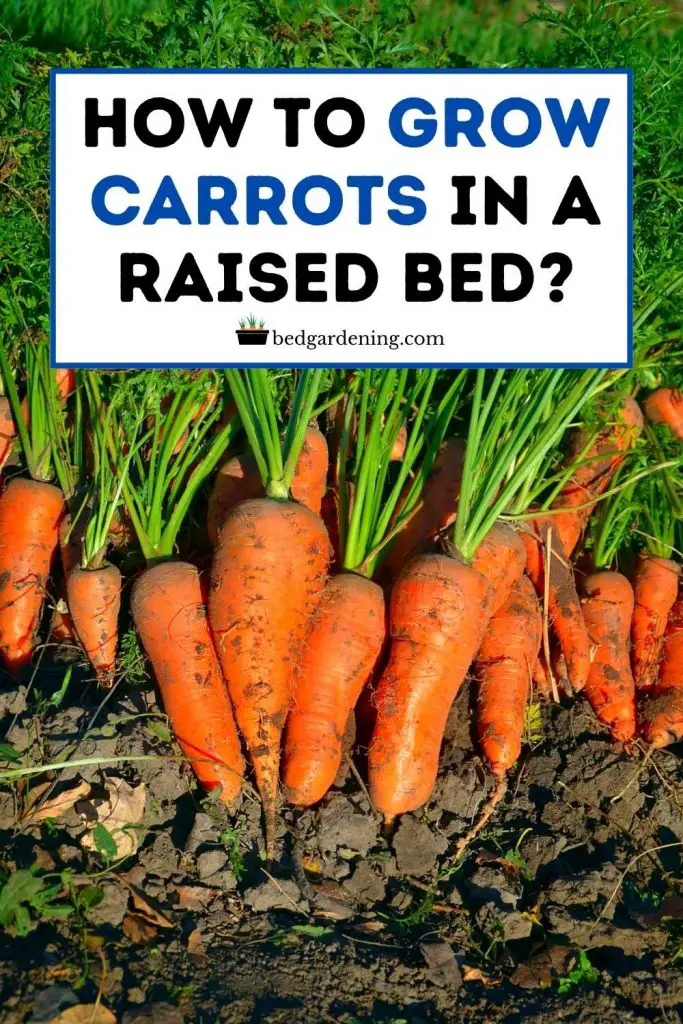 ---
Read More: How To Improve The Soil In My Raised Beds?
---
CHOOSING AND PREPARING A PLANTING SITE
You know the light is very important for the growth of plants so you should choose the best location where your carrot plants get full exposure to sunlight. Carrots can tolerate partial shade too. 
As is mentioned above the soil of your raised bed must be loose, loamy, and airy. So the roots of carrots can easily push down in the soil.
---
Read More: HOW TO START A SMALL VEGETABLE GARDEN
---
HOW TO PLANT CARROT?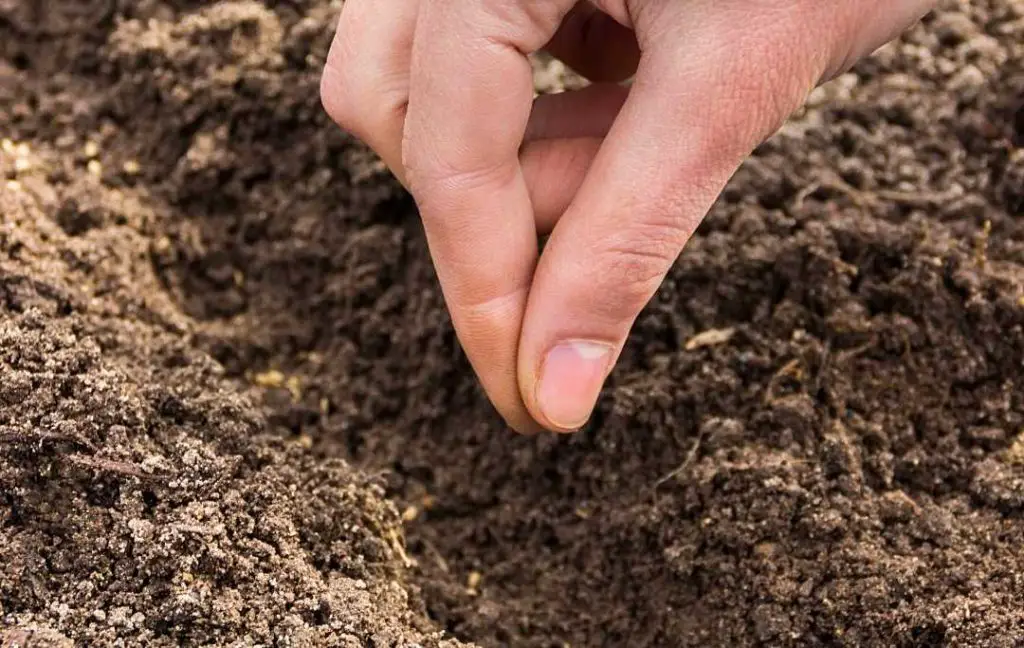 It is recommended to sow the seeds of carrots instead of transplanting them because carrots don't like to have their roots disturbed. 
The seeds of carrots should be sown one-fourth inch deep and 2 to 3 inches apart.
Right spacing is necessary so your carrots plants get enough nutrients to provide you a better yield. Correct spacing is necessary because it can avoid too much thinning of carrots.
Frequent shallow watering is necessary to keep the soil moist for the carrot seed. You can use your finger to check the moisture level of the soil.
Spread a layer of fine compost on the raised bed to prevent a crust from forming on the top of the soil.
Show patients because carrots are slow to germinate. They take two to three weeks to germinate so don't panic.
Remember carrots are bad competitors with weed so try to provide a weed-free environment to your carrot plants.
5 TIPS FOR GROWING CARROTS IN A RAISED BED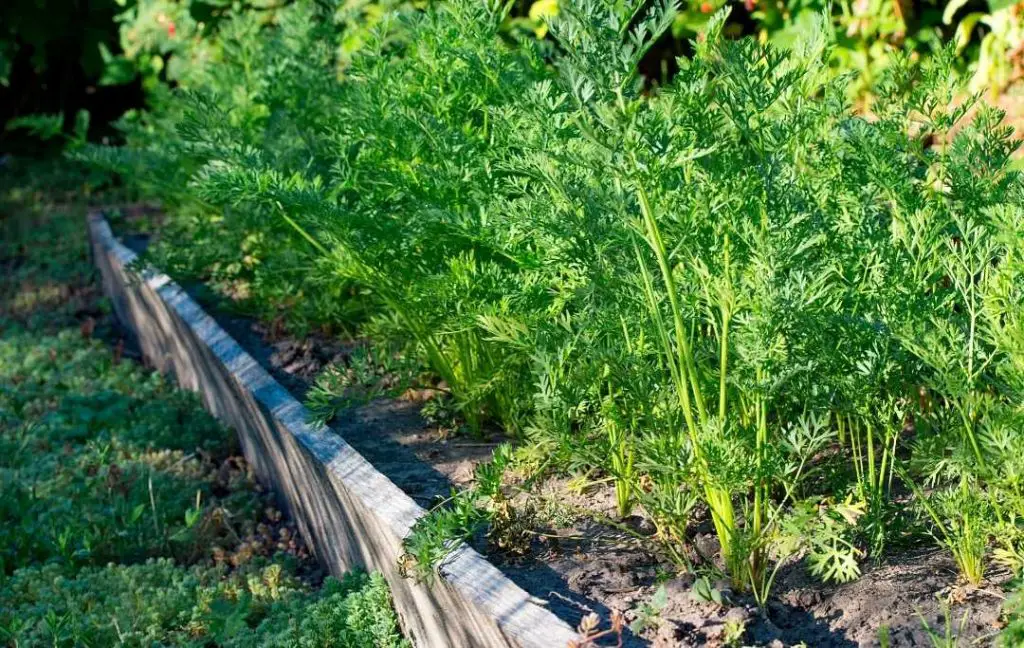 When you grow carrots at home, they are more delicious and sweeter as compared to carrots you buy from the store. You can grow the best carrots if you follow the following tips and instructions when you are growing them in raised beds. 
1- LOOSE SOIL IS KEY
In a raised bed, you have the option to prepare the soil according to the needs of your plants. In the case of carrots, you should add 30 cm or 12 inches of fine loose soil. 
If you see any clumps in the soil at once break them.  If you notice rocks in soil then remove them so carrots can spread their roots in the soil. Most of the time the reason behind the funky shape of carrots are clumps and stones. As they don't allow the carrots to grow straight down.
2- SOIL COMPOSITION
Soil is a growing medium for the carrots so it should be according to the requirements of carrots so they can grow well. You should add amendments to the soil like compost, old rotted straw, and other organic materials. 
If your soil has humus then it can help to retain the moisture in the soil. If you grow carrots in moist soil then you will get sweeter and less fibrous carrots. 
3- MULCH TO REDUCE WEEDS
It is good to spread mulch around your vegetables in a raised bed with organic materials. This will help to prevent weeding and retain the moisture in the soil. 
In the case of carrots, the best time of mulching is after your carrots germinate. If you do not wait for seeds to germinate and apply mulch then you will get poor results. 
4- CARROT SPACING
Spacing is very important in the case of carrots so proper spacing should be done when you sowing the seeds of carrots in your raised bed. For instance, if you want to plant the carrots very close then they will not get the proper size. 
If you give more space between the carrots then you will not get a good harvest. If you want a better yield of your carrot plants then you should give 3 to 4 inches of space between them. 
You will get all the information regarding this on the packet of seeds. Please read the tips and instructions on the seeds carefully because the spacing depends on the variety which you are growing on the raised bed.
5- FEED THEM
Natural organic sprays provide a lot of benefits to your young plants. For healthy yield, you should prefer using compost tea or diluted liquid from worm farms. 
You can also buy these materials from the markets but natural and homemade sprays are chemical-free and it is good for your vegetable garden.
HOW AND WHEN TO HARVEST CARROTS?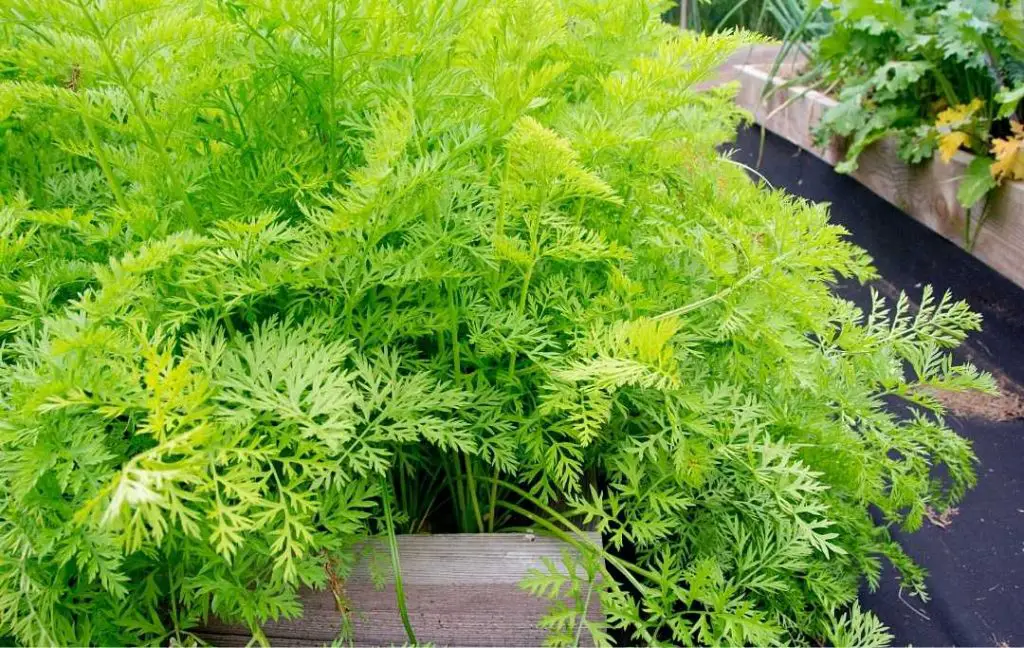 If you grow carrots in loose sandy soil then you can easily harvest them. The harvesting of carrots is very easy, just grab the tops and pull gently from the raised bed. 
You can use a garden fork or trowel for losing the soil around the carrots but you do it if necessary. During the harvesting process if the green foliage breaks off then don't worry and pull the carrots up. 
If your raised bed has heavier soil then you can use a fork to avoid breaking foliage of carrots.
The smaller size of the carrots gives you a better taste as compared to the larger size.
You can harvest the carrots when they reach your desired size or maturity. The diameter of the carrots should be at least ½ of an inch.
The carrots which are grown in the spring or early summer should be harvested before the temperature gets too hot. The reason behind this is that heat will make the roots of carrots too fibrous.
When one or more frost passes then the taste of the carrots becomes better. Frost encourages the vegetables to store more energy in the form of sugars in their roots. 
In the autumn, when the first hard frost comes, try to cover the tops of the carrots with an 18-inch layer of shredded leaves. In this way, you can preserve carrots for harvesting later.
Remember, carrots are biennial, if you do not harvest them and leave them in the ground then you will see flowers on the top of carrots and you will get seeds in the next year.
HOW DO YOU STORE FRESH CARROTS?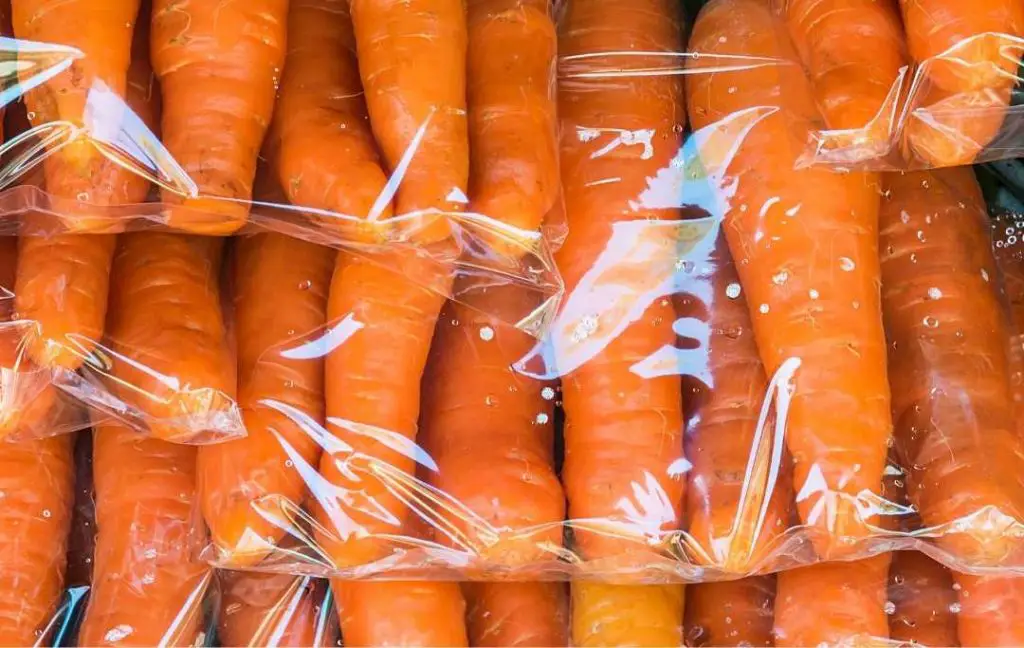 You can't use too many carrots at one time. The solution to this problem is that you can store carrots in different ways. If you are harvesting carrots for storage so you should be picky about the quality of the carrots. 
If you see any damaged roots then use them in the kitchen or throw them away because they will rot quickly and spread to the rest of the carrots. Be careful rotten carrots should not touch the healthy carrots.
If you want to store fresh carrots first you should cut off half an inch of the tops. Remove the dirt from the carrots under cold running water and leave them to dry in the air. 
After that seal the carrots in airtight plastic bags and refrigerate. Don't keep the carrots without plastic bags in the refrigerator otherwise, they will go limp in a few hours.
For temporary storage, you can leave the carrots in the soil but remember the ground will not freeze and pests will not destroy your crops.
You can also store carrots in the tubs of moist sand or dry sawdust in a cool and dry area. This method is very great because in this way you will keep carrots for a couple of months under the recommended conditions
---
Read More
---