Asparagus is a  perennial vegetable that can like to grow in rich and well-drained soil. It is a temperate region plant but can grow in those areas which have long winters. 
If you are planning to grow asparagus in a raised bed then you can easily control many conditions such as the fertility of the soil. You can grow asparagus from seeds but commonly they are planted in the garden as crowns. The crowns are at least two years old and have long roots. 
WHY AN ASPARAGUS RAISED BED?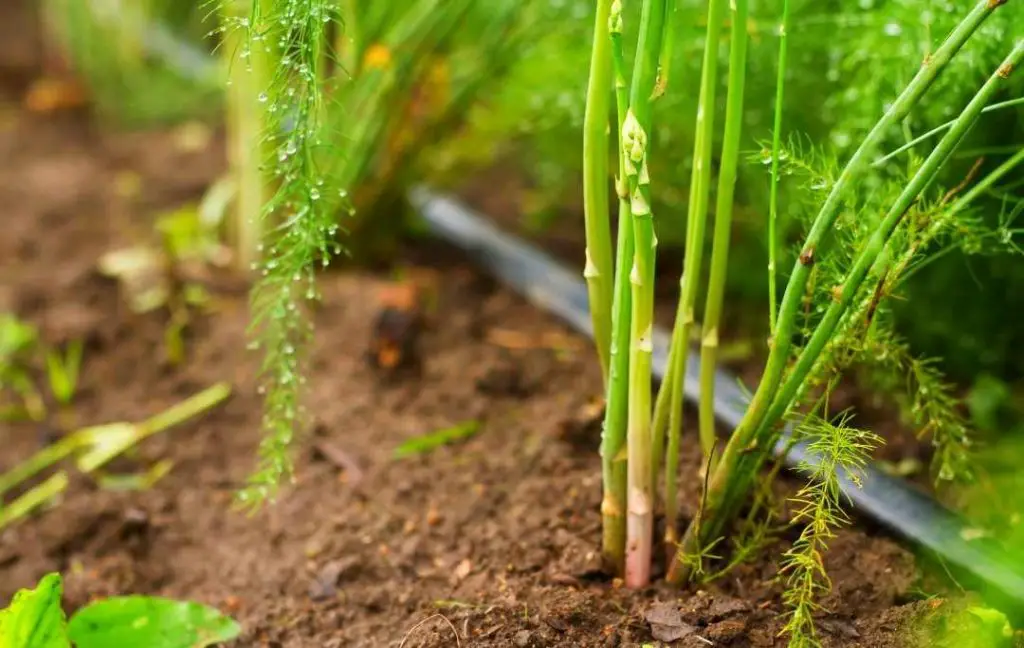 This is a good question why we grow asparagus in a raised bed garden. Here we are going to give you some reasons for growing in raised beds.
SOIL QUALITY
When you grow plants in a raised bed then you have total control over how much compost and amendments you should add to the soil. As you fill the raised bed yourself so you can maintain the quality of the soil according to the need of your plants. It is not possible in in-ground beds. In a raised bed your plants are protected from root rot.
EASE OF CARE
A raised bed can be easily managed because there are fewer weeds and you can pull weeds with your hands very easily. Weeds are unwanted plants that can steal all the nutrients from the soil and your plants have to fight for them.
 If you build an elevated raised bed then you can avoid bending.  If you have any physical issues then a raised bed is a good option for growing. You install drip irrigation or a soaker hose system for water.  These systems will help to save your time which you spend giving water to your plants. 
MORE RAPID SOIL
For planting most of the crops you have to wait for the warming of the soil. If you grow plants in a raised bed then you will get the option of earlier planting. 
Earlier planting will result in earlier harvesting. You can also use cover to speed up the warming process. This will protect the plans from sudden temperature changes. A raised bed gives the asparagus plant a good start.
STYLE
Raised beds give style to your garden. You can show your creativity by installing or building stylish and modern designs of the raised beds.
OPTIMIZING FOR YOUR PLANT TYPE
You can optimize the growing conditions according to the needs of your plants. You can grow different plants in different raised beds so maintain the soil according to each plant. The other important things which are included such as watering and fertilizing. 
EASE OF HARVEST
If you are growing asparagus in a tall raised bed then picking becomes much easier as compared to ground. 
CHOOSE THE RIGHT LOCATION FOR RAISED BED
Choose the best sunny location for your raised bed before building it. Your spot receives at least partial sun. 
The soil which you fill in the raised bed should be well-drained and rich in nutrients. 
If you are growing asparagus from crowns then the soil in the raised bed should be loosened 12-15 inches in depth so the roots of the crowns will get ample space for adjusting roots.
The width of the raised bed should be 2 to 3 feet so you can excess to the plants which are grown in the middle.
Asparagus need ample space for growing in a raised bed. You have to dig a trench whose width should be 12 to 18 inches. The depth of the trench must be 6 to 8 inches for planting crowns of asparagus. 
WHEN TO PLANT ASPARAGUS?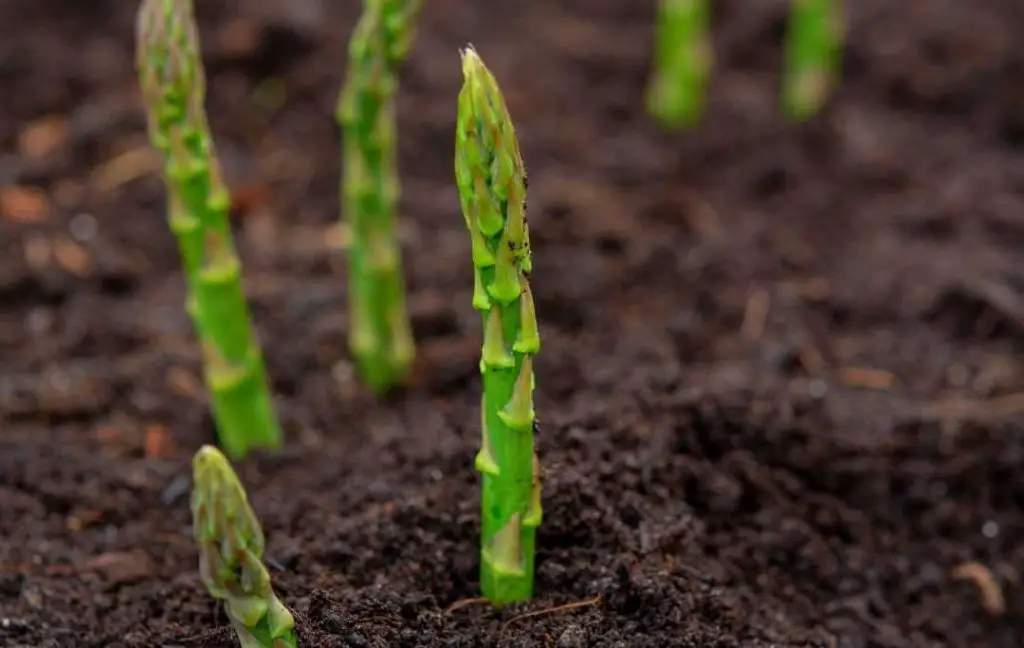 Early Spring is the best time for planting asparagus. You can grow asparagus from seeds as well as from crowns. One-year-old crowns eliminate one year of growth that comes with starting from seeds. 
Crowns speed up the process of production overall. The varieties such as Purple Passion and Sweet Purple can be grown from seeds in a raised bed. 
ASPARAGUS SPACING IN A RAISED BED
If you are growing asparagus in rows in a raised bed the space between the plants is very important. Whether you are planting crowns or sowing seeds there should be space of 18 inches left between each plant. The roots of the asparagus plant need ample space for spreading in the soil.
GROWING ASPARAGUS IN A RAISED BED
There are two ways of growing asparagus. One is from seeds and the other is from crowns. We will discuss both ways, you can choose the one which you like. If you have patience then you can grow from seeds otherwise the other option is also for you.
FROM SEEDS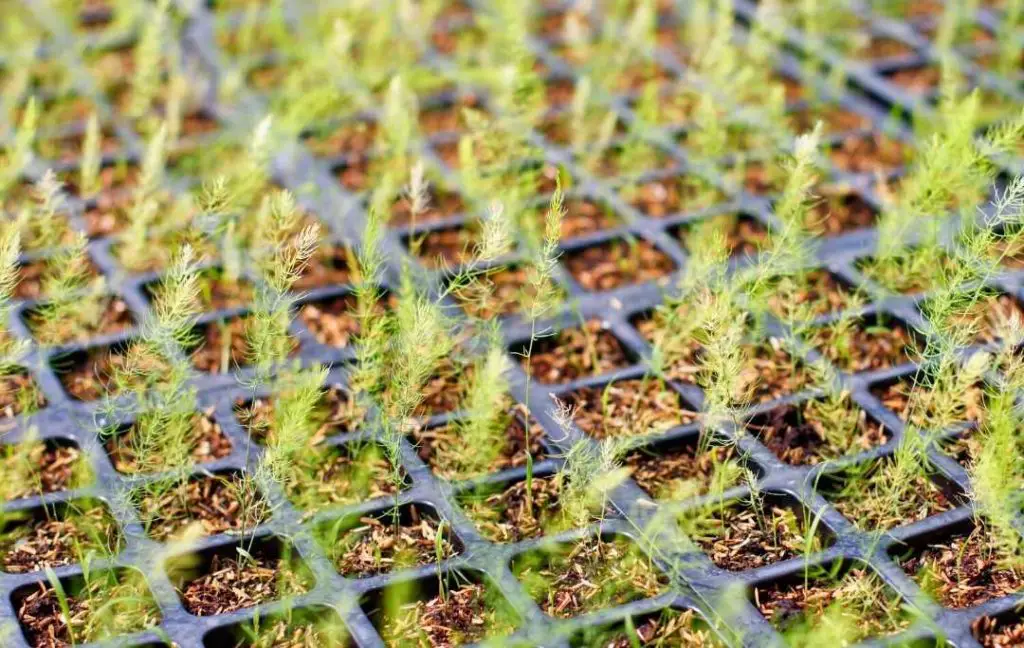 If you are planning to grow asparagus from seeds then start seeds indoors in spring. When the seedlings are 12 to 14 weeks old and last spring frost passed then set out the seedlings in your raised bed. 
First, soak the seeds in water for 24 hours before sowing. This little hack will speed up the germination process of seeds and they will sprout very quickly.
You need flats or peat cups for sowing seeds. Fill the cups with moistened peat or seed starting soil then sow the seeds. 
When the seedlings grow 12 inches tall then you should harden them off outdoors for a week. 
When the danger of the last frost passes then the young plants can be transplanted to the permanent position in your garden.
FROM CROWNS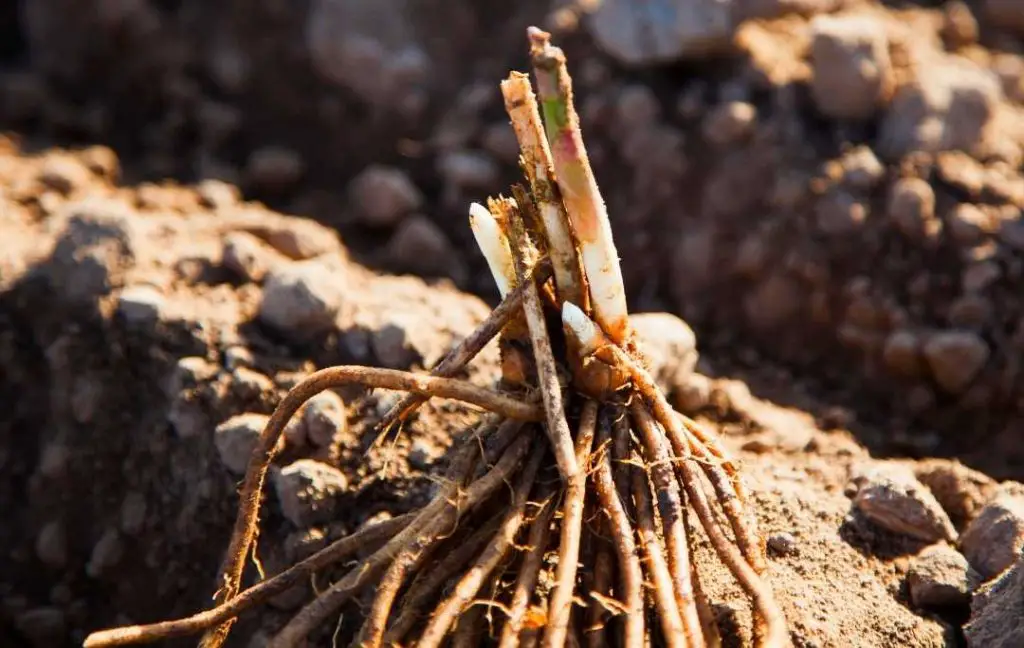 Here we are going to discuss simple steps of planting asparagus crowns, which you can easily get from any local nursery. The best time of planting crown is in Spring. 
Each asparagus crown needs a growing space of about one foot. The number of crowns you can plant in your raised bed depends upon the size of your raised bed. 
Fill your raised bed with high-quality soil. Avoid using garden soil because asparagus plants don't like competing for food with weeds. This little investment will be worth it because asparagus plants will produce about 25 to 30 years.
Make holes for the crowns but the depth must be 6 inches. Leave an 18 inches gap between each crown so a total of one foot of space will be available for each.
Lay the crowns in the holes which you dig and cover them with 2 inches of soil. As the asparagus grows, continue to add soil in the raised bed. Maximum 6 inches of soil should be added continuously. 
Leave some space at the top of the bed so you can spread a layer of mulch to prevent your plants from weeds. Mulch is also helpful to retain moisture for your plants.
---
Read More 
---
HOW LONG DOES IT TAKE TO GROW ASPARAGUS?
Newly planted asparagus plants will start to produce after 2 to 3 years. At the start your patience is needed after that you will get asparagus for decades. 
It is suggested that you should not harvest it in the first year. It is possible that you can get a small harvest but not overdo it. After that, you can harvest as much as you like. 
Your patience will be worth it because asparagus is a fast producer and you will get half a pound of spears per foot of row. In spring and early summer asparagus plants send up new spears.
CARING FOR ASPARAGUS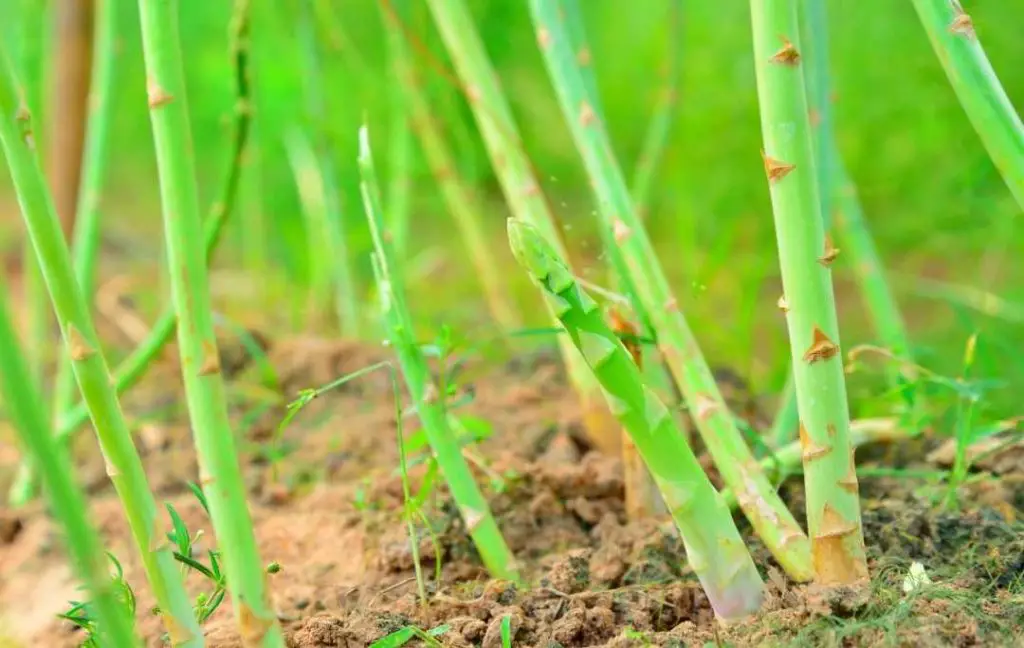 Mulching: When you plant the crowns then you need to add a layer of 4-6 inches of mulch.
Weeding: Weeds are a big issue for growing asparagus during the starting year after planting. Regularly pull all the unnecessary weeds from the soil so the delicate roots of asparagus plants will be safe from crowding and competition. 
When you pull weeds from the soil then the roots of the plant should not disturb. Gently, pull the weeds so the roots will not damage.  Mulch around the plant helps to protect your plants from unwanted weeds which steal the nutrients and water from the soil. 
Watering: It is suggested that don't let the crowns dry out during the plantation. Water the well-raised bed after planting regularly. During the first two years, your asparagus plants need 1-2 inches of water per square foot weekly. If the weather is very dry or on summer days your plants need more water. 
It is better to set up drip irrigation or a soaker hose for watering purposes. You can also bury the clay pots so your plants get water more conveniently. 
Fertilizing: You can use organic fertilizer because your asparagus plants thrive best on a steady supply of organic materials. You can get all the major instructions and information on the label of the product which you are using for your plants. It is better to read all the instructions so you can get all the knowledge.
You can use floating covers to prevent asparagus plants from beetles and other annoying pests.
---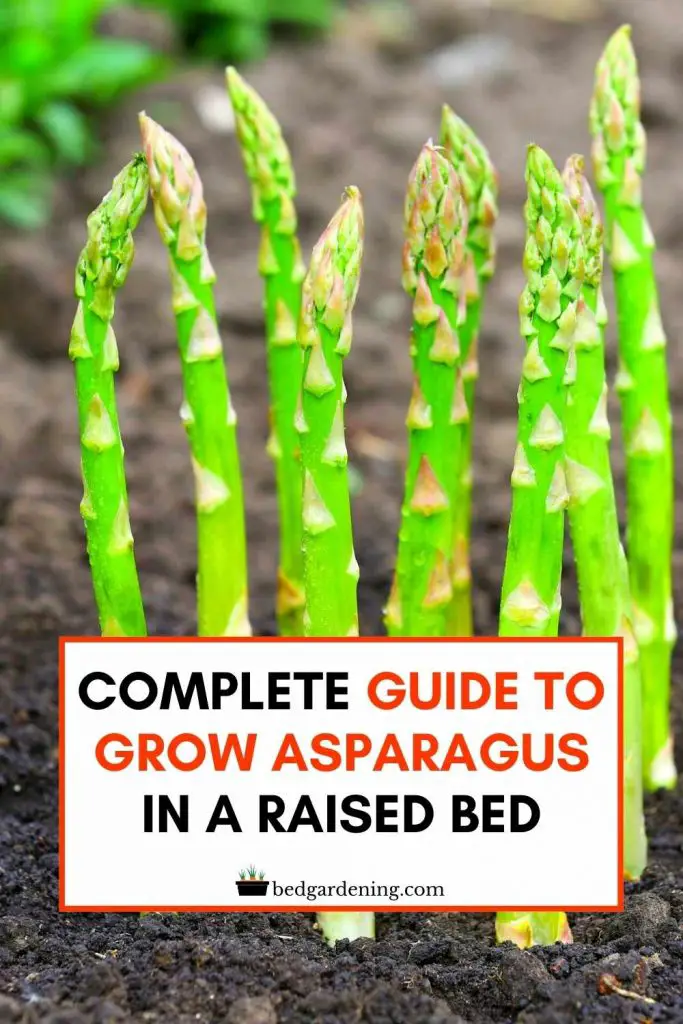 ---
PRE-HARVEST MAINTENANCE
Avoid harvesting spears in the early years. You should cut the dead foliage in the fall and add compost to the raised bed.
In the second year, your bed needs to be thickly mulched. 
During the third year, you can start harvesting because the raised bed of asparagus will be full production.
When you harvest the asparagus, then let the tall asparagus grow out so they can store energy for the next year.
PESTS AND DISEASES
The following are common pests and diseases which affect your asparagus plants.
ASPARAGUS BEETLE
These insects turn the spears into brown and start bending in a hook shape.  The other symptoms are defoliation. You can remove these beetles with the help of hands and dispose of that plant matter where you see eggs are housed.
CUTWORMS
Another insect is the reason for damaging your plants. Keep an eye on the cutworms and remove them with the help of your hands. 
FUSARIUM CROWN ROT
These fungus diseases turn the plant yellow and reddish-brown spots appear on the flower stems and result in rotting spears. The best way is to destroy the infected plants and avoid planting asparagus on the raised bed. You should choose a resistant variety of asparagus for your raised bed.
ASPARAGUS RUST
The main symptom of this disease is appearing rust color spore which turns into black color. You should choose a resistant variety and try to provide better air circulation to your asparagus plant. 
HOW TO HARVEST ASPARAGUS?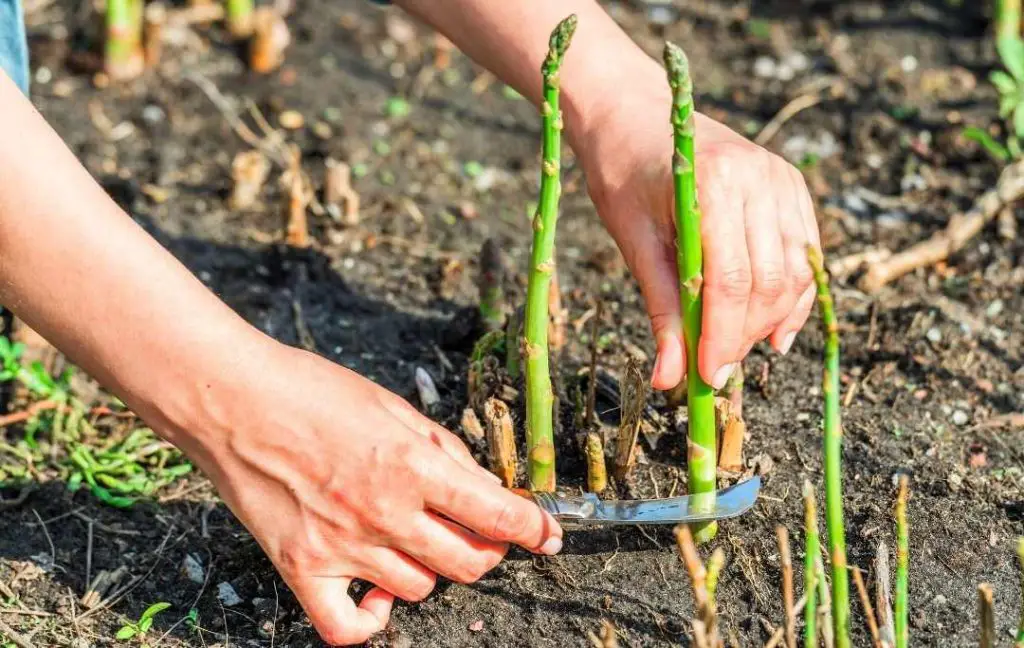 Avoid harvesting in the early couple of years.
Young plants can produce only for two to three weeks while established plants can produce for 8 weeks.
You should check the spears every day because they grow very quickly and soon become woody and hard to eat.
When the height of spears reaches 8 to 10 inches and thickness is about ½ to ¾ inch then it is ready to harvest. The young and spinner spear taste very good. You can use sharp scissors or a knife for harvesting purposes. Cut the spears at the ground level.
You should stop harvesting when you see the size of spears decrease. The best time of fertilizing is after harvesting. You need a balanced organic fertilizer and weed-free compost for the soil. 
HOW TO STORE ASPARAGUS?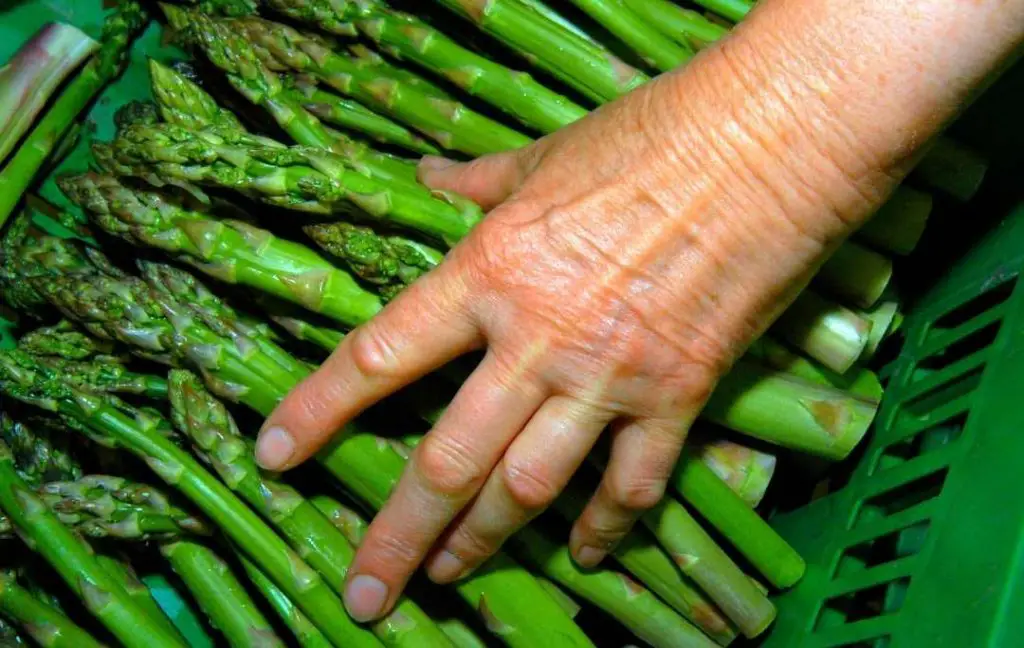 You can not keep asparagus for a long time after harvesting so try to eat it as early as possible. If you see any dirt then brush off or give a light wash with water to spears before storing. But make sure spears are dried before storing because moisture can lead to mold.
Take a bundle of spears together and after that use a paper towel to wrap the stem ends of the spears. Now place the bundle in a plastic bag for storing purposes. You can keep this bundle in the refrigerator.
Another simple way of storing is that if you have space in your refrigerator then you can keep your asparagus in water. You need a cup with an inch of clean water and place the bundle in the cup.
Read More