Strawberries are perennial plants. If you decide to grow strawberries in a raised bed then you will get unlimited benefits and few disadvantages. The main shortcoming of growing strawberries in a raised bed is that the cost. But if you build it yourself then it will not affect your pocket. 
You need little DIY skills to achieve your purpose. If your budget is not limited and you can afford a ready-made raised bed then you can buy it from a nursery or gardening company or order it online.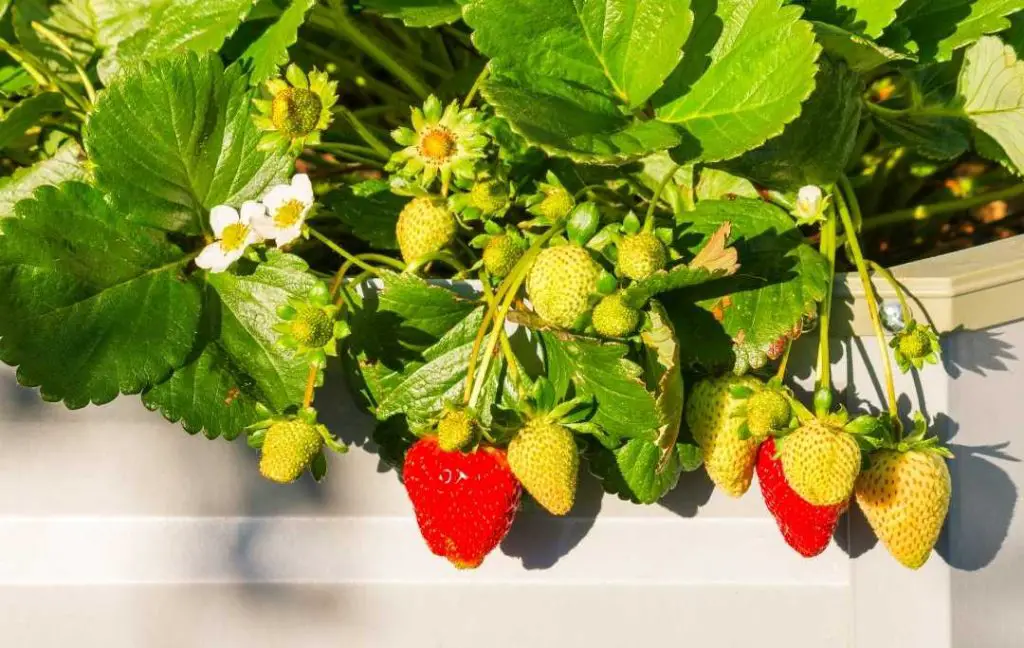 This is the best shortcut for getting ready for gardening and growing your favorite and juicy strawberries in your growing area.
SIZE OF RAISED BED
A rectangular raised bed is the best choice for growing strawberries but the general size of a raised bed could be according to your need like 4 × 4. The depth of the raised bed must be 10 to 12 inches.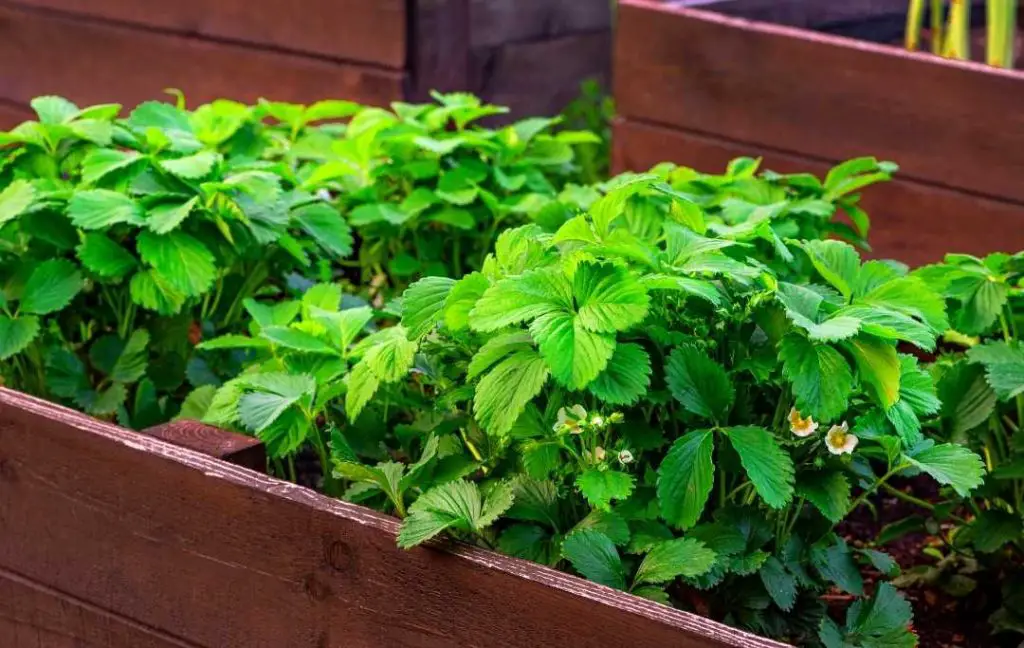 The width of the raised bed should not be too large because you will not be able to maintain the plants easily. The plants which are at the center can be neglected as you can't access them. 
In a 4 × 4 raised bed you should not plant more than 3 plants in a row. It is possible that you can plant an outer row of 3, a middle row of 2 offsets, and again another outer row of 3. In this way, your strawberry plants get ample space for growing.
SOIL PREPARATION AND WATERING.
These are some simple steps of soil preparation in the raised bed for growing mouth-watering strawberries When your raised bed is ready for growing your favorite berries then the next step is soil preparation. 
The best and interesting benefit of the raised bed is that you can easily maintain the fertility of the soil which is not possible in the ground bed. It is suggested, the soil should be perfect for use in the raised bed but if you are doing this then first check the pH of the soil.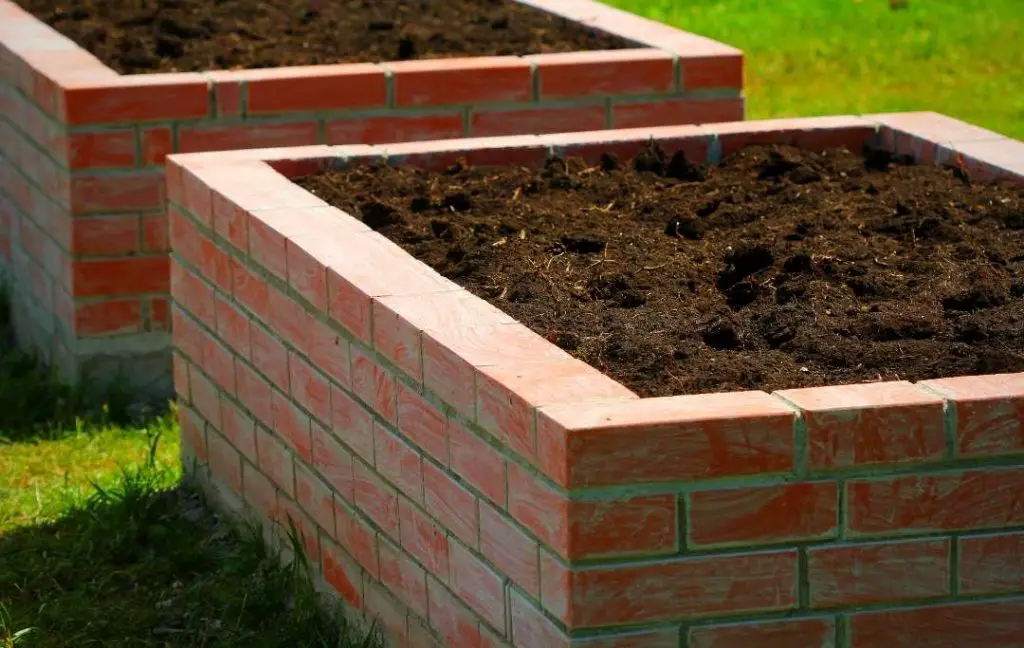 It can be done with the help of a kit that is easily available from any nursery or gardening store. Your soil must be well-drained and rich in organic nutrients. The pH of the soil must be between 5.5 to 6.5, the best pH is 6.0 to 6.2.
The best mixture of the soil you can make by adding potting soil, aged manure, compost, and balanced fertilizer. This mixture is best if your raised bed is less high but for the tall raised bed,  you can first fill it with branches and straw and after that spread the mixture. 
It is not easy to maintain a high or elevated raised bed because the soil in such a raised bed will take time to set. First, spread a layer of branches and straws and after that fill the bed with the mixture of soil which is mentioned above. 
You will have to water the soil several times before planting strawberries. The branches and straws which you use at the bottom will decompose with time and they generate heat which provides warmth to the root system of your plants. 
If you have more than one raised bed then it is better to install a drip irrigation system for providing timely water to your plants. As is mentioned above strawberry plants need well-drained soil, which means you should water the plants when you feel the soil is dry and it needs water.
Overwatering will result in fruit rot which is the complete waste of your hard work. If you can't arrange a drip irrigation system then make sure your strawberry plants get regular water because consistent moist is needed by the soil. 
Your fruit will be damaged due to the fluctuations in moisture level. Your strawberry plants need water twice per week in spring and autumn but in the summertime due to the heat of the sun, you should water your plants on the daily basis.
If you see the strawberries are healthy and strong it means they are getting full moisture and nutrients from the soil. The amount of water depends on how many plants you are growing in a raised bed. The weather condition is also an important factor in growing plants. 
THE POSITION OF RAISED BED IN YOUR GARDEN
Sunlight is a very important factor for the growth of any plant. So choose a sunny spot for your raised bed in your garden. Sunlight makes it possible for the fruit developer its sweetest taste. 
If you are living in a hot climate then you can build the raised bed in that position where it gets in partial shade. But in that position, you will not get good production of fruit in spring and autumn.
Harsh weather will damage your plants and you will get a lower yield of your plants. In summer, due to heat, the moisture of the soil will evaporate in the air so your plants need more water. In short select that position for your raised bed where plants get shelter from strong wind. 
BEST VARIETIES OF STRAWBERRIES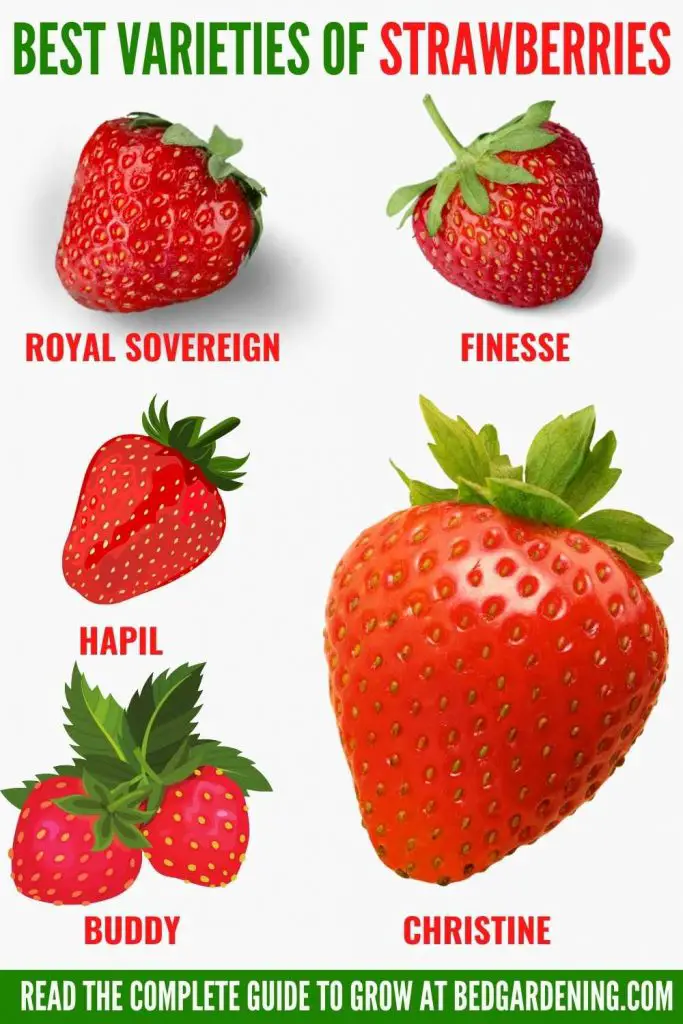 Whatever variety you choose, make sure the soil for the variety must be rich and fertile. There are many varieties of strawberries available, earlier varieties ripen in late May, midseason strawberries in mid-June, everbearing or perpetual strawberries produce fruits from late summer to the first frost. Some varieties are going to discuss under, choose your favorite one.
ROYAL SOVEREIGN
The size of these strawberries is small as compared to other varieties but the taste is aromatic and sweet. It is mid-season and fertile variety.
FINESSE
This is an everbearing or perpetual variety. This is a disease-resistant variety. You will get heart-shaped tasty fruit from July to September. 
HAPIL
The size of this variety is large and the taste is perfect. You can make tasty jam with this type of strawberries. Notable thing is that it can produce juicy fruit in dry soil. 
CHRISTINE
The glossy fruit of this variety makes it a favorite of everyone. This is a disease-resistant variety that is perfect for your home garden. 
BUDDY
It is a new everbearing variety that produces a large quantity of fruit. This is a disease-resistant variety that can tolerate harsh weather. 
BEST TIME OF PLANTING STRAWBERRIES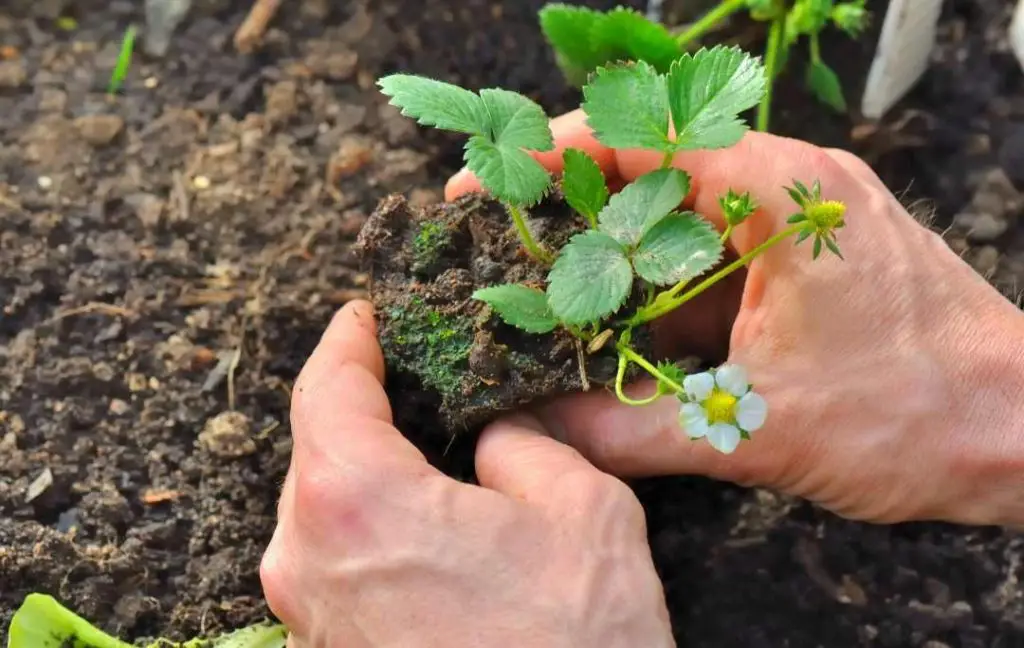 The best thing about strawberry is that it is very easy to grow. The best time of growing strawberries depends upon the area in which you are living. In a hot climate, the strawberries should be planted in the fall, and in a cold climate, they should be planted in Spring.
The best time for planting strawberries in spring. Make sure the last frost is passed before planting. You can get all the information about the last frost from the local nursery in your area. 
The best way of growing strawberries is that you should establish new plants each year. In this way, you will get high-quality berries. The runners of the strawberry plant produce new strawberry plants. 
It is suggested that you should close the disease-resistant variety so you will get healthy fruit effortlessly.
SPACING THE STRAWBERRY PLANT IN A RAISED BED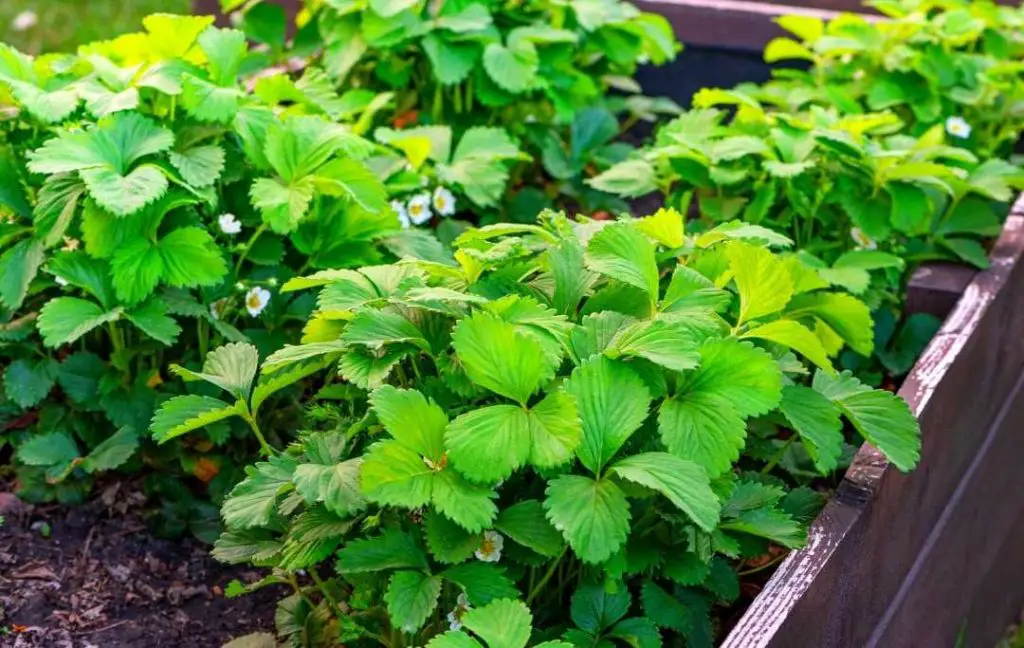 If you are growing strawberries from seeds then all the information and instructions are available on the packet of seeds which will help you a lot. If you are buying young strawberry plants from any nursery then they will guide you on how to transplant these young plants in the raised bed. The space between the strawberry plant in a raised bed depends upon the variety which you are growing.
If you are growing June bearing variety then 1-11/2 foot spacing between the plants in a raised bed.
If you are growing an everbearing variety then it needs less spacing. The space between each plant in a raised bed should be 8 inches.
PLANTING
> The holes which you made in the raised bed must be wide and deep so the roots of the plants accommodate easily. The deepness of the hole is according to the roots of the plant. The size of the hole should be to cover the roots of the young strawberry plant. The crown should not be buried in the soil.
> After setting the plant in the raised bed water it for it so it can properly adjust in the soil. It is not easy for any plant to adjust to a new environment. 
HOW TO GROW STRAWBERRIES?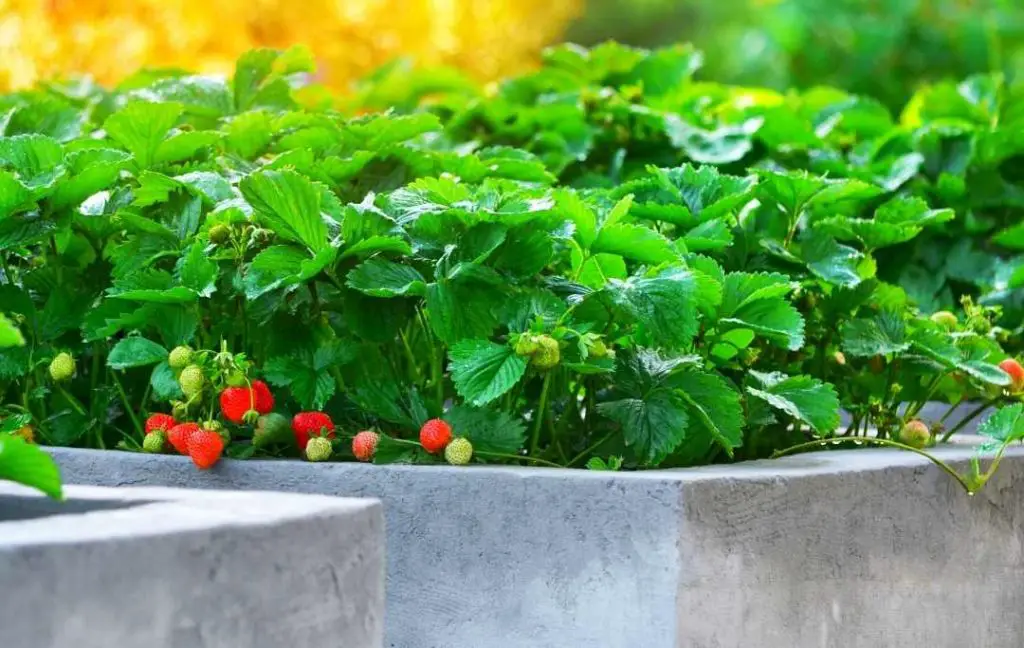 If you want to keep the soil moist in a raised bed for your strawberry plants then mulch the bed properly.
If you see weeds then pull them with your hand in the first month after planting.
 As strawberry plants have shallow roots that's why they need a lot of moisture. They need water one inch per square foot weekly. 
If you pick off the blossoms in the first year then the plant will utilize its energy on the developing roots which is a good sign. In the second year, you will get a greater yield. 
If you want to protect your plants then row covers are a good option. 
HOW TO HARVEST STRAWBERRIES?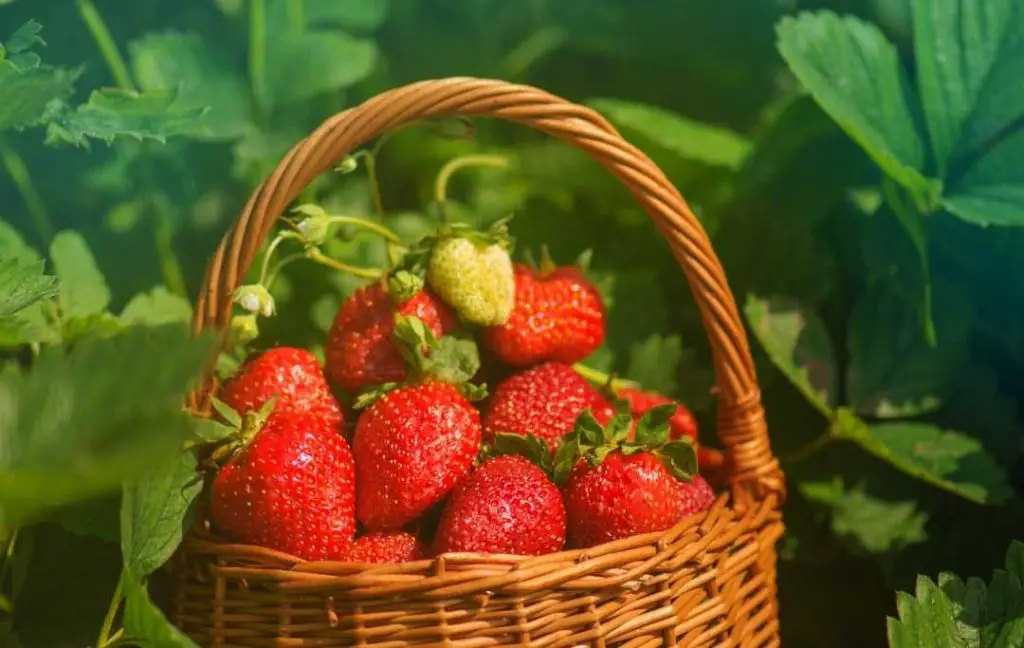 Within 4 to 6 weeks after blossoming, your fruit will be ready.
When the color of the berries is fully red it means they are ready for harvest, you can pick them every three days.
 Avoid pulling berries from the stem, you can use a sharp scissor or cutter for this purpose and prevent your plant from damaging.
 If you are growing June-bearer then you can harvest them within 3 weeks. The quantity of the fruits depends upon the variety which you are growing.
HOW TO STORE STRAWBERRIES?
It is suggested that we eat strawberries when they are fresh. Sometimes it happens that you have more quantity of fruit than needed. In that case, you need to store the strawberries.
If you want to store strawberries then don't wash them. Unwashed strawberries can be stored for three to five days in the refrigerator.
 You can freeze strawberries for 2 months in your freezer.
Read More