Getting fresh sweet corn from your garden is a summer treat for any home gardener. Most people think that corn can be grown only in a vast field and they need more room to grow. 
This is a misconception as sweet corn can be grown in a small backyard garden, in a raised bed, or even in a  container or large pot. But make sure you select the suitable variety for this purpose. 
SWEET CORN VARIETIES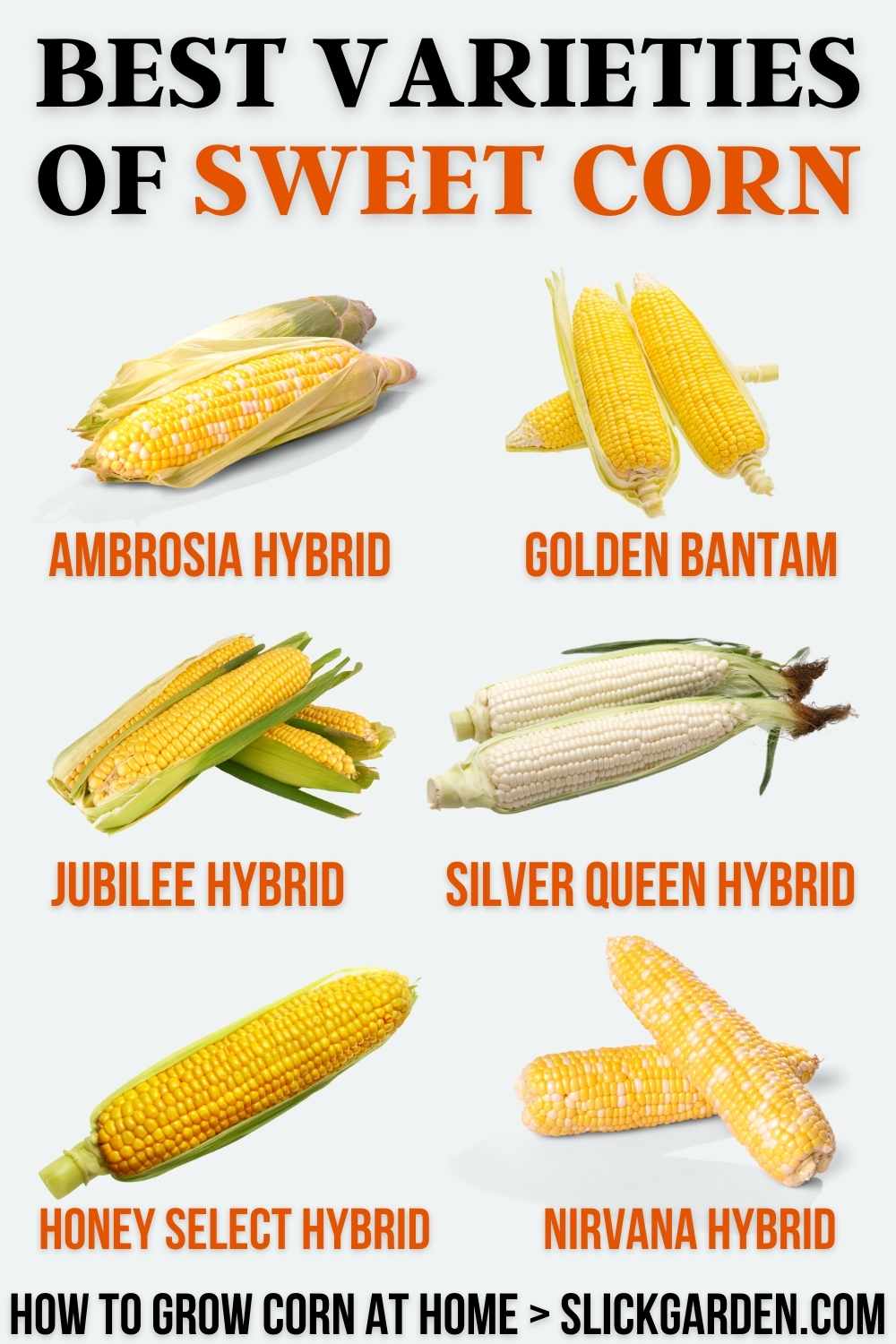 There are different varieties of corn found in the world. Heirloom varieties lose sweetness after harvest so if you try sugar-enhanced or supersweet varieties then you will get a great combination of sweetness and corn flavor. 
You should choose that variety that can retain the sweetness for a long time after harvesting. As you are growing corn in a raised bed so the variety should be shorter one plus mature early. 
For a beginner, such a type of variety works best. Here we are going to discuss some varieties which are best for growing in a raised bed.
AMBROSIA HYBRID
The maturity time of this variety is 75 days. The 6 ½ inches tall plant can produce 8 inches long ears. This is a yellow and white variety of corn and perfect for your home.
GOLDEN BANTAM
The maturity time of this variety is 87 days. 5 feet high stalks will produce
 5 ½  to 6 ½ long ears. It can sprout early in the season and can tolerate cold soil. 
JUBILEE HYBRID
This variety is ready for picking in 90 days and you will get at least 9 inches long ears with yellow kernels. 
SILVER QUEEN HYBRID
This is a productive variety that has a bright white color. The maturity time of this variety is about 92 days. an 8 feet tall plant can produce 8-9 inches long ears with white kernels.
HONEY SELECT HYBRID
This variety has a rich and sweet flavor. The maturity time of this variety is 80 days. 6 feet tall corn plant 8-9 inches long ears. For better growth of this variety, make it possible it gets full sun. 
NIRVANA HYBRID
This variety produces bi-color yellow and white sweet wrapped up in one little husk. The high yield makes this variety perfect for a large family. The maturity time for this variety is about 72 days. 
BEST TIME TO PLANT CORN IN A RAISED BED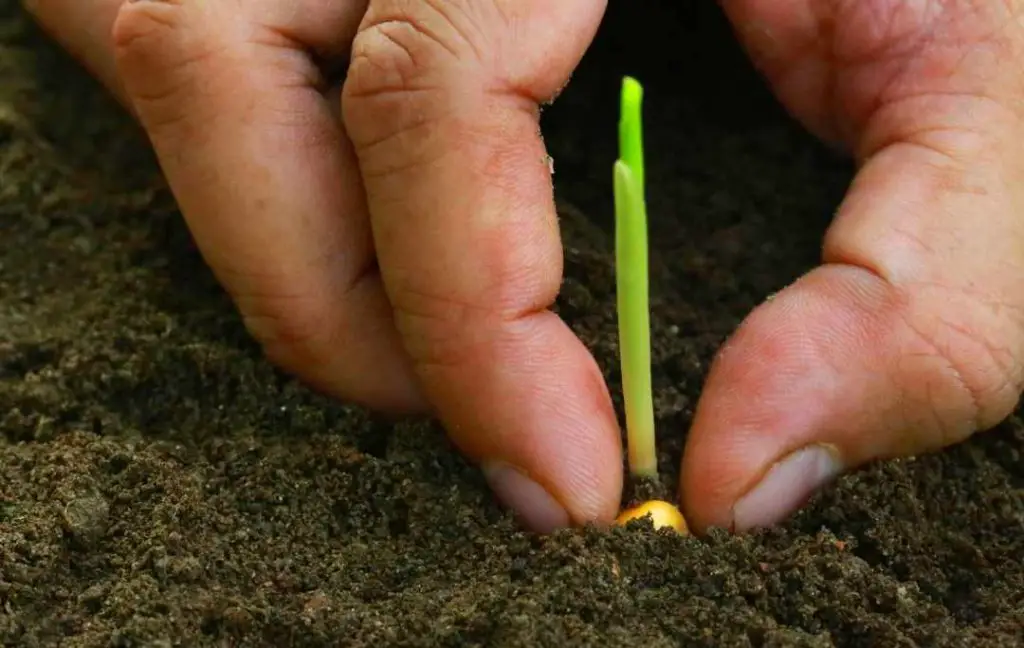 The time of planting any plant is very important. You should grow the vegetables and other plants according to your climate. As we are talking about corn in this article so it is suggested you can ask the local nursery or see the instructions on the packet of seeds. 
These little things are very helpful before planting corn in your garden-raised bed. Sweet corn belongs to the grass family so it loves heat and moisture.
You should wait and plant corn after the last frost date. You can get this information from the local nursery.
The temperature of the soil must be 64 °F so the seeds will easily germinate.
 Remember corn doesn't like disturbance that's why they can't transplant well. If the growing season according to your climate is very short then you can start planting indoors. Prepare your seedlings in biodegradable pots so you can transplant them along with the pot in the raised bed.
 If you want to plant outdoors but early then you can spread a layer of mulch on your raised bed to increase the temperature of the soil before seeding outdoors.
PREPARATION OF SITE FOR RAISED BED FOR GROWING CORN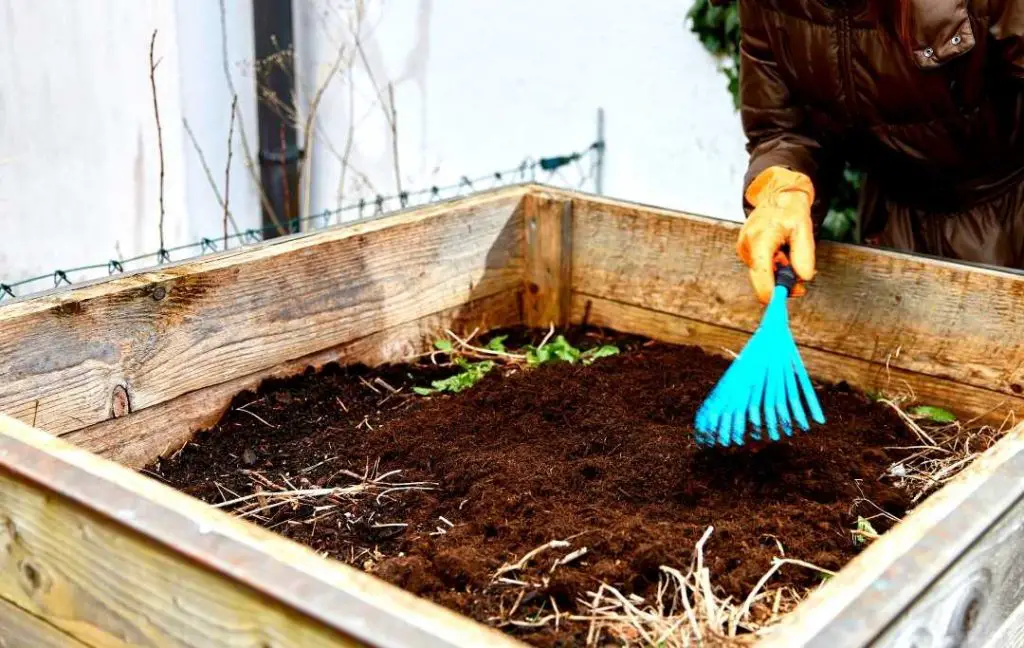 Each variety grows the same way and their requirements and needs are similar. As you are growing corn in a raised bed and the pollination of corn plants is done by wind so when you are spacing between the plants during the planting time then your extra care and attention are needed.
> A sunny spot is best for growing any plant. Select a sunny spot for your raised bed where it receives at least 6 hours of light. Light helps to grow your corn plant so tall and dense.
> It is a great benefit of a raised bed to maintain the fertility of the soil. Raised beds help to avoid weeding and prevent your plants from different pests.
> Mulch helps to retain the moisture in the raised bed. You can also add organic matter such as compost to make the soil rich for increasing fertility. Plenty of organic matter will help to prepare your raised bed for planting.
> Corn is a heavy feeder so fertilize your corn plant. You can add 3 pounds of 5-10-5 fertilizer per hundred square feet of bed.
PLANTING SEEDS OF CORN IN A RAISED BED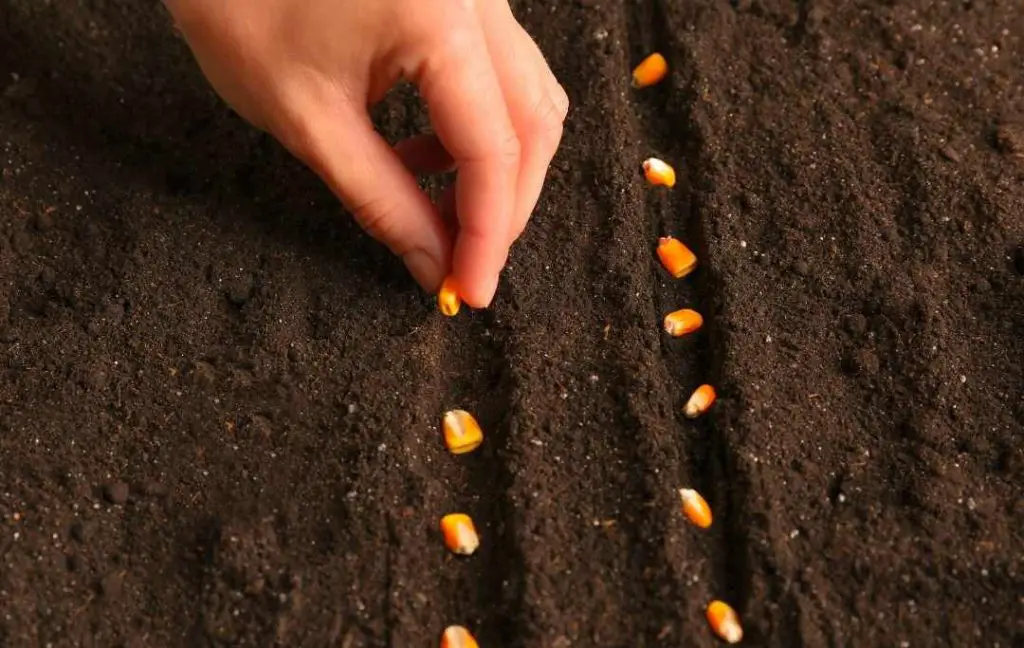 If you don't have a large space for growing, then a raised bed is a good option for growing plants. In a raised bed create short thick rows. It helps in the pollination process
> First, soak the corn seeds in warm water for a full night, this hack will help to speed up the germination process.
> Make holes about 1 inch deep and place two seeds in each hole. It is not possible that each seed will sprout that's why we place at least 2 seeds in each hole.
> Don't plant too close, seeds should be sown 10 to 15 inches apart in the row. The space between the rows should be 36 to 42 inches
> When the germination process will complete and you see two seedlings emerging from one hole then you should keep the strong one and remove the weak seedling. But be careful and don't put the unwanted seedling because it will damage the roots of other seedlings which you want to keep just snipping at the base.
> Water your corn plants gardeners use a balanced fertilizer after every few weeks.
CARING FOR YOUR CORN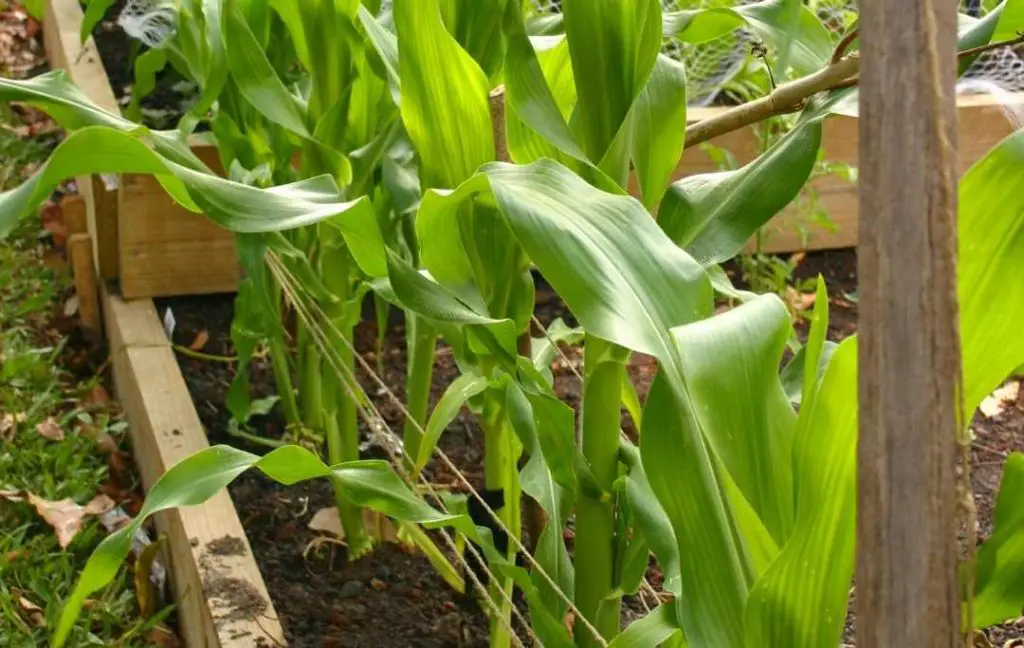 Following tips and instructions will help you to maintain your corn plants.
> It is possible that your corn sprouts are being eaten by hungry critters such as birds. you should protect your sprouts by fencing or covering them with bird netting. 
> When your corn plant becomes knee-high then dig a furrow next to each row of corn and fill the furrow with high nitrogen fertilizer.
> Weeds are unwanted plants that share the nutrition of the soil with your plants, to avoid them you should mulch a layer on the surface of the soil when your corn plants are a few inches tall. During the weeding process be careful and don't disturb the roots of the corn as corn plants don't like disturbance. 
> Your corn plants need sufficient water to grow, you can use drip irrigation or a soaker hose both will help to provide even watering to your plants. 
GROWING STAGES OF CORNS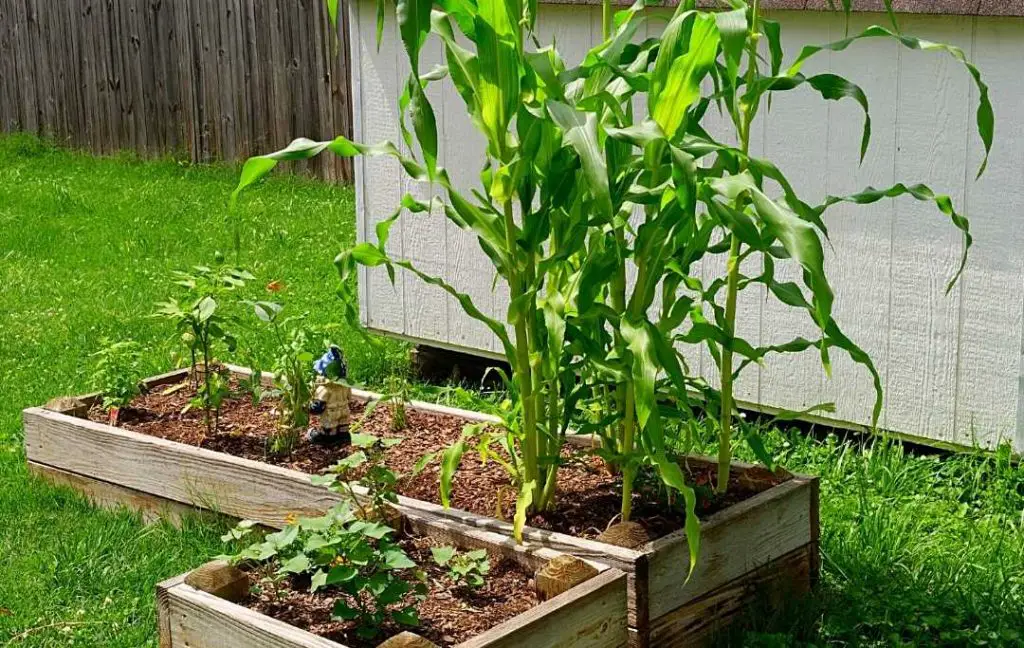 As a home gardener, you have to keep an eye on the signs of harvesting corn because they ripen quickly. First, you should understand the growing stages of corn. 
There are three stages of corn: first is early growth preparation for pollination, the second is mid-growth pollination and the last one is final growth ripening. Now we will discuss all Beastie stages one by one.
EARLY GROWTH STAGE
The early stage of corn is to prepare for pollination. At the top of the corn stalk, you will see tassels emerging; they contain pollen which is essential for the pollination process. A couple of weeks after you will see a small ear of corn in the middle of the stalk will start to grow.
MID GROWTH STAGE
At this stage, you will see silk emerging from the top of the ear and attached to a kernel of corn. The pollination of the corn will be done by wind but if you don't have much wind then you can simply shake the stalk very gently, it will help the pollen to get every strand of silk.
FINAL GROWTH STAGE
Slowly you will see the cluster of the silk turn brown and start to dry out. This is a clear sign the ear begins to ripen to maturity. You will also see the ear will start to angle away from the stalk. When you grasp the ear, if you will feel it is hard it means it is nearing maturity. The tip of the ear will also change with time and turn into a definite point to a more blunted end.
PESTS
Prevention is better than cure so you should try to prevent your plants from pests. 
> You should keep the larger pests such as deer away from your garden. You can do this by fencing around your garden so these animals will not enter your garden to eat your hard work.
> You should tie a paper lunch bag over every ear so it keeps birds off.
> You should be very careful as the corn earworms, caterpillars, and corn borers hide in the ear and eat the kennel from inside. By using an insecticidal spray, you can get rid of these little monsters.
WHEN TO HARVEST CORN
 There are three clear signs through which you will come to know that your corn is ready to pick.
When you see the silk turns completely brown, brittle, and dried out.
The juice which comes out from the kernel will be milky white if it is transparent it means corn is not ready to harvest.
When you touch the ear you feel it soft and the tip of the ear is blunt instead of pointed.
PICKING SWEET CORN TOO EARLY
As we already discussed in detail when to harvest or pick the count then you should not pic too early or too late
If you pick the corn too early then the kernels will still be hard and all your hard work will be lost so it is better to wait. You should check the corns daily.
PICKING SWEET CORN TOO LATE
Sometimes it happens you think that corn is not ready for picking. But after some time when you pick the corn and you try to eat it then they are not edible at all. It is suggested that you should keep a close check each day so you don't miss the prime time of harvesting.
HOW TO PICK THE CORN?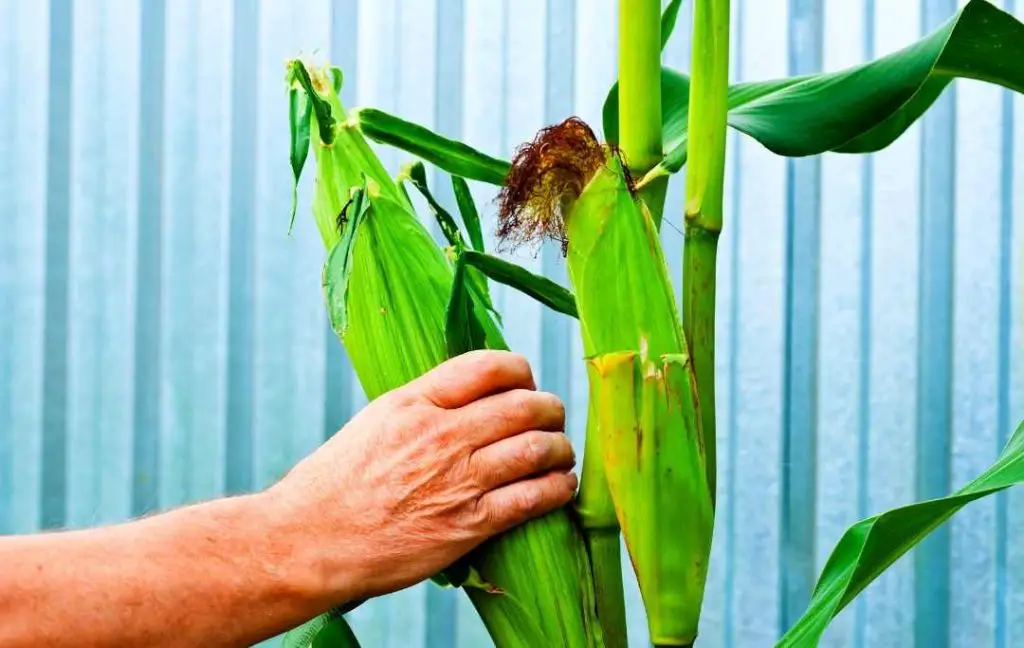 Sweet corn can be picked 3 weeks after the appearance of silk. 
You can pick the ears by bending and twisting them towards the ground.
You should leave the sweet corn in the husk until you eat it or preserve it. 
It is best to eat the corns within 3 days of harvest but if you don't need them at that time then blanch and freeze the ears or the kernels for the best flavor.
Read More