A small vegetable garden is a great idea to get fresh vegetables for your kitchen. In this way, you not only save money but also get healthy and fresh vegetables which you will never get from the market. The perfect plan is very important before starting your mini vegetable garden at your home. 
Before starting anything, planning is very essential, it will help you a lot, and gardening will become fun for you. So make a plan and follow it and you will get food for your kitchen. Here are some tips related to starting a small vegetable garden for beginners.
---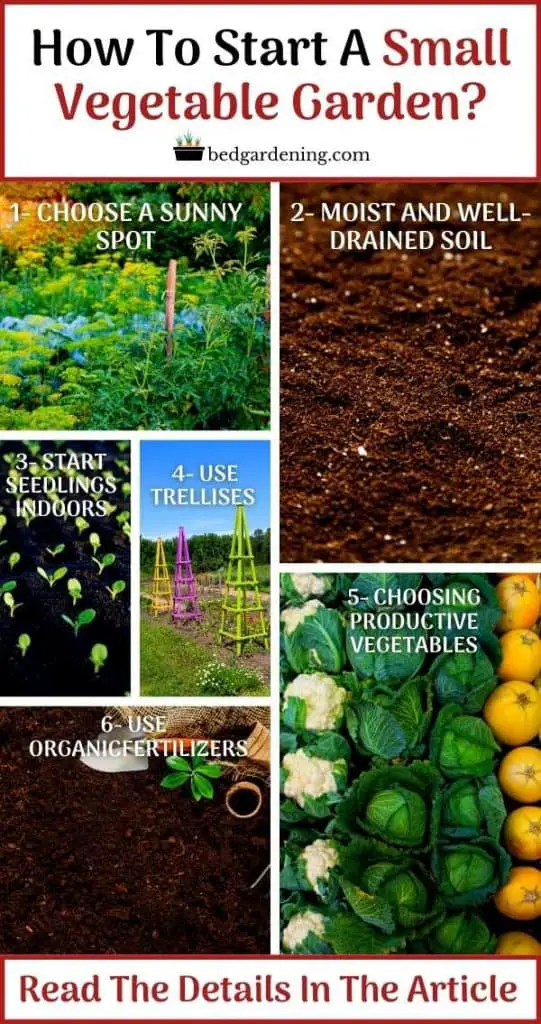 ---
1- CHOOSE A SUNNY SPOT
The sunniest spot in your garden is the best location for growing vegetables. If your yard is in a shaded area then the options of vegetables will be limited. Some vegetables grow well in shady conditions such as lettuce and spinach but most of the vegetables need proper sun exposure. 
You should trim the trees to get more sunlight to your yard. You should keep in mind sunlight is an important factor in the process of photosynthesis; this process is very important for the food production of plants. 
You choose the best soil, provide regular water to your veggies and make sure that your plants get the appropriate amount of organic material; but the location which you choose for your growing plants does not receive an accurate amount of sunlight then your plants will not grow well. So be careful in the selection of locations for your plants.
---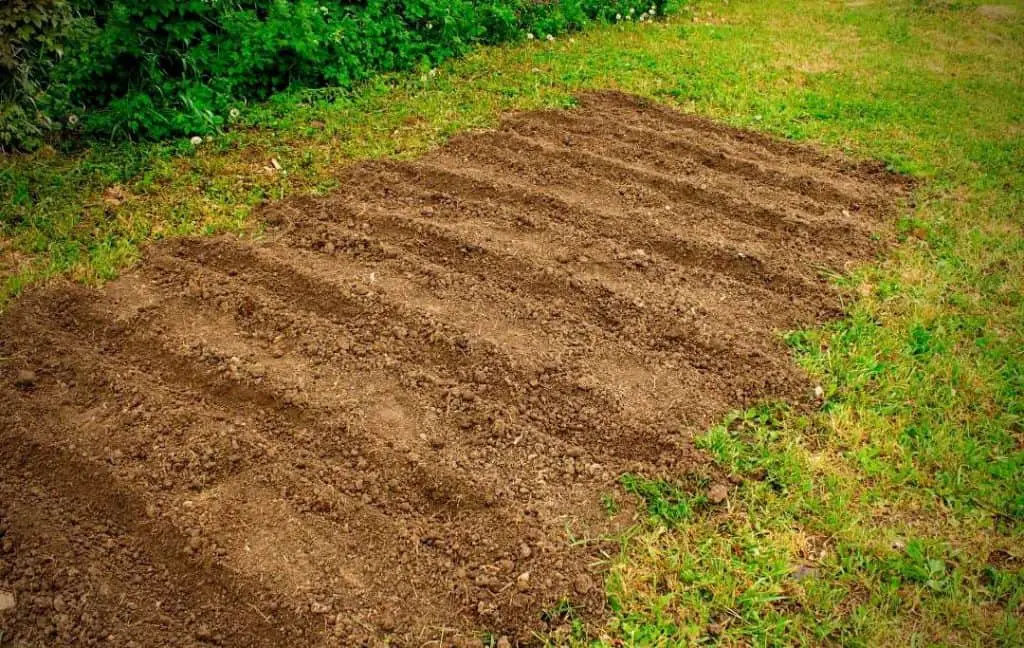 ---
2- MOIST AND WELL-DRAINED SOIL
Moist and well-drained soil is essential for the outstanding growth of your vegetables.  If the soil of your yard is very poor then you should do some research about the type of the soil of your yard and your attention and care will maintain the condition of soil according to the requirements of your plants.  
For example, if you are dealing with clay soil, you have to do some important steps. Water-logging and lack of oxygen are big problems in this type of soil. By using tools you can aerate your ground soil. After that add some amendments such as compost, fertilizer, and organic material to your plants to provide all the essential nutrients to your plant. Learn to amend clay soil. 
If the soil of your decided patch has sandy soil then you should add organic materials and clay soil to the sandy soil. Because sandy soil is well-drained and your plants will face the problem of dryness and as a result, your plants will die due to it. If you are facing the problem of rocky soil, till and remove the rocks so the roots of plants can propagate easily.
All these precautions should be done before planting as this is very beneficial for the betterment of your plants. Make it possible that the soil of your yard is vegetable-friendly. You should do all the things which can make it as suitable as possible for your favorite veggies. 
3- CHOOSING A SMALL PLOT SIZE
As a beginner, you don't have gardening knowledge. So you should start with the small patch of your yard when you become an experienced gardener then you can extend the area of your garden.  The most important mistake which is done by most beginners is that they start with a large area and planting too much. 
They can't handle these vegetables so it is necessary to select the small patch of your ground and grow a few vegetables according to your needs. Only grow those vegetables which you like most.
4- MAP IT OUT
If you have a clear and perfect plan then the time will be safe. Here we are sharing some tips which will help you a lot. 
Make 11 rows wide in your garden and make sure each row should be 10 feet long and run them north and south so they will get full advantage of the sunlight.
You should arrange your path in this way that you can easily access your plants.  This will help you in weeding and harvesting.  if you are growing your plant in release bad then your bad should not be very wide.  If your beds are very wide the plant at the center will be neglected.
5- START SEEDLINGS INDOORS
This is not a good idea to grow vegetables directly in the ground. It can be frustrating, the best thing is that first prepare your seedlings indoors and after that transplant them in the ground of your yard or growing area. In this way, you can easily monitor the germination process of your seeds.
Read More: COMMON SEED STARTING MISTAKES TO AVOID
6- INVEST IN EXCELLENT TOOLS
If you have proper tools for work in your garden this will make your work easier. You should focus on the quality of your tools and it's well worth it to spend on tools. The tools will help you a lot in the maintenance of your garden. Most people are tempted to buy the most affordable tools.
---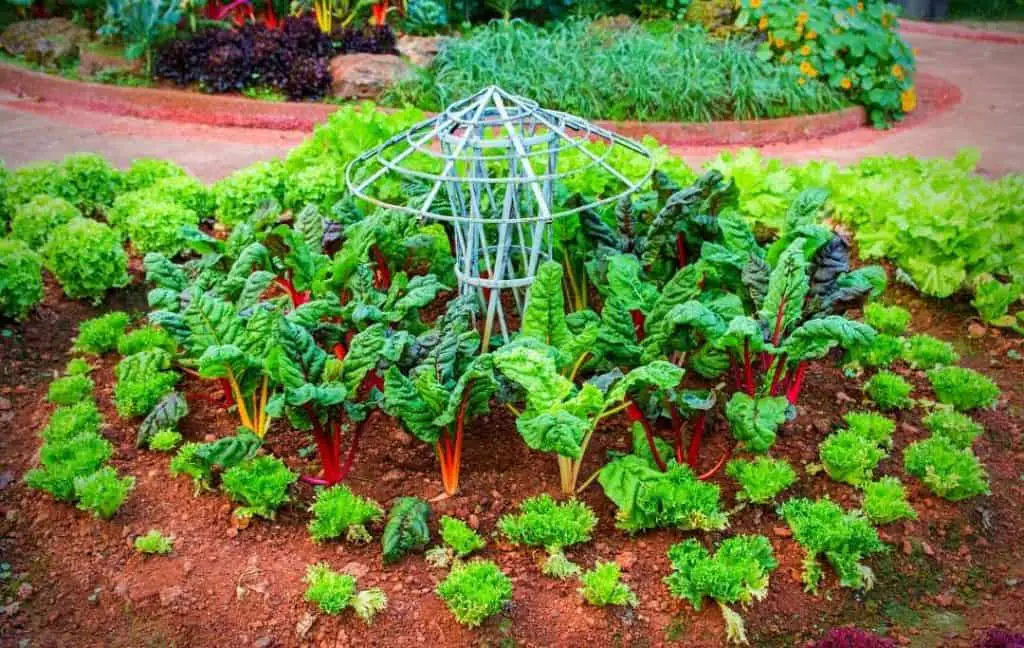 ---
7- USE TRELLISES
Some plants can't grow without any support, for such plants you need trellises. There are different advantages of trellises. You can maintain your vining plants easily with the help of trellises. 
Harvesting becomes very effortless and simple, and it will support your plants from spreading plants on the grounds. Trellises can be made at home or you can buy them from any hardware store.  
Read More: 10 VEGETABLE GARDEN TRELLIS IDEAS
8- START A COMPOST PILE
It is the best way to make your soil fertile. Compost makes it possible to give all the major nutrients to your soil. You need a compost bin for this purpose. The old scraps of food and other items will help you to make a compost pile. You can also buy ready-made compost but making compost at home will not affect your budget. 
Read More: What To Or What Not To Compost?
9- DEVOTE A SECTION TO HERBS
Herbs enhance the taste of your favorite dinner. You should devote a small section of your garden to herbs. Herbs are a very essential part of your vegetable garden and they are easy to grow. There are many options of herbs that you can grow in your vegetable gardens such as chives, cilantro, mint, dill, and parsley.
Read More: How To Build A Raised Bed Herb Garden
---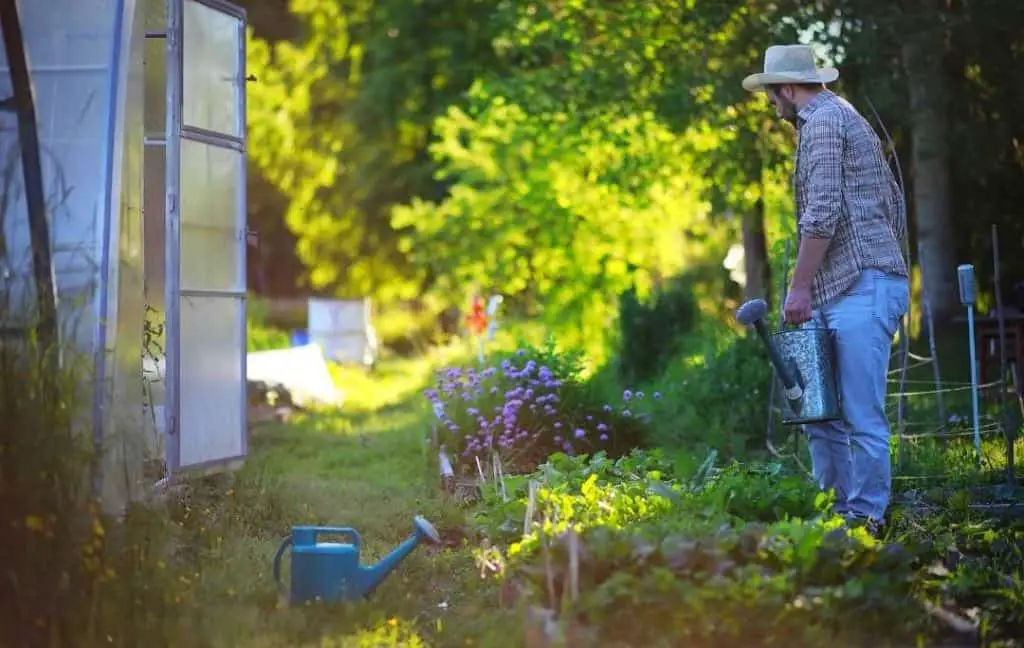 ---
10- HAVE A WATER SOURCE NEARBY
Water is a very important factor in the growth of your plants. Most vegetables need regular water to thrive. Make it possible that the water source is near to plants so you will not face any difficulty during watering your plants.
Read more: Best Irrigation System for a Vegetable Garden 
11- SOAK SEEDS BEFORE PLANTING
You should read and check the directions on the packet of seeds which you are going to plant. It is the best practice to soak seeds before planting. This will speed up the germination process. Most of the time, this is included in the instructions that seeds should be soaked before planting. 
The shocking period of some seeds is a few days while some need to soak overnight. Just experiment and you will be surprised to see the very awesome result. As you will get an incredible quantity of vegetables by following this technique.
12- CHOOSING PRODUCTIVE VEGETABLES
Choose vegetables that are common, productive, and are relatively easy to grow. You should make some research before choosing the vegetables this will help you a lot the top vegetables which you can easily grow in your small vegetable garden are:
Tomatoes
Zucchini
Cabbage
Peppers
Bush Beans
Chard
Radishes
Carrots
Lettuce
Beets
Marigold
We suggested Marigold because it discourages face and adds some color to your vegetable garden patch which will soothe your eyes.
Read More: 28 BEST VEGETABLES TO GROW IN RAISED BEDS
TIPS
Choose the vegetables which your family like most so your hard work will not be lost.
Be careful about the number of vegetables, don't overplant. Estimate the need for specific vegetables according to your family and then grow them.
Some vegetables will not cost you too much if you grow them at home. Ao, try to plant those vegetables which are expensive when you buy them from the grocery store.
Be careful about the growing season of any vegetable, for example, zucchinis and tomatoes grow well in the middle of the summer on the other hand lettuce and kale are cool weather vegetables.
Try to use high-quality seeds because these seeds will give you healthy plants. Seed packets are less expensive as compared to individual plants. But keep in your mind that if your seeds don't germinate then it will result in wastage of time and money. If you spend some money then you will get a higher yield as a result.
---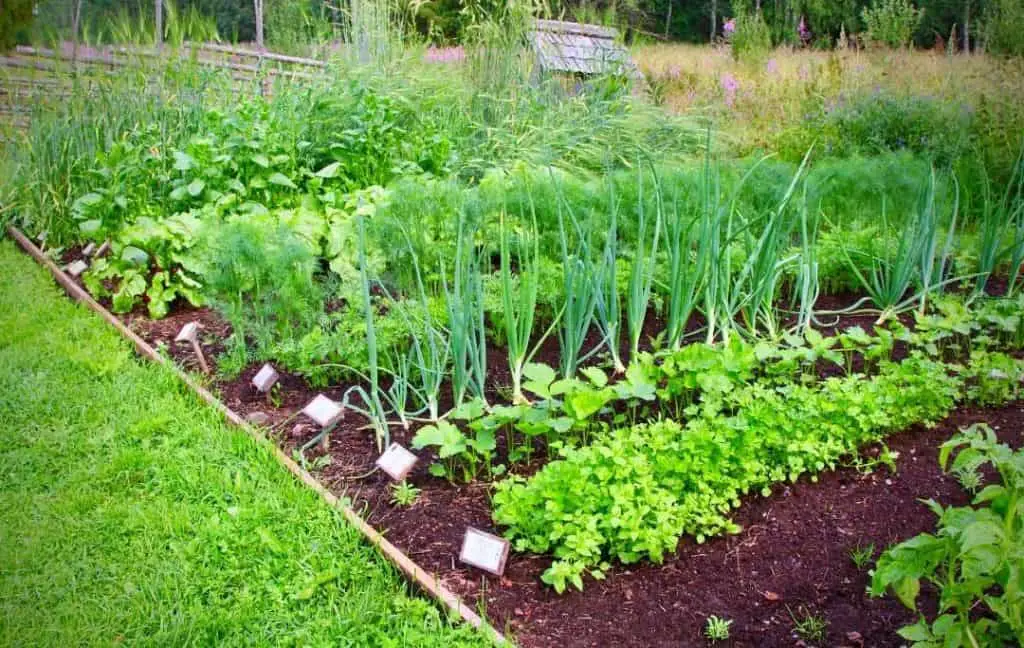 ---
13- WHEN TO PLANT?
Every region has different weather conditions and growing qualities. Every vegetable has its temperature priorities. A gardening calendar will help you a lot in this case. On the seed's packet, you will read all the instructions and needs of a particular plant.
14- USE FERTILIZERS
An organic vegetable garden needs frequent fertilizer. You can buy fertilizer from the market. But if you do some research you will find that there are many ways through which you can make your homemade fertilizer. 
The interesting thing about homemade fertilizer is that it is chemical-free and helps to produce healthy vegetables. You are working hard to get fresh vegetables at home but you should never compromise on your health and use the ways through which you can get healthy food.
15- HARVEST YOUR VEGETABLES PROPERLY
You did work hard in your yard and now the time comes to get full payment for your effort in the form of healthy vegetables. You should be careful about harvesting the vegetables because some vegetables need to be harvested at particular times. So you should do some study about the time and the way through which vegetables should be harvested.
16- BUY SEEDLINGS FROM A NURSERY
There is not any hard and fast rule that you will grow your vegetables from the seeds. If you do some research you will find seedlings are the best way to grow vegetables such as tomatoes. If you want to buy seedlings then it is good to visit a nursery and buy your needed vegetable seedlings there.
---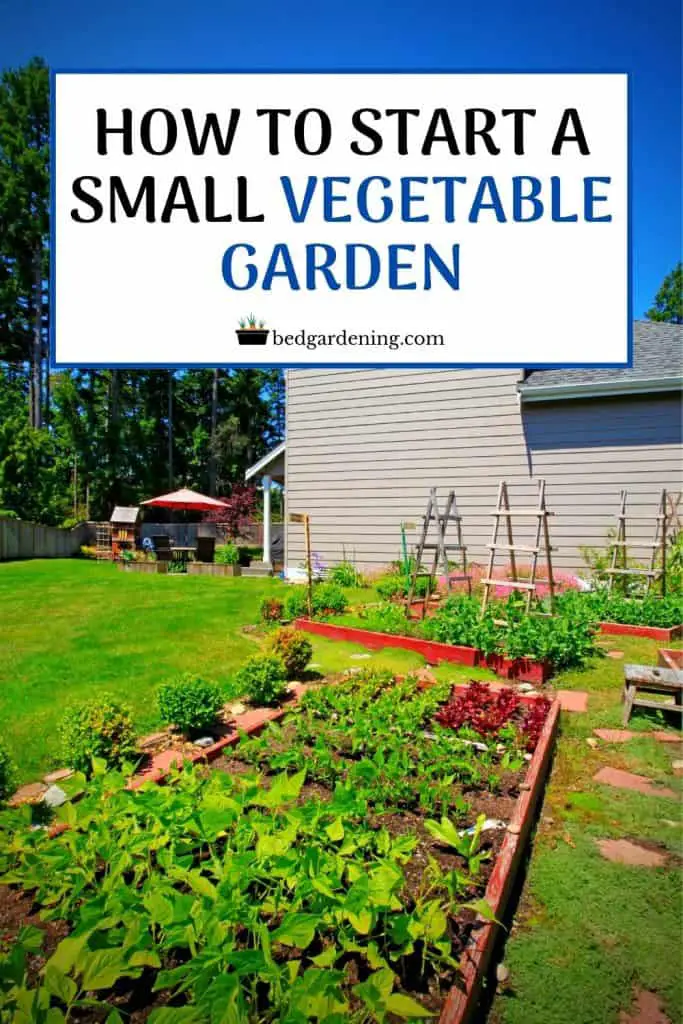 ---
17- GROW VINES ON TEPEES TOO
If you don't want to arrange a trellis for your climbing plants then tepee is another good solution. Don't worry you will not have told a tent over a garden. Take 6 feet long poles and position them in a teepee shape. Plants such as beans and cucumbers like to grow upon them.
18- HOW TO ARRANGE YOUR VEGETABLE GARDEN
After spring frost, you can plant cool-season crops easily. Later in the season, you can plant warm-season crops in the same area. 
As is mentioned above shade is not good for your plants. So if your plants are tall then you have to plant them on the north side of the garden. In this way, they don't shade other shorter plants.
If you can't avoid the shade for your other plants then the best solution to this problem is that you should grow cool-season vegetables there. Because they can also grow well in the shade.
Some vegetables have a short harvesting period as they can mature quickly like radishes, bush beans, and some other vegetables. You should choose these vegetables because sometimes take a long time to mature like tomatoes. The label of the seeds have all information about the maturity and harvesting, you should read them carefully as this information contains proper guidance. There are some vegetables which can provide you crop more than one time per season like beans, cabbage, carrots, spinach, lettuce, turnips, and beets
Stagger planting is the best way to get the food supply of a particular vegetable for a long time. It means that you should plant seeds of the one vegetable on different dates because you will get a vegetable throughout the season. For example, if you plant all the seeds of lettuce at the same time you have to harvest all the lettuce around the same time. So stagger planting by a few weeks helps you a lot to yield a longer harvest.
 Read More: 
Sources: