Roma tomatoes are full of taste. These types of tomatoes are best for making paste and sauces because of their low moisture content and few seeds. 
This firm-quality tomato is oblong and large. It is a determinate variety, it means the fruit ripens at one time. You can also eat it raw but the taste of cooked Roma tomatoes is best.
WHAT IS THE BEST TIME TO GROW ROMA TOMATOES?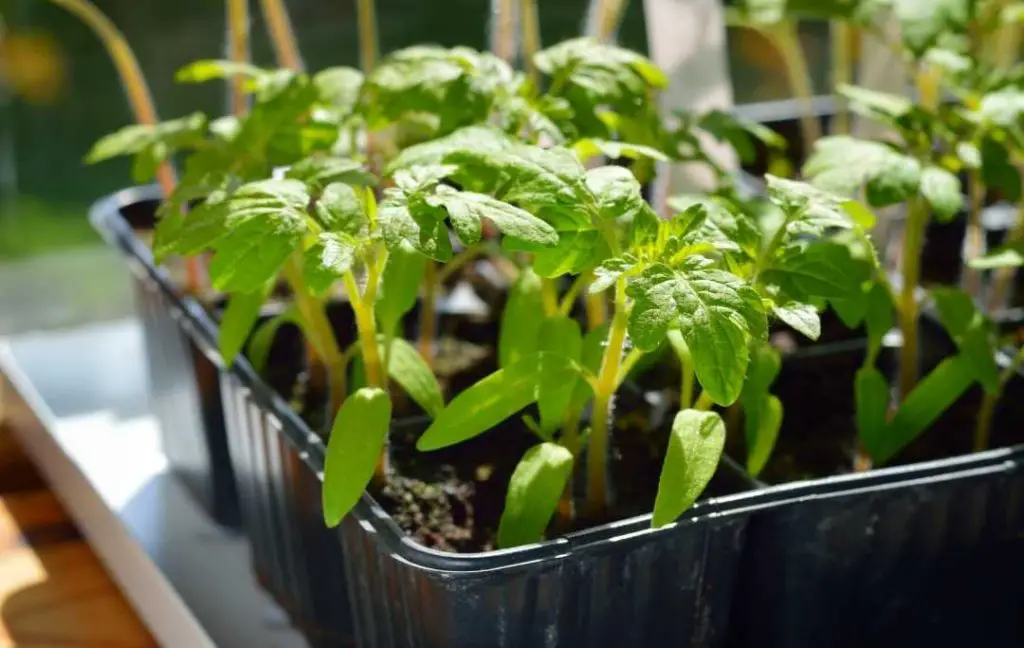 When to plant tomatoes in a raised bed is a good question before planting them. You have to get all the information about tomatoes before planting them. 
Little research is good for this purpose so you will get better results. The climate in which you are living is a big factor in deciding what time of the year is best to plant tomatoes in a raised bed.
When the danger of the last frost has passed then you can plant Roma tomatoes. But it is better to wait one or two weeks, you will see the difference in time of getting fruit. 
If you want to know the exact date of planting then you should consult any local gardening store or nursery. You can also check the regional map or local extension.  They have all information about the planting time of any plant. 
Tomatoes like warm weather so plant them when the temperature is consistently warm night and day. A cloudy day is perfect for planting tomatoes in a raised bed. If the day is sunny then sow the seeds in the evening or morning. 
Sometimes, a freak frost occurs, in that case, covering the tomato plant in the evening, this is the best option in this situation. This will work great to protect your plants. For this purpose, you can use plastic bottles, leftover bubble wrap, or even a tented blanket.  
BEST VARIETIES OF ROMA TOMATOES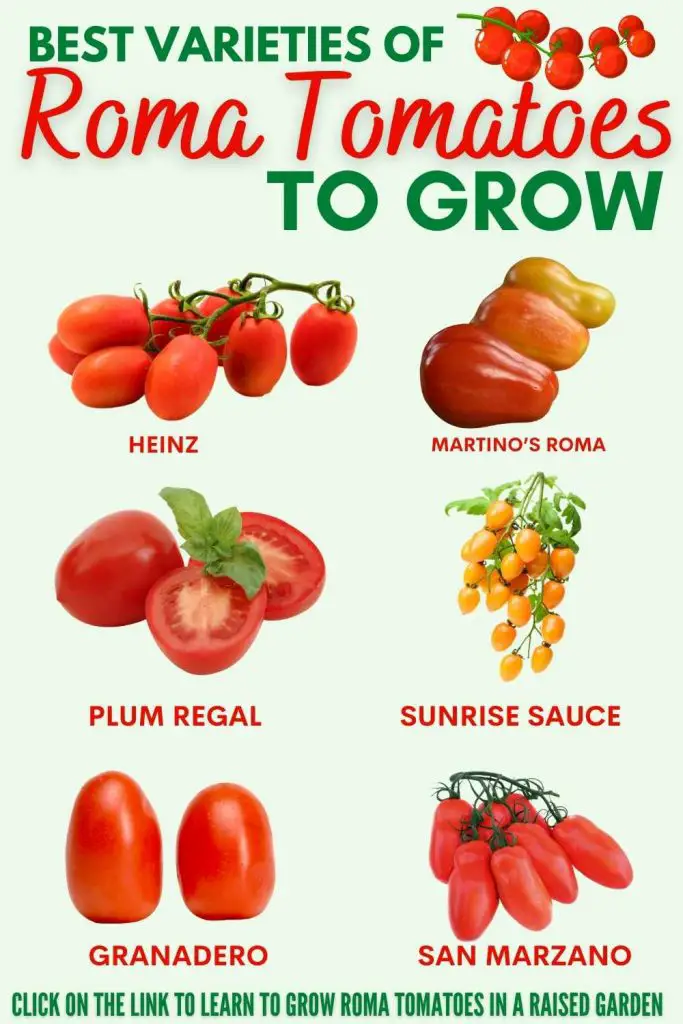 When you decide to grow tomatoes in a raised bed then the next level is choosing the best variety. There are different varieties of Roma tomatoes available, choose any variety according to your climate or taste.
1- HEINZ
This variety is best for making paste because of its rich flavor. The size of these tomatoes is very large and are rich in lycopene. They like to grow in rich and well-drained soil. You should make a proper moderate schedule for watering so they produce the fruit of your choice.  
2- MARTINO'S ROMA
This type of rich-flavored red pear tomatoes belongs to this semi-determinate variety.  The taste of fresh tomatoes is sweet but if you cook them they will give you the best taste. 
The texture of such tomatoes is meaty and you will find few seeds in it. The taste of this variety is acidic. You can easily make paste and sauces from them. This type is best for canning.
3- PLUM REGAL
This is a determinate hybrid variety that has thick skin and texture. This variety has meaty flesh, dark red skin, and a tasty flavor. This is a rot-resistant variety that gives you a high yield with good taste. 
4- SUNRISE SAUCE
This variety is perfect for making sauces and salsa. The color of this hybrid determinate Roma tomatoes is bright orange. You can use it fresh or cooked, in both cases, their taste will be great. You can easily peel its skin and it has meaty flesh which is perfect for making sauces.
5- GRANADERO
Fertile soil and a cool temperature are needed for the terrific growth of these tomatoes. As you are growing tomatoes in a raised bed so it is not difficult to maintain the fertility of the soil. In a raised bed, you can easily manage the soil. 
Don't use garden soil in a raised bed, try to use high-quality soil for growing plants in a raised bed.  This variety is pest-resistant. This is found in bright red color. The shape of this type of tomato is oval. 
6- SAN MARZANO
This is an Italian variety that produces large thinner fruits. It has solid flesh with few seeds and thin skin. This variety is perfect for making sauces.  
GROWING ROMA TOMATOES IN A RAISED BED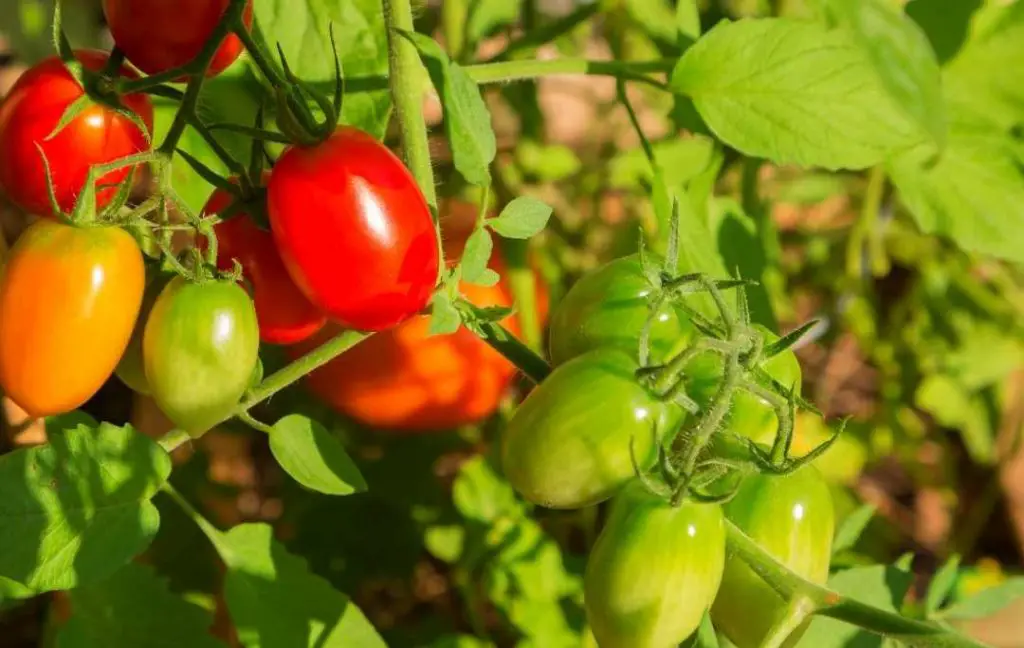 If you grow tomatoes in a raised bed then maintenance will become easier. It is a practical approach to gardening. You can easily build a simple raised bed. There is no need for any special skills for building it. Now we will discuss how to grow tomatoes step by step.
STEP 1: CHOOSE THE BEST LOCATION FOR A RAISED BED TOMATO GARDEN
Location is very important for growing plants. If you want to get a good tomato crop then choose that location where your plants get full sun exposure. A sunny spot is the best place for growing tomatoes where they get at least 8-10 hours of direct sunlight in a day.
STEP 2: SIZE OF RAISED BED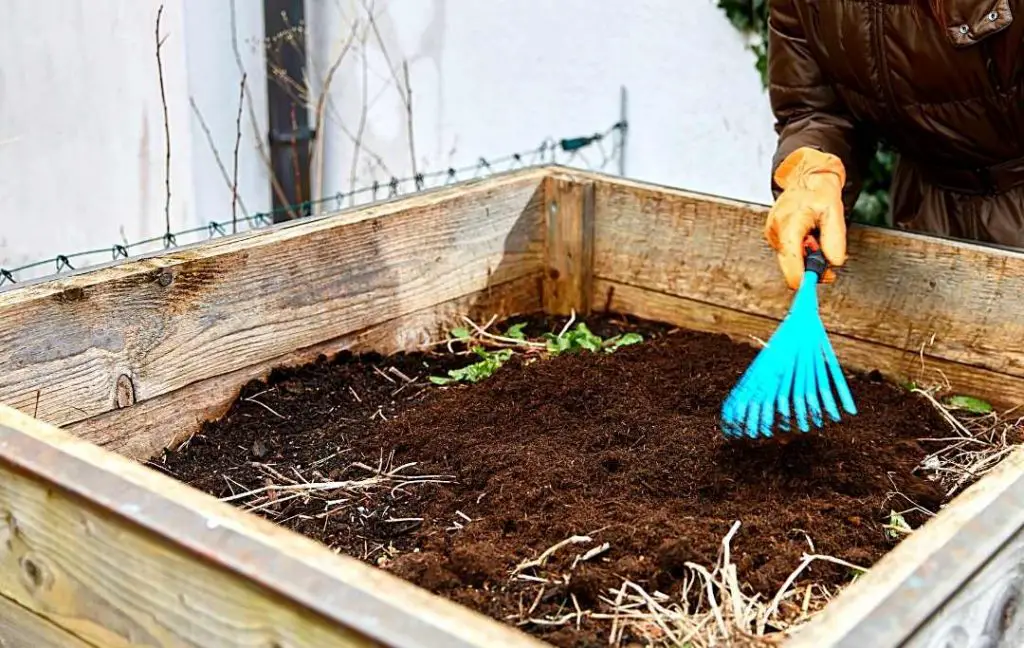 The taller raised bed is needed because the soil needs to be deep. A 12 inches deep raised bed is a general size but you should prefer the deeper one because tomatoes are deep drinkers. The width of the raised bed should be no more than 4 feet. 
In this way, you can reach the center of the plants very easily. Don't build raised beds too closely because there is no place to walk. If you are building more than one raised bed then set them far enough so you can easily walk through.
STEP 3: DETERMINE THE VOLUME OF SOIL
By multiplying the length, width, and height of the raised bed you can determine the volume of the soil you needed for filling the raised bed. It is best to calculate the amount of soil before filling the raised bed. Little mathematical calculation will help you to solve the problem.
STEP 4: PREPARE THE SOIL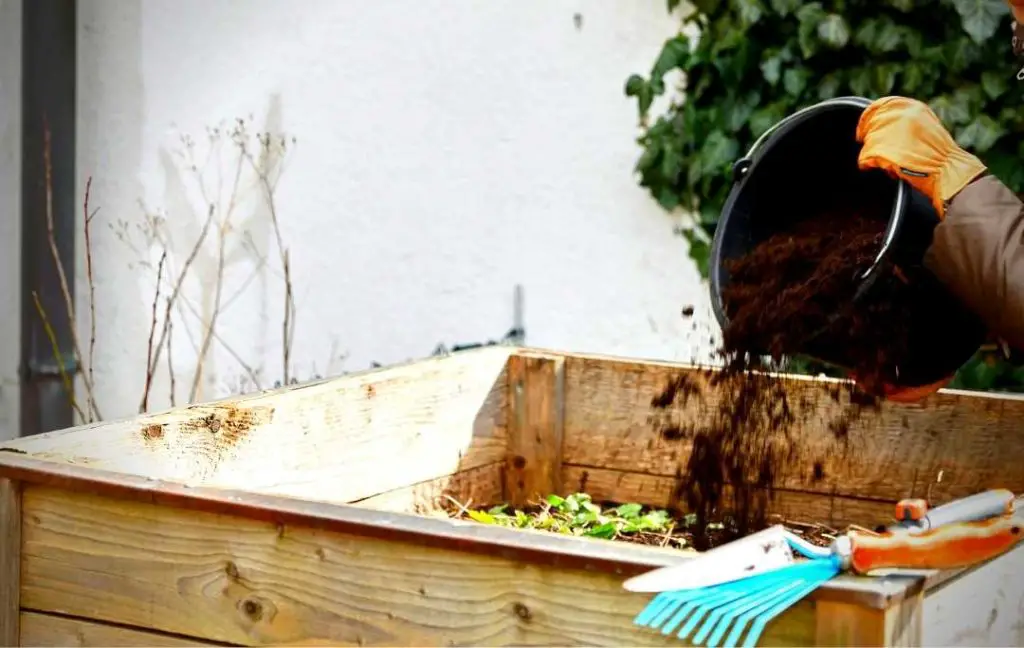 Best soil will provide you with great fruit. Soil is responsible for providing all the basic nutrients to the plant. After choosing the best location for your plants, you need to prepare the best soil for them. 
In a raised bed, you will not face any difficulty in maintaining the soil. So you have complete control over the soil. 
It is suggested that the pH of the soil must be 6.0 to 7.0 because of tomatoes like slightly acidic soil. 
For the healthy growth of tomatoes, add nutrient-rich organic matter to the soil.
Drainage and aeration are very important for getting good quality tomatoes.
For fertilizing your soil you can use homemade compost. You can also use organic fertilizer which is formulated for tomatoes. 
Nitrogen is a very important nutrient in the growth of tomatoes. Soil amendments will help you to solve your problems. Bone meal is another option of providing nutrients to the soil.     
STEP 5: SPACING THE TOMATO PLANTS IN A RAISED BED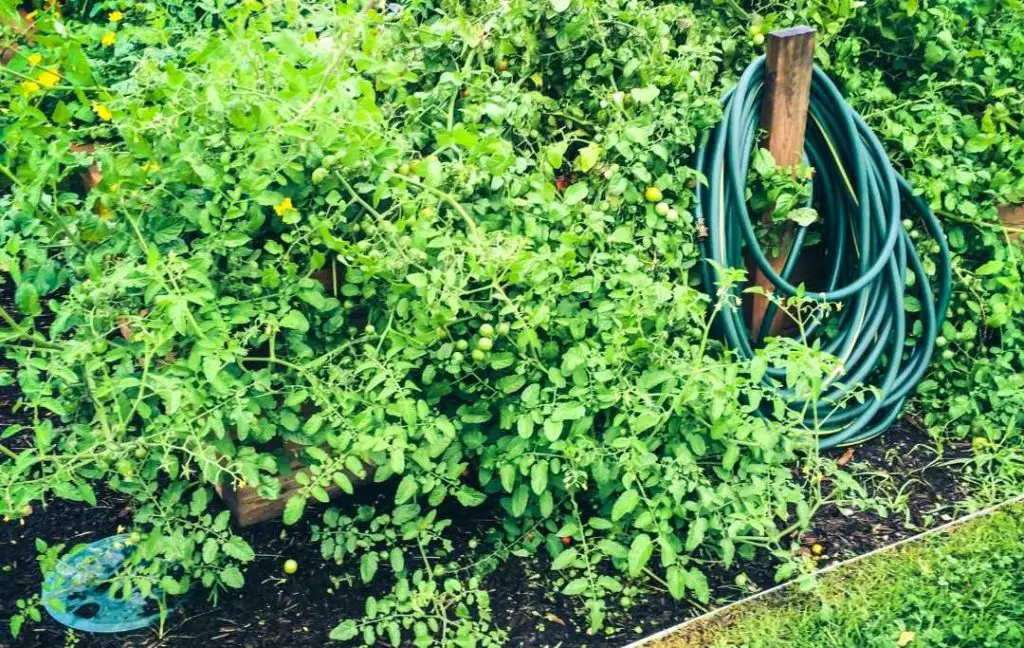 Spacing is very important while planting. You should make carefully a perfect plan for space between each plant and each row of tomato plants. 4 feet of garden space is needed for each plant. 
Give your tomatoes a little extra room if you want to distract midsummer. If you are growing tomatoes in a 4 × 4 raised bed then you can grow 4 tomato plants. The space between each tomato plant must be 24″ to 30″.
Remember indeterminate varieties need more space than determinate variety. The space between each row must be 5 to 6 inches. If you left space then watering, fertilizing, weeding, and picking becomes easier. 
---
Read More: HOW MANY TOMATO PLANTS IN A 4×8 RAISED BED?
---
STEP 6: PLANTING
Dig a trench of 6 inches deep. Buried stems in the soil, will develop additional roots.
Fill the trench with ⅓ with topsoil.
After that add 1 tablespoon of compost, manure, or bone meal. You can also add fertilizer so your plants will grow well.
Water your tomato plants.
WATERING AND MULCHING IN A RAISED BED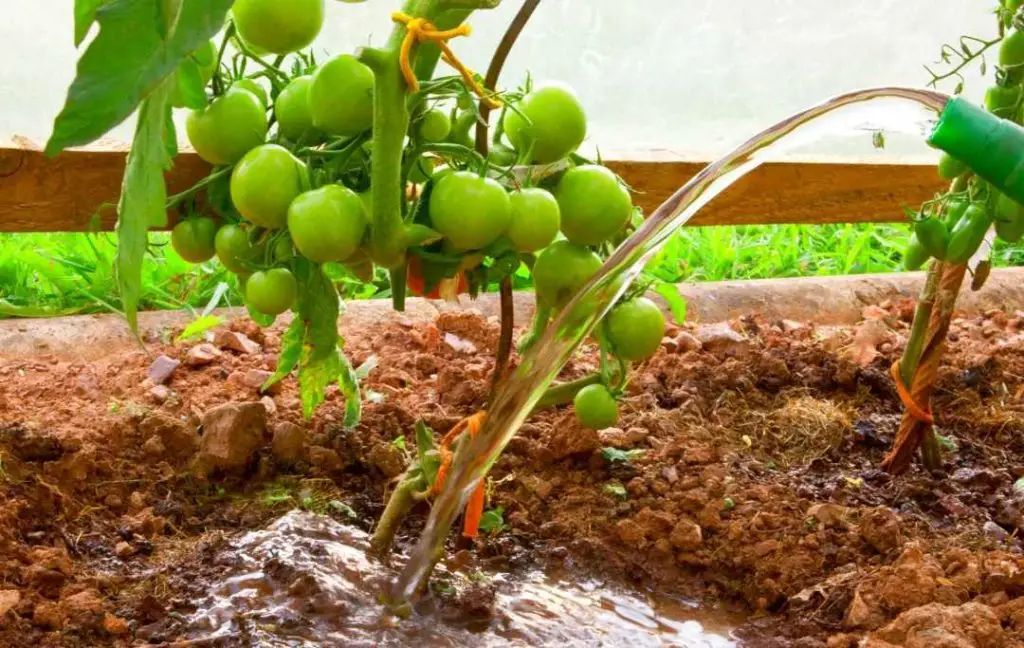 Tomatoes need a lot of water, they need water several times a week. The best way of watering is to water lower close to the ground. If you are watering in the evening then follow the same instruction so leaves don't remain damp all night. 
Mulching is very important as it helps retain the moisture in the raised bed. As is mentioned above moisture is very important for tomato plants. It also maintains the warmth of the soil and at the same time reduces the occurrence of weeds. Around the base of each plant leave a few inches so the water can easily penetrate the soil. 
AVOID PESTS AND DISEASES IN A RAISED BED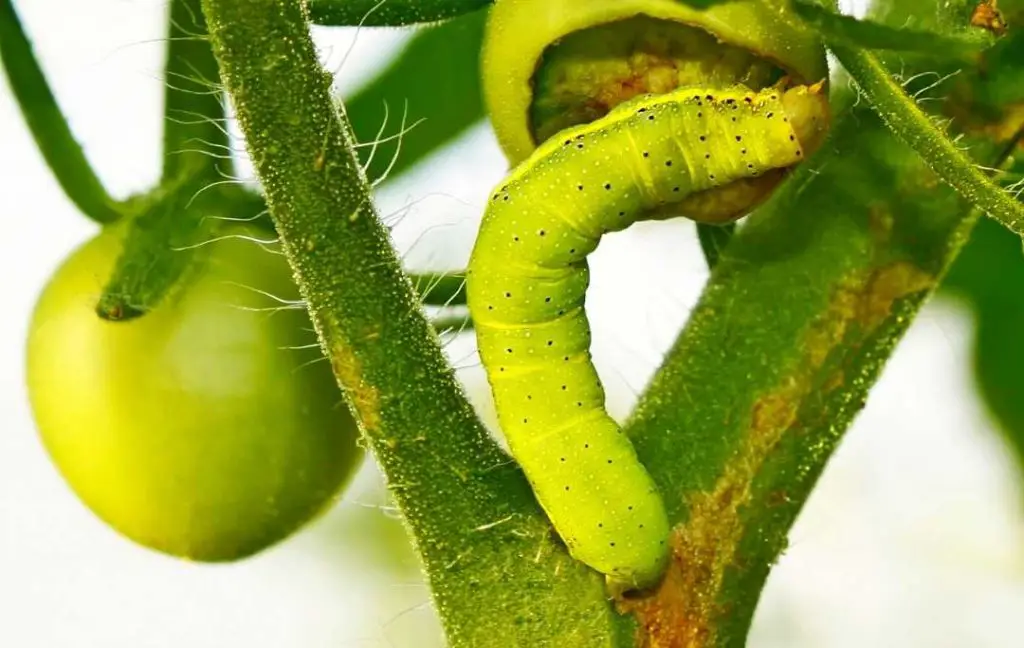 As you are growing tomatoes in a raised bed so there is less danger of pests and diseases but your plants are not protected. Here are some tips to avoid pests and diseases.
Cutworms are not a serious issue if you are growing plants in the raised bed but these little monsters still get there. You can place cardboard or metal collars to protect your young plants.
You can also use many home remedies to protect your plants from other harmful pests. If you see discoloration in the leaves then you should at once take notice. Keep an eye on the plants so you can fight these problems at an early stage.  For a vegetable garden, organic pesticides are also helpful to protect your plants from the attack of pests. 
If you properly support tomato plants and prevent them from crowding then you can avoid fungal disease and blight. 
Blossom end rot issues can be avoided by adding calcium to the soil.
You should remove ripe fruit at once as it will draw not only insects but animals.
SUPPORTING TOMATOES IN A RAISED BED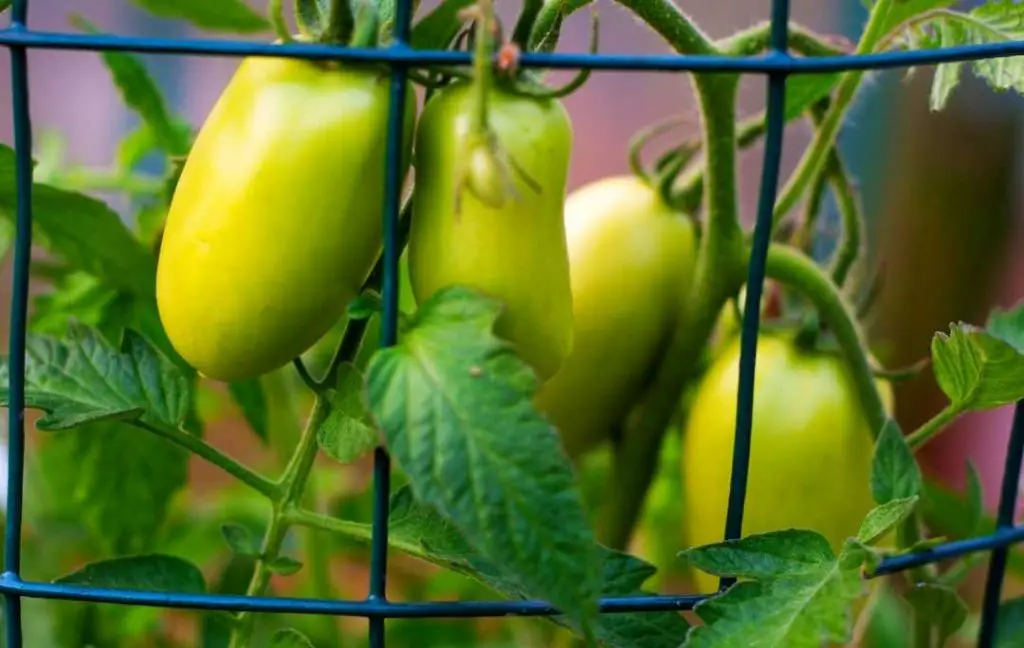 Tomato plants need proper support to give you healthy fruits. There are many benefits of support your plants will get proper air for breath, pruning and harvesting become easier.  
You can grow more plants if you train your potato plants on a trellis. Support will provide more space for your plants. It means with the help of support tomato plants will produce healthy and tasteful fruit. There are different ways to provide support to your plants. 
HARVESTING
You can harvest tomatoes in about 70 to 80 days. As it is mentioned above that Roma tomatoes are a determinate variety so all the fruits will ripen at the same time. 
If you are making sauces then it is a good advantage because you will make a great paste of tomatoes. You can easily use Roma tomatoes in the salad because it will taste great when eaten raw. 
If you see the firm and evenly colored then you can harvest Roma tomatoes. Make sure the temperature reaches 94°F, it is the best time to pick fruit. 
This variety can't survive in frost, if the frost is predicted then pick the unripe fruit and ripe it in the paper bag. 
---
Read More
---