You can easily repurpose lumber from the old deck and turn it into a stunning and functional raised bed. After some research, you will find some reversible deck boards which are perfect for building a flower bed. 
Flowers will add color to your garden and it will soothe the eyes. With the addition of flowers, your garden will become the best sitting area of your home. 
You can put in comfortable furniture for your garden and you can enjoy it in the evenings of the summer with your friends or family. Here we are going to explain how to build a beautiful flower bed with decking.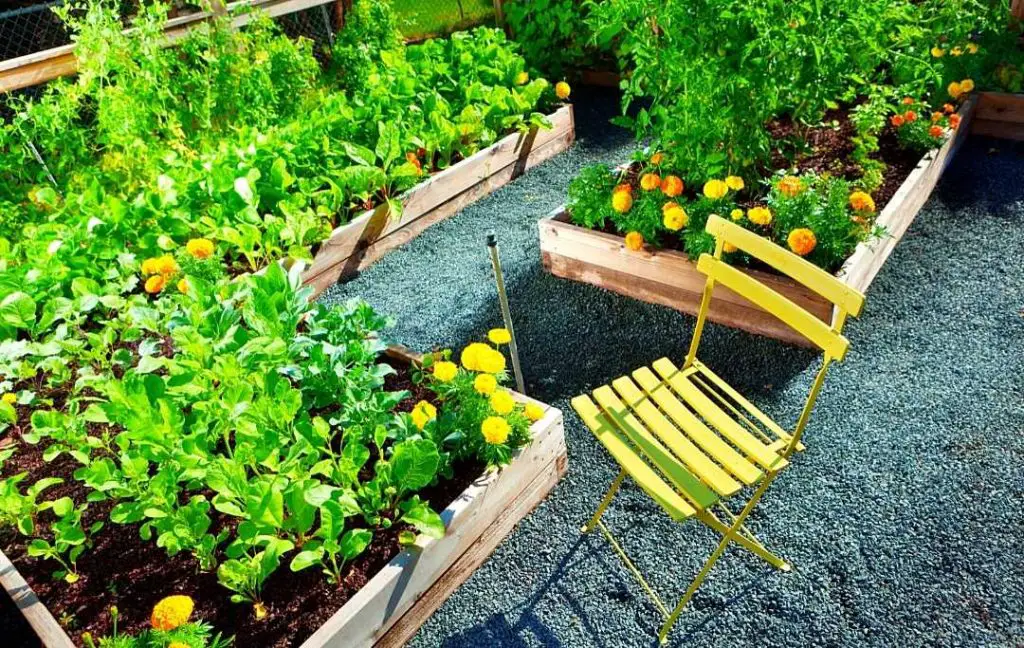 THE MATERIALS YOU NEED FOR MAKING RAISED BED USING DECK
Decking Boards
Supporting Timber
Wood Preserver
Jigsaw or Handsaw
Decking Screws
Weed Membrane
Soil and Plants
THE PROCEDURE OF BUILDING FLOWER BED OUT OF DECK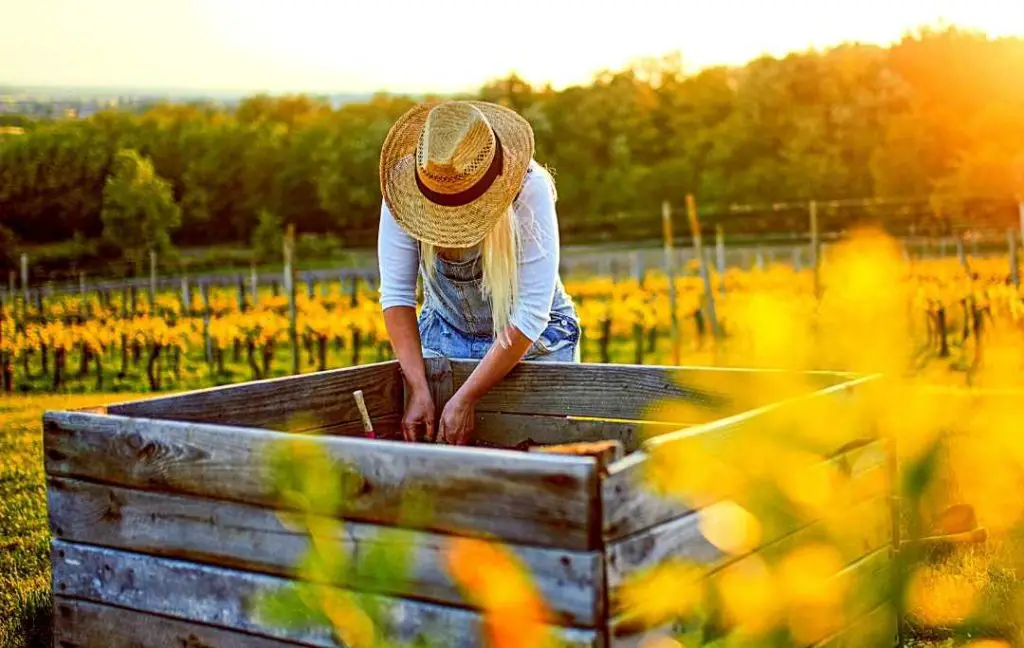 Now we are going to discuss the procedure of building a flower raised bed by using an old deck. In this way, your lumber will not go waste and you can easily transform it into a beautiful raised bed. 
If you decide to use your old deck then follow all the steps which I am going to describe below. After completing the project you will see all your hard work will not be lost and your growing area will get a unique and extraordinary flower bed and the interesting thing is that as you are using recycled timber so it will not cost you so much. 
As you know the decking boards are already treated for outdoor use but for more reassurance I add some deck preserver. This is a great idea but you should do this step before cutting the wood. You can do this with the help of a paintbrush. The decking preserver is quite watery.
STEP 1; MEASURE
First, you should measure the length of each beam in the deck. But remember the length of the flower bed is according to your requirement and needs. 
STEP 2; HIT THE DRAWING BOARD
All your measurements are done then your work of building will be started. But it is recommended that you should draw a rough sketch of your flower bed. The shape of the flower bed according to the size of your garden.
You can also build an L-shape, U-shape flower bed, or a traditional raised bed. Now your measurement and sketch are ready, so you can start building. The standard depth of the raised bed can be 6-12 inches. 
Here you will have to use your geometry knowledge to figure out all the measurements. Because the dimension of the flower bed should be accurate.
STEP 3; IT'S DEMOLITION TIME
Now the time comes to disassemble the deck. This step will take your time and you should do this step very carefully. Because in this way the wood can break or you can injure yourself. 
The main purpose or aim is to remove the wooden beam in one piece. This piece will turn into a lovely and elegant flower raised bed.
STEP 4; CLEAN UP
Decks may have accumulated items such as leaves, leaves, sticks, weeds, etc. So you should rake up the area to clean it. Now your selected area is ready for your flower bed.
STEP 5; CUT DECKING AND TIMBER TO SIZE
Start cutting that according to the length you measure with the help of a jigsaw. You can also use a circular saw so you will do your work more seamlessly and efficiently. 
STEP 6; LAY DECKING BOARDS AND SCREW TOGETHER
Lay the decks along the floor and after that lay the supporting timber over the top. If you secure the decking flower bed together from the backside so it will give a more finishing look and no screws would be showing. 
There should be a gap left between each board for the expansion of wood in the future. Decking screws are best for doing this.
---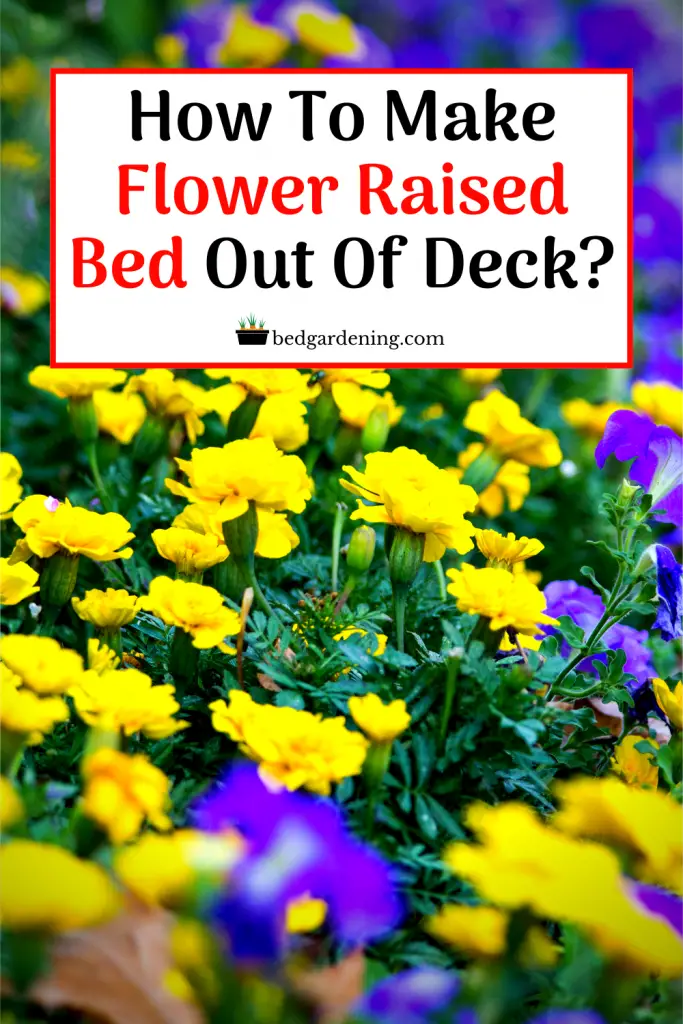 ---
STEP 7; ADD DECKING STAIN
Before setting the raised bed to its final place, give two coats of a decking stain to the wood. This will change the look of the wood and you will like the view of the flower bed.
STEP 8; FIX FLOWER BED IN POSITION
When you fix all the pieces together, this is the point when the final work of fixing the bed will start. L brackets are the best option for holding the flower bed to the ground. 
The small lengths of wood can be used to brace the bed against the fence posts. Now your flower bed is ready for growing favorite flowers. Do your work more carefully, especially if you are not a skilled person. 
In that case, you should follow all the steps or you can take the guidance of an experienced person.
STEP 9; ADD LANDSCAPE FIBER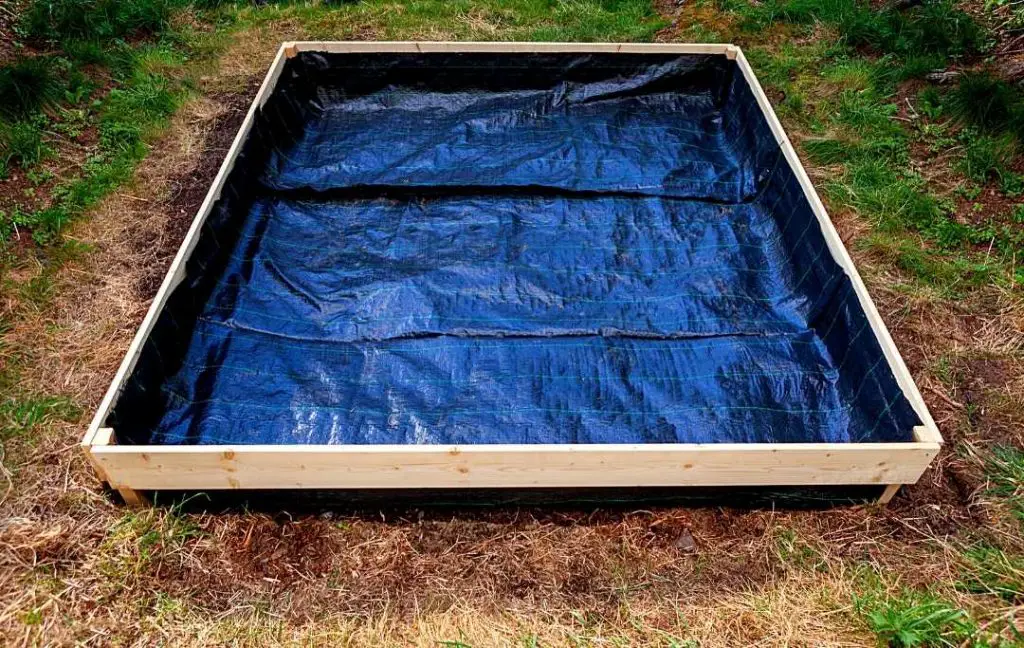 Before filling your bed with soil, you should add landscape fiber at the bottom of the bed. You can do this with the help of nails and staples. The best thing about landscape fabric is that it works as a weed barrier. 
Pests and weeds are not a good sign for your plants. Flower raised beds will help you to get rid of pests and if you add landscape fabric then the problem of weeds. 
This is not possible if you grow your favorite flowers in the ground. Gardening becomes easier for the beginner after installing or building a raised bed according to the space available in your garden. 
This fiber has small holes so there is no problem with drainage and moisture will maintain in your flower beds.
STEP 9; FILL THE SOIL AND ADD YOUR FLOWER PLANTS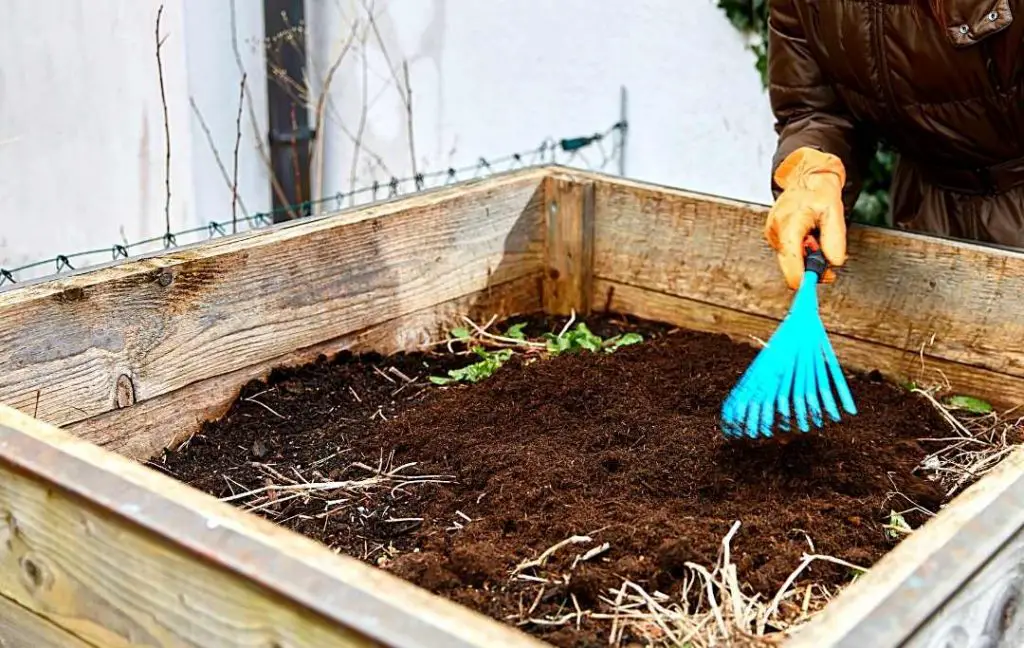 You have done a great job and build a beautiful and extraordinary flower bed for your yard or garden. Now, this is the time to add soil to it and start planting. Is it not easy and simple that are you thinking? Because your plants will grow healthier when you add appropriate and high-quality soil.  
After adding soil you should add compost, so your plants will be able to get all the major nutrients for use. You can make compost at home but if it is not possible for you then you can buy it easily. 
The interesting thing about raised beds is that you can maintain the fertility of the soil. It is one of the benefits of flower beds. It is not possible for in-ground beds.
STEP 10; PLANT IT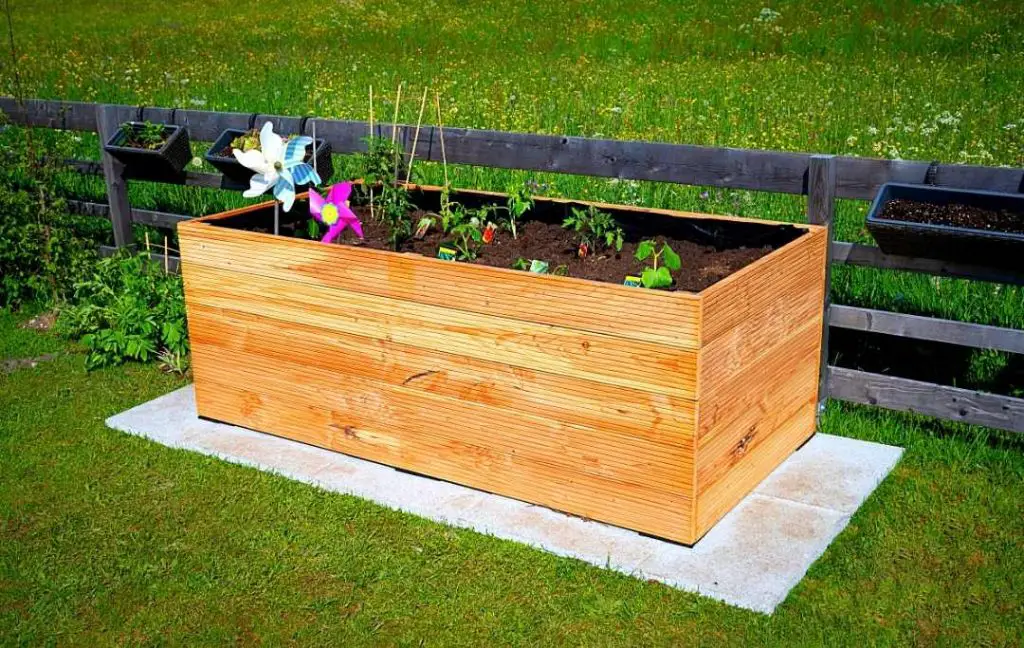 Now the fun part begins means start planting in your flower bed. But remember one thing that doesn't focus on your choice of flowers but make some research which plants suit according to your climate. 
If you are facing problems in deciding, you can take help from a local nursery. They give you detailed information and advice about the plants and flowers of your area and they also explain which type of soil is needed for which flowers. 
They also guide you about companion flowers, which means which flower plants can grow together and which flowers should grow far from each other.
This information and guidance will help you a lot if you are a newbie. You will also get information and instructions on the packets of seeds. On the packet, you will get all the knowledge about the time of planting to the needs of plants. 
Don't ignore the instructions on the packets. They will help you a lot for planting new seeds and about the suitable climatic conditions for them.
Read More;