When you decide to build a raised bed the question arises in your mind is what type of material you should use for its making. There are different sorts of materials available for this purpose. You should do some research so you can be aware of the health and environmental concerns of any material which you are going to use in building raised beds for your favorite plants. 
The most important thing in choosing the material is your budget. Some materials are cheap and some are expensive. So choose that material which is within your budget. The materials which can be used for building your raised beds are concrete blocks, different types of lumber, rocks, cinder blocks, steel, and even old branches.
In this article, we are going to discuss some materials which are best for building a raised bed. Each material has pros and cons and after considering all these you should choose your material very carefully. Hope this information is enough for you for selecting the material.  
1- WOOD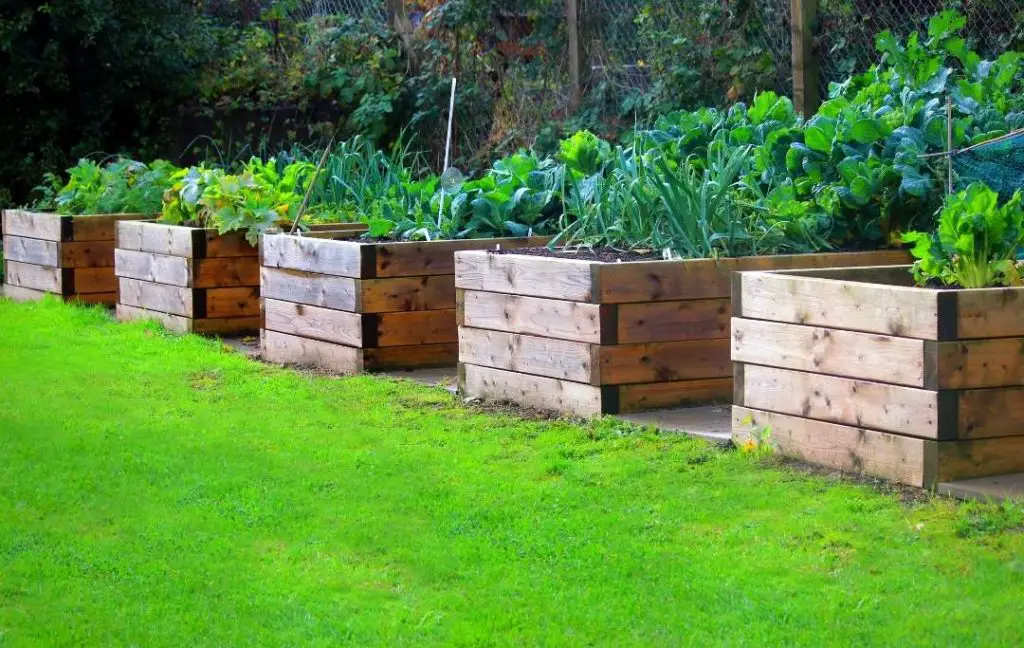 The most common material which is used for raised beds is wood. The reason for its popularity is that it is very cheap. There are different types of wood available such as redwood, cedar, and pine. But you should avoid the wood which is preserved with toxins such as creosote-soak railroad ties. 
TPA considers that pressure-treated wood is safe for your plants but as it is treated with alkaline copper quaternary. But you should line your bed with weed barrier fabric. In this way, you will avoid the contact of soil with the wood.
PROS
The garden raised bed which is made from wood is very easy to install.
 Wood is a material that is easily available in most of the areas in any country.
You can create with the help of wood both traditional as well as contemporary raised garden beds. 
 You can make any type of design and construct you according to the instructions for the raised bed.
 The most important benefit you get from the wood is that it is cost-effective for building raised beds for your garden.
CONS
Although it is a cost-effective material, it is not durable and its life is about 10 years.
Treated wood can last longer as compared to the treated wood but it is not good for your plants.
Read More: How to Build a Raised Bed for Cheap?
2- CONCRETE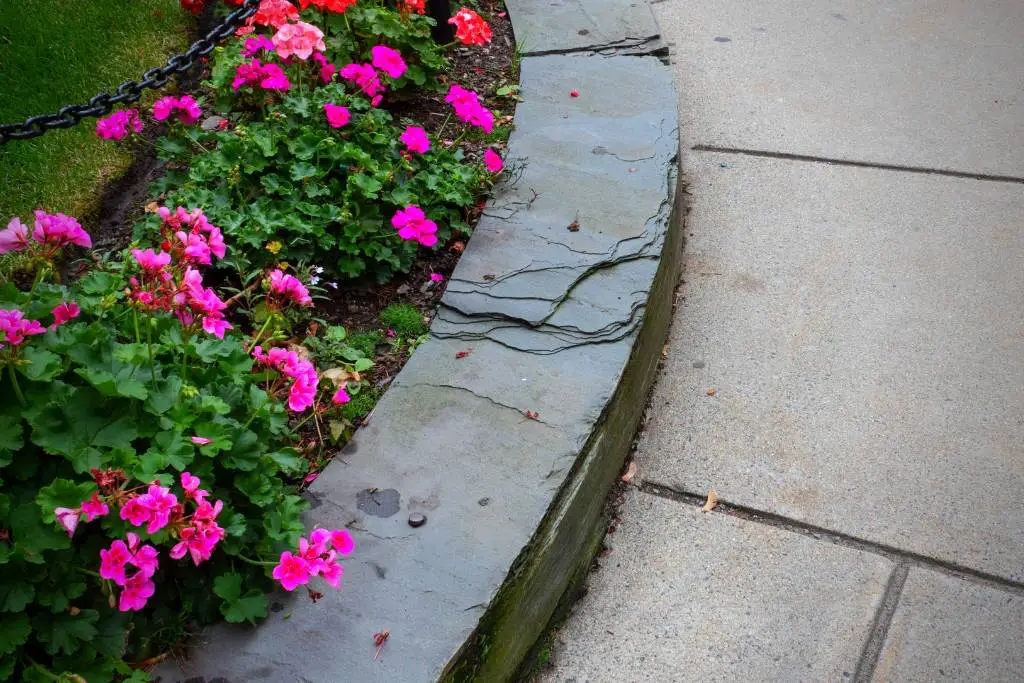 The use of concrete as a material is becoming very trendy nowadays. It seems very ordinary and humble when you add this as a material for raised beds. The main concerns about concrete blocks are: one is pH and the other is heavy metals seepage. The pH of concrete blocks is alkaline, if your soil is acidic then it is good for your plants otherwise you should be careful.
PROS
As compared to the wood-concrete can last long.
It looks incredible whether you are making a traditional, contemporary, or even global style by using this material.
The interesting thing is that it can be tinted to blend.  You can easily match or contrast concrete raised beds with your home and other structures. 
CONS
The main disadvantage of concrete is that it is expensive and if your budget is low you cannot afford it.
3- MASONRY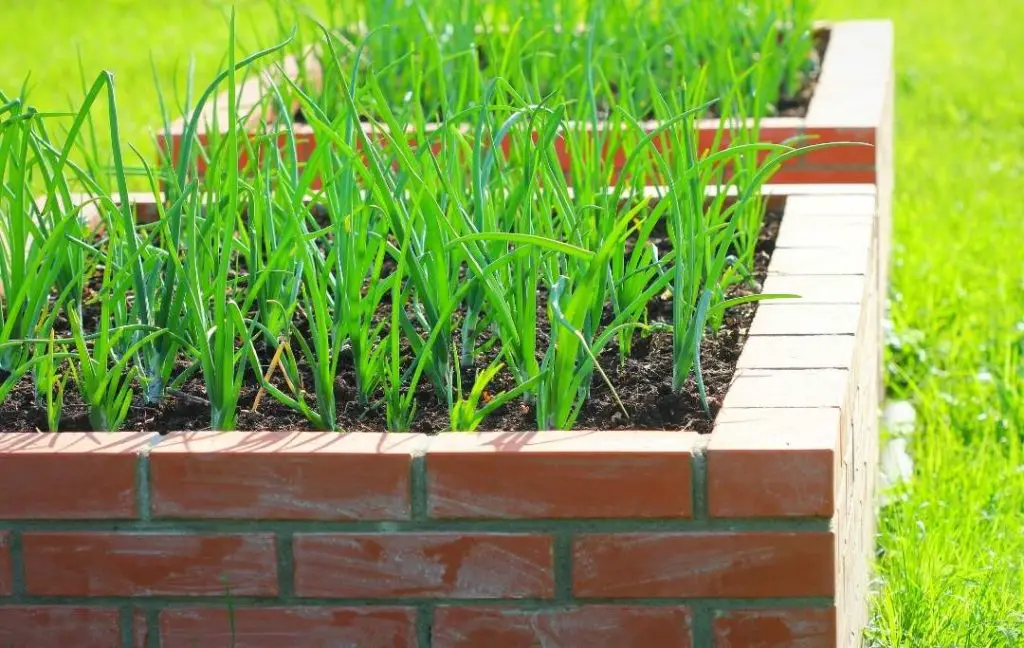 The interesting thing about masonry raised beds is that they can easily adjust according to the design or style of your garden. But this quality depends upon the fact that what type of rock you are using in building your raised bed. 
If you are not an experienced gardener then it is not able for you to complete a project without any help. So if you want to complete this project very perfectly then you should hire a masonry crew to install this type of bed.
PROS
The best thing about masonry raised beds is that it is a permanent addition to your garden. It is durable and long-lasting that's why it is the choice of many gardeners who want to raise beds which last many years.
  A masonry raised bed enhances the beauty of your garden and you can build them according to the exterior of your home. 
CONS
As compared to wood masonry raised beds to cost you too much. It is an expensive bed so most gardeners who can't afford it avoid it.  
Read More: HOW TO BUILD A RAISED GARDEN BED WITH SLEEPERS
4- CINDER BLOCK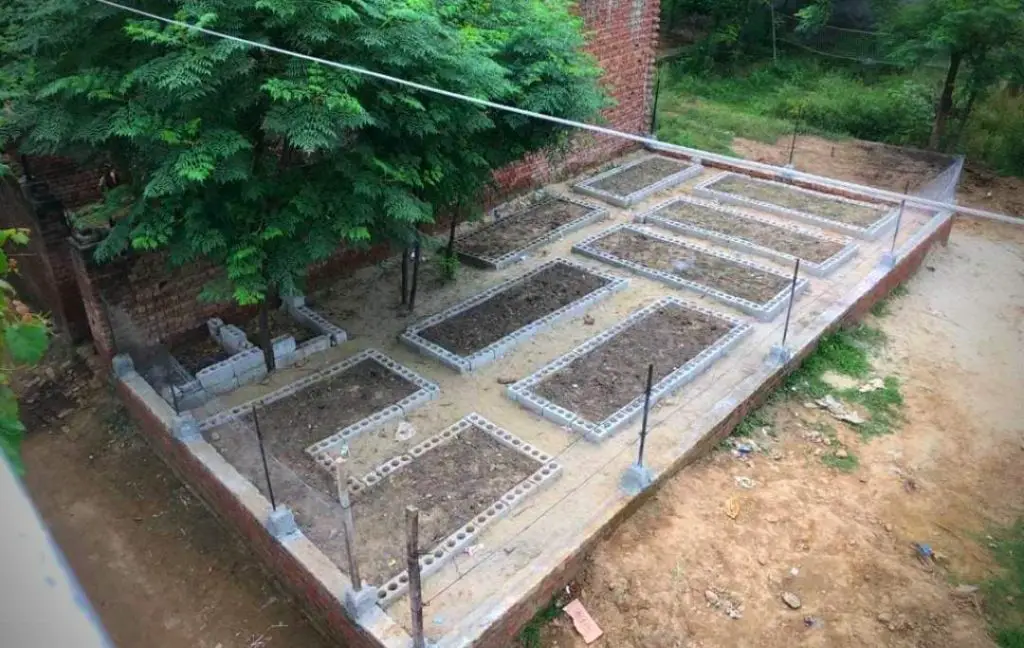 You can construct raised beds in several ways by using a cinder block. You can build this type of raised garden bed according to your desired height. The elegant finishing makes it unique. The surface treatment and the capped tops are another reason for choosing it.
PROS
Inexpensive and easy availability are the advantages that make this raised bed unique.
 You can easily buy this material from any home improvement and building supply stores.
Your design of raised beds can be rustic, urban, or elegant. It depends upon your creativity and aesthetic sense.
It is a cheap raised bed but it doesn't mean that it is not durable. It can last for a long time.
CONS
Although it is an inexpensive raised bed and has many advantages. The only problem with this type of raised bed is that the individual species of cinder blocks are very heavy that's why you cannot complete your project alone.  You need help from others to complete it.
5- ROCK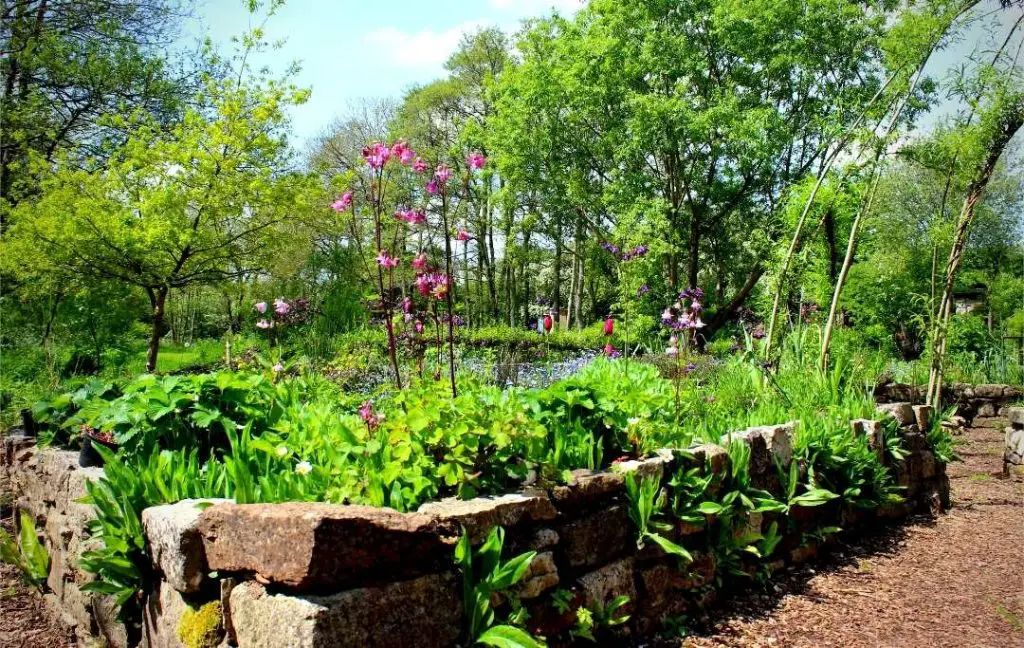 You can easily construct raised beds with the help of rocks. For building a raised bed you need small boulders and large cobblers. The smaller rocks can be used to make a border and the larger one can be pushed up against one another. This bed can be made curved or straight.
PROS
This is easy to build a raised bed. You will not need any special skills for making it. It is also a good choice for newbies.
No special equipment is required for building this raised bed.
All the materials are easily available and you will not face any difficulty in building it.
CONS
Nestled rocks do not follow every kind of landscape style.
The construction of this type of raised bed is not permanent and you can change the shape and location of your beds very easily.
Read More: THE BEST PORTABLE RAISED GARDEN BEDS ON WHEELS
6- GALVANIZED CULVERT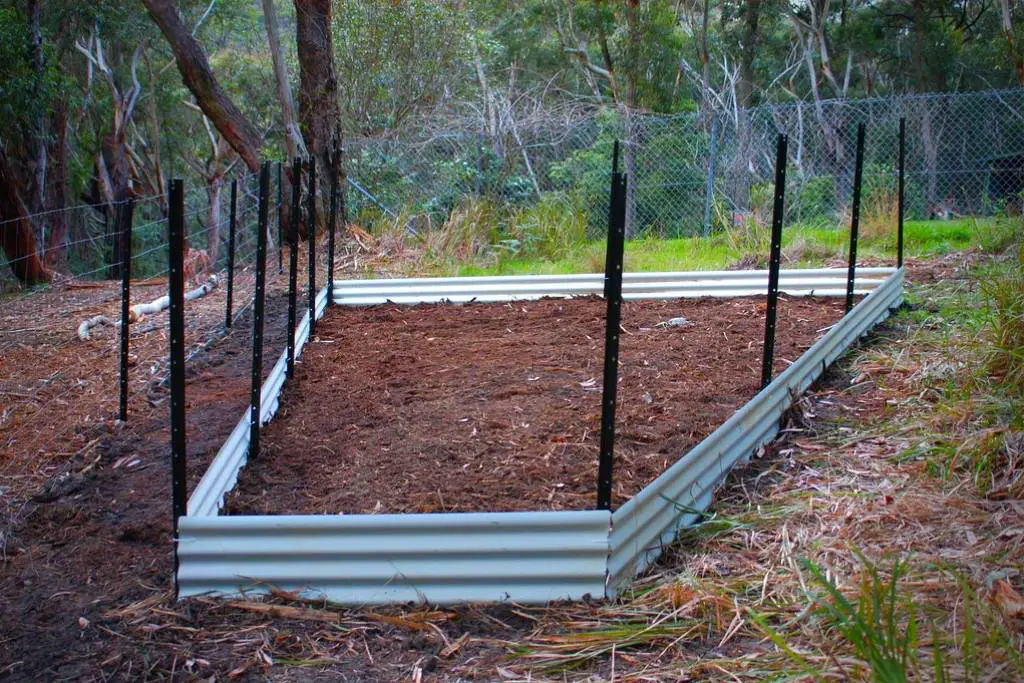 Usually galvanized culverts are used for drainage under roadways. But it is very interesting to know that when they are sliced into sections they can convert easily into smart, trendy, and wonderful planters for a modern garden. You can easily buy culverts from building supply stores.
PROS
It gives a cool, trendy, and contemporary look to your garden.
It is easy to install and no assembly is required.
You can also choose the size and the height of the culvert according to the need and requirements of your garden.
CONS
It is difficult to find the desired length and width of the pipe for making raised beds.
After that, you will face the problem of cutting the pipe into sections to use as planters.
Now the step comes, transporting these sections to your home for this purpose you need a truck or arrange delivery for your sections.
Culverts are more expensive than galvanized stock tanks.
7- STOCK TANKS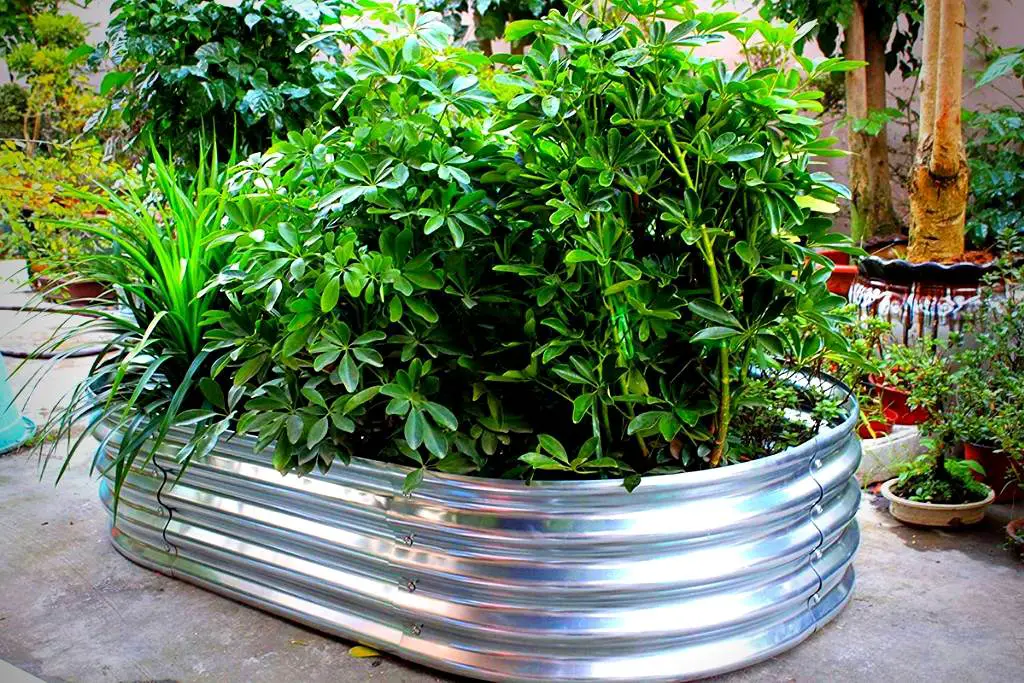 Another option for the materials of a raised bed is a stock tank. Stock tanks are available in different sizes and shapes such as round or rectangular with rounded ends.  Stock tanks are generally used to feed the animals of the farm but nowadays they are becoming trendy and most of the gardeners are interested in growing plants in them. 
Its addition gives an urban style to your garden. The important thing you have to do after buying the tanks is that make drainage holes to the bottom. You can make these holes by using a drill. The size of the holes must be ¼ or ½ inch. Drainage holes are more important for soil and the better yield of your plants.
PROS
These tanks are very inexpensive and do not affect your pocket.
They are easily available at feed stores of animals as it is mentioned above that they are used to feeding different animals.
No assembly is required before using them.
They are durable and last for a long time.
They are portable so you can easily move them from one part of the garden to the other. If you are changing the layout of your garden you will not face any difficulty as they are handy. 
They are available in different sizes and shapes so you can choose the size according to your needs and requirements of your garden.
CONS
After buying from the feed store you need to transport them by a truck or arrange any delivery service. You have to spend some money on transportation which will raise your budget.
In hot seasons, the sides of the tank will be heated up due to the sunlight. This is not scorching heat that will burn your skin but you should be careful if you are using such types of tanks.
8- STEEL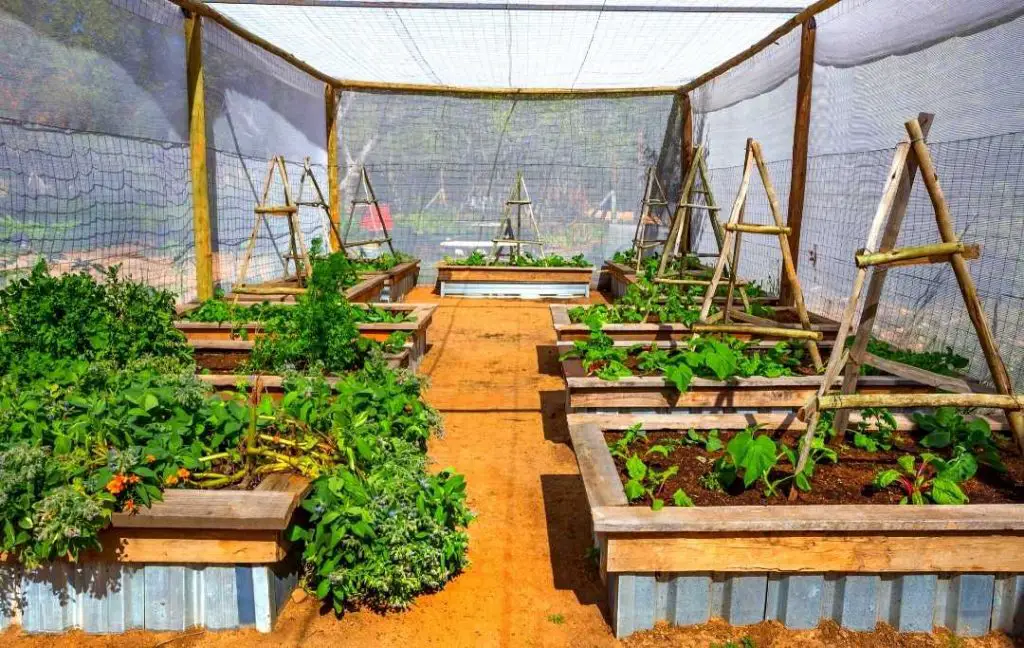 If the theme of your garden is rustic then you can use steel as a material for your raised beds. The addition of steel will add an industrial look to your landscape. Steel is mostly used in construction projects.  The thickness of the sheets of steel is about ¼ inch thick. 
After installation, it will start on natural Steel color.  If you use a chemical process then it will create the rusty patina immediately.  When you are doing this application you must be careful and avoid a rusty runoff into nearby plantings.
PROS
Steel is a new material that today's gardeners are using for raised beds.  Most people are interested in wood but if you want to add a new look or give an interesting view of your garden then you must try steel because it creates an up-to-date aesthetic.
Steel has a quality of naturally weather-resistant that makes it durable.
CONS
The installation of this type of raised bed is very difficult because the material is very heavy.
It is very expensive and not readily available in all areas.
If you are living in such an area that receives salt spray from the ocean then steel as a material for your raised bed is not recommended for you. because such an environment rapidly deteriorates this material which you are using for your raised bed. 
Steel will heat up due to the rays of the sun, especially in summer. In this way, the soil of the raised bed will become warm due to steel which is not good for your plants.
If you want to grow sensitive plants in your raised bed then steel is not a good choice for your plants.
Read More: 5 BEST METAL RAISED GARDEN BEDS
TIP FOR STEEL WHEN YOU ARE USING IT AS RAISED BED MATERIAL.
If you want to use steel as material then you should place your bed in a partially shaded area. In this way, the steel will not heat up more quickly. 
TIPS FOR THE BEGINNERS
The beginners have no idea about the size, location, and material of the raised bed. The thing you should understand is that building raised beds need the commitment of your time and money. If you are not an experienced gardener so you should make a simple raised bed because this is the best way to start. 
If you are a newbie and your budget is very low then it is suggested that you should start gardening by growing your plants in the ground.  It will not cost you too much. In this way, you will get the experience of gardening without spending your money. 
If you don't like this idea then you will go and make your first raised bed with cheap material. Pinewood is the best option for you because this will last many years and available at cheap prices. 
In this way, you will get knowledge about the size and location of the raised bed. After making the first raised bed you will get experience and can make your second raised bed with expensive and good material.