In a raised bed you can grow plants in the soil which is higher than the ground.  Most raised beds are made from wood,  stone,  bales of hay, bricks, cinder blocks, and repurposed materials. If there is no edging around your bed it is just like getting dressed up properly but not comb hair. 
I know it is not essential to create borders but it gives an unfinished look. if you add an edging to your garden bed then it will give a more polished look to your yard or garden. 
They add charm and depth to your garden landscaping design. It will separate weeds from flower beds The other benefit of edging is that it can separate mulch of beds from lawns.
First, decide which material you want for creating borders of your bed and collect all the necessary tools and material. This article will help you to decide among different options of edges and borders that take minimal effort to be implemented. You can create different designs or choose one from the following projects.
 We are going to discuss 20 interesting ideas of borders and edging.
1- RAILWAY SLEEPERS PROVIDE DIMENSION TO YOUR GARDEN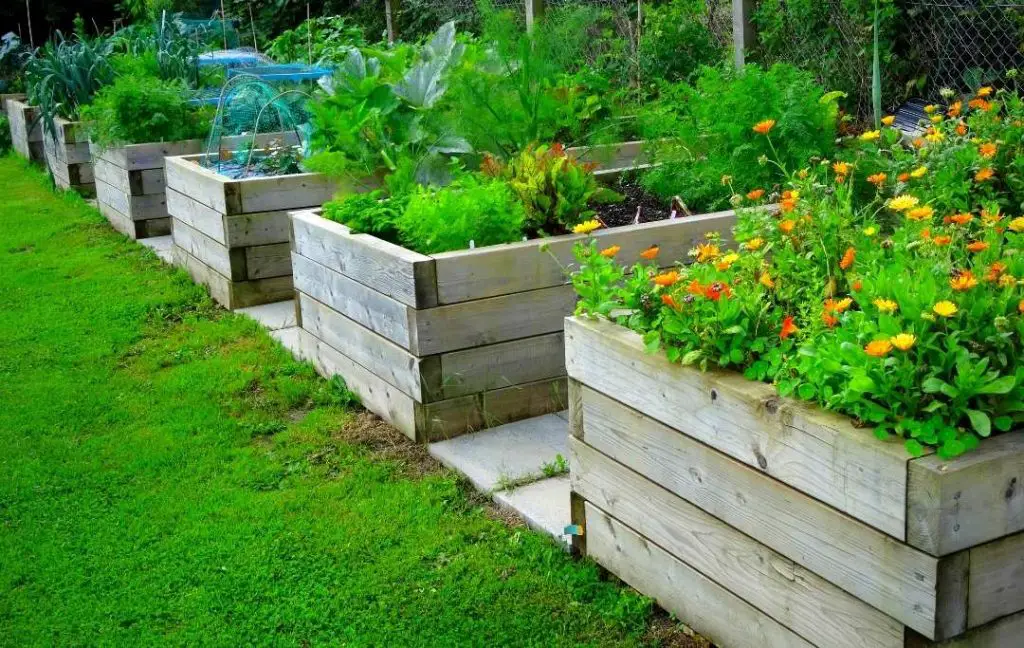 This idea is very simple and you will create the border of your garden bed effortlessly. In this project, you will place railroad sleepers vertically not horizontally. you need a chain saw to cut the lengths according to your desire. 
As you can see in the picture, we use different lengths of sleepers. In the same way, you can also cut the sleepers in different lengths and give a stunning look to your beds.
Read More: HOW TO BUILD A RAISED GARDEN BED WITH SLEEPERS
2- RAISED BORDER IDEA FOR THE BACK OF GARDEN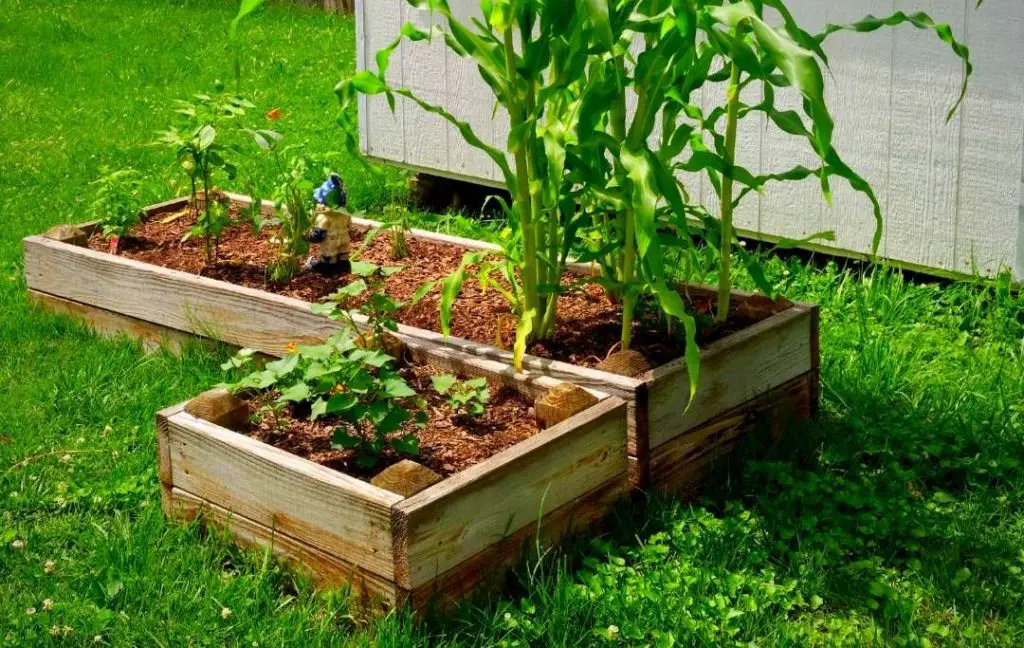 Raised beds have many benefits, you can maintain the fertility of the soil, if you have physical issues then you can avoid bending and kneeling, little maintenance required as compared to in-ground beds. 
This is an L shaped raised which has a unique and simple wooden border. This raised bed will look fabulous at the back of your garden.
3- RAISED BED ALONG THE FENCE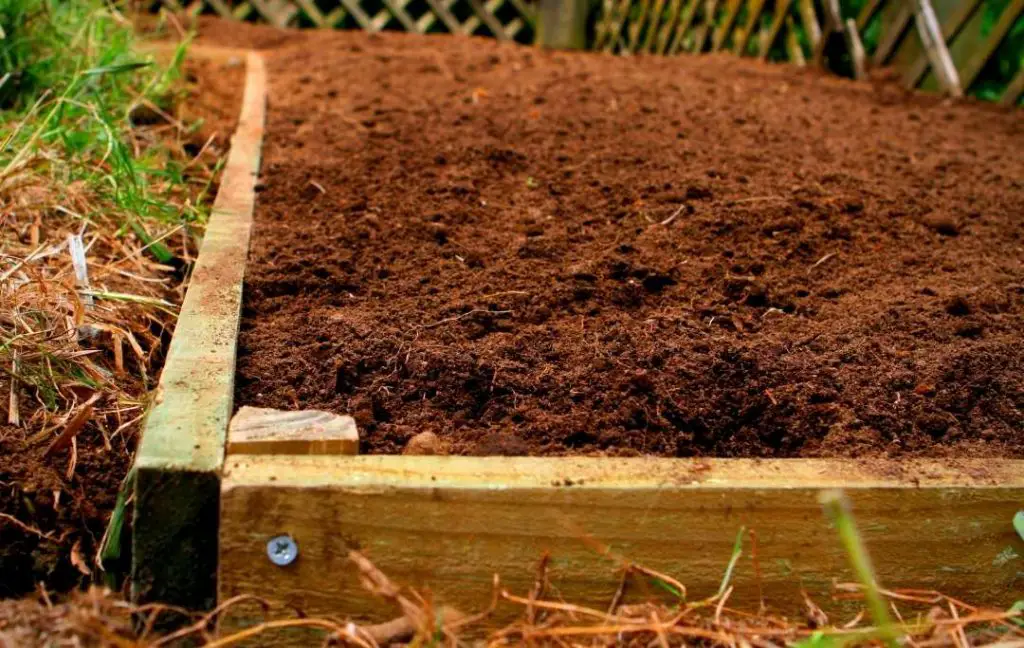 If you have a fence around your garden then this type of raised bed is a good option for you. This is a wooden raised bed and you can easily build it home. This type of raised bed is good for amateur gardeners as they can maintain it easily. 
The best benefit of a raised bed is that you take advantage of the full growing season because the soil of the raised bed warms quicker so you can start growing earlier. 
READ MORE: Self Watering System for your Raised Beds  
4- WIDER RAISED BED BORDER ALONG WITH FENCE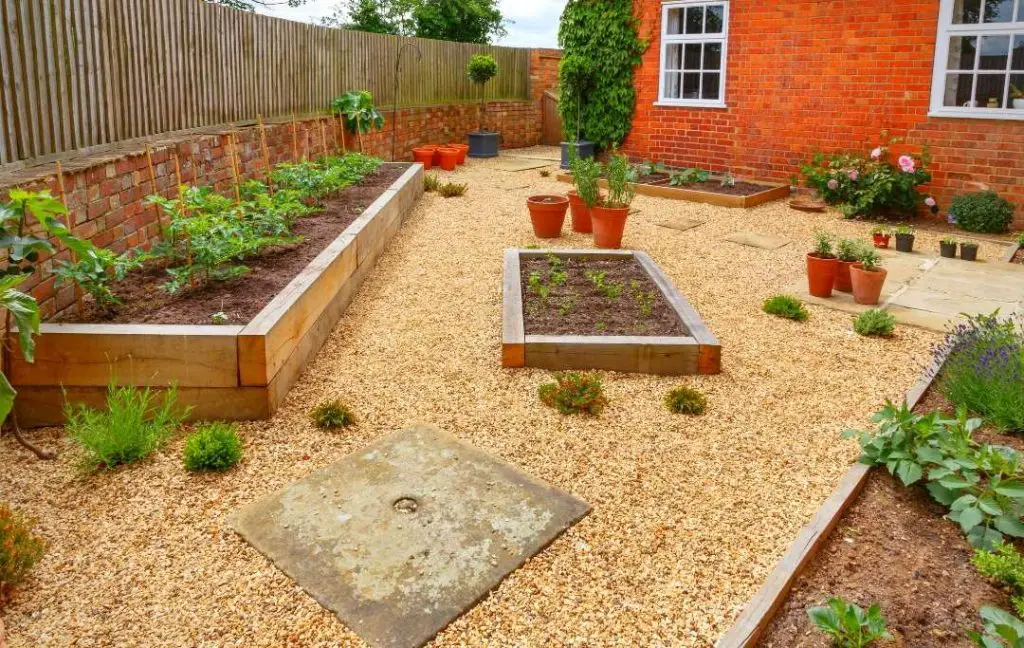 This is another type of raised bed that is wider than the raised bed which is described earlier. You can even grow trees in this bed as it provides space to spread the roots of the trees. 
This is also best for deep-rooted vegetables like carrots and long white radishes. You can build this raised bed effortlessly. The edges of this long bed are built with wooden boards. 
If you use cedarwood then this is the best option. It will last long but avoid using treated wood as it is not good for your plants.
5- ASSORTMENT OF LUSH PLANTS IN A MODERN MANICURED YARD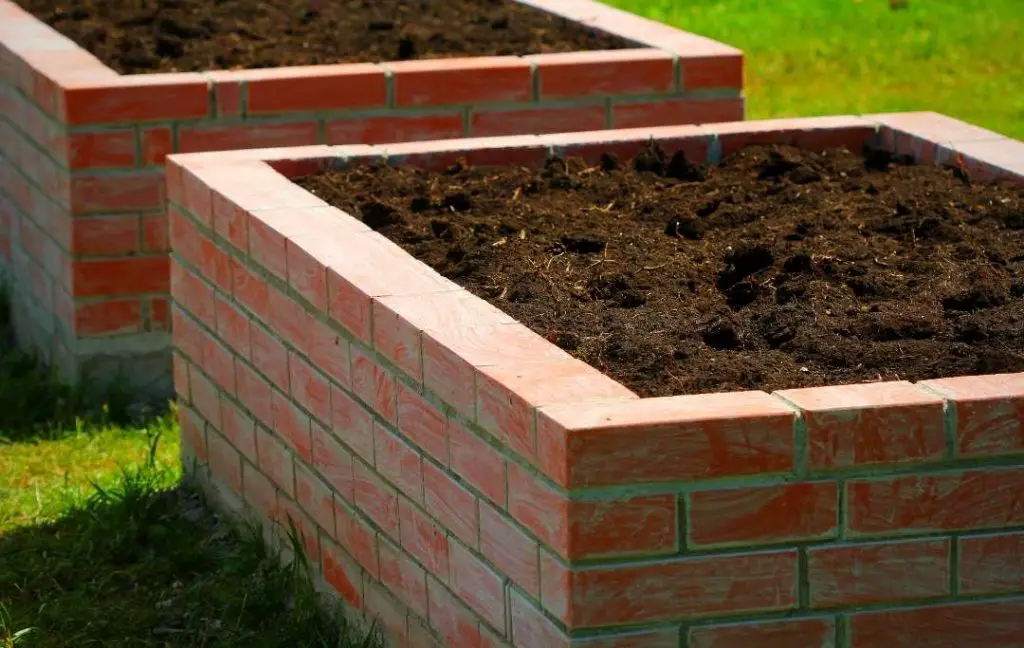 This is the best example of arranging plants in your yard. The border is made from bricks and cement just like a wall. This border will last long and permanently. You can build this edge along with the wall and start growing your plants in it.
6- A LOVELY RAISED BED BORDER IDEA WITH GRASSES WILLOW BRANCHES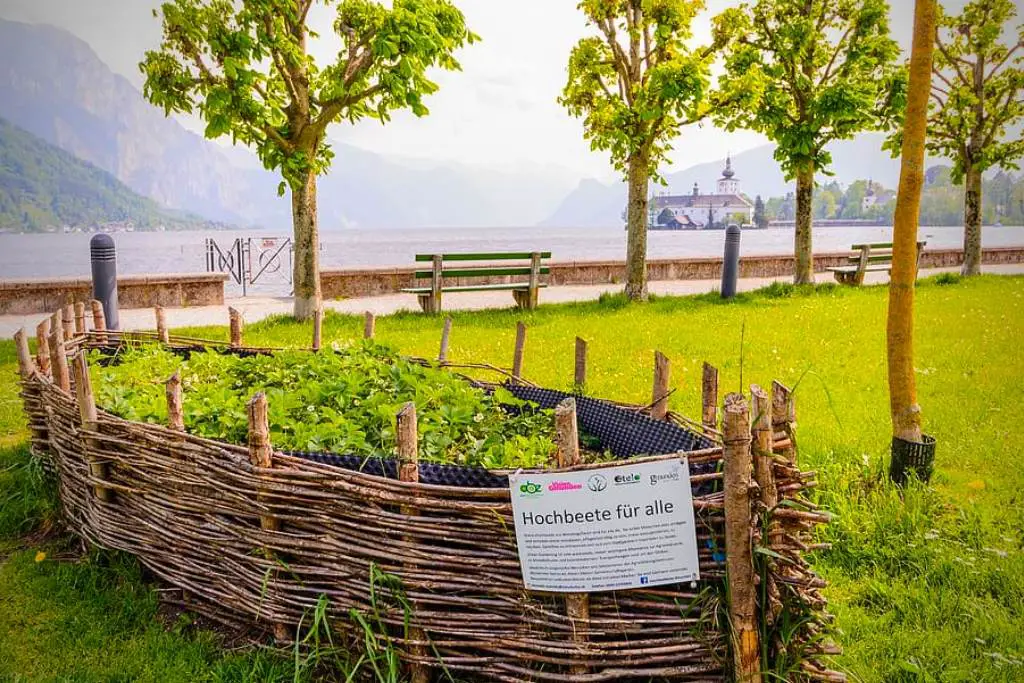 You can create a stunning and long-lasting sunny border of raised beds by using green saplings, willow branches, or other greens. The flexible wood can be easily used to weave into a strong and pliable mat for your raised garden borders. You will grow beautiful flowers in it and your garden will look fabulous after this addition.
This design can be difficult but the result is very fantastic as it looks natural. The flexible branches can be woven between the sturdier sticks to create this border. 
But you should weave them tightly enough because you have to fill this bed with soil so you can grow plants in them. The best thing about this border is that it allows proper drainage for your plants.
7- BOARDER IDEA FOR BUILT-IN RAISED BEDS
If you decide to build a raised bed instead of in-ground beds you should choose the best place for your raised bed in your garden. Raised beds can prevent your plants from pests and keep them healthy and more productive. 
This is another type of permanent borders. If you are looking for a long-lasting edging of your raised bed then this is a good option. If you build the sidewalls of the bed wide enough then you can build a bench, this bench will solve your sitting problem. 
By using your creativity you can build your designs for your raised bed borders and change the view of your garden.
8- USE LOG FOR YOUR RAISED BED'S BORDER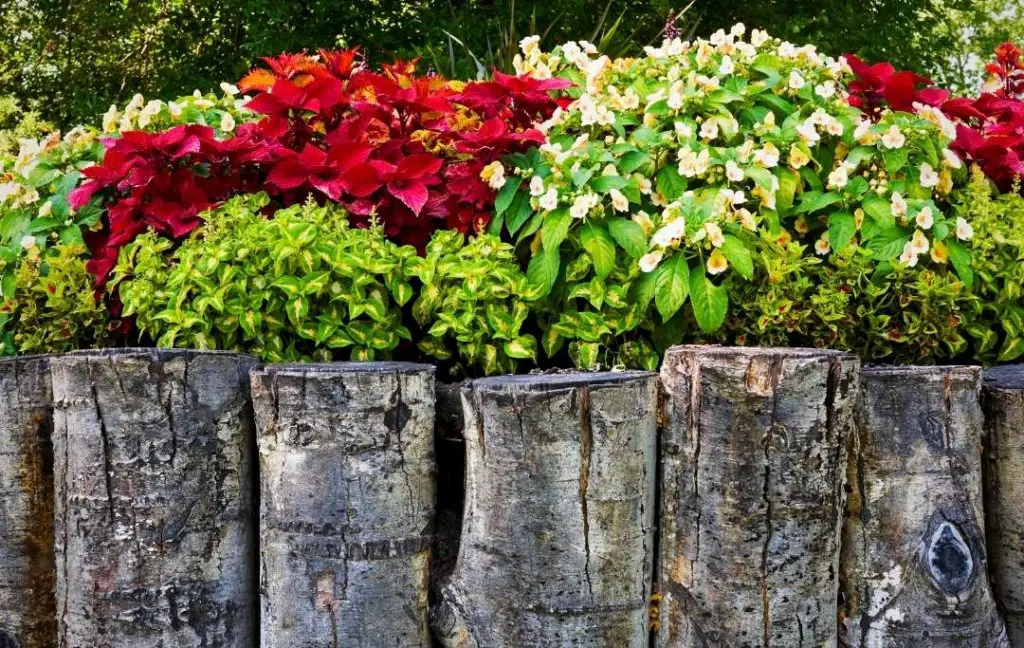 If you find a tree that is coming down somewhere nearby then your problem is solved and you can use it for creating the border of your raised bed. All you will have to do is take the dimension of your bed.  
Tree trunks have amazing texture and shape and they can be easily customized as a border of your bed. Try to do something new and creative that everyone notices in your garden. 
9-  DIY GARDEN BED EDGING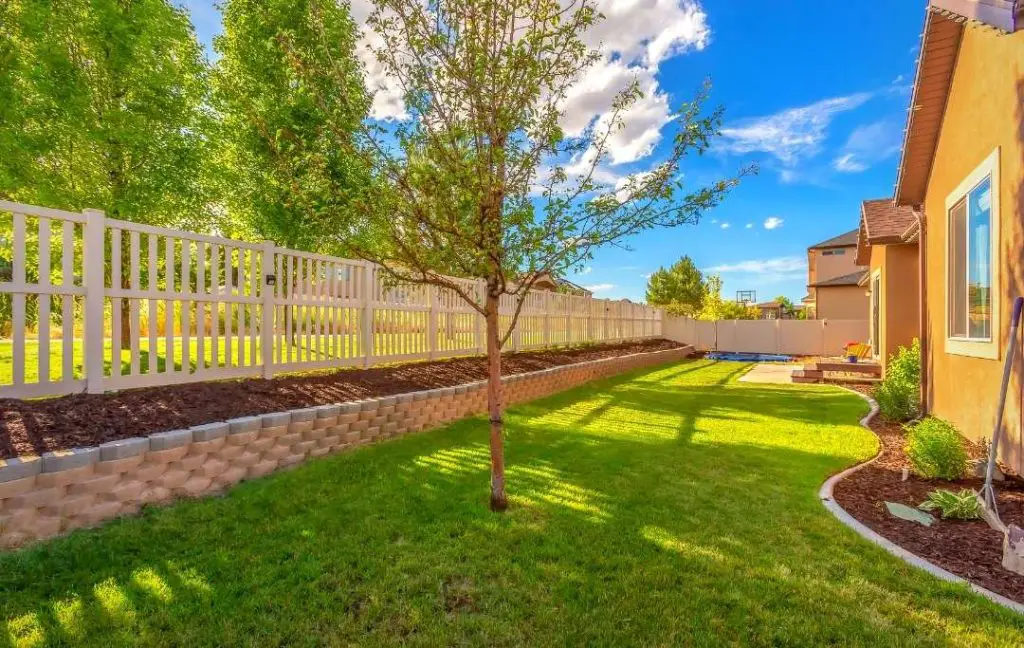 This is an easy e border of raised beds which you can build handily.  You can build it along with fencing or any wall of your garden. It is a long raised bed so you can grow many plants in it. 
If you build a raised bed at home it will not cost you as much as you will buy from the market. You can choose the length according to your desire or the size of your wall. 
10- BLOCK YOUR GARDEN WITH SLATE TILES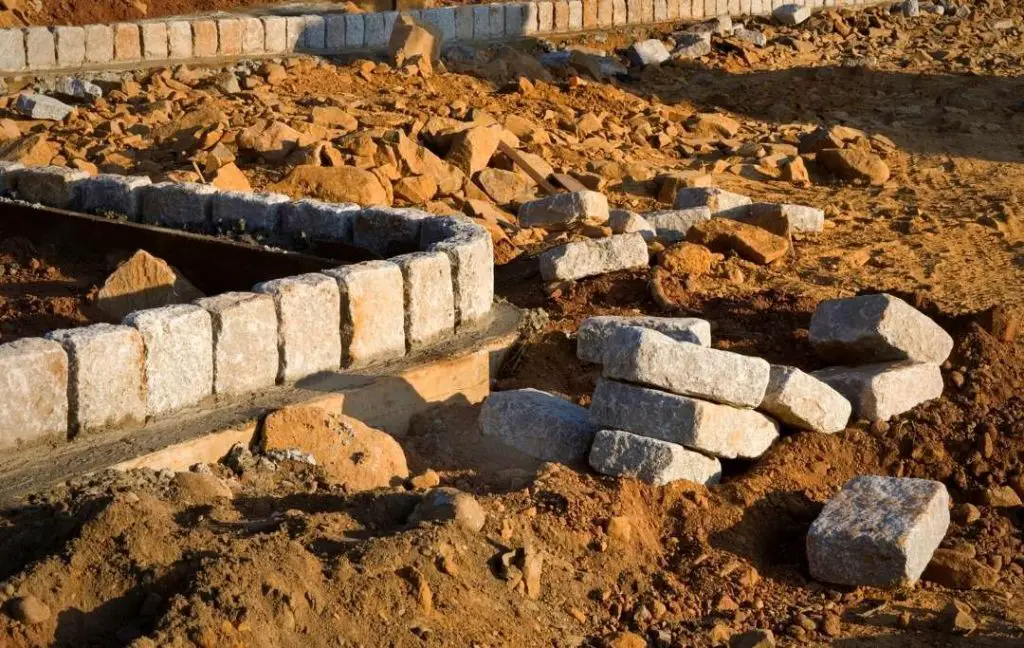 Grey slate tiles will give a modern look to your garden. If you are looking for a contemporary style for your garden then this is the best option for this purpose. In this style, you can match the edging of your raised beds with the patio. 
11- TRANSFORM A DULL CORNER OF GARDEN WITH THIS UNIQUE RAISED GARDEN BED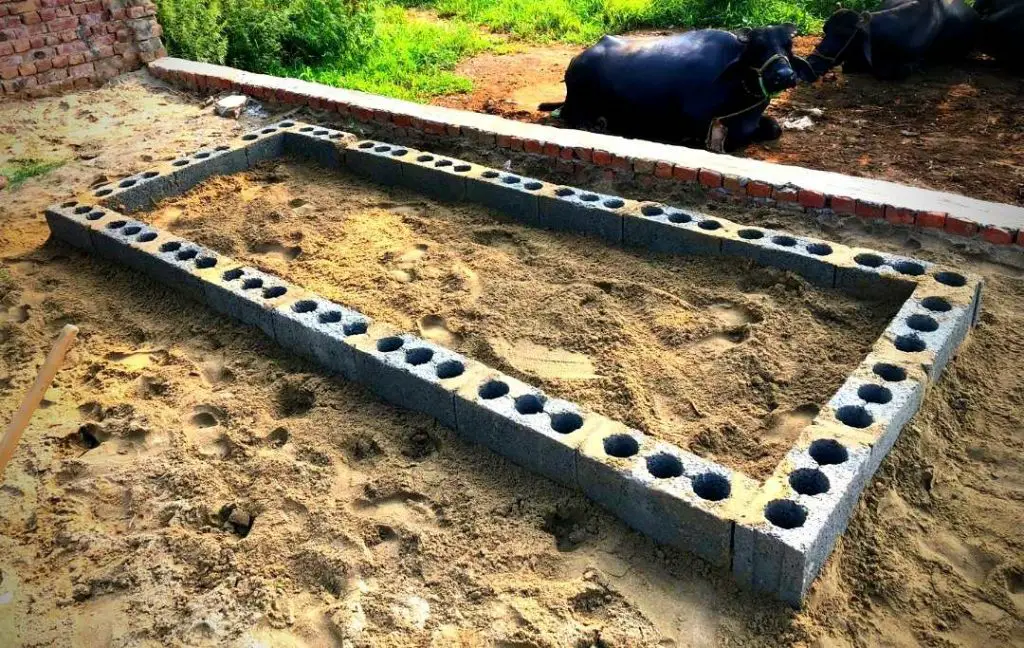 This stylish bat can change a dull corner of your garden into an attractive one. This project will take a couple of weekends but the results will be awesome. 
In this project, you need concrete blocks to form a long-lasting structure. First, you should level the ground where you want to build your bed.
12-  U-SHAPED RAISED GARDEN BED BORDER WITH WOOD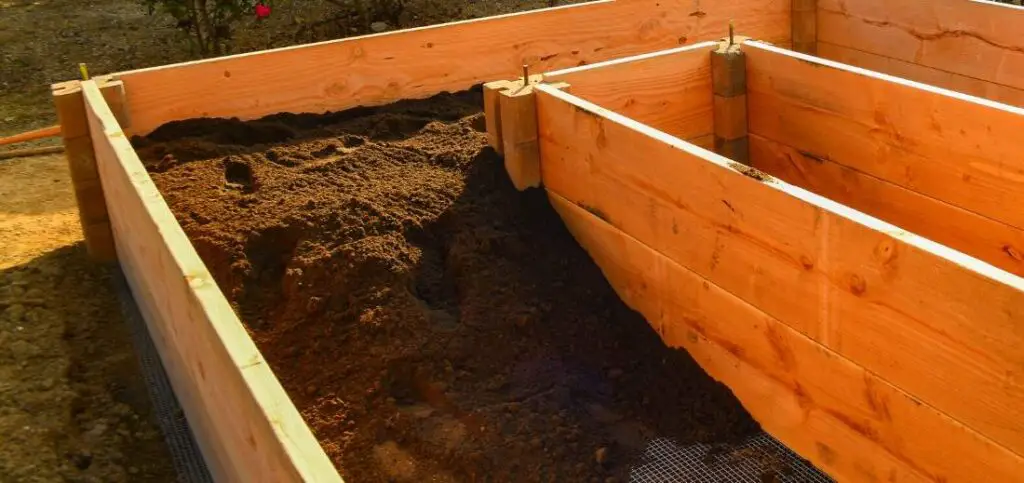 Instead of building traditional raised beds, you should build different beds. If you want to create an extraordinary bed then you can build a U-shaped raised bed. 
This type of bed is unique and different as compared to circular or rectangular beds. With this great shape, you can grow your favorite plants or vegetables in it.
READ MORE: How to Build Tall Raised Garden Beds?
13- CREATE A RAISED GARDEN BORDER WITH BRICKS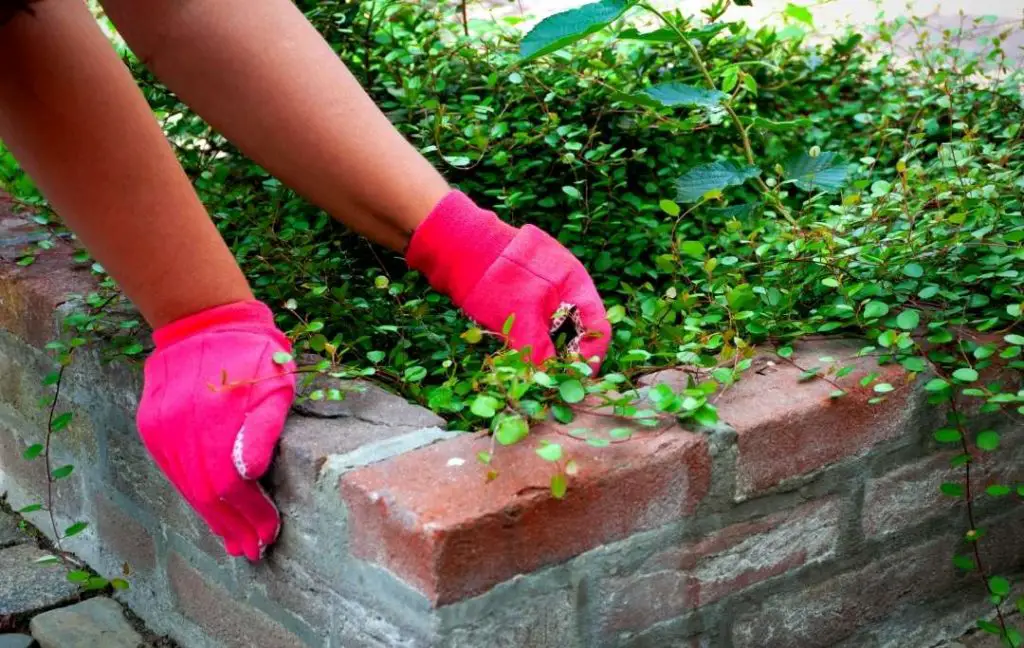 You can create a raised bed by using bricks. This is a simple raised bed and you will not face any difficulty building such a simple bed. You just need bricks and cement for building it. 
This is not an elevated raised bed but you can make it high by increasing the layers of bricks. Just lay bricks in a shallow trench on their side, you can set them by lying flat with the wide side down or standing upright. The important thing is getting everything level.
14-  METAL HOUSE ROOFING AND SIDING IS NOT JUST FOR YOUR HOME ANYMORE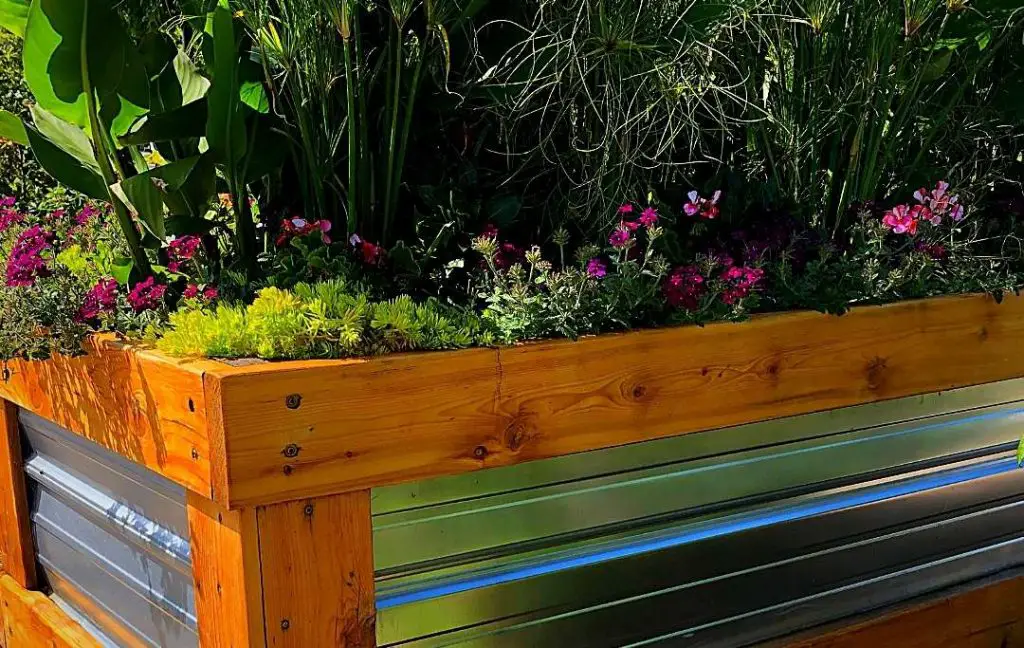 This is a great idea to use metal panels for making edging for your raised beds as these panels are rustproof. This is the best choice if you use proper framing material. If you pair it with sturdy lumber then it will create a stunning look in your garden. 
The interesting thing is that there are a variety of colors available for metal panels. Raised beds can be as creative as you like. Raised beds can be permanent if you choose a long-lasting material for making them. 
After building them, once they are set in place you can easily maintain them as compared to traditional ground beds.
READ MORE: 5 BEST METAL RAISED GARDEN BEDS
15- ROCKS AND FENCING WIRE BOARDER
River rocks are found in different shapes and colors. You can use them for making straight garden beds or you can say border of garden beds. This material will work great. 
Besides rocks, you need a roll of narrow wire paneling with the help of some tools and supports you can create a cool series of planters. This is an unconventional style but very easy to create. 
The important benefit of this border is that it allows proper drainage for your plants. The drainage quality of this border makes it unique. But the disadvantage of this design is that it is not very pretty and attractive.
16- LOGS FOR YOUR LANDSCAPE IN YOUR GARDEN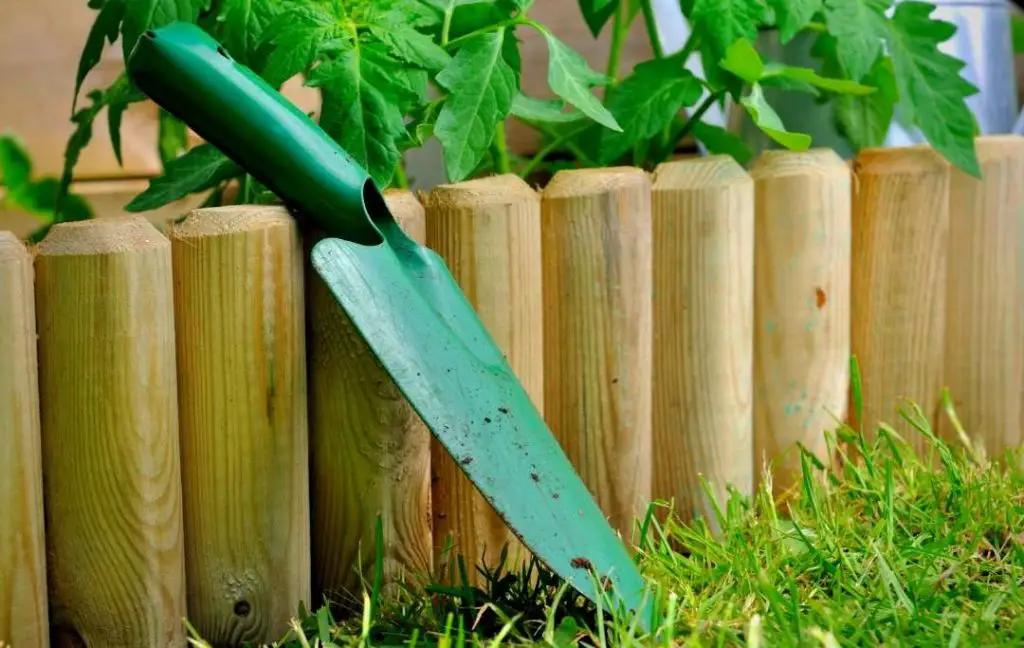 For making such a raised bed you need logs. You just need a saw and cut the logs according to your now. This is a cost-effective method for making edging for your beds. 
First, you should level the ground and cut the pieces of a log as needed. If your budget is low then you can take advantage of this inexpensive and long-lasting method.
17- WOODEN RAISED BED BORDER WITH TRELLIS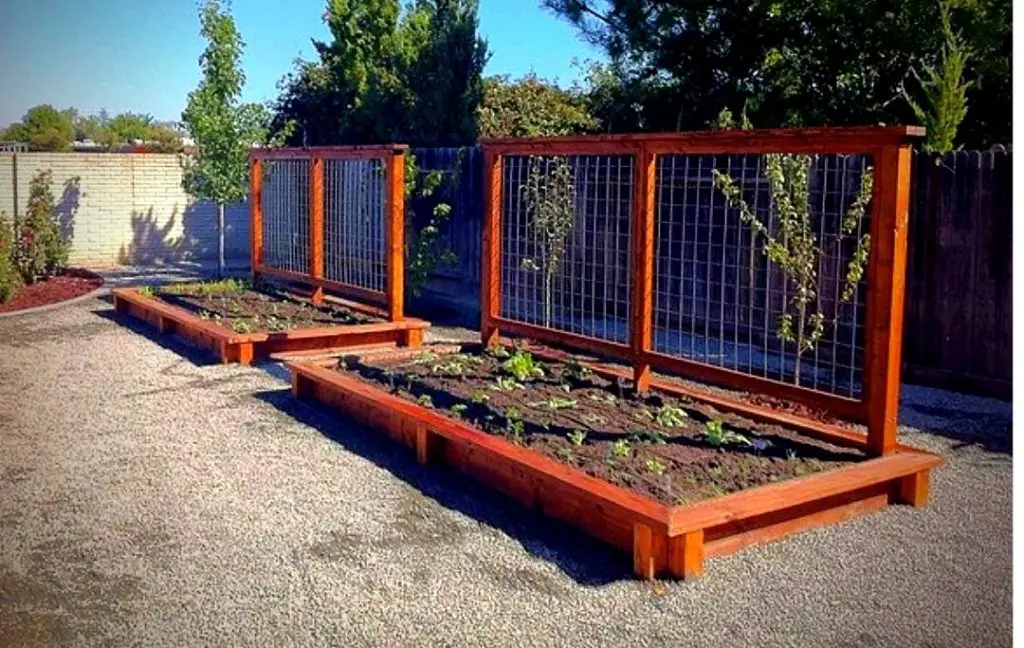 Most of the plants are climbers and they can't grow well without support. For this purpose, you need to install a trellis. This raised bed will solve your problem as it has a trellis that gives support to your vines. 
There are many benefits of trellises as they will maintain your plants properly and harvesting becomes very easy. If your plants spread on the ground there is a danger of pests and diseases, trellis provides proper air circulation to your plants. To get healthy production of your plants this type of raised bed is a good option.
Read More: 15 BEST WOODEN RAISED GARDEN BEDS Kits
18-  GROW A BETTER AND BIGGER BORDER
You can create a colorful and living border with the help of perennial. This is an awesome idea of creating edging using hedges. The addition of taller and smaller plants enhance the beauty of your garden and it will become an attractive place for your house.
19- PAVER STONE BORDER IDEA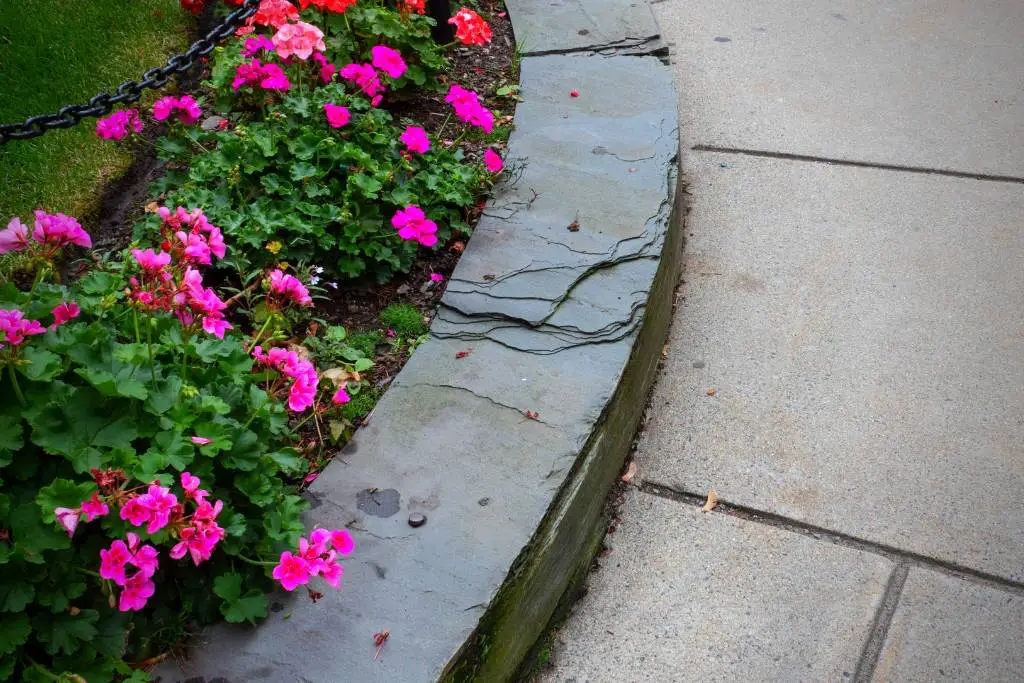 Pavers are made from concrete, that's why they are durable. Once you build this border then it will last for a long time but the important thing to be noted is that they are heavy to handle and it needs your time and money to install. 
But as it lasts forever and is attractive so your hard work will not be lost. If you want to create the border once for your garden then this is the best choice for you. 
20- DOUBLE LAYER OF BRICKS FOR CREATING BORDER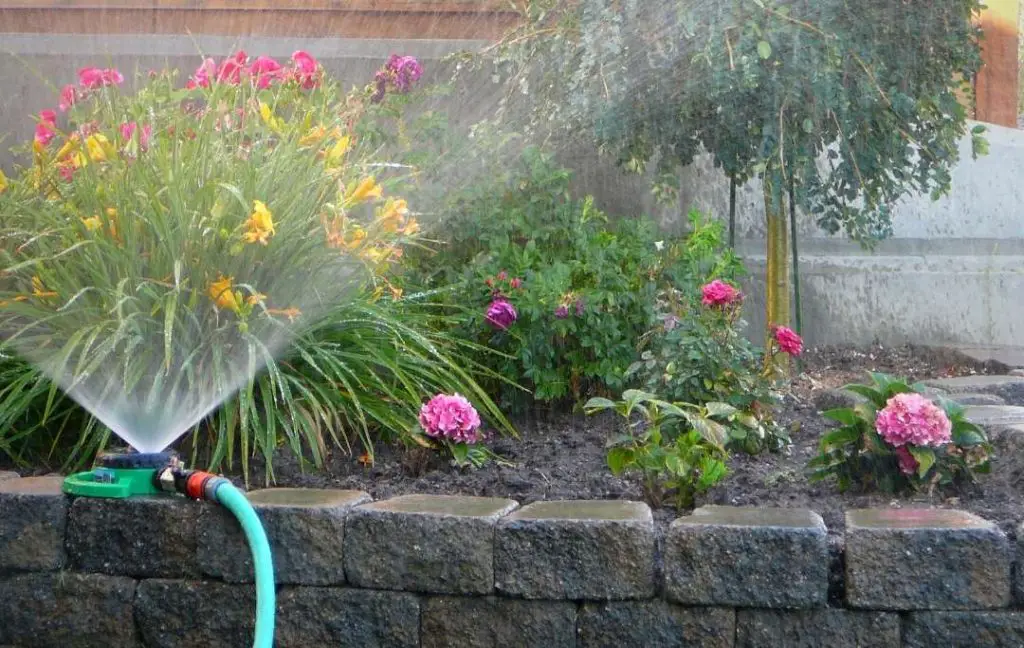 This is another idea that involves bricks. This is a traditional way of creating borders. This is a simple and durable design of the border. If you like simplicity then this is the best design for you.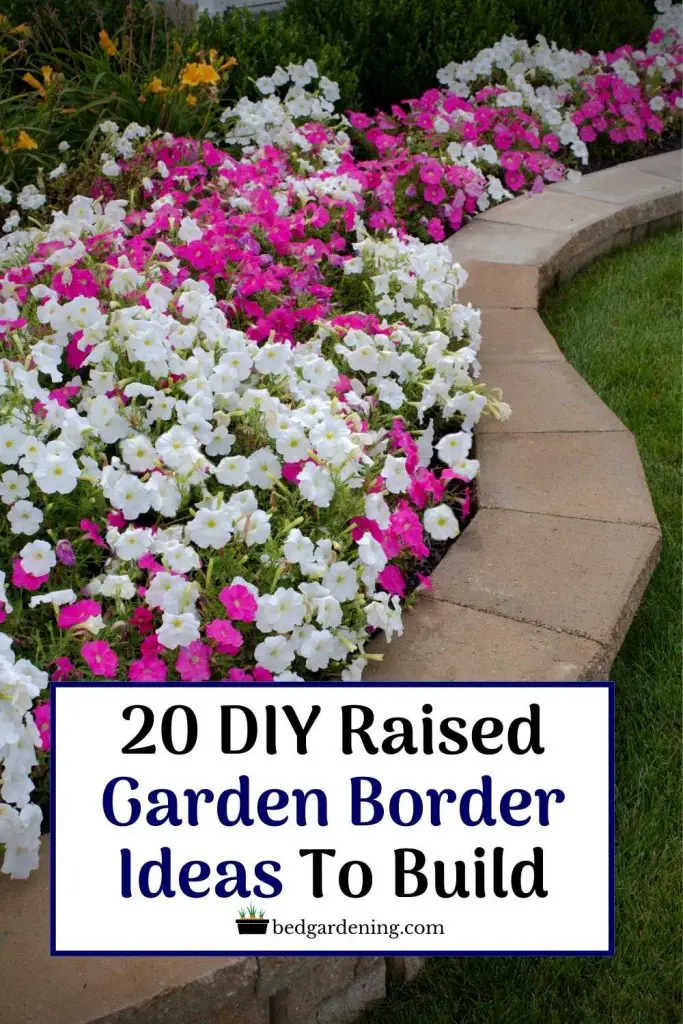 Whatever design you choose for your raised bed should be according to your garden. If your design is according to your garden then you can use borders of raised bed borders to change the view of your garden. 
The border can be rectangular, round, or free shape depending on the size of your garden. If you use different colors, textures, and shapes then it will allow you to create a unique garden.